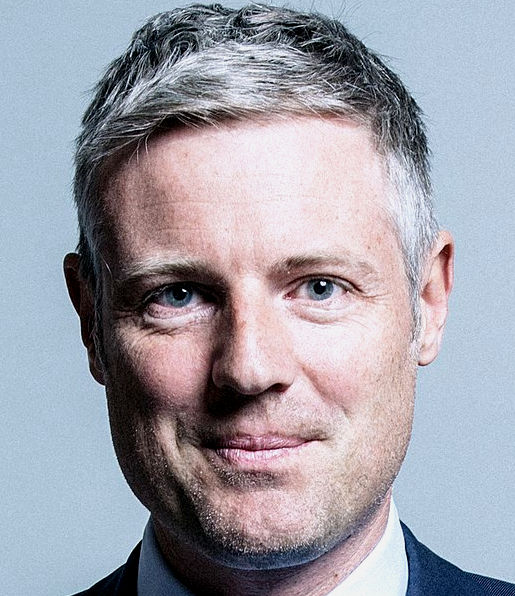 ZAC GOLDSMITH

THE GUARDIAN 30 JUNE 2023 - ZAC GOLDSMITH'S RESIGNATION LETTER IN FULL

Conservative peer says he is 'horrified' by government abandoning environmental commitments.

The Foreign Office minister Zac Goldsmith has announced his resignation over what he described as government "apathy" towards the environment.

Here is his resignation letter in full:

Dear prime minister,

I became involved in politics above all because of my love and concern for the natural environment. We depend on nature for everything, and we are degrading the natural world at an astonishing speed. Logically, there is nothing more important.

So when you asked me to stay on as minister for the international environment, I of course accepted. I did so with a view to guarding the progress we had seen in recent years on the international environment, and to building on a record of international leadership that has been so warmly welcomed around the world.

The past four years have been an exhilarating experience for me, and I will forever be grateful that I was put in a position where I could do more for the environment than I thought possible in a lifetime.

I'm proud that in recent years the UK has played a critical, indeed defining role – leading powerful coalitions of ambition and securing world-changing commitments over a very wide range of environmental issues.

And even if in the highly polarised political environment here in the UK there is an unwillingness to acknowledge it, that leadership has been recognised and appreciated by civil society and governments around the world.

As a direct consequence of our environmental leadership, we have seen countries previously ambivalent towards the UK stepping up to support us on numerous unrelated issues. We often find ourselves invited to regional environmental summits as the only "outsider" country present.

It is the UK that civil society routinely turns to for help advancing their cause. In many respects, the UK has become the single most important voice for nature globally.

I believe we can be proud of our record. At Cop26 we secured unprecedented commitments from countries, philanthropists and businesses that – if delivered – will put the natural world on the road to recovery. At the time, WWF said "Nature truly arrived at Cop26".

The Tropical Forest Alliance said "we'll look back and realise that this was the day we finally turned the tide on deforestation". Forbes called it a "Paris moment" for forests. In Glasgow, with strong support from the then prime minister, we were able to achieve far more than any of us ever thought possible.

Since then, the UK has been the driving force behind successful global efforts. We led calls to protect 30% of the world's land and ocean by the end of this decade, a goal that was agreed at the Biodiversity Cop in Montreal last year where the UK did more than almost any other country to make it a historic success.

Separately we helped galvanise agreement for a new global treaty on plastic pollution. And it was our team of negotiators who – more than any other – secured an agreement for the creation of new laws to protect the high seas.

Our G7 negotiators meanwhile persuaded the main donor countries to align their aid spending not only with the Paris goals, but with nature too.

We have created world-class funding programmes like our new biodiverse landscapes fund, which is creating vast wildlife corridors between countries, providing safe passage for wildlife and jobs for people living in and around the corridors; and our new blue planet fund, which is supporting marine protection, coral and mangrove restoration, and efforts to stop plastic pollution and illegal fishing.

These and other funds are world-class and have leveraged a wave of financial support from other countries and philanthropists.

It has been my privilege to grow our wonderful Blue Belt programme so that today it fully protects an area of ocean significantly larger than India around our overseas territories.

The UK has been able to win arguments internationally in part because we were taking action at home. I won't pretend we have gone nearly far or fast enough, but there is no doubt that since 2019 we have made meaningful progress.

We strengthened our environmental laws, provided more funding for nature, committed to more protected areas, more action on plastic pollution, and the UK is one of the only countries with legal targets to reverse biodiversity loss.

We have committed to restore our peatlands and plant trees on an unprecedented scale and we are transforming our land subsidy system to support the environment. We have also taken steps to address our international environmental footprint, including new laws stopping the import to the UK of agricultural commodities grown on illegally deforested land.

We also made progress on animal welfare. The government signed off an ambitious action plan for animal welfare, which would have represented the biggest shake up of animal welfare in living memory.

As minister responsible I was able to translate it, bit by bit, into law. We increased sentencing for cruelty from six months to five years, we recognised in law the sentience of animals, enacted and extended the ivory trade ban, introduced measures to break the pet smuggling trade and banned glue traps.

Before you took office, you assured party members, via me, that you would continue implementing the action plan, including the kept animals bill and measures like ending the live export of animals for slaughter, banning keeping primates as pets, preventing the import of shark fins and hunting trophies from vulnerable species.

But I have been horrified as, bit by bit, we have abandoned these commitments – domestically and on the world stage. The kept animals bill has been ditched, despite your promises. Our efforts on a wide range of domestic environmental issues have simply ground to a standstill.

More worrying, the UK has visibly stepped off the world stage and withdrawn our leadership on climate and nature. Too often we are simply absent from key international fora. Only last week you seemingly chose to attend the party of a media baron rather than attend a critically important environment summit in Paris that ordinarily the UK would have co-led.

Worse still, we have effectively abandoned one of the most widely reported and solemn promises we have made on this issue: our pledge to spend £11.6bn of our aid on climate and environment.

Indeed the only reason the government has not had to come clean on the broken promise is because the final year of expenditure falls after the next general election and will therefore be the problem for the next government, not this one.

This is a promise, remember, that has been consistently repeated by prime ministers in the past four years, including by you, and for good reason.

It is the single most important signal of intend [sic] for the dozens of small island and climate-vulnerable states on an issue that is existential for them. These states, remember, have equal sway in the UN where we routinely seek their support on other issues.

That same promise was also used successfully by the UK as leverage to persuade G7 countries to follow suit, and breaking it would not only infuriate them, along with those small island states in the Commonwealth and beyond – it would shred any reputation we have for being a reliable partner.

Prime minister, having been able to get so much done previously, I have struggled even to hold the line in recent months.

The problem is not that the government is hostile to the environment, it is that you, our prime minister, are simply uninterested. That signal, or lack of it, has trickled down through Whitehall and caused a kind of paralysis.

I will never understand how, with all the knowledge we now have about our fundamental reliance on the natural world and the speed with which we are destroying it, anyone can be uninterested.

But even if this existential challenge leaves you personally unmoved, there is a world of people who do care very much. And you will need their votes.

Every survey and poll – without exception – tells us that people care deeply about the natural world, about the welfare of other species, about handing this world in better shape to the next generation. And as these issues inevitably grow in importance, so too will the gap between the British people and a Conservative party that fails to respond appropriately.

It has been a privilege to be able to work with so many talented people in government, in particular my private office, and to have been able to make a difference to a cause I have been committed to for as long as I remember.

But this government's apathy in the face of the greatest challenge we have faced makes continuing in my current role untenable.

With great reluctance I am therefore stepping down as a minister in order to focus my energy where it can be more useful.

Zac Goldsmith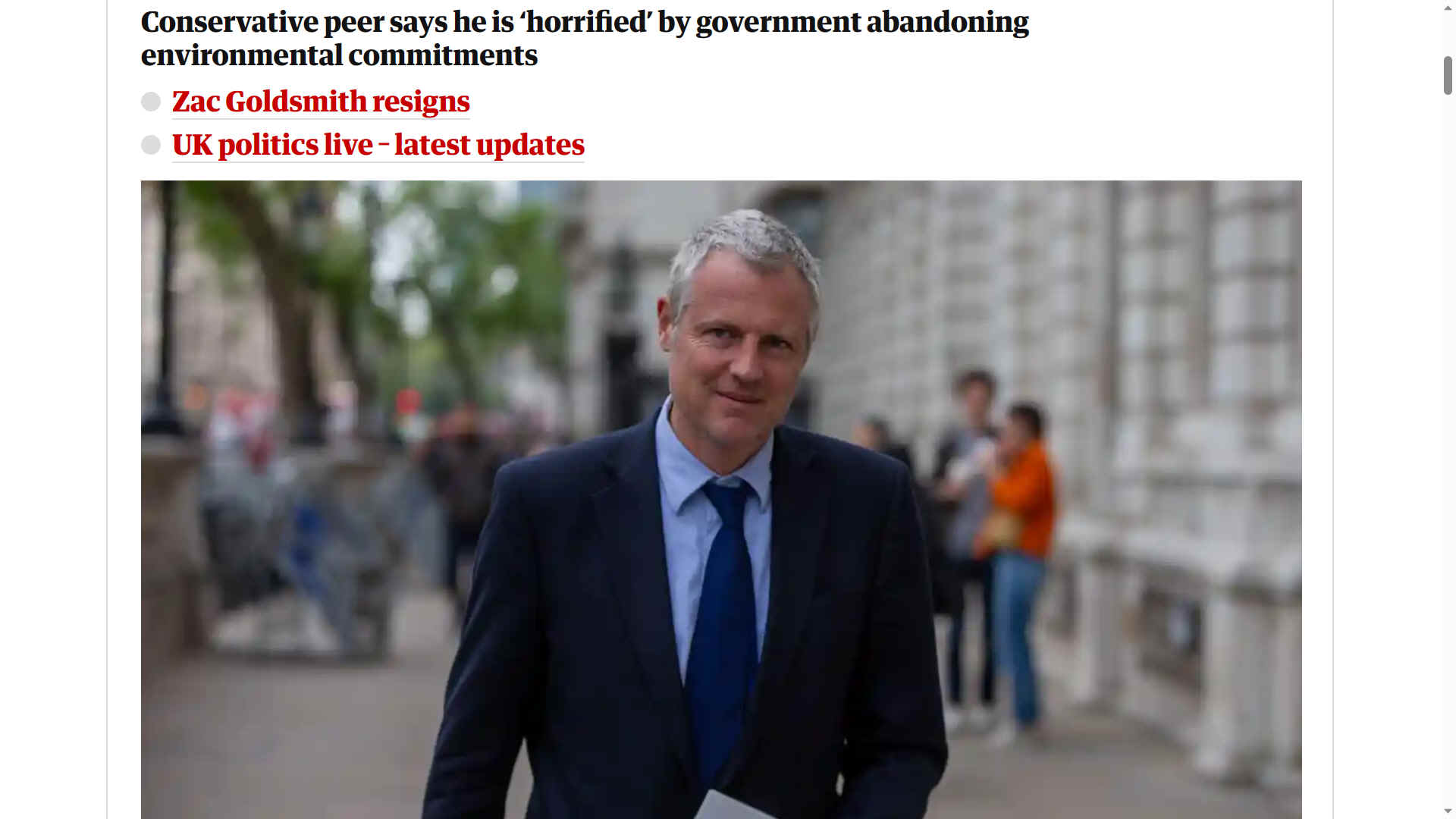 ABOUT LORD GOLDSMITH

Frank Zacharias Robin Goldsmith, Baron Goldsmith of Richmond Park, PC (born 20 January 1975) is a British politician, life peer and journalist who served as Minister of State for Overseas Territories, Commonwealth, Energy, Climate and Environment from September 2022 to June 2023. A member of the Conservative Party, he was its candidate at the 2016 London mayoral election and was Member of Parliament (MP) for Richmond Park from 2010 to 2016 and 2017 to 2019. Ideologically characterised as having liberal and libertarian views, he is known for his support for environmentalism and localism.

Born in London into the Goldschmidt family, the son of billionaire businessman and financier Sir James Goldsmith, he was educated at Eton College and the Cambridge Centre for Sixth-form Studies. In 1998, his uncle Edward Goldsmith made him editor of The Ecologist, a position he retained until 2007. Goldsmith was appointed Deputy Chairman of the Conservative Quality of Life Policy Group in 2005, co-authoring its report published in 2007. Goldsmith was placed on the Conservative A-List of potential candidates in 2006 and, in March 2007, was selected through an open primary to contest the constituency of Richmond Park against incumbent Liberal Democrat MP Susan Kramer. At the 2010 general election, he was elected to Parliament winning the seat with a majority of 4,091 votes.

At the 2015 general election, Goldsmith was returned to the Commons with a majority of 23,015, an increase of almost 19,000 votes since 2010, against his nearest opponent. He was chosen as the Conservative candidate for the 2016 election for mayor of London, which he subsequently lost to Sadiq Khan of the Labour Party. Goldsmith announced his resignation as an MP following the government's decision in October 2016 to approve construction of a third runway at Heathrow Airport. His resignation triggered a by-election in the Richmond Park constituency in which Goldsmith stood as an independent candidate. He was defeated by Sarah Olney of the Liberal Democrats with a majority of 1,872 votes. After Theresa May called the 2017 general election, Goldsmith was reselected as the Conservative Party candidate for Richmond Park and won with a narrow majority of 45 votes.

Goldsmith was made Parliamentary Under-Secretary of State for Environment and International Development on 27 July 2019 and was promoted to Minister of State with the right to attend Cabinet on 10 September 2019. He was defeated at the 2019 general election, again by Sarah Olney, with a majority of 7,766 votes. After the election, Boris Johnson awarded Goldsmith with a life peerage, making him a member of the House of Lords and allowing him to retain his ministerial position. On 13 February 2020, he acquired additional responsibility for the Pacific. After Liz Truss became Prime Minister in September 2022, Goldsmith became Minister of State for Asia, Energy, Climate and Environment, later being reappointed by Rishi Sunak with new responsibilities for overseas territories and the Commonwealth.

HOUSE OF LORDS

On 7 January 2020, Goldsmith was created Baron Goldsmith of Richmond Park, of Richmond Park in the London Borough of Richmond upon Thames. His ennoblement to the House of Lords was criticised by the Muslim Council of Britain as "rewarding racism", and by opposition politicians as being "cronyist" and "hypocritical" in light of a tweet Goldsmith had made in 2012 which described the House of Lords Reform Bill as being one that promoted "party apparatchiks" and "insulated" them from "democratic pressure". However, Labour MP and former Shadow Environment Secretary Kerry McCarthy said she believed Goldsmith was committed to the government's promise to maintain standards in environmental regulation after Brexit, adding: "because of that I welcome the fact that he is still around to carry on and do that work".

In his maiden speech in the House of Lords, Goldsmith rebutted accusations of cronyism, saying "One political rival described me as a 'turd that won't flush' – a phrase my children are very unlikely to let me forget. But equally I know many of those heroic people engaged in the battle to protect this extraordinary planet and the species it holds are cheered by having another voice in Parliament and it is an enormous privilege."

In Boris Johnson's post-Brexit reshuffle, Goldsmith was given the additional role of Minister of State for Foreign Affairs with responsibility for the Pacific. In June 2020, Johnson announced the Department for International Development would be merged with the Foreign and Commonwealth Office to form the Foreign, Commonwealth and Development Office which was subsequently created in September of that year.

On 1 June 2020, the Parliamentary Commissioner for Standards concluded Goldsmith had breached the standards commission's code of conduct by his use of publicly-funded stationery and postage for political purposes around 1 November 2019, shortly before the 2019 general election. The commission released a report in June upholding an allegation made against Goldsmith on 5 November 2019. The report said they had considered the "timing, tone, and content of the letter and concluded that it was of a party-political nature rather than a communication for parliamentary purposes". He accepted the commission's finding and agreed to re-pay £8,954.33 to cover the mailing costs.

In September 2022, Goldsmith was appointed Minister of State for Asia, Energy, Climate and Environment by Liz Truss. He was reappointed by Rishi Sunak with new responsibilities for overseas territories and the Commonwealth.

On 30 June 2023, Goldsmith resigned from his ministerial position, saying the government showed "apathy" towards environmental issues and that Sunak's "simply uninterested" attitude had paralysed policymaking. A day earlier, he had been named as one of 10 parliamentarians accused of waging a "co-ordinated campaign" to interfere with a Commons investigation into Boris Johnson, which led opposition parties to call for Goldsmith's dismissal. The report from the Privileges Committee cited a retweet from 9 June in which Goldsmith commented that the outcome of the investigation was predetermined. In a letter to Goldsmith, Sunak said that Goldsmith had "decided to take a different course" after being asked to apologise for the tweet. Speaking to the BBC, Goldsmith said that he was happy to apologise for his public comments as a minister, but that his resignation was "a long time coming"

Goldsmith is a member of the prominent Goldsmith family. Goldsmith's family has a long history in politics. His grandfathers were both Conservative Members of Parliament: his paternal grandfather, Frank Goldsmith, was a Conservative MP, while his mother's father, The 8th Marquess of Londonderry, represented County Down as a Unionist MP in the British House of Commons, when he was still styled Viscount Castlereagh. His maternal great-grandfather, The 7th Marquess of Londonderry, was an Ulster Unionist politician. Another maternal ancestor was Robert, Viscount Castlereagh, Chief Secretary for Ireland and British Foreign Secretary. Goldsmith's sister Jemima was married from 1995–2004 to Imran Khan, who would go on to become the Prime Minister of Pakistan from 2018–2022, with whom she has two sons.
It is true that Rishi Sunack's election promises, had not materialized as of July 2023. And part of that lacklustre performance was the PM turning his back on climate change. There are still far too few EV charging points in the United Kingdom, and nobody has thought to implement California style legislation to force electric car makers to introduce a budget vehicle, for low income families to be able to afford the transition. That would quash much of what is circulating in the media, about the cost of owning and operating an EV. Where most new Electric Vehicle models are large executive semi-recreational models, or 4x4s. What is needed are budget Evs, in the £5-10,000 pound range. A new breed of Mini, 2CV or Fiat Topolino. The Ford Model T of the 2020s. And, this is easily achievable, in the modern age of mass production and knowledge transfer. And perhaps, invoking green patents. That so far, the WIPO and UKIPO, are fighting shy of.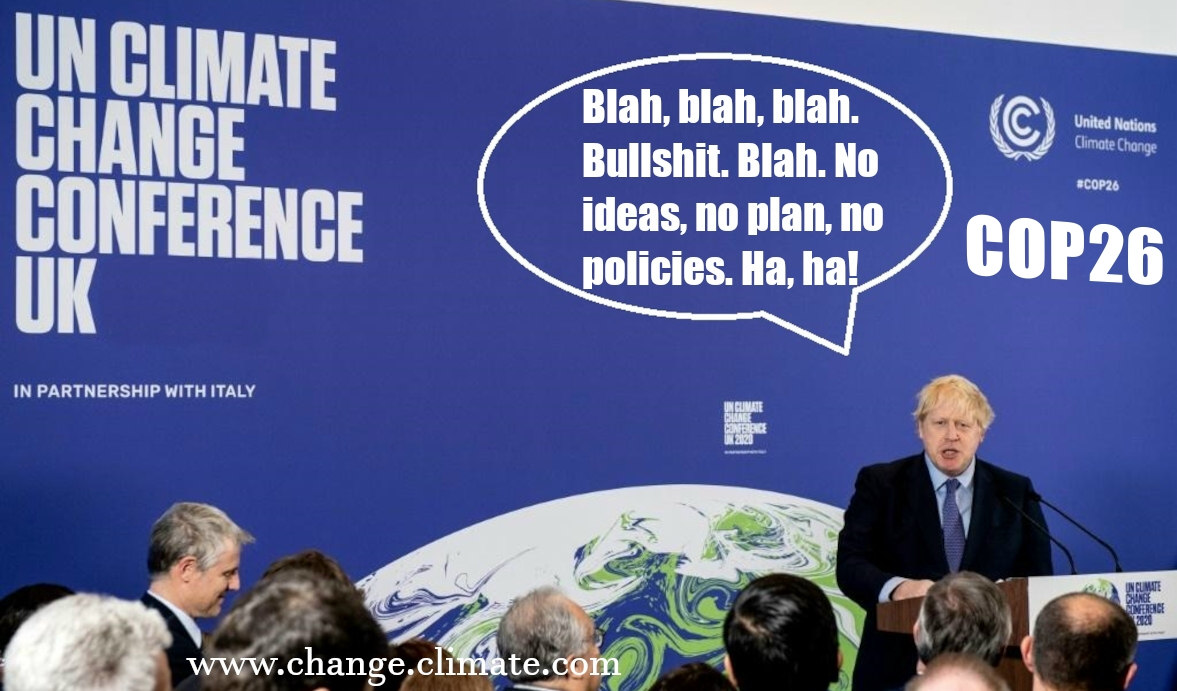 FOSSIL FOOLS - Geriatric politicians with 'climate-senile' policies will find in difficult to break away from their corrupt ways, as part time politicians with two jobs. Their main job being to find paid consultancy work, rather than craft policies and create statute that works to protect our voters from lung cancer, energy shortages and a lack of affordable (sustainable) housing.
The 'zerophobics' are the undertakers of the political world, sending millions of ordinary people to an early grave, while loading us with NHS, hospital and staff costs that would not be needed if we had clean air in our cities.
Basically, the longer you are in politics, the more likely you are to be exposed to bribes, from climate deniers, mostly fossil fuel and energy companies, looking to keep on pumping toxic fumes into the atmosphere, so they can keep making money. The political undertakers are working with them to keep hospitals stocked with cancer victims, adding to the £Trillions we owe as part of the national debt. Under Boris and Rishi Sunack, pensioner's saving have halved in real terms. According to the media, they are blood sucking vampires, draining what little you had saved for your retirement.
CABINET & MPS -MAY 2023 - MUSICAL CHAIRS & A LOT OF NEWCOMERS BRAVE ENOUGH TO TRAVEL UP SHIT CREEK WITHOUT PADDLES
Justice Minister

Chancellor

Foreign Secretary

Suella Braverman

Home Secretary

Ben Wallace

Defence Secretary

Energy - Net Zero

Science, Innovation & Tech.

Michael Gove

Housing & Communities

Deputy Prime Minister

Treasury Sec.

Housing, Local Gov.

Therese Coffey

Work & Pensions

Ldr House Commons

Simon Hart

H M Treasury

Attorney General

Mel Stride

Work & Pensions

Gillian Keegan

Education

Mark Harper

Sec. State Transport

Kemi Badenoch

Equalities Sec State Business

Lucy Frazer

Culture, Media & Sport

Greg Hands

Cabinet Office

Chris Heaton-Harris

Northern Ireland

Scotland

David T C Davies

Sec. State Wales

John Glen

Treasury Secretary

Lord True

House Lords Privy Seal

Jeremy Quin

Paymaster General

Tom Tugendhat

Home Office Security

Andrew Mitchell

Commonwealth Africa
CABINET MPS -MARCH 2020
Chancellor Exchequer

Priti Patel

Home Secretary

Dominic Raab

Foreign Secretary

Michael Gove

Chancellor D. Lancaster

Ben Wallace

Defence Secretary

Matt Hancock

Health & Social Care

Liz Truss

International Trade

Gavin Williamson

Education

Oliver Dowden

Culture

Alok Sharma

MP Reading West

Robert Jenrick

Housing, Local Gov.

Therese Coffey

Work & Pensions

Robert Buckland

Justice

Anne-Marie Trevelyan

International Dev.

Transport

George Eustice

Environment

Brandon Lewis

Northern Ireland

Alister Jack

Scottish Sec. State

Simon Hart

Welsh Sec. State

Baroness Evans

Leader Lords

Amanda Milling

Party Chairman

Jacob Rees-Mogg

Leader Commons

Mark Spencer

Chief Whip

Suella Braverman

Attorney General

Stephen Barclay

Treasury Sec.
CONSERVATIVE MPS 2017-2020
Boris Johnson - Prime Minister

MP Uxbridge & South Ruislip

MP for Richmond, Yorkshire

MP Welwyn Hatfield

Philip Hammond

MP Runnymede & Weybridge

Alok Sharma

MP Reading West

Damian Green

MP for Ashford

Gavin Williamson

MP South Staffordshire

Liam Fox

MP North Somerset

David Lidlington

MP for Aylesbury

Baroness Evans

MP Bowes Park Haringey

Jeremy Hunt

MP South West Surrey

Justine Greening

MP for Putney

Chris Grayling

MP Epsom & Ewell

Karen Bradley

MP Staffordshire Moorlands

Michael Gove

MP Surrey Heath

David Gauke

MP South West Hertfordshire

Sajid Javid

MP for Bromsgrove

James Brokenshire

MP Old Bexley & Sidcup

Alun Cairns

MP Vale of Glamorgan

David Mundell MP

Dumfriesshire Clydes & Tweeddale

Patrick McLoughlin

MP Derbyshire Dales

Greg Clark

MP Tunbridge Wells

Penny Mordaunt

MP Portsmouth North

Andrea Leadsom

MP South Northamptonshire

Jeremy Wright

MP Kenilworth & Southam

Liz Truss

MP South West Norfolk

Brandon Lewis

MP Great Yarmouth

MP

Nus Ghani

MP Wealden

Huw Merriman

MP Battle

Steve Double

MP St Austell & Newquay

Sarah Newton

MP Truro & Falmouth

Rebecca Pow

MP Taunton Deane

Jacob Rees-Mogg

MP Somerset

Gavin Williamson

MP Staffordshire

Thérèse Coffey

MP Suffolk Coastal

Caroline Ansell

MP Eastbourne

.

David Davis

MP Haltemprice & Howden

Claire Perry

MP for Devizes

Amber Rudd

MP Hastings & Rye

.

Theresa May - former PM

MP for Maindenhead

David Cameron

Former Prime Minister

John Major

Former Prime Minister

Margaret Thatcher

Former Prime Minister
UK POLITICS

The United Kingdom has many political parties, some of which are represented in the House of Commons and the House of Lords. Below are links to the websites of the political parties that were represented in the House of Commons after the 2015 General Election:
CO-OPERATIVE PARTY
DEMOCRAT UNIONIST PARTY
PLAID CYMRU
SINN FEIN
SOCIAL DEMOCRATIC AND LABOUR PARTY
UK INDEPENDENCE PARTY
ULSTER UNIONIST PARTY
Social Democratic and Labour Party
LINKS & REFERENCE
https://www.theguardian.com/politics/2023/jun/30/zac-goldsmith-resignation-letter-in-full
https://www.theguardian.com/politics/2023/jun/30/zac-goldsmith-resignation-letter-in-full
CLIMATE CHANGE COP HISTORY
| | |
| --- | --- |
| 1995 COP 1, BERLIN, GERMANY | 2008 COP 14/CMP 4, POZNAN, POLAND |
| 1996 COP 2, GENEVA, SWITZERLAND | 2009 COP 15/CMP 5, COPENHAGEN, DENMARK |
| 1997 COP 3, KYOTO, JAPAN | 2010 COP 16/CMP 6, CANCUN, MEXICO |
| 1998 COP 4, BUENOS AIRES, ARGENTINA | 2011 COP 17/CMP 7, DURBAN, SOUTH AFRICA |
| 1999 COP 5, BONN, GERMANY | 2012 COP 18/CMP 8, DOHA, QATAR |
| 2000:COP 6, THE HAGUE, NETHERLANDS | 2013 COP 19/CMP 9, WARSAW, POLAND |
| 2001 COP 7, MARRAKECH, MOROCCO | 2014 COP 20/CMP 10, LIMA, PERU |
| 2002 COP 8, NEW DELHI, INDIA | 2015 COP 21/CMP 11, Paris, France |
| 2003 COP 9, MILAN, ITALY | 2016 COP 22/CMP 12/CMA 1, Marrakech, Morocco |
| 2004 COP 10, BUENOS AIRES, ARGENTINA | 2017 COP 23/CMP 13/CMA 2, Bonn, Germany |
| 2005 COP 11/CMP 1, MONTREAL, CANADA | 2018 COP 24/CMP 14/CMA -, Katowice, Poland |
| 2006 COP 12/CMP 2, NAIROBI, KENYA | 2019 COP 25/CMP 15/CMA -, Santiago, Chile |
| 2007 COP 13/CMP 3, BALI, INDONESIA | |
DESERTIFICATION COP HISTORY
| | |
| --- | --- |
| COP 1: Rome, Italy, 29 Sept to 10 Oct 1997 | COP 9: Buenos Aires, Argentina, 21 Sept to 2 Oct 2009 |
| COP 2: Dakar (Senegal), 30 Nov to 11 Dec 1998 | COP 10: Changwon (South Korea), 10 to 20 Oct 2011 |
| COP 3: Recife (Brazil), 15 to 26 Nov 1999 | COP 11: Windhoek (Namibia), 16 to 27 Sept 2013 |
| COP 4: Bonn (Germany), 11 to 22 Dec 2000 | COP 12: Ankara (Turkey), 12 to 23 Oct 2015 |
| COP 5: Geneva (Switzerland), 1 to 12 Oct 2001 | COP 13: Ordos City (China), 6 to 16 Sept 2017 |
| COP 6: Havana (Cuba), 25 August to 5 Sept 2003 | COP 14: New Delhi (India), 2 to 13 Sept 2019 |
| COP 7: Nairobi (Kenya), 17 to 28 Oct 2005 | COP 15: 2020 |
| COP 8: Madrid, Spain, 3 to 14 Sept 2007 | COP 16: 2021 |
BIODIVERSITY COP HISTORY
| | |
| --- | --- |
| COP 1: 1994 Nassau, Bahamas, Nov & Dec | COP 8: 2006 Curitiba, Brazil, 8 Mar |
| COP 2: 1995 Jakarta, Indonesia, Nov | COP 9: 2008 Bonn, Germany, May |
| COP 3: 1996 Buenos Aires, Argentina, Nov | COP 10: 2010 Nagoya, Japan, Oct |
| COP 4: 1998 Bratislava, Slovakia, May | COP 11: 2012 Hyderabad, India |
| EXCOP: 1999 Cartagena, Colombia, Feb | COP 12: 2014 Pyeongchang, Republic of Korea, Oct |
| COP 5: 2000 Nairobi, Kenya, May | COP 13: 2016 Cancun, Mexico, 2 to 17 Dec |
| COP 6: 2002 The Hague, Netherlands, April | COP 14: 2018 Sharm El-Sheikh, Egypt, 17 to 29 Nov |
| COP 7: 2004 Kuala Lumpur, Malaysia, Feb | COP 15: 2020 Kunming, Yunnan, China |
UN CLIMATE ACTION PORTFOLIOS
1. Finance
2. Energy Transition
3. Industry Transition
4. Nature-Based Solutions
5. Cities and Local Action
6. Resilience and Adaptation
7. Mitigation Strategy
8. Youth Engagement & Public Mobilization
9. Social and Political Drivers