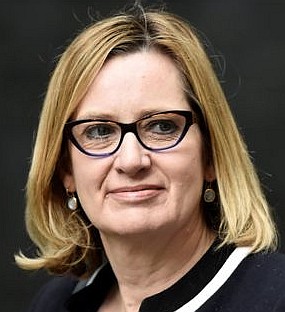 AMBER RUDD - MP Hastings & Rye


HASTINGS PIER FIASCO
Dear resident,

Like you, I am incredibly disappointed that Hastings Pier would not be open for the end of March as originally planned.

It is unacceptable if the pier remains closed indefinitely and I cannot support any scenario where this is the case.

Following discussions with the Pier owner, I understand the extended closure comes as a result of fresh structural damage. Further repairs are now, as I understand, being conducted.

In those discussions I have been assured that the Pier will be open at the start of May for the Pier Jam event.

Nonetheless, these assurances must be backed up with actions.

I urge the owner of Hastings Pier to conduct these repairs as a priority so that the pier may open as soon as possible. Our town cannot keep experiencing delay after delay.

There must also be much improved communication with the Hastings community from the owner. The Pier belongs to our town and we must always remember that.

Ultimately what we all want is for residents to be able to enjoy this impressive landmark of our town.

I look forward to this happening.

Yours sincerely,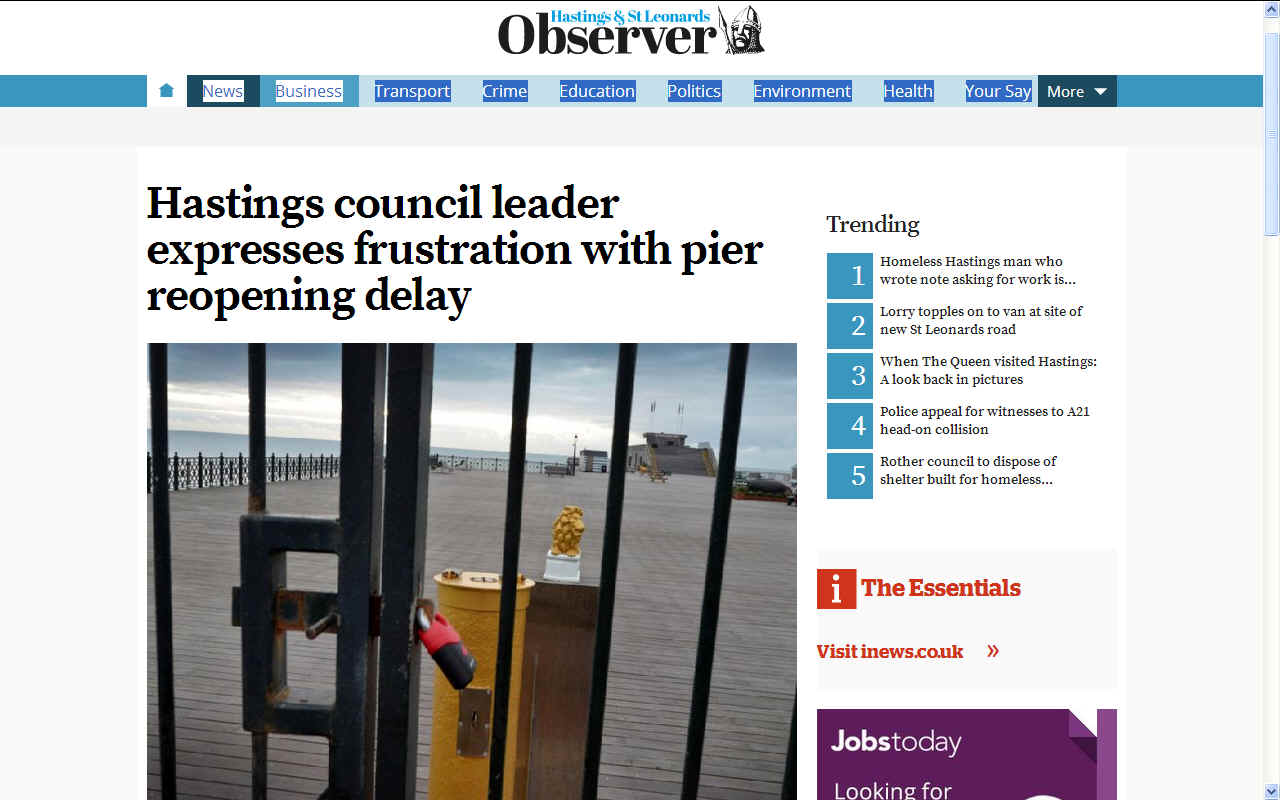 HASTINGS & ST. LEONARDS OBSERVER 22 MARCH 2019 - Hastings council leader expresses frustration with pier reopening delay

The leader of Hastings Borough Council has expressed his frustration that reopening of the town's pier will be delayed.

Councillor Peter Chowney made the comments after pier owner Sheikh Abid Gulzar said the reopening would be delayed by a few weeks.

Mr Gulzar shut the pier for three months in December 2018 for essential repairs.

On Tuesday, Mr Gulzar said the reopening would be delayed, however, in a Facebook post on Friday morning added it would be open 'before Easter'.

Councillor Chowney, who has previously said the pier closure could have been handled better, added: "We were disappointed when the pier closed suddenly before Christmas, potentially losing out on the lucrative business between Christmas and the New Year.

"Similarly we had a fantastic half term in February, with the temperatures some of the highest ever recorded in winter. The town and our seafront was packed, with several traders saying they'd bettered their summer trading figures on some days. Yet the pier remained closed.

"We understand that the storms of the past fortnight may have had an impact on the pier, but we would have expected that any issues could have been addressed quickly with an appropriate maintenance regime.

"Easter is likely to be very busy too, especially as it is later this year; normally residents and visitors would flock to the pier then, the traditional start of 'the season'.

"It is frustrating to see this fantastic attraction standing empty. We remain very keen to work with the pier management, but urge them to reconsider their position and reopen the pier as soon as possible, and certainly before the start of the Easter holiday."

On Wednesday (March 21), Hastings and Rye MP Amber Rudd wrote a letter to her constituents saying the pier 'belongs to our town'. By Stephen Wynn-Davies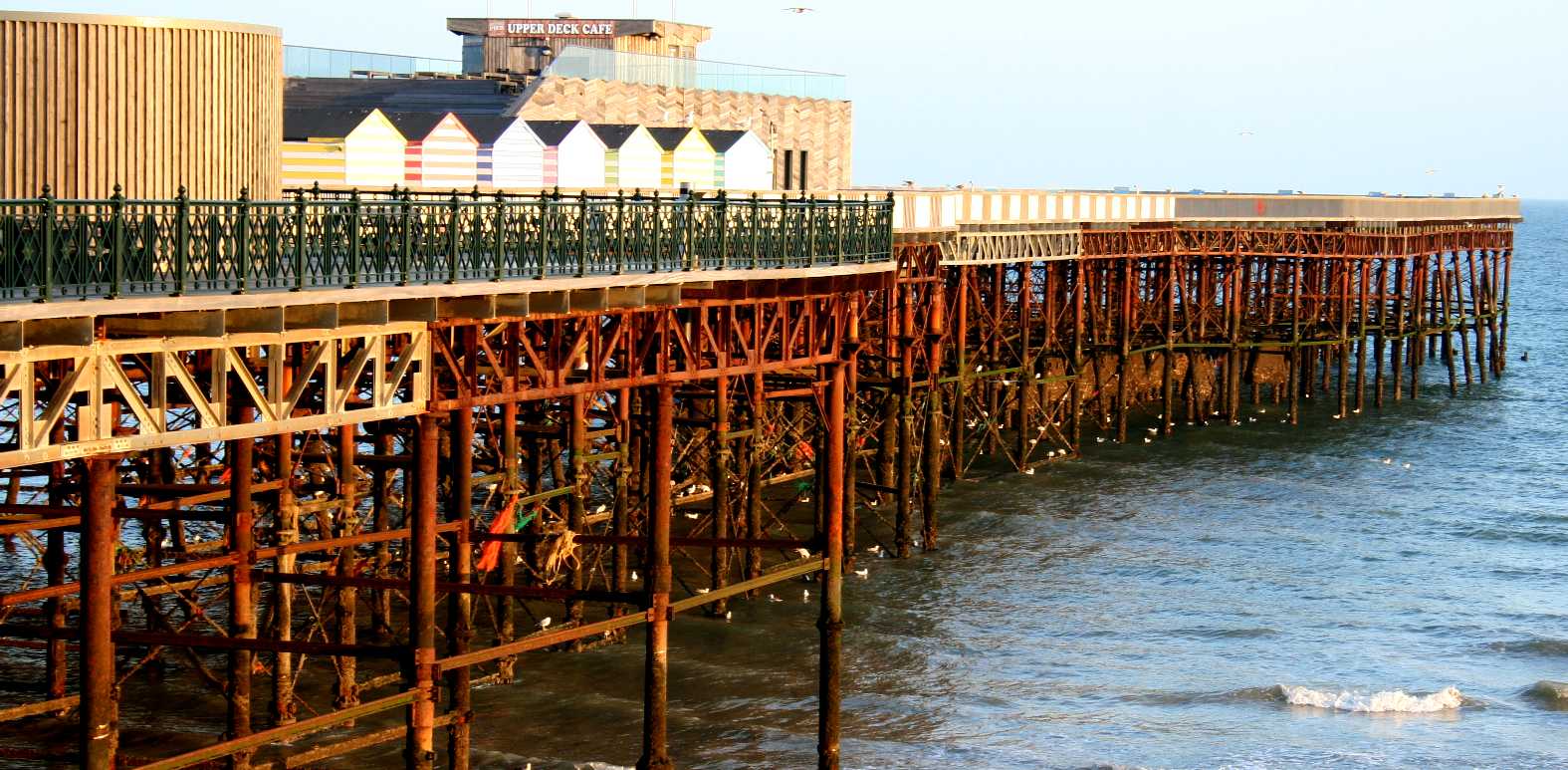 CHANGE.ORG PETITION TO REOPEN PIER - SHEIKH ABID GULZAR

Hastings pier has been closed over the Christmas week, without any explanation or comment.

On 29th December Hastings pier announced that it would remain closed until March 2019!

According to the statement on Facebook, the pier will be closed 'to allow time for essential repairs and improvements to be carried out.'

This is hard to believe, as currently there is a legal Case against Hastings Lions Pier Ltd by the former pier engineers, who have accused owner Sheikh Abid Gulzar of 'refusing to pay for safety inspections or for new materials to maintain the structural integrity of the Pier.'

The people of Hastings rebuilt the award winning pier, after years of decay. Then were denied the right to keep ownership of it, when it went into administration despite raising £477,000. Instead it was sold to Abid Gulzar for £100,000. The pier has since been recognised as an asset of community value.

Unless Hastings Lions Pier Ltd explain exactly what work will be done to our pier in the next three months, the pier should be reopened immediately!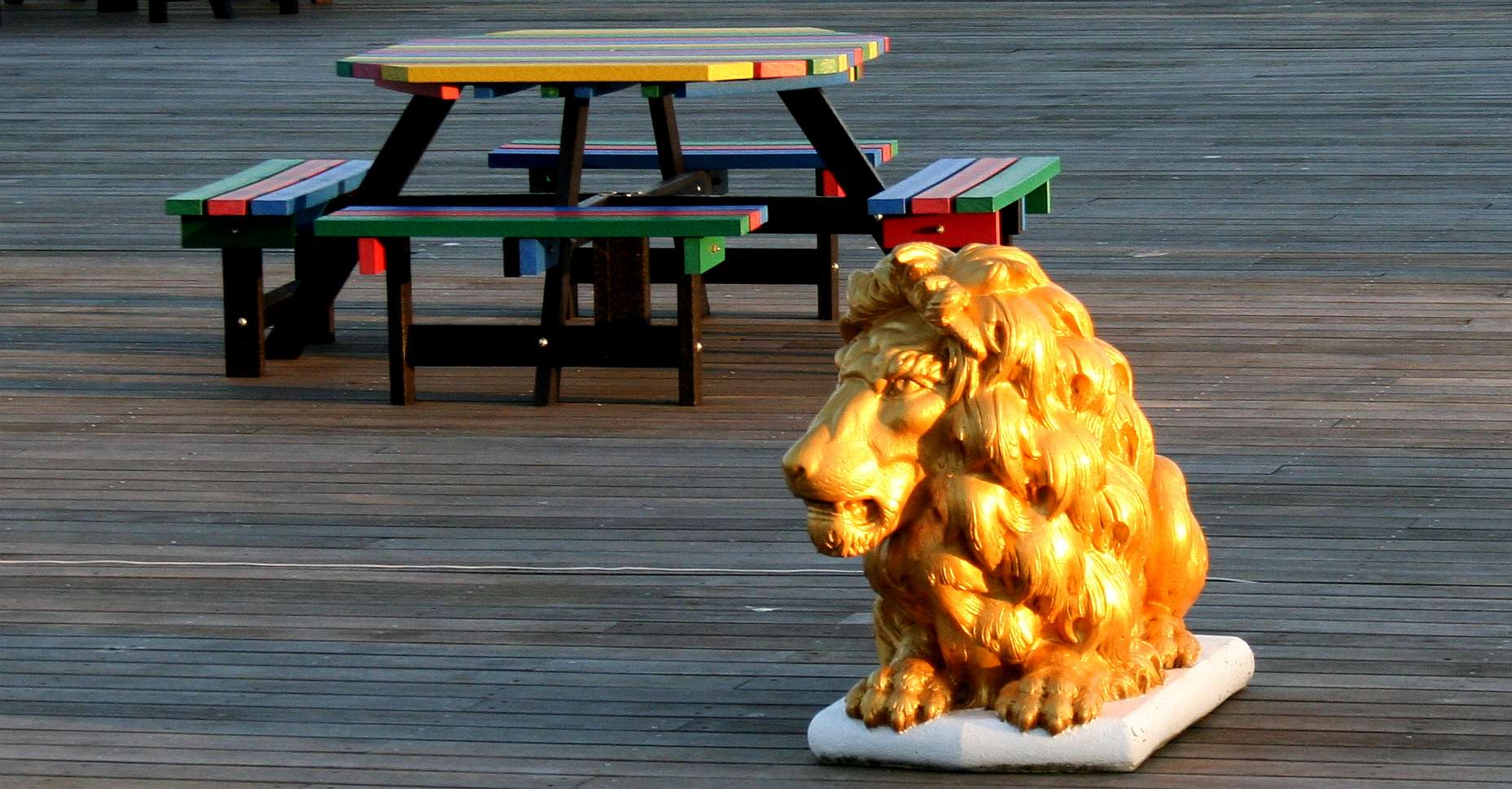 TACKY - The pier owner purchased Eastbourne pier since when there has been no sign of any replacement to the Blue Room that was also burned down by fire. If the entrepreneur had been successful with his vision to make Eastbourne pier one of the best in the country (his own words), why then is it still missing the famous former music room?
A coat of gold paint (and we've nothing against gold) will not mask the the financial difficulties that led HM Revenue & Customs to take action to secure monies against future irregular trading after two of the entrepreneur's companies struck a reef.
The burning question then relates to disclosure of his financial position when negotiating to purchase Hastings pier. We wonder how it is that any person with a track record of insolvent trading should be sold a pier, where the main criteria would surely have been the ability of the purchaser to remain solvent. Especially so where the reason for disposal was that the former owners fell on hard times.
The pier owner was forced to remove plastic ornaments from a Site of Special Scientific Interest, to include lion statues on the entrance off the Marsh Road from Pevensey Bay to Wartling. In the picture above we see similar ornaments littered about this iconic pier.
We assume that the receivers built in a non-performance clause into any transfer, such that the transfer might be reversed for breach of contract. If such a clause exists, the pier might recovered to be offered to the highest bidder again. Eastbourne Borough Council slipped up with conditions relating to Cuerden Leisure and permission to remove the buckled Blue Room steel after the fire in August 2014. The objective of such a condition was to bind the then owners to replacing the damaged structure with a new building of similar size and design. Rather than face the build cost, Crown Entertainment sold to Abid Gulzar, otherwise know as Sheikh Gulzar, though he freely admits that he is not a Middle Eastern Sheikh. In fact he is from India, the home of more millionaire entrepreneurs per capita that any other country.
HASTINGS OBSERVER 3 JANUARY 2019 - MORE THAN 1,000 SIGN PETITION

More than 1,000 people have signed a petition calling on owner Sheikh Abid Gulzar to reopen Hastings Pier.

Mr Gulzar said on Saturday the pier would be closed until March to allow time for essential repairs following a small electrical fire on November 24.

Following the announcement, Aran Macdermott started a petition on change.org called 'Reopen Hastings Pier'.

By Thursday morning (January 3) it had 1,121 signatures.

In a post, Mr Macdermott said: "Hastings pier has been closed over the Christmas week without any explanation or comment.

"The people of Hastings rebuilt the award winning pier after years of decay. Then were denied the right to keep ownership of it when it went into administration, despite raising £477,000.

"Unless Hastings Lions Pier Ltd explain exactly what work will be done to our pier in the next three months, the pier should be reopened immediately."

Friend of Hastings Pier, the community group which had sought to keep Hastings Pier in public ownership before it was sold to Mr Gulzar, said it would be approaching the owner 'to ask for more information on the closure, maintenance and future investment plans'.

Hastings and Rye MP Amber Rudd described the closure as sad adding she would be meeting with Mr Gulzar to ensure there is urgency getting the pier reopened.

The Hastings Observer has put a series of questions to Mr Gulzar about the closure of Hastings Pier but has not yet received a response.

By 23 March it had 1,944 signatures.
ABOUT AMBER
Amber Rudd represents fishing communities in two locations that depend on the ocean for their livelihoods. This may become a problem with fish catch limits, or it may prove to pass the burden of deciding what sustainable quotas should be so that our fisheries are not fished out. We hope that Blue Growth will be high on Amber's agenda in the circumstances.
Brexit looks set to scupper a number of UK projects when it come to funding via the Horizon 2020 initiatives, where, when and if the UK does exit Europe, those who are based in the UK have been told that they will be unable to continue to work on those projects, even if they are the lead.
Clearly, this poses enormous problems where if the technology is British and the home company or organisation is contributing know-how that is proprietary, then the UK concern would have given up their ideas in return for funding and get nothing back in return.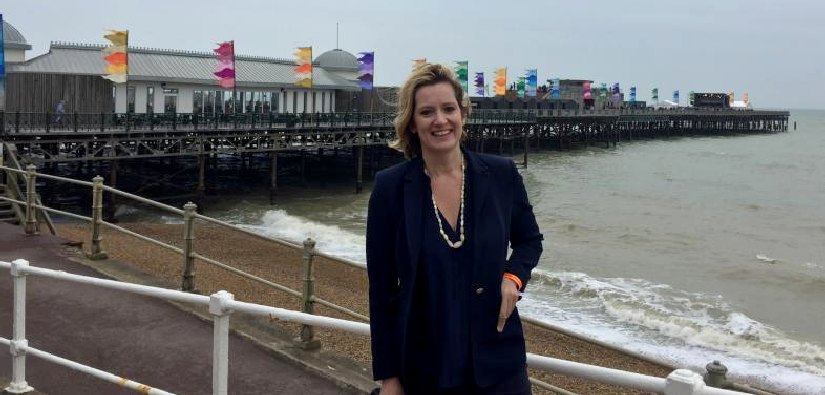 PIER PRESSURE - According to her website Ms Rudd has been in discussions with the pier's administrator where she learned a number of offers for the pier had been received and were currently all under consideration. The administrators had also received a number of revisions to these offers and they hoped to make a decision shortly so the new owner may make full use of the boost in tourism over summer.
Amber said "I was really pleased to hear the bidding process for the pier is moving along quickly. It is vital that our pier's new owner can provide stability and sustainability with a long term plan. I made sure the concerns of the local community were heard, and that Hastings Pier must always be free of charge on entry.
"I was pleased to see a local community group, Friends of Hastings Pier, had submitted an offer for the pier and I made clear that the community must always be involved with our pier should their offer be unsuccessful. I was encouraged to hear that the Heritage Lottery Fund and the pier's administrators understand the importance of local community involvement and will consider all offers fairly and carefully."
We hope then that our politicians are aware of these issue and will do what they can by way of negotiating a truce to allow UK academics and other not-for-profit concerns to continue to contribute intellectually and with physical developments - failing which we wonder what other assurances this Government might offer that important research work might continue under the Conservatives.
Amber remained home secretary despite only narrowly holding her seat as MP for Hastings and Rye in June. During the election campaign, she stood in for the PM in the BBC's televised debate.

Ms Rudd was previously energy and climate change secretary, a position she held for just one year.

The former investment banker, venture capitalist and financial journalist, aged 53, decided to enter politics in her 40s in order to get "a grip on her life". It seems to us that she was already doing that, but well done on that anyway.
She was appointed Home Secretary in Theresa May's ministry on 13 July 2016, and given the additional role of Minister for Women and Equalities in January 2018. Rudd was the third female Home Secretary, the fifth woman to hold one of the Great Offices of State and the fastest-rising politician to a Great Office of State since the Second World War.

Rudd has been involved in the campaign for the Hastings fishing fleet. Her maiden speech advocated wholesale reform of the Common Fisheries Policy (CFP).

Rudd campaigned successfully for the construction of the Hastings to Bexhill Link Road. In early 2013, the Government gave the road the go-ahead for construction after ten years of campaigning. Rudd is now spearheading a campaign called Complete The Link to see the final stage of the road get funding for construction. She has supported electrification of the Marshlink Line from Hastings to Ashford International, which could result in extending High Speed 1 and providing a high speed rail link from the constituency to Central London.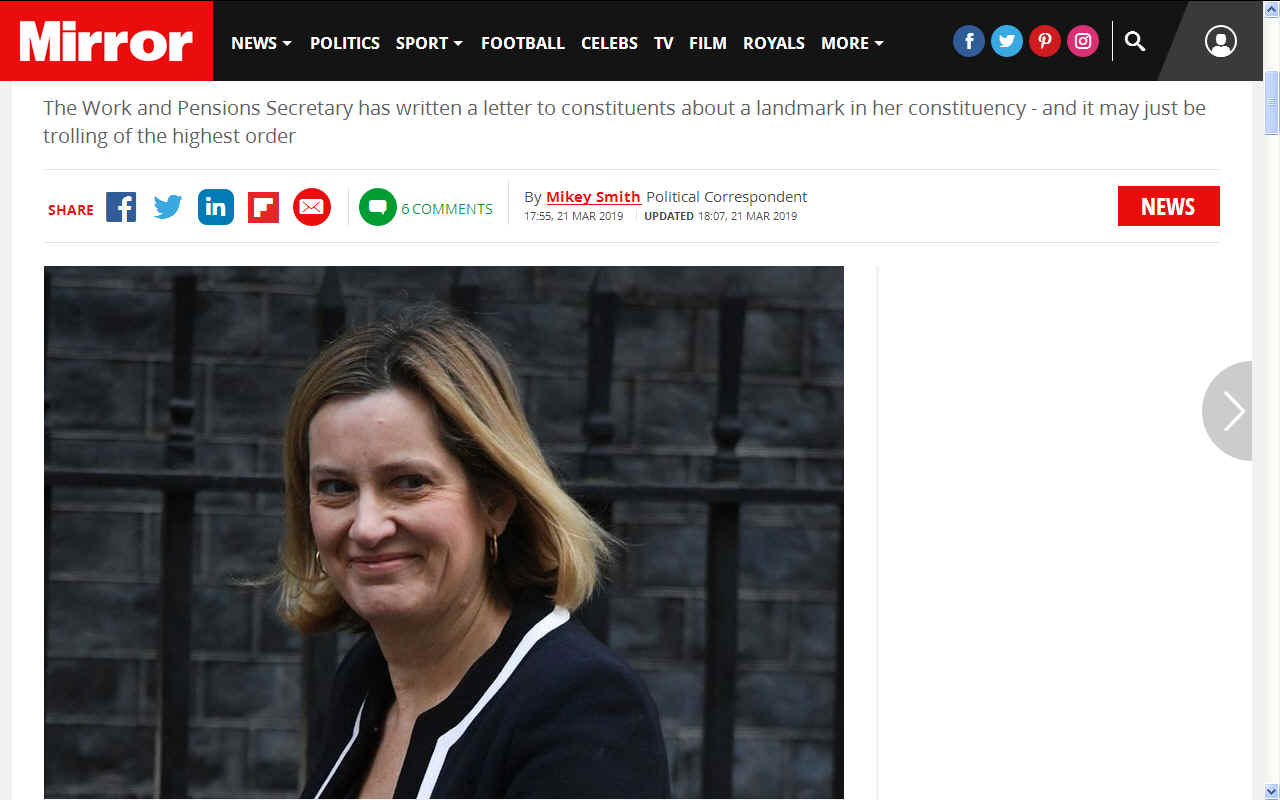 CONTACT AMBER
Swallow House
Theaklen Drive
St Leonards-on-Sea
E. Sussex, TN38 9AZ

Tel: 01424 716 756
Email: amber.rudd.mp@parliament.uk

https://www.gov.uk/government/people/amber-rudd
https://www.facebook.com/amberruddofficial
https://twitter.com/AmberRuddHR
https://www.amberrudd.co.uk/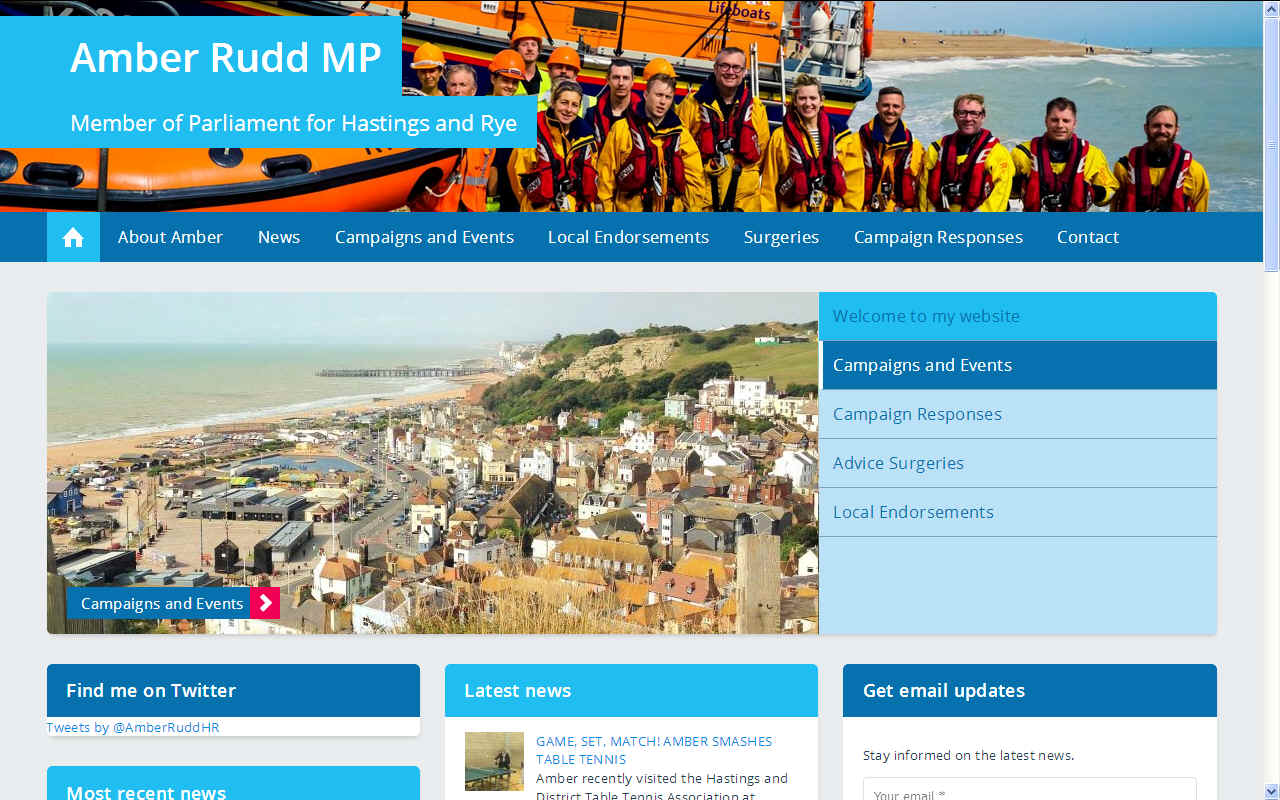 CONSERVATIVE MPS 2017-2018
Theresa May - Prime Mnister

MP for Maindenhead

Damian Green

MP for Ashford

Philip Hammond

MP Runnymede & Weybridge

Boris Johnson

MP Uxbridge & South Ruislip

Amber Rudd

MP Hastings & Rye

David Davis

MP Haltemprice & Howden

Gavin Williamson

MP South Staffordshire

Liam Fox

MP North Somerset

David Lidlington

MP for Aylesbury

Baroness Evans

MP Bowes Park Haringey

Jeremy Hunt

MP South West Surrey

Justine Greening

MP for Putney

Chris Grayling

MP Epsom & Ewell

Karen Bradley

MP Staffordshire Moorlands

Michael Gove

MP Surrey Heath

David Gauke

MP South West Hertfordshire

Sajid Javid

MP for Bromsgrove

James Brokenshire

MP Old Bexley & Sidcup

Alun Cairns

MP Vale of Glamorgan

David Mundell MP

Dumfriesshire Clydes & Tweeddale

Patrick McLoughlin

MP Derbyshire Dales

Greg Clark

MP Tunbridge Wells

Penny Mordaunt

MP Portsmouth North

Andrea Leadsom

MP South Northamptonshire

Jeremy Wright

MP Kenilworth & Southam

Liz Truss

MP South West Norfolk

Brandon Lewis

MP Great Yarmouth

MP

Nus Ghani

MP Wealden

Huw Merriman

MP Battle

MP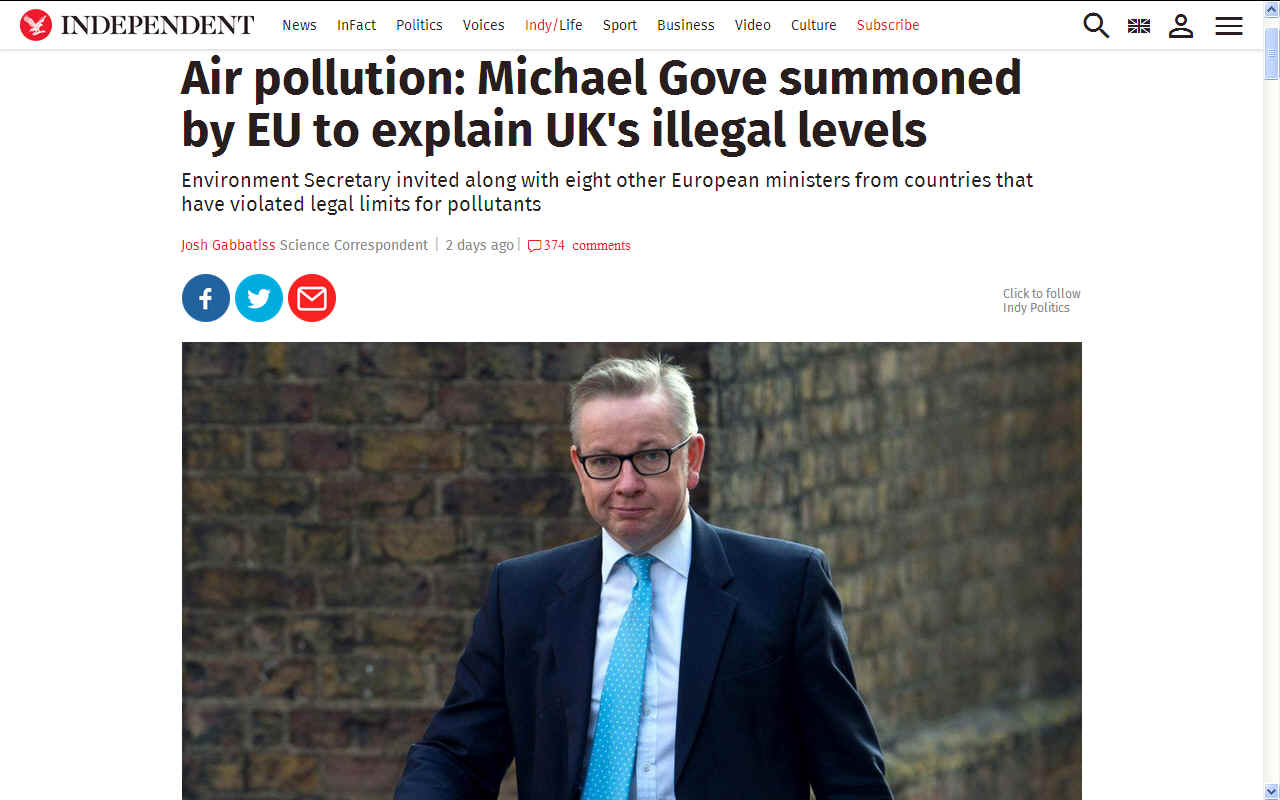 CONSERVATIVE CLIMATE - Michael Gove has been summoned to Brussels because of his party's failure to meet air pollution targets despite warnings about which the Prime Minister was aware of.
UK POLITICS

The United Kingdom has many political parties, some of which are represented in the House of Commons and the House of Lords. Below are links to the websites of the political parties that were represented in the House of Commons after the 2015 General Election:
CO-OPERATIVE PARTY
DEMOCRAT UNIONIST PARTY
PLAID CYMRU
SINN FEIN
SOCIAL DEMOCRATIC AND LABOUR PARTY
UK INDEPENDENCE PARTY
ULSTER UNIONIST PARTY
Social Democratic and Labour Party
We are concerned with how the make up of the above parties and (reasonably) popular policies may affect the Wealden district, because we are all brothers on two islands in the Atlantic Ocean and what we do or fail to do is likely to rebound on ourselves and our fellow man in other nations around the world. How we act today influences policies in other countries in our global community. It is not just about us and our patch.
East Sussex has five District and Borough Councils, each with a border on the coast. From west to east they are:
There is also East Sussex County Council as the provider of services to the 5 East Sussex districts.
As near neighbours and with councils now sharing facilities and working together, these area of Sussex are included in our remit and an area where climate change and affordable housing are issues that need urgent attention. Where the coastline is a feature in every Council, Blue Growth is a food security issue, especially where this side of of our local economy is under-exploited.