DAVID GAUKE - MP South West Hertfordshire


David Gauke became work and pensions secretary in June 2017. He was previously the Chief Secretary to the Treasury, who attends cabinet but does not have a ministerial role.

Mr Gauke has been the MP for Hertfordshire South West since 2005. He is a qualified solicitor and worked for a leading City firm until he was elected.
SECRETARY OF STATE FOR JUSTICE
David Gauke MP was appointed Lord Chancellor and Secretary of State for Justice on 8 January 2018. He was Secretary of State for Work and Pensions from June 2017 to January 2018. He was elected the Conservative MP for Hertfordshire South West in May 2005.
As a qualified solicitor, David Gauke will know about the need for Article 6 compliance in all aspects of British law, failing which a Declaration of Incompatibility should be sought by the State as per Section 6 of the Human Rights Act 1998 concerning violations of Article 6 and Article 14 with reference to Section 4 of the Act.
The Rt Hon David Gauke MP
House of Commons
London
SW1A 0AA
Tel: 0207 219 4459
Constituency office: 01923 771781

email: david@davidgauke.com
CASE REVIEW
In 2012 the Criminal Cases Review Commission refused to refer a case to the Court of Appeal in near identical circumstances to two other cases where a conviction had been secured by the Sussex Police based on information that was put before a Jury in the Hove Crown Court in 2008 that was both misleading and contentious, and where Judge Cedric Joseph had allowed a situation to develop where he effectively appointed the Jury in the trial as medical experts in telling them to make of the information what they might.
The information that had been put to the Jury by a Doctor Melanie Liebenberg from Eastbourne, was that marks on the hymen of a girl (that had not been examined using a colposcope), were suspicious, when in fact those marks were a naturally occurring feature in females of all ages. It is alleged that Dr Liebenberg knew about this and also realised that the girl's hymen was so tightly closed that it could not be opened, even with labial traction. It is alleged that the doctor realised that this information harmed the case for the prosecution, in that the girl was lying about being penetrated repeatedly and for this reason the State's expert did not carry out the rest of the procedure, to throw the burden of proof onto the defence, who of course had no access to the claimant.
FUNDING CUTS
Indeed, the defendant's solicitor, Tim Stirmey, and barrister Julian Dale, refused to challenge the medical evidence, despite Judge Brown (Lewes Crown Court) telling Mr Dale to get onto it and the defendant repeatedly asking that they instruct an independent expert. The defendant's case was thus seriously prejudiced and it turns out that this lack of case preparation was due to Legal Aid restrictions that are now so serious that it has caused barristers to strike on two occasions in 2014 and 2018.
SEXUAL OFFENCES ACT 2003
The Sexual Offences Act 2003, known as Blunkett Law, after David Blunkett introduced it, reverses the burden of proof in sex cases, so that the accused is guilty until proven innocent, instead of the Article 6 version: innocent until proven guilty. What this means in real terms is that a proper defence costs more to mount, where the defendant has to prove his innocence beyond reasonable doubt, instead of the State proving his guilt. In other words without a full defence that is able to show "reasonable doubt" the defendant will be assumed to be guilty, rather than innocent.
In this case the girl had claimed multiple digital penetrations, classed as rape. She has also claimed attendance at a location in Sussex where she stated that this is where she was taken to be alone with the defendant and was abused. The only proof that that might be a lie was denied to the defence until a Friday afternoon before the defendant was due to give testimony on the witness stand the following Monday. The defence had no knowledge of a work diary that the claimant's mother had admitted to on being questioned on oath and had been caught out lying. When the existence of this diary came to the attention of the defence the claimant's mother said she's not been asked about it and so did not volunteer that information. But, she had volunteered many other facts, excluding also that she was in receipt of state benefits and was claiming these despite having a capital sum far in excess of the threshold where she would be eligible for working tax credits and housing benefits. The claimant's mother was this a fraudster and this information was also denied the Jury.
The Judge in this case was nearing retirement and made another mistake in his summing up, instructing the Jury to treat the work diary of the claimant's mother, as being a diary belonging to the defendant. The incompetence of the Court in relation to the facts and conduct of the case is itself a violation of Article 5 (1). The Judge also allowed the press into the court, refused to adjourn so that fresh evidence could be properly examined and failed to prevent the media reporting on the case mid-trial. Lastly, there is a suspected masonic connection where the grandfather of the claimant was a past Master of the Tyrian lodge in Eastbourne and had links with Sussex Police and masonic lodges in London. Judge Joseph allowed this material witness to sit in on the trial and pass information to his daughter about the trial between breaks by way of coaching her.
The reason for what amounts to a revenge allegation was the calling off of an engagement and acrimonious split up following the claimant's mother hitting the defendant and damaging his laptop.
In the High Court on an application for leave for a judicial review, the Court ruled that the Criminal Cases Review Commission were entitled to take a view. Taking a view and not acting consistently from one case to another is of course an Article 14 violation and a practice that also violates Article 17. In that the Court refused permission for a Review, the applicant was also denied his right to an effective remedy, violating Article 13 of the European Convention of Human Rights, but that in English law there is no Article 1 or 13 contained in the UK domestic version of the European Convention.
INSTITUTIONALISED DISCRIMINATION OR BIAS
Other factors to be considered in this case are that the Sussex Police had been involved in a cover up concerning a Petition in 1997 and the defendant. The Sussex Police had colluded with Wealden District Council to pervert the course of justice and pretend that there had been an investigation, when in fact there was no recorded crime number and not one of 12 independent members of the public making criminal allegations of a serious nature. Shortly after a letter was read out to a full Council meeting suggesting that there had been an investigation and that their officers has been exonerated.
The Sussex Police had been involved in an attempt to frame the defendant in 1997, when during a site visit David Phillips had assaulted the defendant in seeking to push past the defendant to gain access to premises that the defendant was occupying. Following this site visit, Christine Nuttall made notes to say that the defendant had grabbed Phillips by the throat and pushed him back, but other officers present during this site visit were not prepared to go along with the frame up and there was a distinct absence of physical marks on David Phillips that would have accompanied such acts. Nevertheless, Inspector Tim Motram wrote back to Derek Holness the then CEO of Wealden, to say that Sussex Police would support this Council in a prosecution of the defendant.
The point here is that the Sussex Police were prepared to help this Council prosecute the defendant, but not prepared to investigate any allegations from the defendant that this Council had lied to Inspectors Raymond Dannruether and Raymond Michael about the history attaching to an early generating building in the Wealden area.
It gets worse. Following the conviction and imprisonment of the defendant and after release from prison, the Sussex Police failed to investigate the illegal use of a registered trademark by Donald Wales, but when Donald Wales made an allegation of fraud concerning an Agreement that he had entered into with the defendant, the Sussex Police broke into the defendant's workshop, smashing no less than five doors and locks in the process. This attempt to gain another conviction to extend license conditions backfired when Sussex Police realised that the defendant had documents that they had failed to seize to prove that Mr Wales was lying and they abandoned this attempt to frame the defendant.
It is also interesting to note that when the defendant in the sex case had alleged fraud on the part of Donald Wales in not paying his any part of £62,000 for his part in designing, building, marketing and raising sponsorship for a speed record car, Sussex Police again refused to investigate. Donald Wales later transferred all the assets from the Company concerned to another company to defeat civil clams for compensation.
It gets worse. In another attempt at a frame up, Sussex Police failed to interview a key witness, doctored video evidence to remove a part where the defendant was trying to pay for goods and prosecuted the same defendant in the Crown Court, once again seeking to gain a conviction to extend license conditions. This extraordinary frame up was over a matter of £19.99. On this occasion the defendant was fully represented by a barrister over a two day trial and despite the trial Judge directing the Jury to ignore missing evidence and the failure of the police to produce the key witness (the one not interviewed), the defendant was acquitted. The investigative failures breached the crime scene Code of Conduct exactly the same as in the sex case, demonstrating a pattern of unfavourable conduct that always seems to happen concerning this defendant.
The level of bias is further proof in connection with the sex conviction that the crime scene was not secured to avail the defendant of a fair trial, not by accident, but by design. Discrimination along these lines were seen in the Kelly Davis v Wansdyke District Council case with an award of £790,000 against discrimination. The only difference between cases is that Kelly Davis was black and this defendant is white.
HANSARD
In a Report on the James Ashley shooting a review of the case found that Sussex Police is unfit for purpose. It appears from a look at the facts of this case above that Sussex Police did not change their operating practices to overcome that decision and that they continue to operate in a manner that one might describe as morally and ethically wrong. The amount of time and public money that Sussex Police and Wealden Council are spending trying to destroy the life of this defendant in the sex case above may well fall to be considered as state sponsored eugenics. The longer they continue with this, the worse it gets in relation the human rights abuses.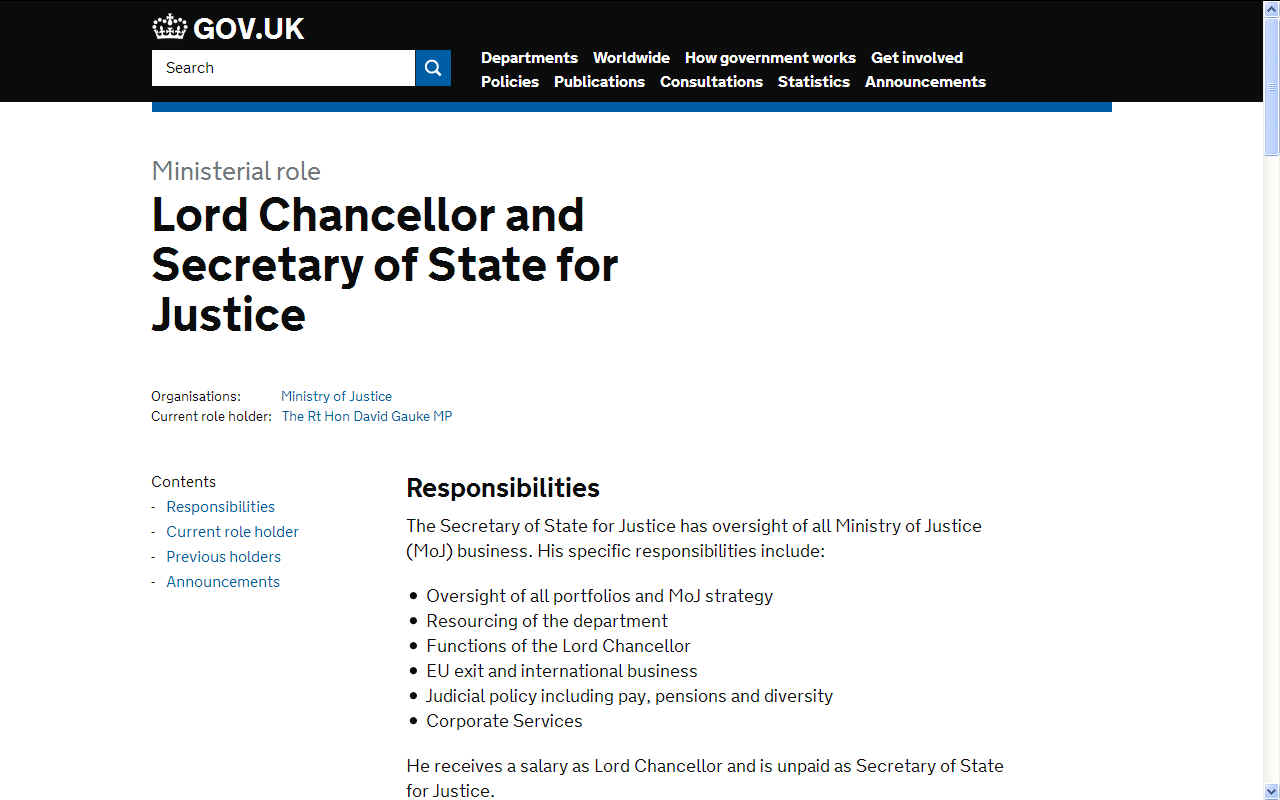 CONSERVATIVE MPS 2017-2018
Theresa May - Prime Mnister

MP for Maindenhead

Damian Green

MP for Ashford

Philip Hammond

MP Runnymede & Weybridge

Boris Johnson

MP Uxbridge & South Ruislip

Amber Rudd

MP Hastings & Rye

David Davis

MP Haltemprice & Howden

Gavin Williamson

MP South Staffordshire

Liam Fox

MP North Somerset

David Lidlington

MP for Aylesbury

Baroness Evans

MP Bowes Park Haringey

Jeremy Hunt

MP South West Surrey

Justine Greening

MP for Putney

Chris Grayling

MP Epsom & Ewell

Karen Bradley

MP Staffordshire Moorlands

Michael Gove

MP Surrey Heath

David Gauke

MP South West Hertfordshire

Sajid Javid

MP for Bromsgrove

James Brokenshire

MP Old Bexley & Sidcup

Alun Cairns

MP Vale of Glamorgan

David Mundell MP

Dumfriesshire Clydes & Tweeddale

Patrick McLoughlin

MP Derbyshire Dales

Greg Clark

MP Tunbridge Wells

Penny Mordaunt

MP Portsmouth North

Andrea Leadsom

MP South Northamptonshire

Jeremy Wright

MP Kenilworth & Southam

Liz Truss

MP South West Norfolk

Brandon Lewis

MP Great Yarmouth

MP

Nus Ghani

MP Wealden

Huw Merriman

MP Battle

MP
UK POLITICS

The United Kingdom has many political parties, some of which are represented in the House of Commons and the House of Lords. Below are links to the websites of the political parties that were represented in the House of Commons after the 2015 General Election:
CO-OPERATIVE PARTY
DEMOCRAT UNIONIST PARTY
PLAID CYMRU
SINN FEIN
SOCIAL DEMOCRATIC AND LABOUR PARTY
UK INDEPENDENCE PARTY
ULSTER UNIONIST PARTY
Social Democratic and Labour Party
We are concerned with how the make up of the above parties and (reasonably) popular policies may affect the Wealden district, because we are all brothers on two islands in the Atlantic Ocean and what we do or fail to do is likely to rebound on ourselves and our fellow man in other nations around the world. How we act today influences policies in other countries in our global community. It is not just about us and our patch.
East Sussex has five District and Borough Councils, each with a border on the coast. From west to east they are:
There is also East Sussex County Council as the provider of services to the 5 East Sussex districts.
As near neighbours and with councils now sharing facilities and working together, these area of Sussex are included in our remit and an area where climate change and affordable housing are issues that need urgent attention. Where the coastline is a feature in every Council, Blue Growth is a food security issue, especially where this side of of our local economy is under-exploited.