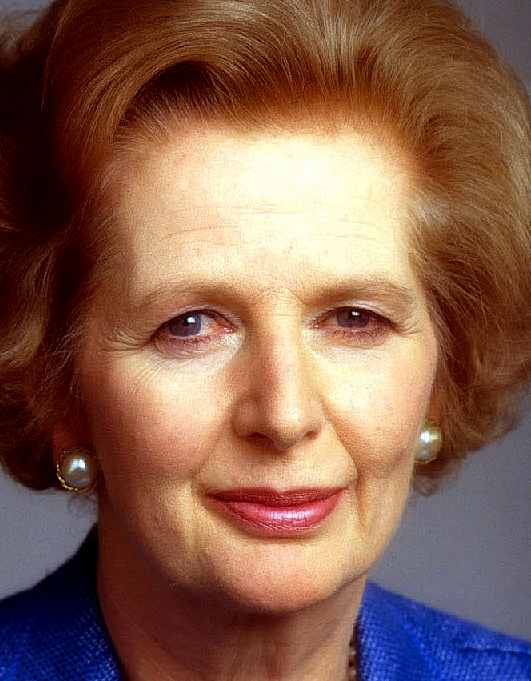 Margaret Thatcher - Former Prime Minister
Margaret Thatcher was known as the Iron Lady of British politics, where she bullied her ministers and foreign heads of state until she got her own way. She also believed that South Africa should be all white. Really!
Unfortunately, she made many mistakes, one of which was not fully understanding that politicians are there to serve the wishes of the people, not build empires and hark over an Empire that has long faded to dust. That is one reason that the United Kingdom is bankrupt. Successive Governments have been spending money on defence trying to bolster our position on the world stage, instead of building a sustainable home economy.
What killed 'Maggie' as she was known, is the Poll Tax. This was her (a Conservative Government) way to screw every penny out of the population regardless of ability to pay. It was a crazy notion from a woman who was completely out of touch with the wishes of the nation. Worse than that, it showed her complete disregard for the rights and protections of those in society who are less well off.
Maggie allowed and encouraged the sell-off of social housing stocks without a care in the world as to the homeless and young families starting out in life. She has no plan for replacements and that is where the present renting society really took off, with buy to let mortgages being offered by banks and building societies, more of less saying that living on the backs of those who were newly coming into the world was acceptable - when it is morally repugnant to most rational people - since it constitutes a modern form of Slavery that is designed to keep the Middle Class wealthy and the Banking Class wealthier still - where the UK produces (manufactures) very little, and so financial services have become the mainstay to underpin our perpetual over-spending.
Apart from these serious flaws in her character and her policies, she was a powerful leader, but then so was Adolf Hitler!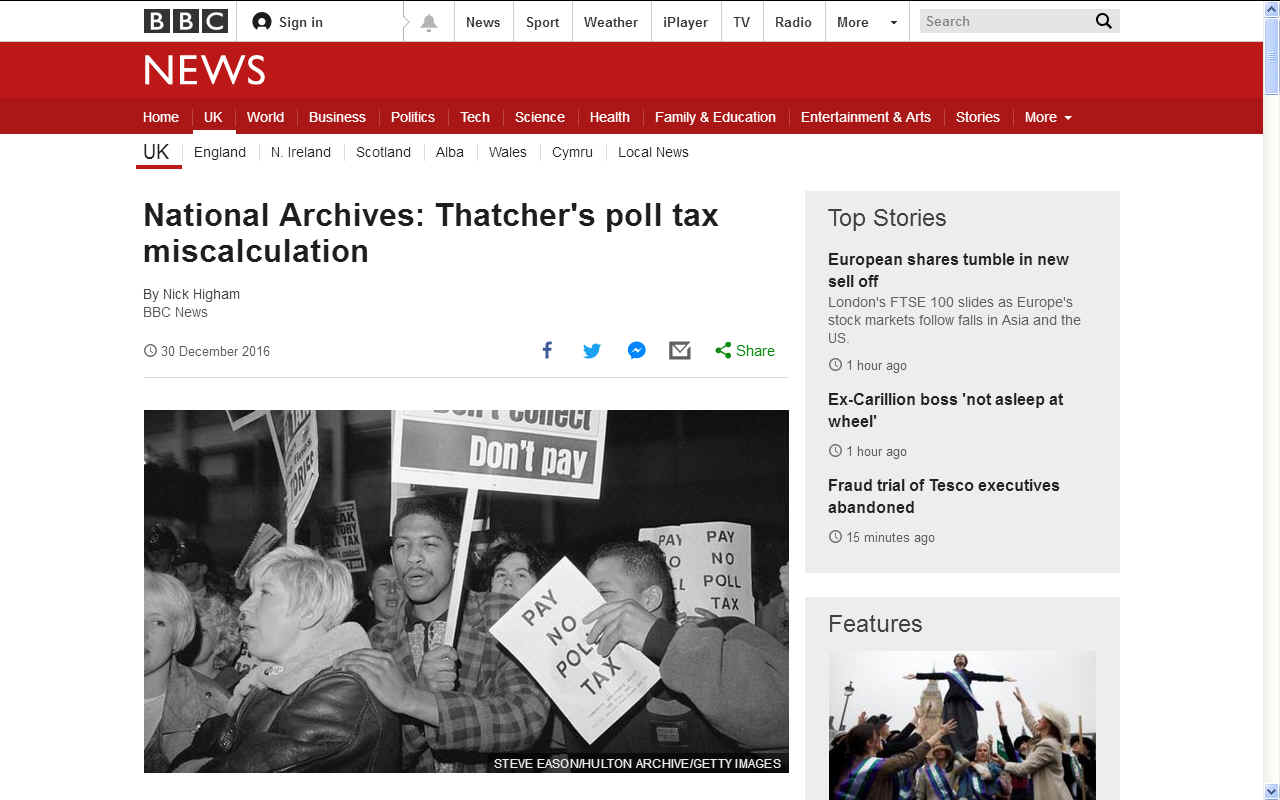 DAILY MAIL 4 FEBRUARY 2018

Theresa May was today urged to channel 'Iron Lady' Margaret Thatcher and defy her Chancellor Philip Hammond and deliver a clean Brexit.

Senior Tory Bernard Jenkin hit out at 'vague and divided ' ministers and urged them to get behind the Prime Minister.

He said it was only by defying her ministers and civil servants that Baroness Thatcher 'won the battle' of the EU rebate and dragged Britain out of the failed economic consensus of the 1970s.

And he urged Mrs May to do the same, put an end to the current 'uncertainty' shrouding Brexit and to push through with delivering a clean break from the Bloc.

Mr Jenkin, a long-time Eurosceptic, made his intervention as Mrs May is facing a fresh plot to oust her as leader amid fears she is softening her stance on Brexit.

Brexiteers fear she will commit to keeping the UK in a customs union with the EU -which could hamper the country's ability to sign trade deals with other countries.

She will hold a crunch meeting of her Brexit war Cabinet later this week to thrash out more details of Britain's negotiating strategy.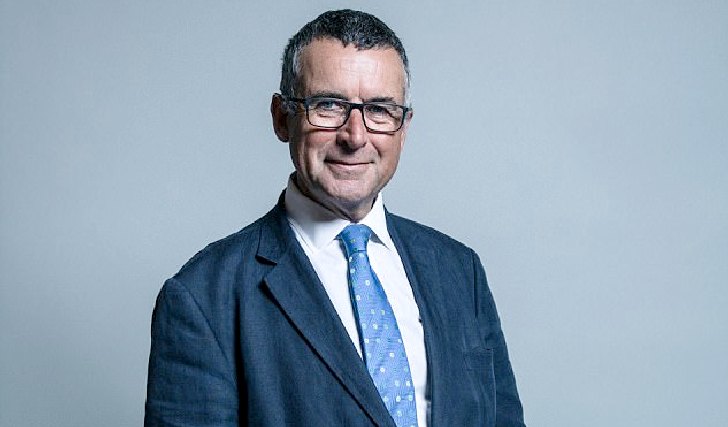 Writing in The Telegraph, Mr Jenkin said today's in-fighting between Remain-backing ministers and civil servants is like the situation Lady Thatcher found herself in.

He wrote: 'Sudden changes in fundamental policy are challenged by established "group think" based on cherished but outdated notions.

'What would have happened to Mrs Thatcher's economic policy in 1980 if the Treasury had captured Chancellors Howe and Lawson, and the UK had gone back to the failed economic consensus of the 1960s and 1970s?

'On European policy, she won the battle of the rebate, saving billions every year since, but only by defying the Foreign Office.'

Leading Brexiteers including Tory MP Jacob Rees-Mogg have accused Treasury officials of purposely drawing up gloomy Brexit forecasts to try to steer the government into a soft Brexit.

And they have hit out at Mr Hammond for talking down Britain's economic prospects after Brexit.

Mr Jenkin wrote: 'If ministers are vague or divided, life for officials becomes impossible, as we can see now.

'Ministerial collective responsibility really matters. If the Prime Minister sticks to one policy and the Chancellor keeps advocating another, what are officials meant to do?

'Civil servants tend to support their departmental ministers, because the line of accountability goes direct from the department to Parliament.'

His warning comes amid reports that Tory MPs are plotting to oust Mrs May from No10 and replace her with a 'Brexiteer dream team' if she tries to keep Britain in a ­customs union with the EU.

Eurosceptics are plotting to install Boris Johnson as PM with Michael Gove as his deputy and Jacob Rees-Mogg as Chancellor if Mrs May goes soft on Brexit.

Mr Johnson is said to have told one of the plotters that the 'cavalry is coming' and he stands 'ready' to swoop in.

The Tories are deeply divided over their negotiating strategy ahead of crunch meeting of Mrs May's Brexit war Cabinet later this week.

Brexiteers fear the PM is paying too much heed to Remain-backers including Chancellor Philip Hammond and will try to push for the UK to stay in a customs union with the EU.

They warn this would seriously hamper Britain's ability to sign free trade deals with other countries around the world.

News of the plot is a major blow to the authority of the PM and comes just 24 hours before she hosts chief Brexit negotiator Michel Barnier at No10 for lunch.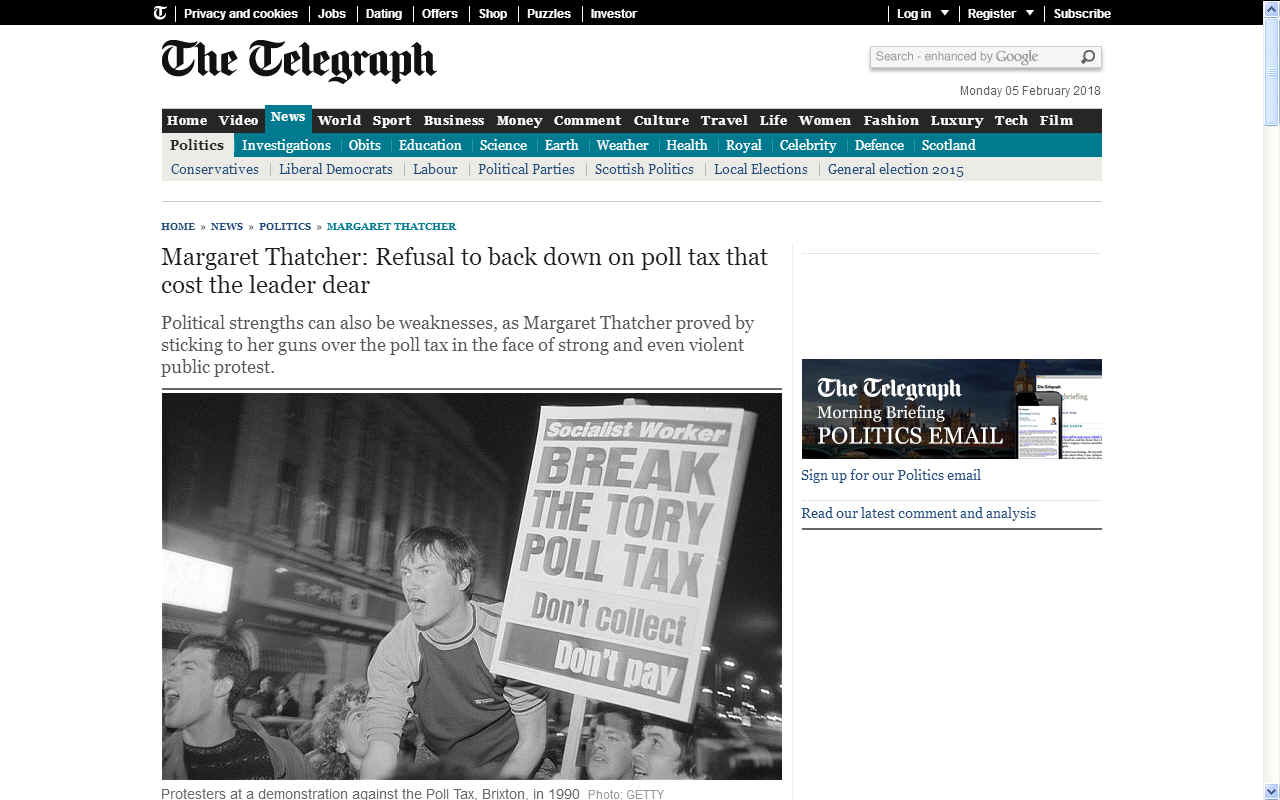 THE TELEGRAPH - Political strengths can also be weaknesses, as Margaret Thatcher proved by sticking to her guns over the poll tax in the face of strong and even violent public protest.

The tax, properly known as the community charge, was to become an unwanted emblem of a leader determined to press on even in the face of hostility.

The plan to replace the property-based rates system with a simpler form of individual local tax had its roots in Conservative thinking in the 1970s.

But it only took clear shape in a 1986 Green Paper by William Waldegrave and Kenneth Baker. The proposed new tax was included in the Conservatives' 1987 manifesto, a platform on which Mrs Thatcher won a third resounding general election.

Legislation was quickly passed and the tax was imposed in Scotland in April 1989, a year before England.

Scottish protests were a foretaste of what was to come south of the Border. In March 1990, those most strongly opposed convened a rally in central London, to demonstrate over what they saw as an unfair transfer of the local tax burden from rich to poor.

The rioting that ensued left more than 100 people hurt and more than 400 arrested. Damage to property was extensive, and images of violent discord on the capital's streets was politically more harmful still. Once, such events might have been a chance for the Iron Lady to show her famous resolve.

But amid a weakening economy and softening Tory poll numbers, her vehement support for the tax struck many in her party as proof that she was out of touch with voters.

Protesters appeared heartened, organising campaigns of non-compliance, where residents refused to pay.

Those doubts played a part in the Conservative assassination of their leader in November 1990.

It was no coincidence that in one of his first acts as prime minister, John Major, her successor, promised to repeal the tax, eventually replacing it with the council tax system that persists to this day.
POLL TAX RIOTS
The poll tax riots were a series of riots in British towns and cities during protests against the poll tax (officially known as the "Community Charge"), introduced by the Conservative government of Prime Minister Margaret Thatcher. The largest protest occurred in central London on Saturday, 31 March 1990, shortly before the tax was due to come into force in England and Wales.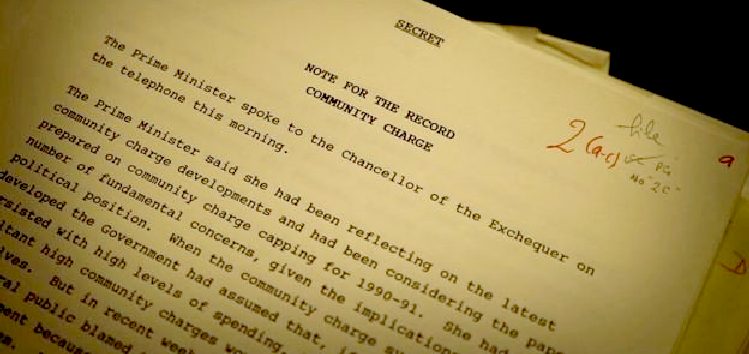 FALL OF THATCHER

The riot in central London did much to contribute to the downfall of Margaret Thatcher, who resigned as Prime Minister on 28 November the same year. The national opposition to the poll tax (especially vehement in the North of England and Scotland) was the major factor; an opinion poll had found 78% opposed to it. John Major, who succeeded Thatcher, announced that the tax would be abolished.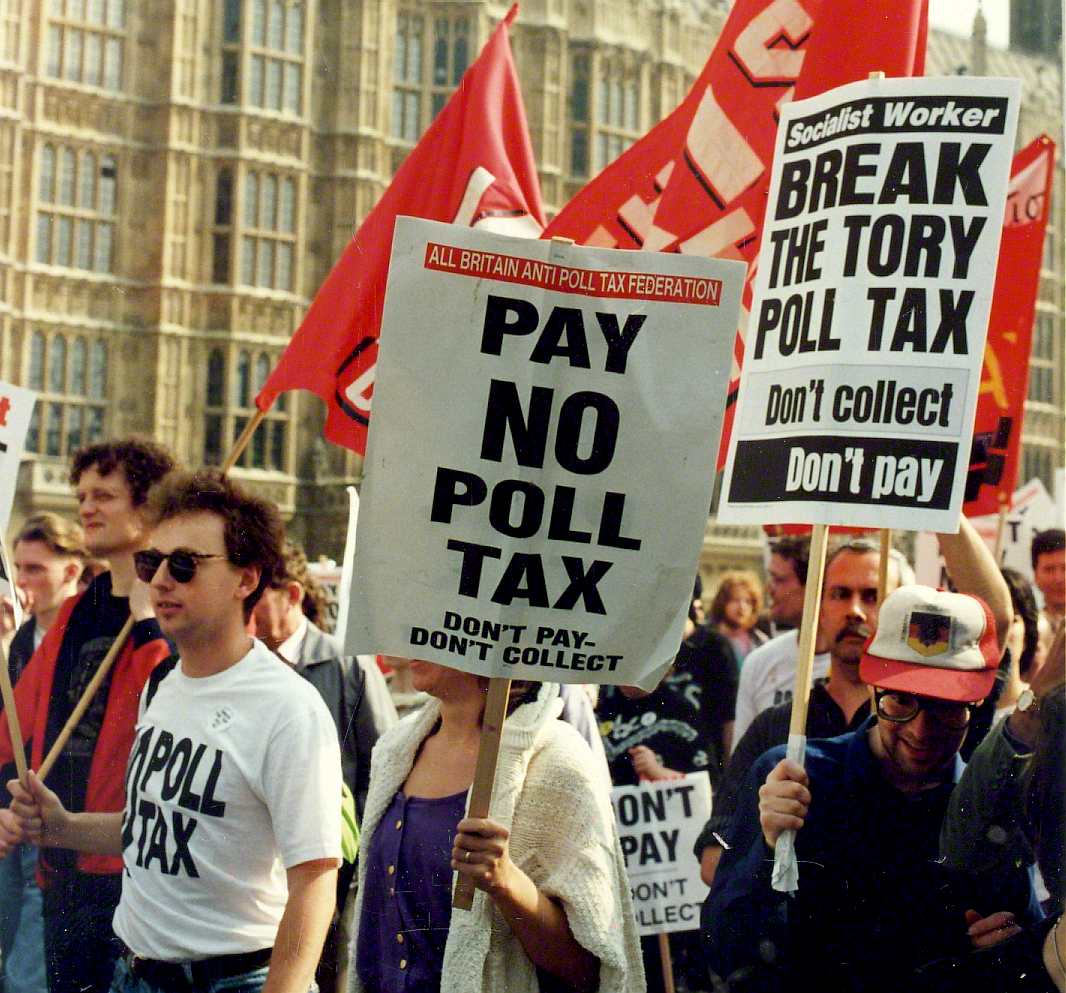 POLL TAX ABANDONMENT

John Major announced in his first parliamentary speech as Prime Minister that the poll tax was to be replaced by Council Tax. The council tax came into effect in 1992. Similar to the previous system of rates, the new system set tax levels on property value. Although it was not directly linked to income, the council tax took ability to pay into consideration unlike the poll tax.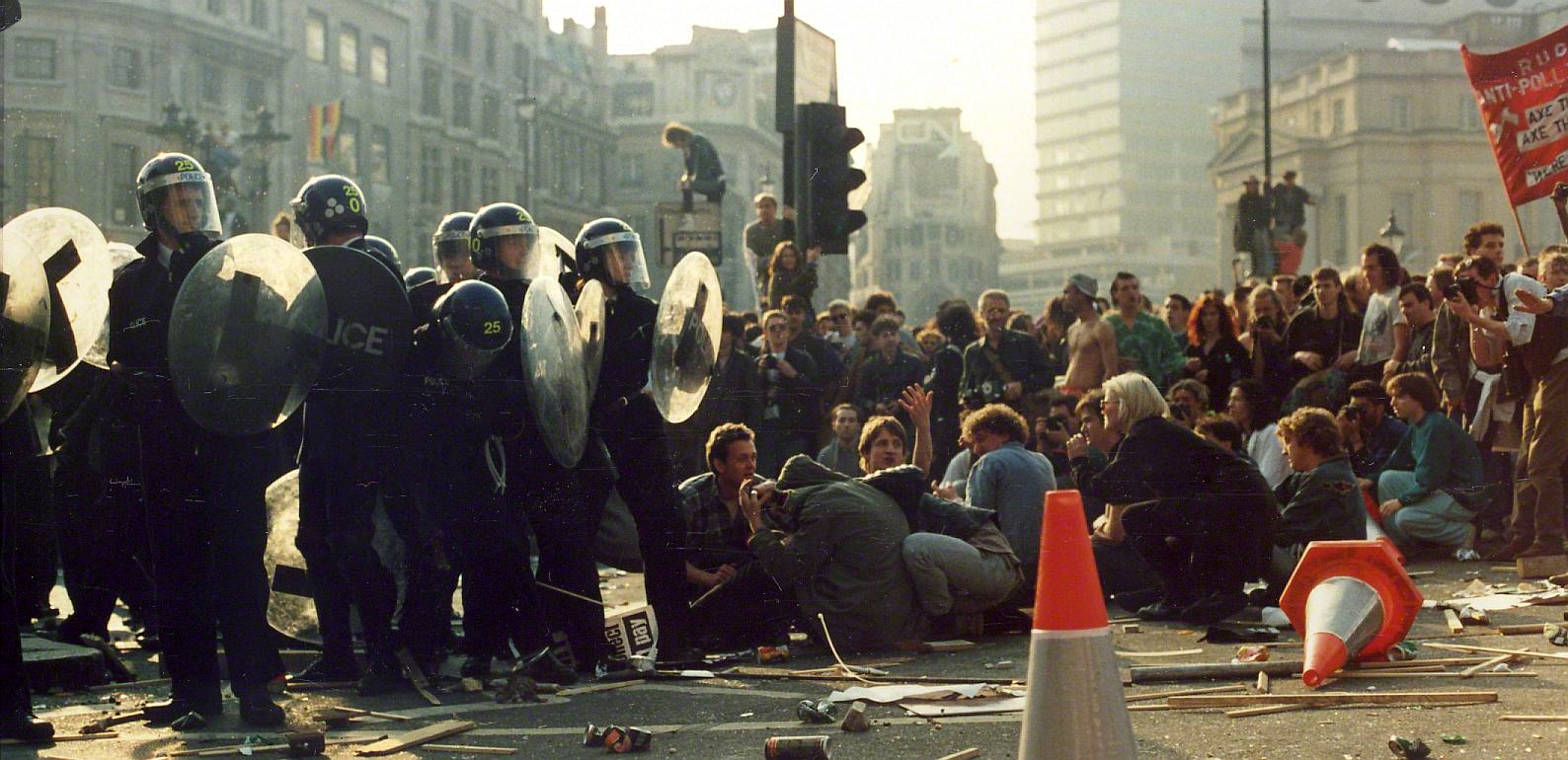 BBC NEWS - 30 DECEMBER 2016 - National Archives: Thatcher's poll tax miscalculation

It was Margaret Thatcher's biggest political misjudgement - and brought her career as prime minister to an ignominious end.

The poll tax (or community charge) was supposed to make local council finance fairer and more accountable. Instead it triggered civil disobedience and riots and a rebellion in the Conservative Party.

Cabinet papers for 1989 and 1990, released today at the National Archives in Kew, reveal the reaction to the crisis at the heart of government. They show how involved the prime minister herself was.

And they pinpoint the moment it dawned on her that her flagship policy had turned into a political disaster which was hitting, not Labour local councils, but her natural supporters.

The size of the files alone - there are nine thick manila folders compiled over 18 months - are evidence of how far the poll tax dominated government thinking. Mark Dunton, a specialist in modern records at the National Archives, calls it a "juggernaut".

Though simple in principle the tax proved to be immensely complex in practice. The files are full of highly technical papers - many of them annotated by Mrs Thatcher.

They also include a warning from April 1989 that she risked a fine if she didn't complete her own registration form on time.

But the technical challenges of introducing the tax paled beside the political problems it threw up.

The government had expected opposition to a measure specifically targeted at high-spending, mainly Labour-controlled, councils. What they hadn't expected was the reaction from their own supporters, as the April 1990 date for its introduction in England and Wales drew near.

In September the previous year her environment secretary, Chris Patten noted "a good deal of pressure developing" and Nigel Lawson, who was to resign as chancellor the following month, told Mrs Thatcher: "We are faced with a potentially difficult Parliamentary situation."

By January, Patten was telling her there could be as many as 83 rebel MPs on the Tory benches. And she got a powerful sense of the anger among formerly loyal Conservative voters in March when a constituent of the Norfolk MP Ralph Howell wrote to her.

Mr WE Jones and his wife were in their 70s, living on modest pensions, and under the poll tax would be paying more than twice what they paid under the old system of rates, while better-off people in large houses would be paying less. He accused the prime minister of being uncaring.

"You have taken advantage of your position to impose your will upon us to the point where you are now virtually a Dictator riding roughshod over anyone who opposes you," he wrote on 3 March.

In the files released today the couple's address has been redacted, though a later memo reveals they lived in a house called Dream of Delight in the village of Great Snoring.

Howell asked for a meeting. The prime minister's adviser Mark Lennox-Boyd suggested he should be granted an audience: "The meeting will be a waste of time, but I am afraid she will have to do it to keep his frustration at bay."

Yet the files suggest it may not have been a waste of time, for this was the point when Mrs Thatcher finally realised that something must be done.

She turned not to her environment secretary Chris Patten, who had the job of bringing in the new tax, but to her recently-appointed chancellor, John Major. On 25 March (six days before an enormous demonstration against the poll tax in London which developed into serious rioting) the files contain a "note for the record" of a phone conversation between the two.

Instead of the tax shining a spotlight on spendthrift local councils, she said, the government was getting the blame for high charges, and the impact was falling on those in middle income groups, what she called the "conscientious middle".

Major agreed with the need for what he called a "radical review" to find a way to cap charges and give local authorities more money, but without increasing overall public expenditure.

Over the next two months the files reveal a succession of crisis meetings as ministers desperately tried to find a way out of their predicament, including the perceived unfairness of a system in which "Dukes and dustmen" both paid the same.

One idea was to raise more money. Should councils be allowed to use cash from the sale of council houses to subsidise the poll tax? Or should people on higher incomes pay more? That idea was floated by the prime minister herself in an unusual signed "personal minute" to Major on 9 April.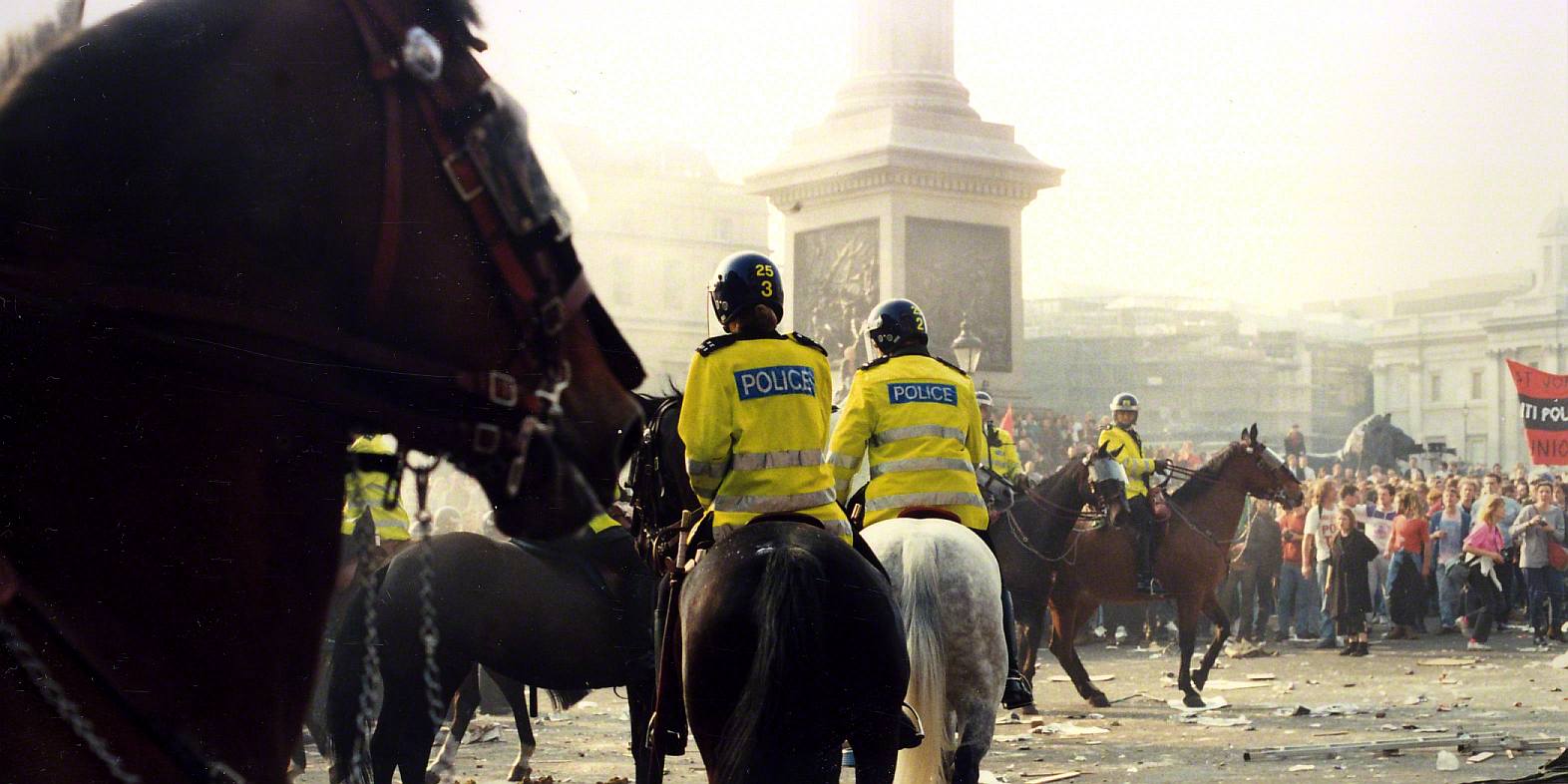 And she had another idea: putting an extra penny on a gallon of petrol and distributing the proceeds to councils. She wrote in the suggestion by hand three times on a memo of 10 April listing options. But none of her colleagues seems to have paid any attention and the idea went nowhere.

Meanwhile there was a growing split. Patten and the local government minister Michael Portillo wanted to increase central government grants to local authorities. Mrs Thatcher wasn't having it. "No," she wrote firmly in the margin on one occasion.

Then she and Major, without apparently consulting Patten, came up with an idea for allowing local councils to levy a higher poll tax than stipulated by central government, provided they first put it to a local referendum (a "poll tax poll").

Patten was opposed, believing the necessary legislation would be "massive in its political significance" and difficult to get through Parliament. One of Mrs Thatcher's private secretaries, Barry Potter, suggested that Patten was feeling "bruised" at being ignored.

By the end of June Potter told the prime minister that Patten and Portillo, still arguing for more government funds, were now "isolated".

Today Michael Portillo says he and Chris Patten really wanted to find a way effectively to abolish the poll tax: "We wanted to take the guts out of it, take the bits that were hurting out of it… but we recognised for her sensitivity that it would still have to be called the poll tax."

They also believed the problem would take central government money to resolve. "It's worth remembering that when the poll tax was eventually replaced by the council tax, it cost about £6bn in money of the day - an enormous amount. And I'm pretty sure that Chris Patten and I were asking for only a fraction of that," says Mr Portillo.

As to the lessons to be learnt from the debacle, he draws a parallel between the decision to introduce the poll tax "without thinking it through" and David Cameron's decision to hold a referendum on Europe without thinking through the consequences.

"The lesson ought to be, think carefully before you do things. But the chances of prime ministers learning that are, I think, slim."

But nothing worked. The practical difficulties and the political pressures were too great and Mrs Thatcher's career was foundering. In November Michael Heseltine, an outspoken critic of the poll tax, triggered a leadership contest from which John Major emerged the winner.

He appointed Heseltine as environment secretary, increased VAT to generate extra cash for councils and announced the abolition of the community charge, and its replacement by council tax, in March 1991. By Nick Higham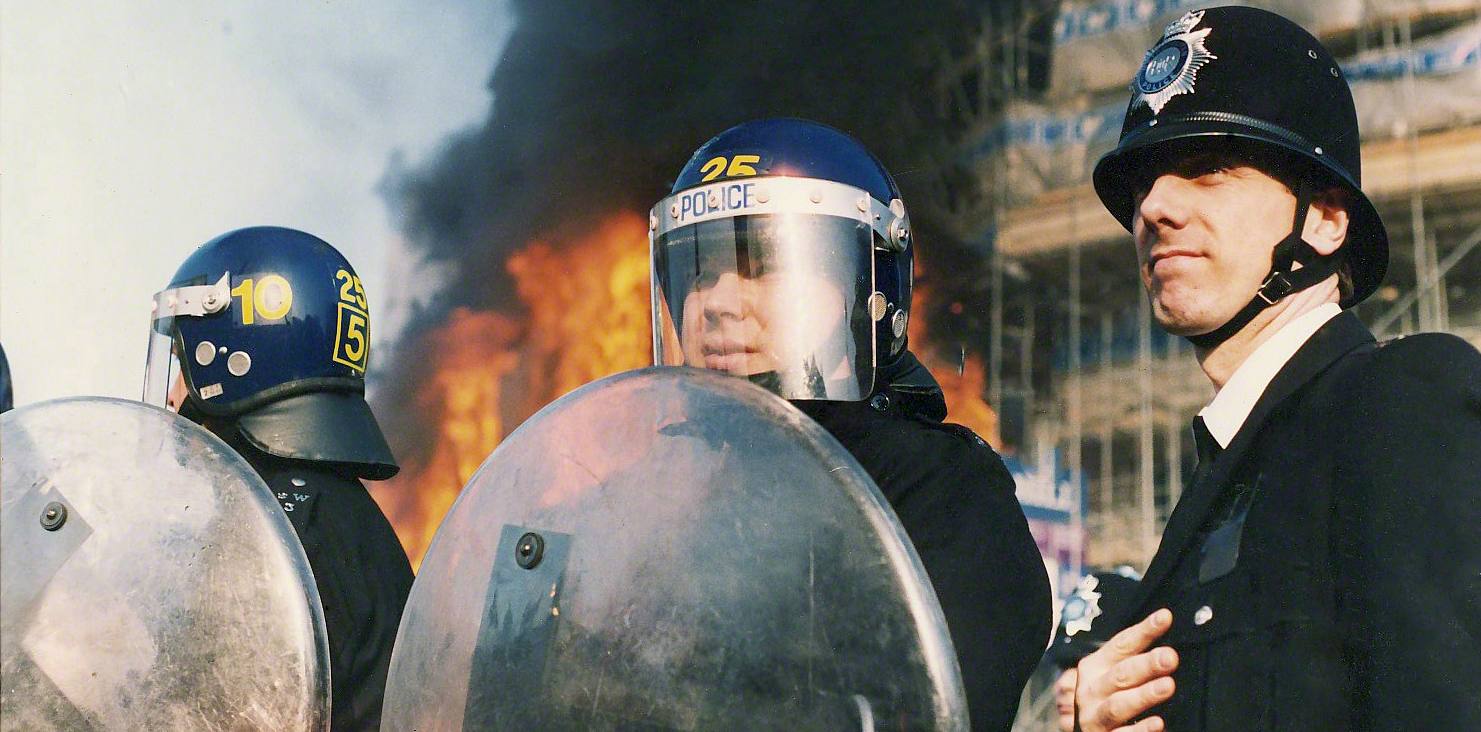 CONSERVATIVE MPS 2017-2018
Theresa May - Prime Mnister

MP for Maindenhead

Damian Green

MP for Ashford

Philip Hammond

MP Runnymede & Weybridge

Boris Johnson

MP Uxbridge & South Ruislip

Amber Rudd

MP Hastings & Rye

David Davis

MP Haltemprice & Howden

Gavin Williamson

MP South Staffordshire

Liam Fox

MP North Somerset

David Lidlington

MP for Aylesbury

Baroness Evans

MP Bowes Park Haringey

Jeremy Hunt

MP South West Surrey

Justine Greening

MP for Putney

Chris Grayling

MP Epsom & Ewell

Karen Bradley

MP Staffordshire Moorlands

Michael Gove

MP Surrey Heath

David Gauke

MP South West Hertfordshire

Sajid Javid

MP for Bromsgrove

James Brokenshire

MP Old Bexley & Sidcup

Alun Cairns

MP Vale of Glamorgan

David Mundell MP

Dumfriesshire Clydes & Tweeddale

Patrick McLoughlin

MP Derbyshire Dales

Greg Clark

MP Tunbridge Wells

Penny Mordaunt

MP Portsmouth North

Andrea Leadsom

MP South Northamptonshire

Jeremy Wright

MP Kenilworth & Southam

Liz Truss

MP South West Norfolk

Brandon Lewis

MP Great Yarmouth

MP

Nus Ghani

MP Wealden

Huw Merriman

MP Battle

Steve Double

MP St Austell & Newquay

Sarah Newton

MP Truro & Falmouth

Rebecca Pow

MP Taunton Deane

.

.

.

.

.

.

David Cameron

Former Prime Minister
MP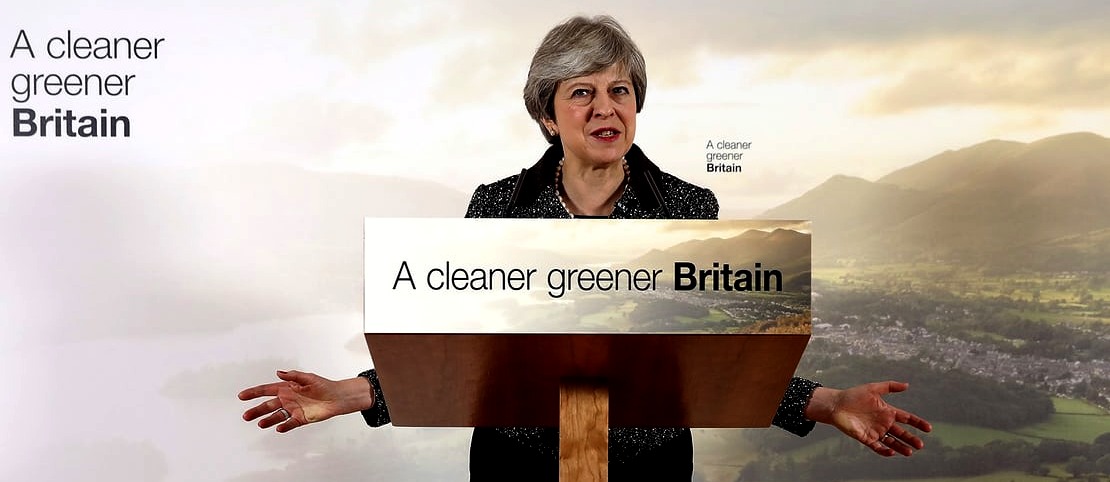 THE GUARDIAN THURSDAY 11 JANUARY 2018 - Theresa May has said her government is serious about improving the environment after pressure groups gave a lukewarm response to a 25-year green plan, praising its ambition but warning that it lacked sufficient proposals for immediate action. May's proposals were also criticised by Jeremy Corbyn, who said her pledge to stop all avoidable plastic waste by 2042 was "far too long" to take action.
UK POLITICS

The United Kingdom has many political parties, some of which are represented in the House of Commons and the House of Lords. Below are links to the websites of the political parties that were represented in the House of Commons after the 2015 General Election:
SOCIAL DEMOCRATIC AND LABOUR PARTY