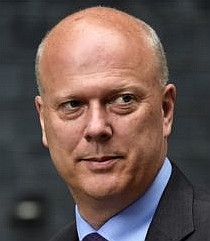 CHRIS GRAYLING MP Epsom & Ewell


As the Transport Secretary for the Conservative Party in 2018, Chris Grayling will be looking for climate change friendly ways of improving road stocks from existing assets such that air quality is improved and vehicles of the future may be serviced, given that these are likely to be electric vehicles and that there is as yet no infrastructure for such fleets of low carbon: cars, vans and trucks.
If only our own MP, Nus Ghani, was doing the same, perhaps with the backing of Ann Newton, Johanna Howell and Susan Stedman. Wealden seems to have forgotten that car ownership per household in the South-East is higher than other areas of the country.
The former Leader of the House has been dealing with Southern Rail's disrupted services, the question of Heathrow's third runway and the high speed rail link, HS2. He also served as shadow transport secretary from December 2005 to 2007, meaning that he is aware of the issues that he is facing, in accepting the position, especially with the likes of Greta Thunberg breathing down his neck, while chasing climate criminals. What then of the pothole situation that is getting worse? Pothole politics is becoming the hallmark of British life, where the taxpayer is paying for services and not getting them.
It's the same with the NHS, pensions and housing. And, the UK is deeply in debt because the electorate have trusted a bevy of Governments to spend to gain their votes, without telling them that was how they intended to carry out their election promises. All of this is contrary to United Nations sustainability development goals.
MARITIME 2050 SPEECH - JANUARY 28 2015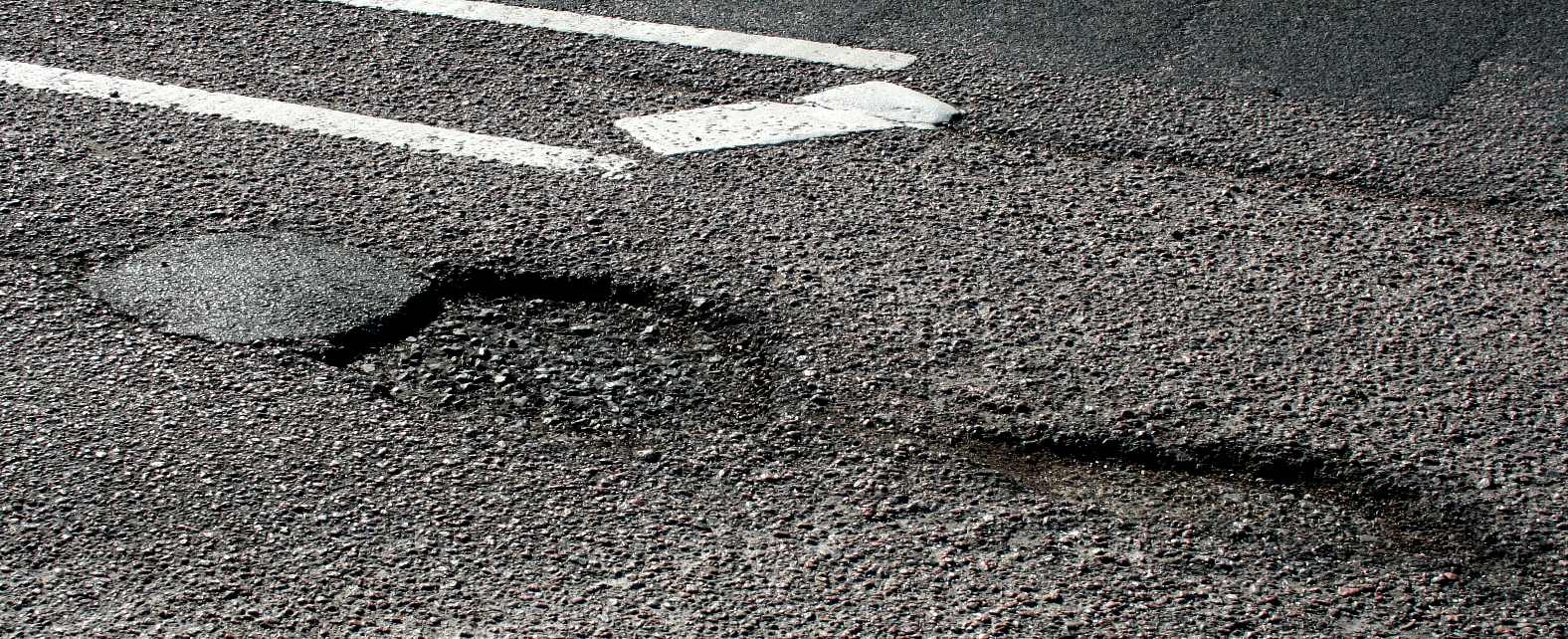 REPAIRED ONCE ALREADY - Not a bad blend in that one, pity it didn't last. The wear and tear of repairs to potholes may do better with a stronger repair compound. Who monitors the quality of the tarmac we use on our roads. Should not high traffic areas have a different mix to cope without constant repair after repair. Is there not a high speed repair machine? We certainly need one. Any fool can fill a hole with hot tarmac, some chimpanzees could master that. It does not say a lot for British politicians.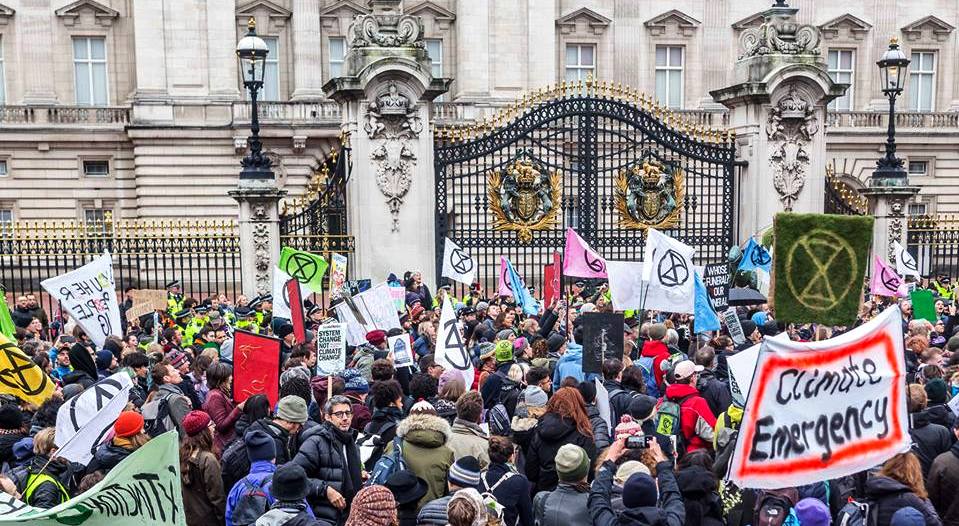 GUARDIAN EXTINCTION CRISIS NOV 2018 - How to push green issues up the political agenda is a question that has exercised environmentalists for decades. Do dark warnings about the world that awaits us if we do not curtail carbon emissions and protect forests and oceans motivate people to act, or scare them off? Are apocalyptic visions such as that in Cormac McCarthy's novel The Road what we need to open our minds, or an inducement to give up trying?

Opinion is divided, as events of the past week have illustrated. In advance of his latest wildlife television series, Dynasties, David Attenborough said at the weekend that too many warnings about endangered species are a "real turn-off". A few days earlier, the activist group Extinction Rebellion launched a campaign of civil disobedience by demanding a zero-carbon economy by 2025. Writing in advance of a protest in London that saw 15 people arrested, Green MEP Molly Scott Cato said she and others have been driven to break the law after spending years ringing alarm bells and being ignored.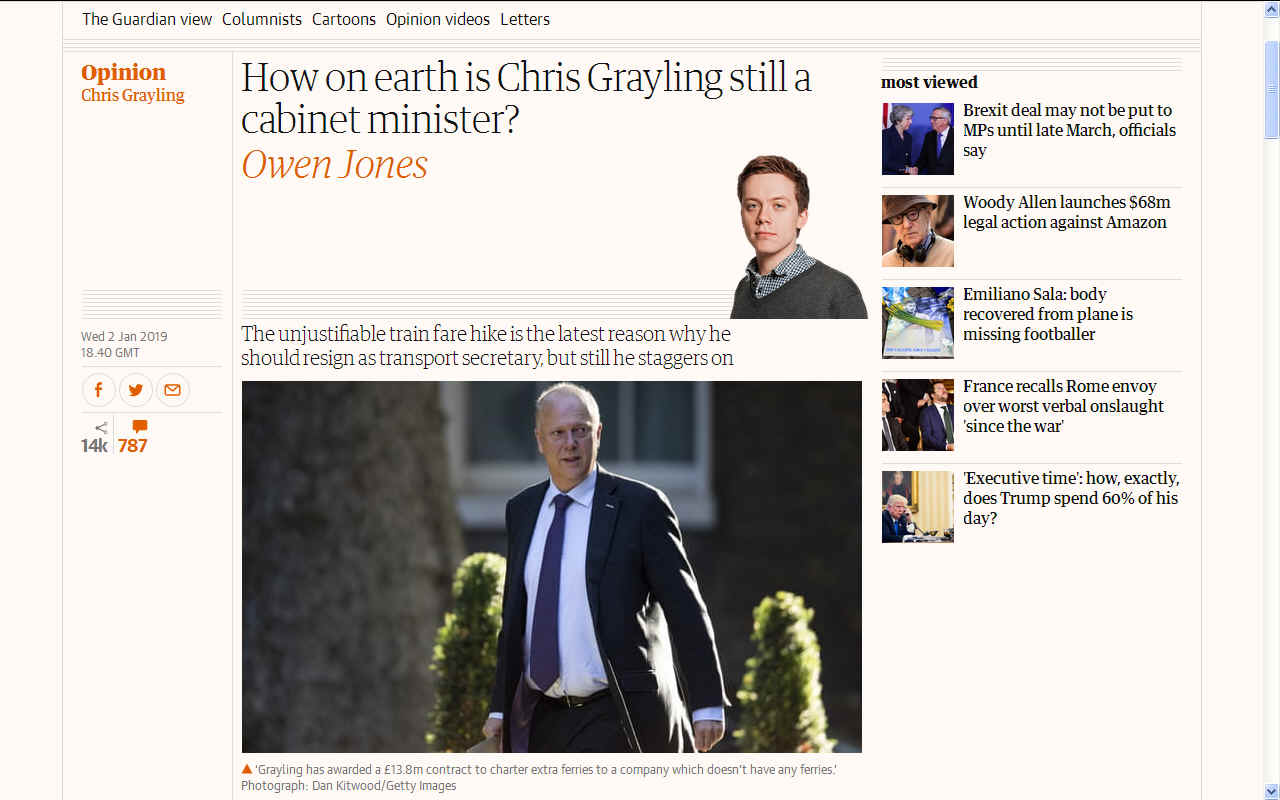 THE GUARDIAN 2 JANUARY 2019 - How on earth is Chris Grayling still a cabinet minister?

The unjustifiable train fare hike is the latest reason why he should resign as transport secretary, but still he staggers on.

Whenever I see that Chris Grayling – officially secretary of state for transport, unofficially minister for blunders, incompetence and general disaster – still has a job, I wonder what Hugh Dalton would think. Dalton served as chancellor of the exchequer in Clement Attlee's post-war Labour government for its first two years, and was the initial architect of its progressive economic measures. But then, in the late autumn of 1947, Dalton inadvertently leaked some minor details of his impending budget to a lobby journalist. By today's standards, we'd struggle to call it much of a leak: the papers hit the stands very shortly before Dalton stood at the dispatch box. Yet this was such a scandal at the time that he felt obliged to resign from the cabinet.

Seventy years on, it turns out that Chris Grayling does actually serve a useful purpose, as a measure of the extent to which the resignation threshold has been raised. Maybe the transport secretary should lend his name to this political trend: the Grayling principle, perhaps. Come now, you protest, which government has offered the British public such a varied smörgåsbord of ministerial resignations? Yet many of those are Tory Brexiteers fleeing a crime scene, not honourably resigning office due to their own failures; or ministers resigning over allegations of sexual harassment and misconduct; or, in the case of Priti Patel, stepping down because of secretive meetings with a foreign government.

Even former home secretary Amber Rudd – who was swiftly reinstated to the cabinet – was forced to resign over misleading MPs, rather than the substance of the Windrush scandal, which deprived British citizens of healthcare, left them homeless, or even deported them. In this context, that Grayling continues to be paid £141,000 a year is a sign not only of shambolic government, but of national and political decline too.

Given the chaos we have become used to, when you hear that Grayling has awarded a £13.8m contract to charter extra ferries in a no-deal Brexit scenario to a company that doesn't actually have any ferries, you simply exclaim: "But of course!" He isn't entirely to blame. The government as a whole is spending vast sums of public money on a no-deal outcome, principally as an act of psychological warfare aimed at coercing MPs into voting for Theresa May's deal. Yet committing taxpayers' money to a no-ships company to help save Britain from a hypothetical self-inflicted meltdown would surely be a scandal in normal times.

Consider Grayling's wider record. Train punctuality has sunk to a 13-year low, while rail fares have again been raised in an era in which British workers have suffered the worst stagnation in wages since the Napoleonic wars. During the disruption last year, in which up to 200 Govia Thameslink services a day were being cancelled, Grayling defended himself as not a "specialist in rail matters". According to an interim report from the Office of Road and Rail, "nobody took charge". As a bare minimum, he should have stripped Govia Thameslink of its franchise, but instead the company was merely required to spend more on passenger improvements.

In 2016, a leaked letter found that Grayling opposed devolving control of suburban rail to London's elected authorities for partisan reasons: he wanted to keep it "out of the clutches" of a Labour mayor. Even a former Conservative vice-chair declared no confidence in him after that. Both Crossrail and HS2 have been beset by disastrous delays and budget overruns, but while chairman Terry Morgan bit the bullet, Grayling remains in place.

Whatever the truth behind the Gatwick drone which wrecked so many people's Christmases, we know that Grayling stopped plans to regulate the use of drones and failed to heed warnings of the disruption they might cause at airports. And while he absurdly suggested that buses could soon be replaced by Uber-style services, cuts of 45% have been made to supported bus routes since 2010 and fares raised at rates beyond inflation. To have such a dismal record and still manage to spend £300m more than his department's annual budget is almost impressive.

Grayling is therefore a source of inspiration to mediocre white men everywhere who, however much they lack ability, can still look forward to wielding power. We live in a country, after all, in which the first black female MP is pilloried for getting some figures wrong in an interview, while Grayling can preside over abject chaos in Britain's essential national infrastructure and still remain in post. In that sense, he sums up a twofold national decline: in the standards of a morally decrepit political elite, and in the provision of essential services in a supposedly advanced economy.

Of course, it's not just about Grayling. The privatisation of the railway system is one of the most vivid examples of how market ideology has set itself on a collision course with reality. Even a thoroughly competent politician would struggle to run such a fragmented mess. That Grayling is no such thing merely compounds a terrible national error. And so, along with rain on a bank holiday, it seems there are some new certainties in decaying Tory Britain: that trains are delayed and overcrowded, that fares are unaffordable, and that Chris Grayling keeps his job. By Owen Jones
CONSERVATIVE MPS 2017-2018
Theresa May - Prime Mnister

MP for Maindenhead

Damian Green

MP for Ashford

Philip Hammond

MP Runnymede & Weybridge

Boris Johnson

MP Uxbridge & South Ruislip

Amber Rudd

MP Hastings & Rye

David Davis

MP Haltemprice & Howden

Gavin Williamson

MP South Staffordshire

Liam Fox

MP North Somerset

David Lidlington

MP for Aylesbury

Baroness Evans

MP Bowes Park Haringey

Jeremy Hunt

MP South West Surrey

Justine Greening

MP for Putney

Chris Grayling

MP Epsom & Ewell

Karen Bradley

MP Staffordshire Moorlands

Michael Gove

MP Surrey Heath

David Gauke

MP South West Hertfordshire

Sajid Javid

MP for Bromsgrove

James Brokenshire

MP Old Bexley & Sidcup

Alun Cairns

MP Vale of Glamorgan

David Mundell MP

Dumfriesshire Clydes & Tweeddale

Patrick McLoughlin

MP Derbyshire Dales

Greg Clark

MP Tunbridge Wells

Penny Mordaunt

MP Portsmouth North

Andrea Leadsom

MP South Northamptonshire

Jeremy Wright

MP Kenilworth & Southam

Liz Truss

MP South West Norfolk

Brandon Lewis

MP Great Yarmouth

MP

Nus Ghani

MP Wealden

Huw Merriman

MP Battle

MP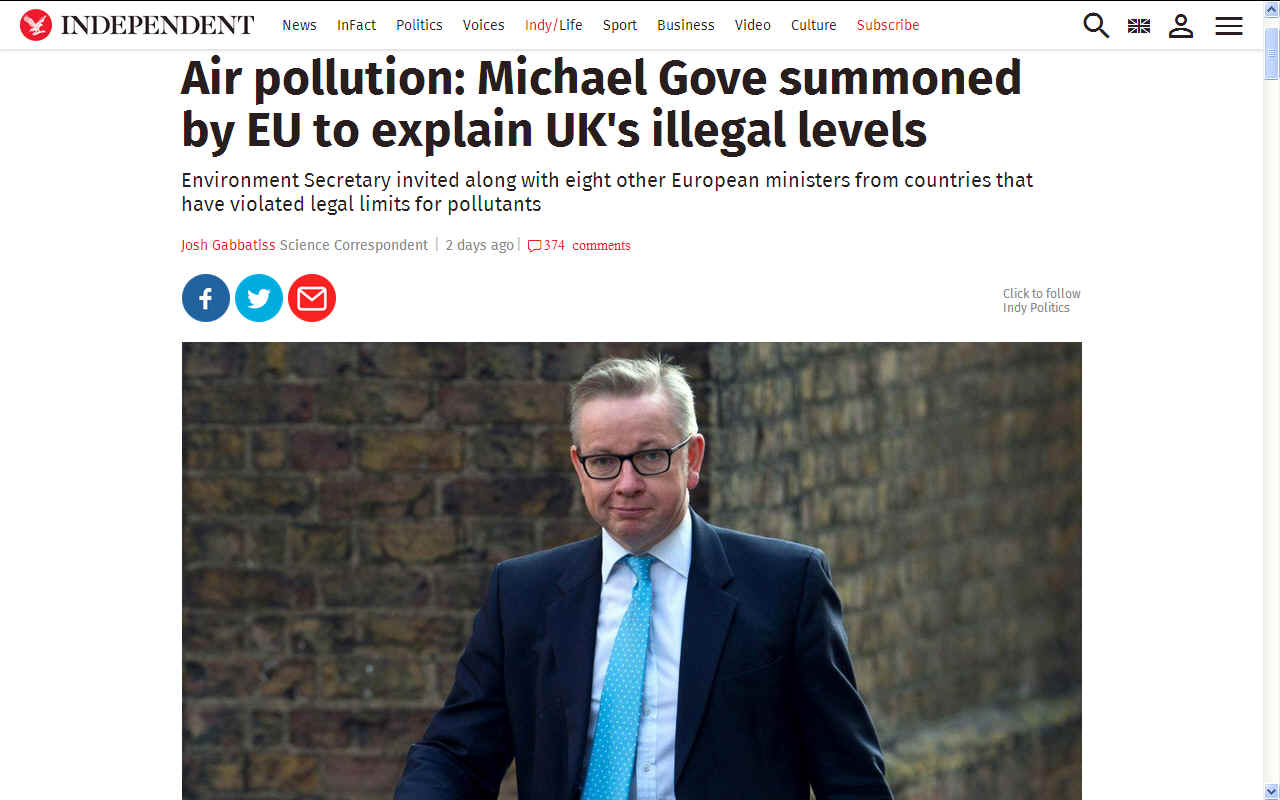 CONSERVATIVE CLIMATE - Michael Gove has been summoned to Brussels because of his party's failure to meet air pollution targets despite warnings about which the Prime Minister was aware of. British politicians at local and national level are not taking climate change seriously, despite the Climate Change Act 2008.
The real problem is political musical chairs. The Conservative party do not appear to have sufficient suitably qualified politicians to be able to run the country effectively. They bounce from one post to another, not knowing enough about the subject. The rate of bounce is an indicator of the level of incompetence of any member of parliament. Their secret to staying in trusted positions for so long is the lack of transparency in local and national Government. We heard one story that a Magistrate in Hastings refused to give her name, presumably for fear of being called to account. So, now we have Courts that are shying away from transparency, suggestive of secret society involvement. Not proven just yet, but why would any court official refuse to give their name. That is a guilty mind for sure and proof of Article 6 violation, in that a fair hearing demands that the court determining any matter must be accountable in name and for their decisions.
UK POLITICS

The United Kingdom has many political parties, some of which are represented in the House of Commons and the House of Lords. Below are links to the websites of the political parties that were represented in the House of Commons after the 2015 General Election:
CO-OPERATIVE PARTY
DEMOCRAT UNIONIST PARTY
PLAID CYMRU
SINN FEIN
SOCIAL DEMOCRATIC AND LABOUR PARTY
UK INDEPENDENCE PARTY
ULSTER UNIONIST PARTY
Social Democratic and Labour Party
We are concerned with how the make up of the above parties and (reasonably) popular policies may affect the Wealden district, because we are all brothers on two islands in the Atlantic Ocean and what we do or fail to do is likely to rebound on ourselves and our fellow man in other nations around the world. How we act today influences policies in other countries in our global community. It is not just about us and our patch.
East Sussex has five District and Borough Councils, each with a border on the coast. From west to east they are:
There is also East Sussex County Council as the provider of services to the 5 East Sussex districts.
As near neighbours and with councils now sharing facilities and working together, these area of Sussex are included in our remit and an area where climate change and affordable housing are issues that need urgent attention. Where the coastline is a feature in every Council, Blue Growth is a food security issue, especially where this side of of our local economy is under-exploited.