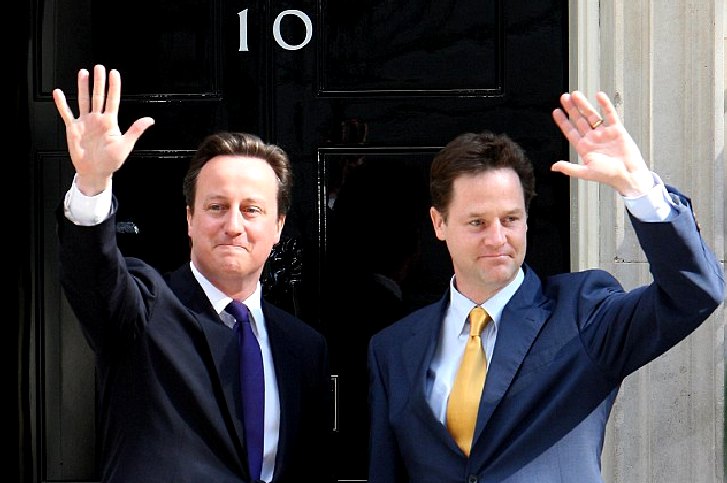 LIBERAL DEMOCRATS SELL OUT
The Liberal Democrats are a political party that joined forces with the Conservatives in 2010 following a general election revelation from voters that the public had no real preference for any of the election promises - mainly because the policies were all about nothing - or the voters believed that they would come to naught, which amounts to the same thing - and they did.
ENVIRONMENT

In pursuit of the parties' policies on creation of "a low carbon and eco-friendly economy", a range of measures would be adopted. In transport, a high speed rail network would be established, while the proposed third runway at London Heathrow Airport would be cancelled, and no new runways would be approved for London Gatwick Airport or London Stansted Airport.

The legislation required for the building of new nuclear power stations would proceed, without public subsidy for the projects. Any new coal-fired power stations would be required to implement carbon capture and storage, while the targets for energy from renewable sources would be increased, subject to the advice of the Climate Change Committee.

Other measures include a smart grid, smart meters and feed-in tariffs, a green investment bank would be created, and promotion of anaerobic digestion of waste for energy, marine energy, home energy improvement, green spaces and wildlife corridors, and electric car recharging networks. Home Information Packs would be abolished, albeit retaining the energy performance certificates. Import or export of illegal timber would be criminalized.

BUDGET DEFICIT

To tackle the budget deficit and national debt, the agreement detailed "significantly accelerated reduction in the structural deficit" over the Parliament, with £6,000,000,000 cuts to be made in the financial year 2010–11, with plans to be published in an emergency budget within fifty days.

David Cameron, the new prime minister, welcomed his deputy prime minister, Nick Clegg, to Downing Street for their first day of coalition government, but the double act was to end in tears with Brexit.
NICK CLEGG'S RESIGNATION

The Lib Dems could have insisted on a confidence and supply arrangement, supporting the Tories on a vote-by-vote basis in the vital task of salvaging the economy and refusing to compromise their principles.

Instead, they opted for the allurements of office in partnership with a party with which they disagreed about virtually everything.

What is particularly nauseating is the oft-repeated assertion by Mr Clegg and other senior Lib Dems that they were solely driven by altruistic motives to save their country.

The main reason for their humiliating defeat, I suggest, is that voters have tired of the sanctimony and moral superiority that gushes from Lib Dem politicians, who have broken promise after promise and have established an almost epic untrustworthiness.

Their biggest and most indelible betrayal was to agree to an increase in university tuition fees, for whose abolition they had enthusiastically campaigned before the 2010 election.

This was not some peripheral policy that could be quietly forgotten. It was the very cornerstone of their pitch to the electorate.

How on earth could Mr Clegg bring himself to sacrifice his pledge in the quest for power? In the immediate after-math of the 2010 election, this newspaper nicknamed him 'Madame Fifi' (after a character in a short story by the French writer Guy de Maupassant) for one minute batting his eyelids at David Cameron and the next hitching his skirt to Gordon Brown.

Mr Clegg has spent his entire political career looking in opposite directions at once and changing his mind as circumstances dictate. During the 2007 contest for the Lib Dem leadership, his opponent Chris Huhne accused him of 'flip-flopping', as well as dubbing him Calamity Clegg.

Examples are legion. In January 2009, he was cheerfully recommending that Britain should join the euro. By April 2010, with the election looming, he had decided membership of the single currency was 'not economically justified'.

In March 2010, he stated that 'there is no case for a nuclear deterrent', yet six weeks later he thought 'there are a number of [nuclear] options . . . which are not being explored'.

As Deputy Prime Minister he embraced the renewal of the Trident nuclear deterrent, albeit with three submarines rather than four.

It is a truism that people who can easily change their minds for the sake of expediency, and have little adherence to principle, are often untrustworthy, and even treacherous.

Probably the most deceitful act came in 2012 after Tory backbenchers scuppered his precious plans to reform the Lords. The Lib Dem leader spitefully reneged on an agreement to vote for reform of constituency boundaries, which place the Tories at a considerable disadvantage.

Yet he had assented to boundary change in return for being allowed to introduce a referendum on the alternative vote system the previous year, which had been roundly rejected.

Time and again over the past five years, the Lib Dems distanced themselves from policies for which they had voted, particularly over welfare, and attempted to portray themselves as being morally superior to the supposedly beastly Tories.

In this respect, the dyspeptic Vince Cable has been the worst offender. In 2013, he had the temerity to call the Conservatives — his Coalition partners — 'the nasty party'. What nice people these Lib Dem bigwigs are!
The United Kingdom has many political parties, some of which are represented in the House of Commons and the House of Lords. Below are links to the websites of the political parties that were represented in the House of Commons after the 2015 General Election:
SOCIAL DEMOCRATIC AND LABOUR PARTY
Social Democratic and Labour Party
Party

Politics

Leader

Conservative and Unionist Party

Theresa May

317

31

12

0

8

19

9,234

100,000

42.4

Labour Party

Centre-left

Jeremy Corbyn

262

23

29

N/A

12

20

6,470

575,000

40.0

Scottish National Party

Nicola Sturgeon

35

63

N/A

N/A

N/A

2

430

120,000

3.0

Liberal Democrats

Vince Cable

12

5

1

N/A

1

1

1,815

104,000

7.4

Democratic Unionist Party

Arlene Foster

10

N/A

N/A

28

N/A

1

104

N/A

0.9

Sinn Féin

Gerry Adams

7

N/A

N/A

27

N/A

1

105

N/A

0.7

Plaid Cymru - Party of Wales

Leanne Wood

4

N/A

11

N/A

N/A

1

203

8,273

0.5

Green Party of England and Wales

Left-wing

Caroline Lucas and Jonathan Bartley

1

N/A

N/A

N/A

2

3

187

45,643

1.6
We are concerned with how the make up of the above parties and (reasonably) popular policies affects the Wealden district, because we are all brothers on two islands in the Atlantic Ocean and what we do or fail to do is likely to rebound on ourselves and our fellow man in other nations around the world. How we act today influences policies in other countries in our global community. It is not just about us and our patch.
East Sussex has five District and Borough Councils, each with a border on the coast. From west to east they are:
There is also East Sussex County Council as the provider of services to the 5 East Sussex districts.
As near neighbours and with councils now sharing facilities and working together, these area of Sussex are included in our remit and an area where climate change and affordable housing are issues that need urgent attention. Where the coastline is a feature in every Council, Blue Growth is a food security issue, especially where this side of of our local economy is under-exploited.