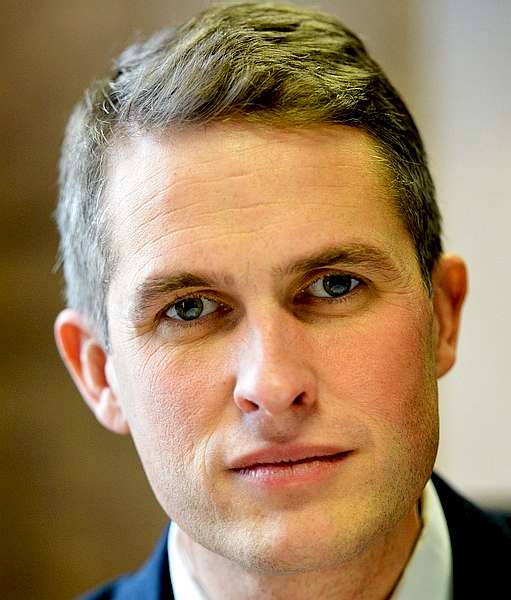 Gavin Williamson - Education Secretary
Gavin Alexander Williamson CBE is a British Conservative politician. He was first elected at the 2010 general election as Member of Parliament (MP) for South Staffordshire. Williamson was Parliamentary Private Secretary (PPS) to Patrick McLoughlin as Secretary of State for Transport prior to being appointed PPS to the Prime Minister, David Cameron, in October 2013. On 14 July 2016, he was appointed Chief Whip in Theresa May's government, and on 2 November 2017 he was appointed Secretary of State for Defence. In Boris Johnson's cabinet, Gavin is the Education Secretary.

Following David Cameron's resignation, Williamson "privately vowed" to stop the front-runner Boris Johnson from becoming Conservative Party leader. He assessed Theresa May to be the likeliest candidate to defeat Johnson, offered his help to her, and was invited to be her parliamentary campaign manager. Following May becoming prime minister, Williamson was appointed Chief Whip.
MOD DEFENCE BUDGET
We think it is shameful that the defence budget for 2016 was £35.3bn. That makes the United Kingdom the fifth largest spendthrifts on defence in the world - when there are far more important things to think about than strutting about on the world stage pretending that we still have an Empire.
The current population of the United Kingdom was 66,418,186 as of Wednesday, February 7, 2018, based on the latest United Nations estimates. If the United Kingdom population is equivalent to 0.88% of the total world population and ranks number 21 in the list of countries (and dependencies) by population, then how can we justify spending four times more than other countries who do not have such crippling debt problems - save for the United States, another country that is super debt laden.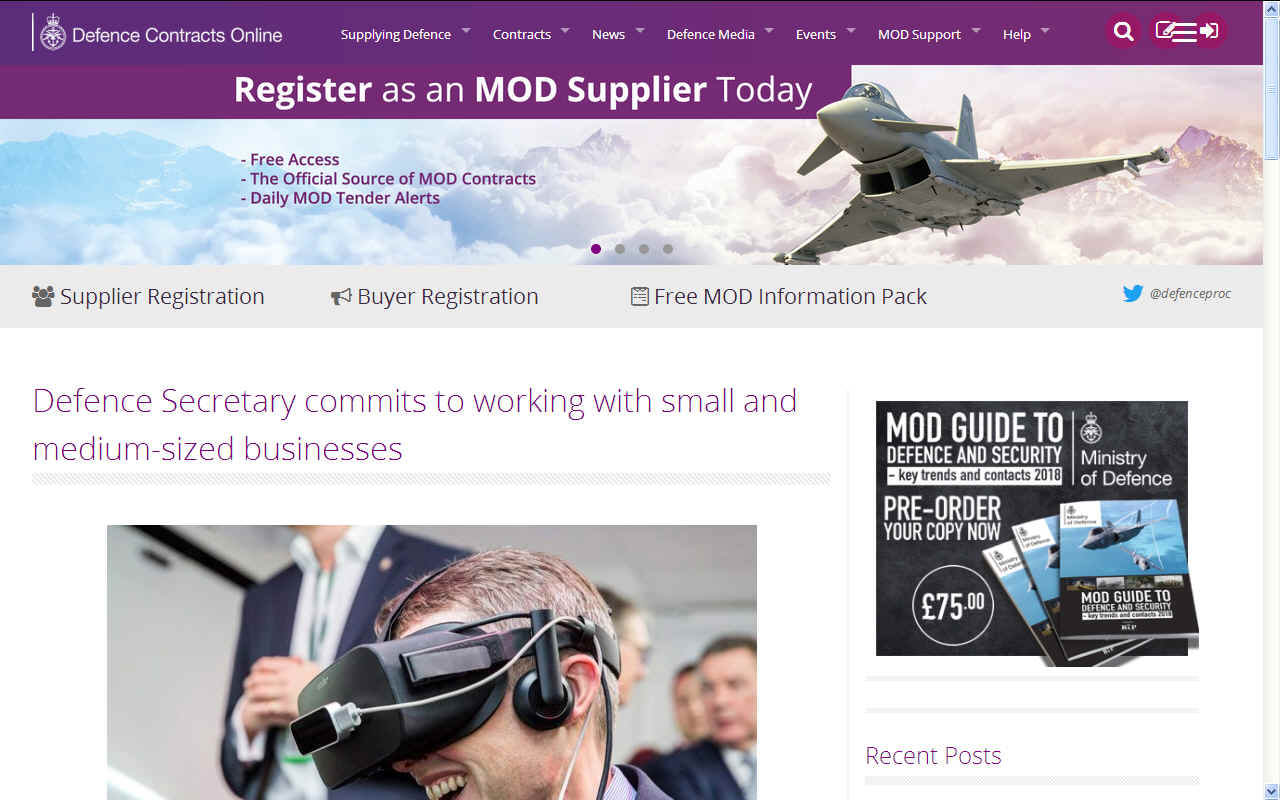 The UK continues to meet the NATO commitment to spend 2% of GDP on defence each year, when that two percent could go a long way to reducing our national debt . Surely, such expenditure is unsustainable in the quest for a circular economy.
When we heard that the British Government under the Conservatives is committed to increase defence spending by at least 0.5 per cent above inflation in each year of their administration in Parliament, we were appalled. NATO should be ashamed for asking anyone to make such high payments in the age of satellites and drones when the combined forces could easily reduce spending by taking advantage of the latest technology, rather than keeping afloat great rusting dinosaurs that only serve to make it look as though the UK is still what it was before World War Two. We should also think here of our carbon footprint when it comes to the energy used in making these vessels and then disposing of them.
Have either the UK warmongers or NATO chiefs looked hard at how to curb their carbon output? Do they even care? By contrast John Kerry, former US Defence Secretary has looked at ways to reduce American energy use for their armed forces.
We have a number of Astute class nuclear submarines with Trident missiles and the Queen Elizabeth class aircraft carriers that are also nuclear powered.
SPEAKING OF HIS APPOINTMENT:
Mr Williamson is quoted as saying:
"I am both honoured and excited to have been appointed Defence Secretary. I have always had the greatest admiration for the professionalism and valour of all those who serve in our country's Armed Forces.

"The United Kingdom faces rising threats in a worsening international security situation, making Defence's work all the more important. It is imperative that we continue to take the fight to Daesh and keep Britain safe. As we leave the European Union, and forge a new Global Britain, Defence has the opportunity to deepen old friendships and contribute to building new ones around the world.

"I am determined to ensure that the Armed Forces receive the recognition they deserve for the great work they do, including through the Armed Forces Covenant, and that they evolve both to meet the changing threats that we face, and to ensure that they properly represent the modern society that they defend."
In December 2017, Defence Secretary Gavin Williamson unveiled his three-pronged strategy that will refresh defence's Industrial Policy.
During his speech at the UK Defence Solutions Centre in Farnborough, Mr Williamson said that the defence sector is "industry's biggest customer" and that the Government is "committed to exporters and small and medium-sized businesses to ensure they and our military remain the envy of the world".
NEW YEAR STRATEGY

Although the MOD is making great progress with previous objectives, Gavin Williamson has revealed that plans have been enhanced. The Defence Secretary, who took the position in autumn last year, has three main focuses:
The first focus is to improve how defence delivers wider economic and international value, as well as national security objectives. The Government plans to introduce a pilot, which will try an innovative approach to delivering these benefits.
Secondly, the MOD wants to continue to build international relationships after many valuable agreements. Last year the Defence Secretary had success in Qatar signing a £6bn export deal for 24 Typhoon aircraft.
Lastly, the defence sector will stand by SMEs, opening up the market and making it easier for companies to do business with defence.
SME SMALL MEDIUM SIZE ENTERPRISES REACH

The purpose of this refresh is to adjust the industry conditions so that the market can be "internationally competitive, innovative and secure". This will allow more small and medium-sized enterprises (SMEs) to do business with defence.

Defence contracts promote SME interests, helping many businesses to grow and expand their employee numbers. In total, £18.7bn was spent with British companies in 2017, which supported over 121,000 jobs in the UK.
As mentioned, the Government is already succeeding in opening up the defence sector to small businesses: the MOD has increased spend with SMEs by 10% in 2017 compared with 2016, and the department aspires to place 25% of direct and indirect defence procurement with SMEs by 2020, rising from 18.1% in 2015/16.
It is estimated that over 700 SMEs throughout the UK supported the build of the latest aircraft carrier, HMS Queen Elizabeth.
These opportunities are promoted both via the MOD DCO portal and the @defenceproc Twitter account. Both platforms provide a range of useful information for new and prospective suppliers.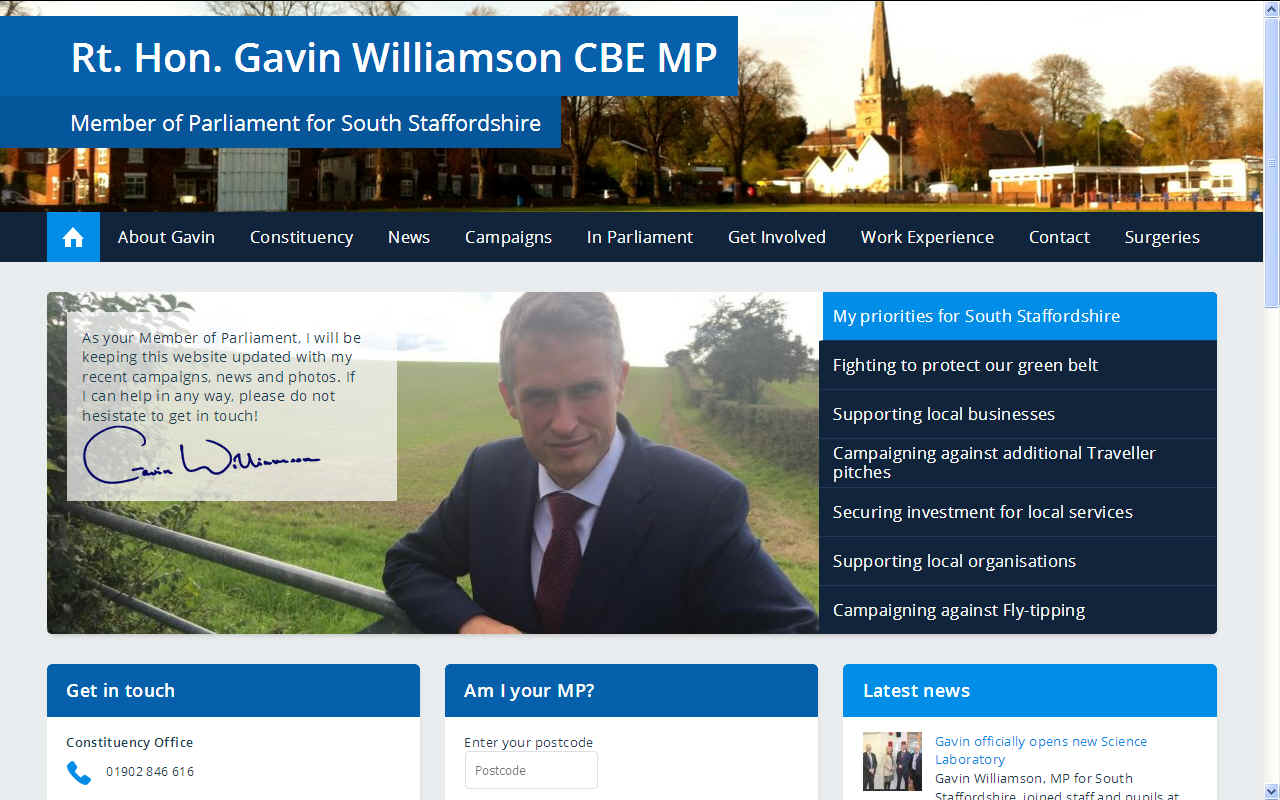 CONTACT GAVIN

Constituency Office

Jubilee House
59 Wolverhampton Road
Codsall, South Staffordshire
WV8 1PL
and
Rt Hon Gavin Williamson MP
House of Commons
London
SW1A 0AA

Tel: 01902 846 616
E-mail: gavin@gavinwilliamson.org
CABINET MPS -MARCH 2020
Chancellor Exchequer

Priti Patel

Home Secretary

Dominic Raab

Foreign Secretary

Michael Gove

Chancellor D. Lancaster

Ben Wallace

Defence Secretary

Matt Hancock

Health & Social Care

Liz Truss

International Trade

Gavin Williamson

Education

Oliver Dowden

Culture

Alok Sharma

MP Reading West

Robert Jenrick

Housing, Local Gov.

Therese Coffey

Work & Pensions

Robert Buckland

Justice

Anne-Marie Trevelyan

International Dev.

Transport

George Eustice

Environment

Brandon Lewis

Northern Ireland

Alister Jack

Scottish Sec. State

Simon Hart

Welsh Sec. State

Baroness Evans

Leader Lords

Amanda Milling

Party Chairman

Jacob Rees-Mogg

Leader Commons

Mark Spencer

Chief Whip

Suella Braverman

Attorney General

Stephen Barclay

Treasury Sec.
CONSERVATIVE MPS 2017-2018
Theresa May - Prime Mnister

MP for Maindenhead

Damian Green

MP for Ashford

Philip Hammond

MP Runnymede & Weybridge

Boris Johnson

MP Uxbridge & South Ruislip

Amber Rudd

MP Hastings & Rye

David Davis

MP Haltemprice & Howden

Gavin Williamson

MP South Staffordshire

Liam Fox

MP North Somerset

David Lidlington

MP for Aylesbury

Baroness Evans

MP Bowes Park Haringey

Jeremy Hunt

MP South West Surrey

Justine Greening

MP for Putney

Chris Grayling

MP Epsom & Ewell

Karen Bradley

MP Staffordshire Moorlands

Michael Gove

MP Surrey Heath

David Gauke

MP South West Hertfordshire

Sajid Javid

MP for Bromsgrove

James Brokenshire

MP Old Bexley & Sidcup

Alun Cairns

MP Vale of Glamorgan

David Mundell MP

Dumfriesshire Clydes & Tweeddale

Patrick McLoughlin

MP Derbyshire Dales

Greg Clark

MP Tunbridge Wells

Penny Mordaunt

MP Portsmouth North

Andrea Leadsom

MP South Northamptonshire

Jeremy Wright

MP Kenilworth & Southam

Liz Truss

MP South West Norfolk

Brandon Lewis

MP Great Yarmouth

MP

Nus Ghani

MP Wealden

Huw Merriman

MP Battle

Steve Double

MP St Austell & Newquay

Sarah Newton

MP Truro & Falmouth

Rebecca Pow

MP Taunton Deane

Jacob Rees-Mogg

MP Somerset

Gavin Williamson

MP Staffordshire

.

.

.

.

.

.

.

.

David Cameron

Former Prime Minister

Margaret Thatcher

Former Prime Minister
MP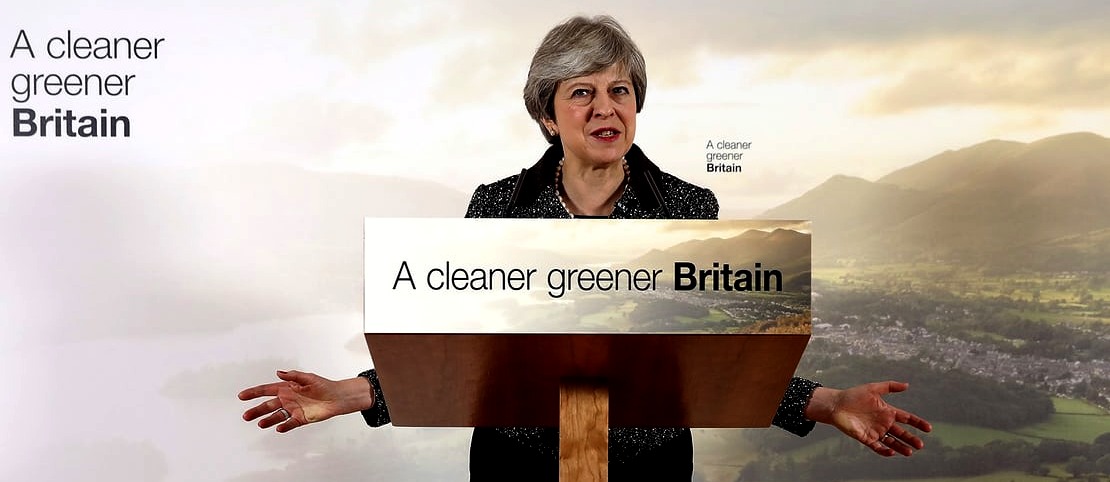 THE GUARDIAN THURSDAY 11 JANUARY 2018 - Theresa May has said her government is serious about improving the environment after pressure groups gave a lukewarm response to a 25-year green plan, praising its ambition but warning that it lacked sufficient proposals for immediate action. May's proposals were also criticised by Jeremy Corbyn, who said her pledge to stop all avoidable plastic waste by 2042 was "far too long" to take action. What that could mean is that they want to appease the electorate and pass the problem onto the next generation - but - the whole point of taking action now is to try and stop the fish that we eat, eating the plastic in Marine Litter.
UK POLITICS

The United Kingdom has many political parties, some of which are represented in the House of Commons and the House of Lords. Below are links to the websites of the political parties that were represented in the House of Commons after the 2015 General Election:
SOCIAL DEMOCRATIC AND LABOUR PARTY