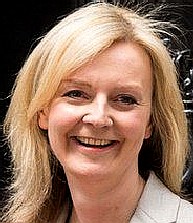 LIZ TRUSS - MP South West Norfolk
Mary Elizabeth Truss, popularly known as Liz Truss, is a British Conservative Party politician. She was Chief Secretary to the Treasury. She has been the member of parliament for South West Norfolk since 2010. Liz was appointed as Chief Secretary to the Treasury during the cabinet re-shuffle by PM Theresa May and attended Cabinet meetings.
In Boris Johnson's cabinet in 2020, Liz was the International Trade Secretary.
Then in Bojo's re-shuffle in 2021, Liz replaced Dominic Raab to become Foreign Secretary. But, no amount of shuffling this deck of cabinet jugglers is going to make up for the fact that the Clown of Europe has no plan and no policies to get Britain out of the mire. We are up Shit Creek, without a paddle, and £Trillions in debt, from years of unsustainable over-borrowing.
What many voters cannot see, is that you cannot simply appoint a person to a specialized position, and expect them to be good at it. Obviously, from the levels of debt, Liz should not have been given any position involving money and economics, both involved in Treasury and Trade positions.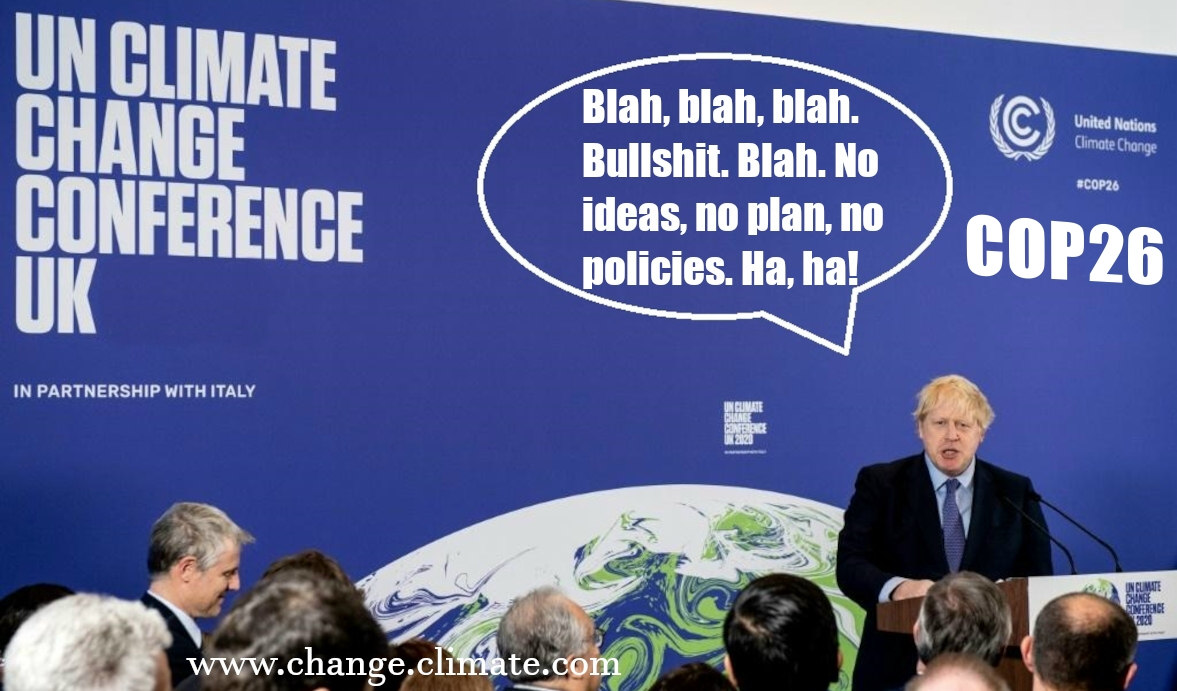 FOSSIL FOOLS - Geriatric politicians with 'climate-senile' policies will find in difficult to break away from their corrupt ways, as part time politicians with two jobs. Their main job being to find paid consultancy work, rather than craft policies and create statute that works to protect our voters from lung cancer, energy shortages and a lack of affordable (sustainable) housing.
The 'zerophobics' are the undertakers of the political world, sending millions of ordinary people to an early grave, while loading us with NHS, hospital and staff costs that would not be needed if we had clean air in our cities.
Basically, the longer you are in politics, the more likely you are to be exposed to bribes, from climate deniers, mostly fossil fuel and energy companies, looking to keep on pumping toxic fumes into the atmosphere, so they can keep making money. The political undertakers are working with them to keep hospitals stocked with cancer victims. They are blood sucking vampires, draining what little you had saved for your retirement.
The sad fact is that at the moment, the opposition parties look just as inept at the moment. Though that could change. Nobody in their right mind will bet on Keir Starmer, for example - where Labour don't have a plan or the policies to implement. You might as well stay with the Clown. Liberal and Green parties appear just as unprepared. Either way we are sunk.
What we need is a fresh influx of talent from the activist youth, to get things moving on sustainable policies to tackle climate change. We need politicians who are willing to serve the public interest above their own money grabbing ways @ £81,932 a year plus benefits. That does not sound too bad to us for the privilege of holding office. An important job and a position of trust. And that is the whole point, that many MPs seem to forget in the stampede to milking it for all it is worth.
The reward is making a difference. Watching our communities thrive and happy (and healthy) smiling faces on children, who will have a better world as a result of your steerage.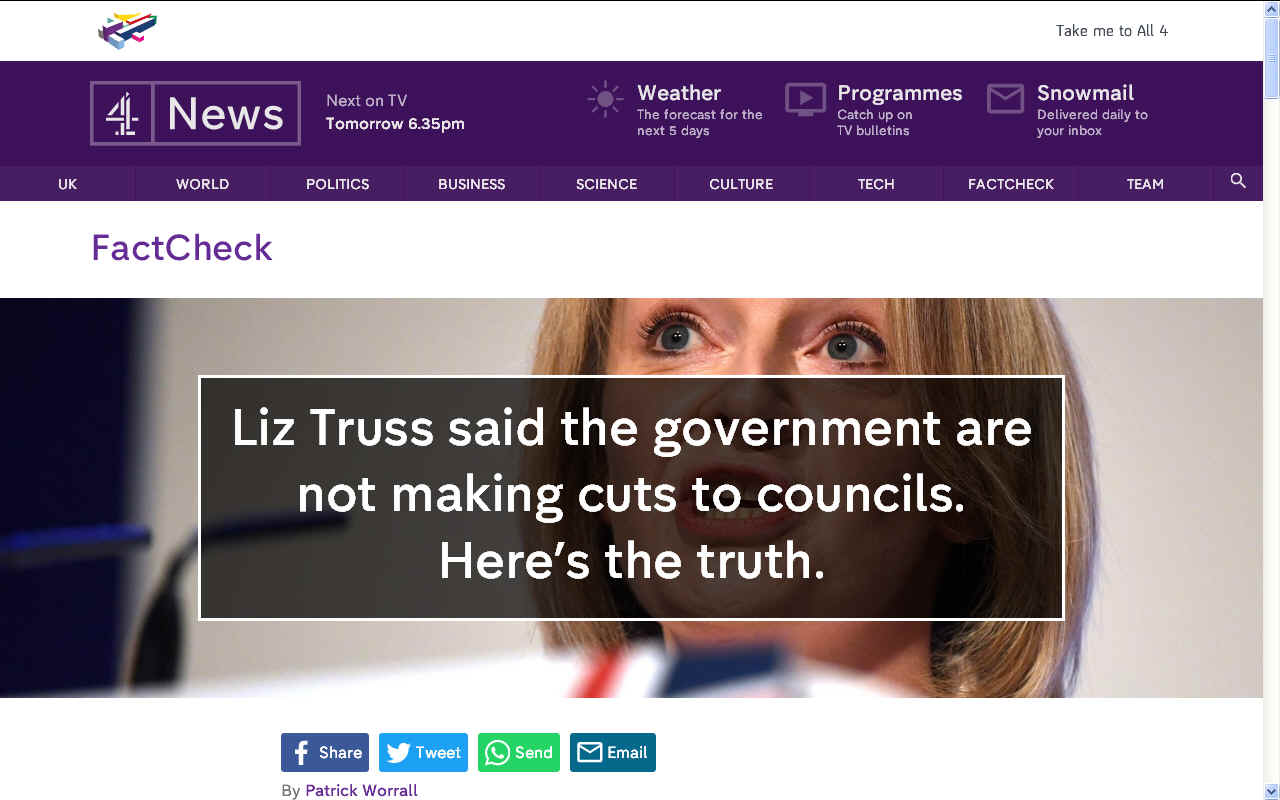 CHANNEL 4 NEWS OCTOBER 4 2018
The Chief Secretary to the Treasury, Liz Truss, was a popular speaker among delegates at this year's Conservative Party Conference.

She generated a fair bit of publicity with attacks on Labour's plans for the media, and a call to increase speed limits to 80mph to boost the economy.

We think she slipped up when she told the BBC's Newsnight programme that the government was "not making cuts to local authorities".

In fact, local authorities in England have experienced historic funding cuts under the Conservatives.

The main public spending watchdogs say the government is still cutting the money it gives to councils.

And figures from the Treasury suggests real-terms reductions in councils' overall spending power will continue until 2020.

THE ANALYSIS

There can't be any serious dispute that since 2010, Conservative-led governments have made deep cuts to the money that local authorities get from central government.

Earlier this year, the National Audit Office put out this report, which says Whitehall funding for councils in England fell by 49 per cent in real terms between 2010/11 and 2017/18.

Councils raise money from council tax, as well as the grant from central government, but rises in council taxes have not offset the cuts.

The NAO calculates that if you take into account council tax rises, local authorities have still seen a fall in their "spending power" of 28.6 per cent in real terms between 2010/11 and 2017/18.

The Institute for Fiscal Studies has done a slightly different calculation: it says councils spent 24 per cent less on services per person in 2017/18 than in 2009/10.

These are national figures and they hide significant differences between types of council.

The IFS says: "The most deprived authorities, including Barking & Dagenham, Birmingham and Salford, made an average cut to spending per person of 32 per cent, compared to 17 per cent in the least deprived areas, including Warwickshire, Wiltshire and Dorset."

This reflects the way the cuts were introduced in 2010.

Poorer councils tended to get a bigger slice of their money from central government (because their residents were less affluent and paid less council tax).

Wealthier councils did better from council tax and were less reliant on money from Whitehall.

So a cut in the money from central government tended to have a bigger effect on more deprived local authorities.

The politics of this was not lost on opponents of the Conservatives. Look at the examples the IFS quoted. Barking and Dagenham, Salford and Birmingham – the hardest hit – are all staunchly Labour inner-city councils. Warwickshire, Wiltshire and Dorset – which took a smaller hit – are Conservative-run counties.

Both the IFS and the NAO say that overall council budgets may have flatlined over the last two years or so.

But this is explained by the government allowing local authorities to raise council taxes, ring-fencing money for adult social care and allowing councils to keep part of the local business rates, they say.

The NAO says "reductions in spending power have largely levelled off" thanks to council tax rises.

The IFS agrees, saying: "Central government funding for councils is still falling – it is above-inflation increases in council tax that mean overall budgets are just about treading water."

And both point out that this is in the context of rising demand for services and rising costs for councils, so a flat budget is having to be stretched further.

We asked the Treasury for a response to this story, and they said: "The 2018/19 Local Government Finance Settlement confirmed the third of a four-year settlement for local councils over the Spending Review 2015 period.

"This settlement ensures a 2.1 per cent increase in cash terms in local government Core Spending Power between 2015/16 and 2019/20 – £44.7 billion in 2015/16 and £45.6 billion in 2019/20."

An increase of 2.1 per cent in cash terms (not allowing for inflation) over five years will almost certainly mean a real-terms cut, depending on future rates of inflation.
THE VERDICT

There can be little doubt that Conservative-led governments have presided over deep cuts to the money they gave to councils since 2010.

The only defence of Liz Truss's comments we can think of is that councils' spending power has stabilised in recent years.

But the Treasury still appears to expect real-terms cuts to council budgets until 2020, according to the figures they gave us. And budgets are still way down compared to 2010.

It is true to say that the government has increased councils' power to raise money for themselves – although this is still limited.

There is still a cap on council tax rises, even if it was relaxed in 2017, and the government still sets business rates centrally, even if it is allowing councils to keep more of the money raised locally.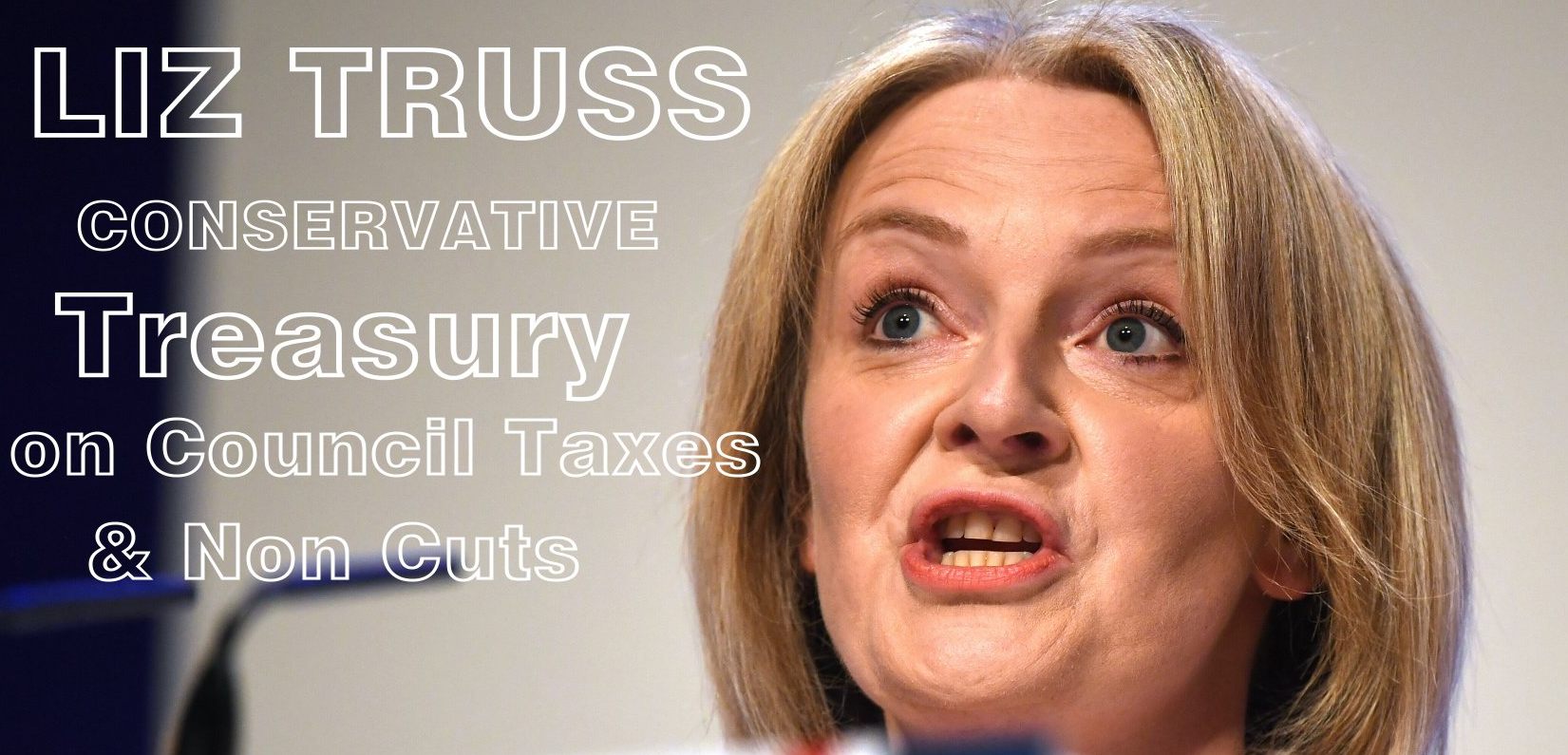 COUNCILS & CORRUPTION
If you cut grants to local government, any local authority that already has a track record of impropriety is likely to cut more legal corners and abuse more human rights than before as they scramble to justify staying in their highly paid jobs.
In the past enforcement departments were artificially exaggerating budgets to boost their coffers. Once the Government knew about this practice they began to think of ways of preventing such fraud to the taxpayer, and of course this led to cuts which any honest council would not notice. Lord Nolan was brought in to look at cozy relationships between councils and developers, but nothing much changed as to employment practices.
Perhaps the Government should consider capping salaries for council officers, including limiting retirement packages and payoffs for corrupt officers who should have been sacked, but instead can now demand big settlements where councils keep them on in different positions to qualify for enhanced pensions.
So-called affordable housing is far removed from the reality of the proposed housing mix that actually benefits fat-cat landlords and encourages foreign investors to sponge off our benefits system like leaches, making the next generation financial slaves to investors who benefit other countries.
The Government of the day should be encouraging genuinely low cost housing, such as flatpacks with energy harvesting features that could sell for as little as £60,000 if land prices were capped and purchased in advance using compulsory purchase powers. This was proposed by Cherry Homes in 2012, but at that time every council approached declined such proposals. Why? Because their planners are anything but planners for affordability, and were milking their then developers, a practice that you cannot trace without a transparent system, such as modifying the anti terrorism and money laundering algorithms to catch crooked Councillors (and Members of Parliament) on the make. Corruption in United Nations terms is most prevalent in the Judiciary and police, according to SDG16.
SECOND JOBS SLEAZE 2021
In the past 18 months, 148 MPs spent some time on a second job, according to the register of members' interests. Out of this number 114 of them were Conservatives, whose activities make up 87% of the income from those second jobs. Most of that income is from roles in the private sector; accountancy, investment banking, energy, pharmaceuticals and independent legal work. Such is the time dedicated to these roles, and the pay netted from them, that it could be argued that being a Tory MP is itself the second job; or in some instances, the third or fourth.

This is not just an unfortunately timed snapshot that happens to have caught out the party with six times more MPs in second jobs than the opposition. Nor is it a party temporarily out of control under the chaotic stewardship of its prime minister, Boris Johnson, a man whose popularity and familiarity among the British public is a result of his own various second jobs in the media as opposed to any serious political performance in office.

To its credit, the Labour party took efforts to tackle the issue back in 2019. An entire pledge to ban second jobs was made in the party's manifesto, and its then leader, Jeremy Corybn, expressly blocked any shadow cabinet members from second jobs, with limited exemptions to maintain professional registrations such as nursing. It is baffling that something identified and stigmatised, and for which a technical solution has already been proposed, should ever become a question about what to do about the risks of a "part-time parliament".

Values are also drawn from our backgrounds. The complaints from some about how difficult life is on a mere £81,932 a year plus benefits sound out of touch to you and me, but very much in touch with their peers and family networks. Forty-one per cent of Conservative MPs went to independent schools, as opposed to 14% of Labour MPs (and 7% of the population as a whole). The newer intake of MPs, younger and from more working-class areas, are underrepresented in the second-jobs market, which is dominated by older men, and where the highest earners were all former cabinet ministers.

When asked about his £150,000-a-year second job with JP Morgan, Sajid Javid said: "It's good to have experience that is not all about politics." The follow-up question to that statement is, of course: good for who?

The second-jobs blight is the natural outcome of a conservative philosophy towards political office – a place from which to wield power for the benefit of yourself and your connections, rather than to serve.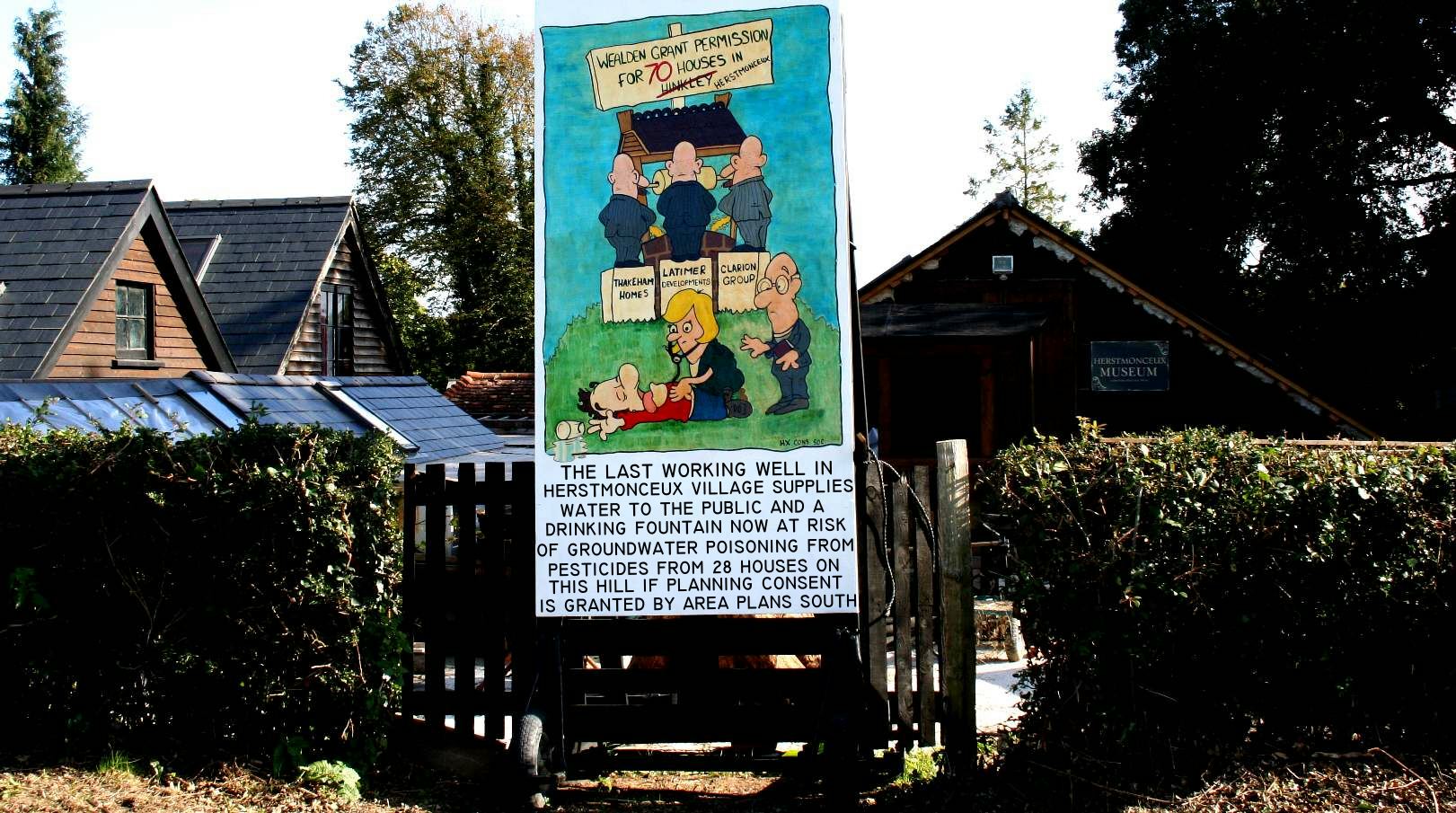 HERITAGE FOR SALE - Councils that are strapped for cash may be cutting corners and granting consents where they would never have contemplated doing so before. Wealden District Council are an example of a council that is known for corrupt practices in cahoots with Sussex police. Since 2015 they have been dishing out consents to developers in the rush to generate additional rates and Community Infrastructure Levy payments. The is regardless of the appropriateness of mass developments around villages of character and charm and urban sprawl. In the case of the proposed development above, this council is likely to be complicit in poisoning a public water supply from the only surviving well in Herstmonceux village in Sussex.
Recently, the developers (Thakeham, Latimer and Clarion Group) admitted that they did not know that the well provided water to the public. But said that this was the proposal that the council wanted to see. Does that not smack of a done deal? Surely the committee make that decision, but where a proposal is for up to seventy houses on green belt, we would expect to see alternative scenarios.
Two grants from this council that were challenged in the High Court were overturned by way of Judicial Review. These grants were by the same planning officer and committees as the above application. A water level management board has advised that the proposed surface water run off solution is not sound and will lead to flooding at a point where a sewage pump sub-station is to be located, potentially leading to foul water pollution to add to the misery of slowly poisoning those drinking from this well (they do not have a mains water supply) and destroying a heritage asset in the process.
The access to the site is also substandard, not being wide enough for a safe visibility line on exit to the A271, a narrow road that is potholed along its length because this council keeps spending money on things like doing favours for those in the fold. If the road had been wider and in good condition with the right width access, then they'd only have the pollution issue to contend with. But there is also a lack of schools in the area and the proposed houses will add to climate change in denial of the 2008 Act, when they should have micro energy generating features at the very least and electric vehicle charging points.
From the comments of walkers on this field, it is alleged that the Parish council may have voted for this development as a favour to a retired local estate agent, Tim Watson, when they have always fiercely opposed development on this hill. Hence, have about-faced, ignoring National Planning Policies that are designed to protect heritage assets adjacent to proposed development.
CABINET MPS -MARCH 2020
Chancellor Exchequer

Priti Patel

Home Secretary

Dominic Raab

Foreign Secretary

Michael Gove

Chancellor D. Lancaster

Ben Wallace

Defence Secretary

Matt Hancock

Health & Social Care

Liz Truss

International Trade

Gavin Williamson

Education

Oliver Dowden

Culture

Alok Sharma

MP Reading West

Robert Jenrick

Housing, Local Gov.

Therese Coffey

Work & Pensions

Robert Buckland

Justice

Anne-Marie Trevelyan

International Dev.

Transport

George Eustice

Environment

Brandon Lewis

Northern Ireland

Alister Jack

Scottish Sec. State

Simon Hart

Welsh Sec. State

Baroness Evans

Leader Lords

Amanda Milling

Party Chairman

Jacob Rees-Mogg

Leader Commons

Mark Spencer

Chief Whip

Suella Braverman

Attorney General

Stephen Barclay

Treasury Sec.
CONSERVATIVE MPS 2017-2018
Theresa May - Prime Mnister

MP for Maidenhead

Damian Green

MP for Ashford

Philip Hammond

MP Runnymede & Weybridge

Boris Johnson

MP Uxbridge & South Ruislip

Amber Rudd

MP Hastings & Rye

David Davis

MP Haltemprice & Howden

Gavin Williamson

MP South Staffordshire

Liam Fox

MP North Somerset

David Lidlington

MP for Aylesbury

Baroness Evans

MP Bowes Park Haringey

Jeremy Hunt

MP South West Surrey

Justine Greening

MP for Putney

Chris Grayling

MP Epsom & Ewell

Karen Bradley

MP Staffordshire Moorlands

Michael Gove

MP Surrey Heath

David Gauke

MP South West Hertfordshire

Sajid Javid

MP for Bromsgrove

James Brokenshire

MP Old Bexley & Sidcup

Alun Cairns

MP Vale of Glamorgan

David Mundell MP

Dumfriesshire Clydes & Tweeddale

Patrick McLoughlin

MP Derbyshire Dales

Greg Clark

MP Tunbridge Wells

Penny Mordaunt

MP Portsmouth North

Andrea Leadsom

MP South Northamptonshire

Jeremy Wright

MP Kenilworth & Southam

Liz Truss

MP South West Norfolk

Brandon Lewis

MP Great Yarmouth

MP

Nus Ghani

MP Wealden

Huw Merriman

MP Battle

MP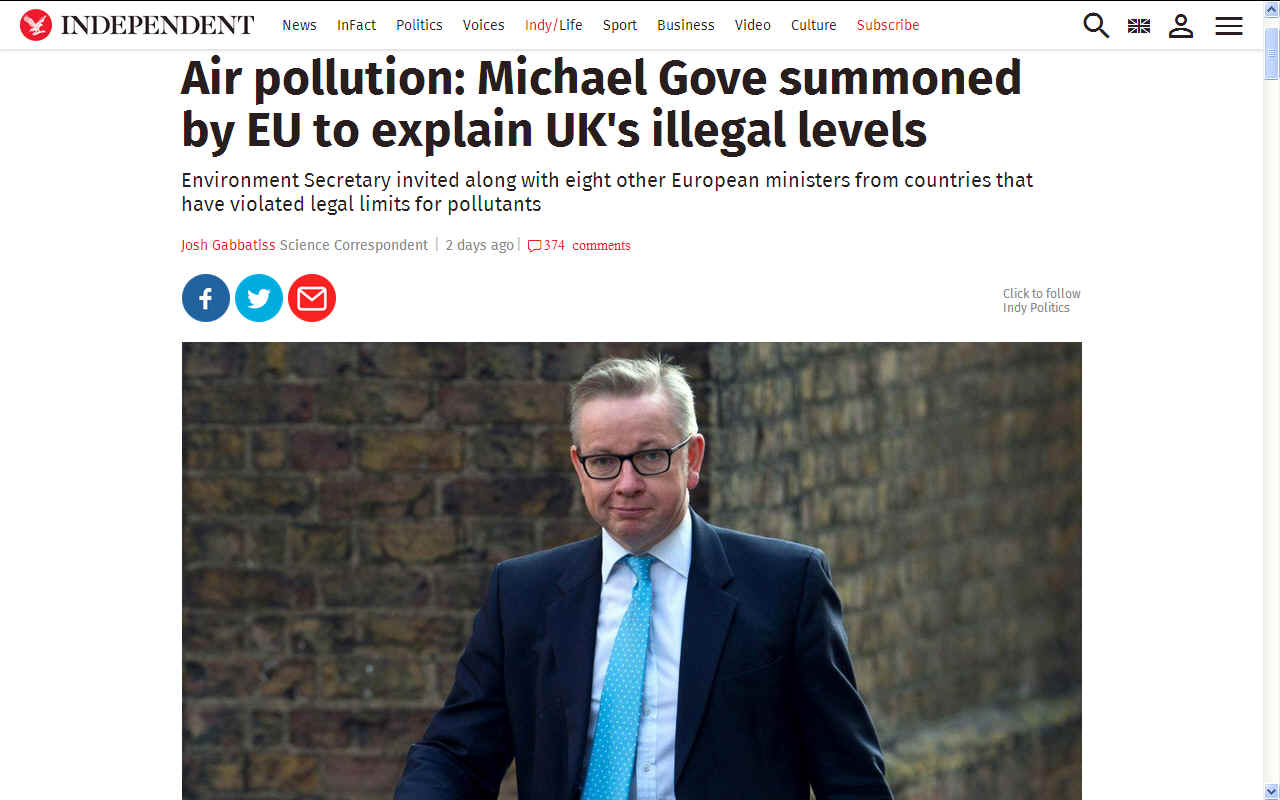 CONSERVATIVE CLIMATE - Michael Gove has been summoned to Brussels because of his party's failure to meet air pollution targets despite warnings about which the Prime Minister was aware of.
UK POLITICS

The United Kingdom has many political parties, some of which are represented in the House of Commons and the House of Lords. Below are links to the websites of the political parties that were represented in the House of Commons after the 2015 General Election:
CO-OPERATIVE PARTY
DEMOCRAT UNIONIST PARTY
PLAID CYMRU
SINN FEIN
SOCIAL DEMOCRATIC AND LABOUR PARTY
UK INDEPENDENCE PARTY
ULSTER UNIONIST PARTY
Social Democratic and Labour Party
We are concerned with how the make up of the above parties and (reasonably) popular policies may affect the Wealden district, because we are all brothers on two islands in the Atlantic Ocean and what we do or fail to do is likely to rebound on ourselves and our fellow man in other nations around the world. How we act today influences policies in other countries in our global community. It is not just about us and our patch.
East Sussex has five District and Borough Councils, each with a border on the coast. From west to east they are:
There is also East Sussex County Council as the provider of services to the 5 East Sussex districts.
As near neighbours and with councils now sharing facilities and working together, these area of Sussex are included in our remit and an area where climate change and affordable housing are issues that need urgent attention. Where the coastline is a feature in every Council, Blue Growth is a food security issue, especially where this side of of our local economy is under-exploited.