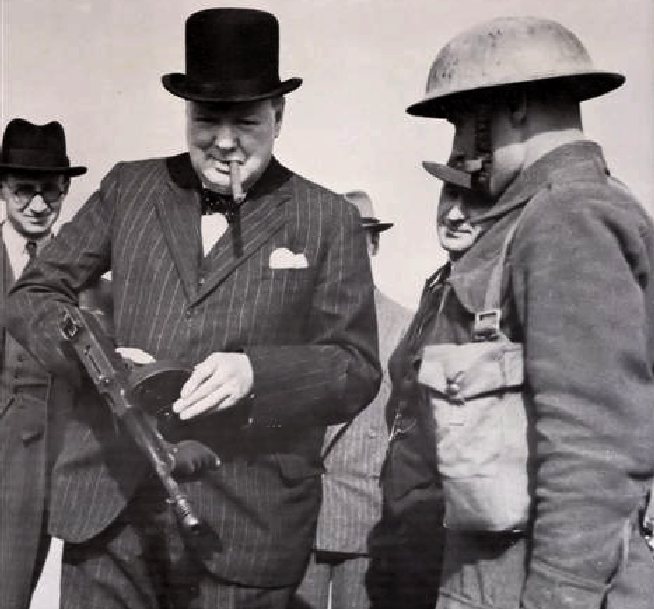 TOMMY GUN - Sir Winston Churchill is seen here trying out an American machine gun for size.
Sir Winston Leonard Spencer-Churchill KG OM CH TD DL FRS RA (30 November 1874 – 24 January 1965) was a British statesman, army officer, and writer, who served as Prime Minister of the United Kingdom from 1940 to 1945 and again from 1951 to 1955. Over the course of his career as a Member of Parliament (MP), he represented five constituencies in both England and Scotland. During his time as Prime Minister, Churchill led Britain to an allied victory in the Second World War. He was Conservative Party leader from 1940 to 1955. In 1953, Churchill won the Nobel Prize in Literature for his lifetime body of work; the prize cited "his mastery of historical and biographical description as well as for brilliant oratory in defending exalted human values".
Churchill was born into an aristocratic family, the grandson of the 7th Duke of Marlborough and son of an English politician and an American socialite. Joining the British Army, he saw action in British India, the Anglo–Sudan War and the Second Boer War, gaining fame as a war correspondent and writing books about his campaigns. Moving into politics before the First World War, he served as President of the Board of Trade, Home Secretary and First Lord of the Admiralty as part of Asquith's Liberal government.
During the war, Churchill departed from government following the disastrous Gallipoli Campaign. He briefly resumed active army service on the Western Front as a battalion commander in the Royal Scots Fusiliers. He returned to government under Lloyd George as Minister of Munitions, Secretary of State for War, Secretary of State for Air, then Secretary of State for the Colonies. After two years out of Parliament, he served as Chancellor of the Exchequer in Baldwin's Conservative government of 1924–1929, controversially returning the pound sterling in 1925 to the gold standard at its pre-war parity, a move widely seen as creating deflationary pressure on the UK economy.
The Boer Republics declared war on Britain on 11 October 1899 and Churchill travelled to South Africa to cover the conflict as a war correspondent.
On 15 November, he was on an armoured train in Natal when it was ambushed. He was captured and imprisoned in Pretoria. On 12 December, when the guards' backs were turned, he took his opportunity to escape and clambered over a prison wall into the night. He jumped on a passing train, hiding among sacks, before alighting and enlisting the help of a Transvaal Collieries manager. Churchill arrived in Durban a hero. Back in Britain, stories of his exploits made him famous.
Churchill's new-found fame allowed him to further his political ambitions. At the 1900 General Election he became MP for Oldham.
Churchill delivered his first speech in Parliament in 1901. He had a lisp and overcame this with diligent preparation. After drying up alarmingly in the House of Commons in 1904, he always used detailed notes when he spoke. Churchill was unafraid to disagree with his party chiefs. Together with his friend, Lord Hugh Cecil, he organised a group of young Tory MPs who specialised in harassing their own party leaders – the 'Hughligans'.

From May 1903 Churchill found himself further at odds with much of his own Conservative Party when he objected to proposed tariff reforms.

Self-confident and supremely assured of his own views, he took a stand against influential politician Joseph Chamberlain. He left the Conservative Party and took a seat on the Liberal benches, flying the flag for free trade. The Conservatives, he said, had abandoned their principles – and he attacked them ferociously. The move paid off. In 1908 he became the youngest cabinet minister since 1866 and the social reforms he pioneered with David Lloyd-George laid the foundations of the welfare state.
Out of office during the 1930s, Churchill took the lead in warning about Nazi Germany and in campaigning for rearmament.
Hitler invaded Poland on 1 September 1939. By the 3rd, Britain was once again at war with Germany.
Churchill was immediately recalled from his political exile, again becoming First Lord of the Admiralty. By May 1940, Britain and her allies were losing the war. In the face of the Nazis' relentless march across Europe, Chamberlain bowed to pressure and resigned as Prime Minister. When Lord Halifax – the man fancied to assume the Premiership – refused the role, Churchill was the only credible alternative to lead. He also took the post of Minster of Defence and responsibility for the war effort.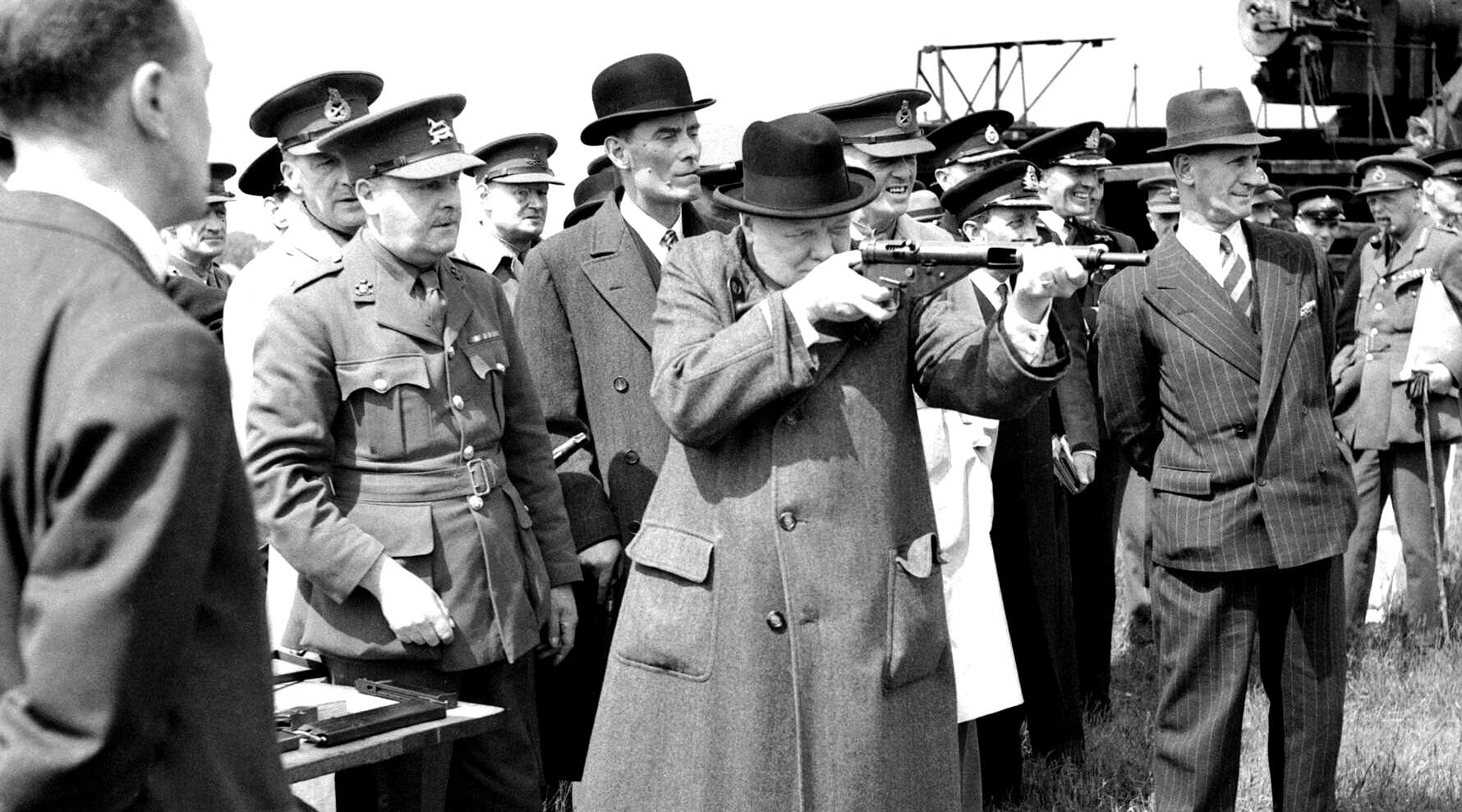 STEN GUN - Sir Winston Churchill is seen here trying out a British weapon that was known to jam.
At the outbreak of the Second World War, he was again appointed First Lord of the Admiralty. Following Neville Chamberlain's resignation in May 1940, Churchill became prime minister. His speeches and radio broadcasts helped inspire British resistance, especially during the difficult days of 1940–41 when the British Commonwealth and Empire stood almost alone in its active opposition to Adolf Hitler. He led Britain as prime minister until after the German surrender in 1945.
While the war was going badly and Lord Halifax, the foreign secretary, urged Churchill to negotiate peace terms with Hitler.
The British Expeditionary Force was facing encirclement in France. Churchill, though, was resolute and overruled Halifax. Hundreds of thousands of allied soldiers were evacuated from Dunkirk. France surrendered. On 22 June, French leader Marshal Pétain signed an armistice with Germany. France would be occupied, forced to pay for the German invasion and her army disbanded. Now standing alone, Churchill's speeches stirred Britain to continue fighting until the US and USSR joined the war in 1941.
As the war progressed, Churchill sought to delay the invasion of Nazi-occupied France for as long as possible, fearful of a second Gallipoli.
But, as pressure from the US and USSR grew, the date was set. On 6 June 1944, US, British and Canadian forces invaded Nazi-occupied France. D-Day had arrived. More than 150,000 troops were landed on French soil in the biggest ever seaborne invasion. At midday, Churchill was able to report the success of the landings to the House of Commons.
On 7 May 1945, Germany surrendered. Though Japan would continue fighting until September, the Allies had won. Churchill had led the nation to victory.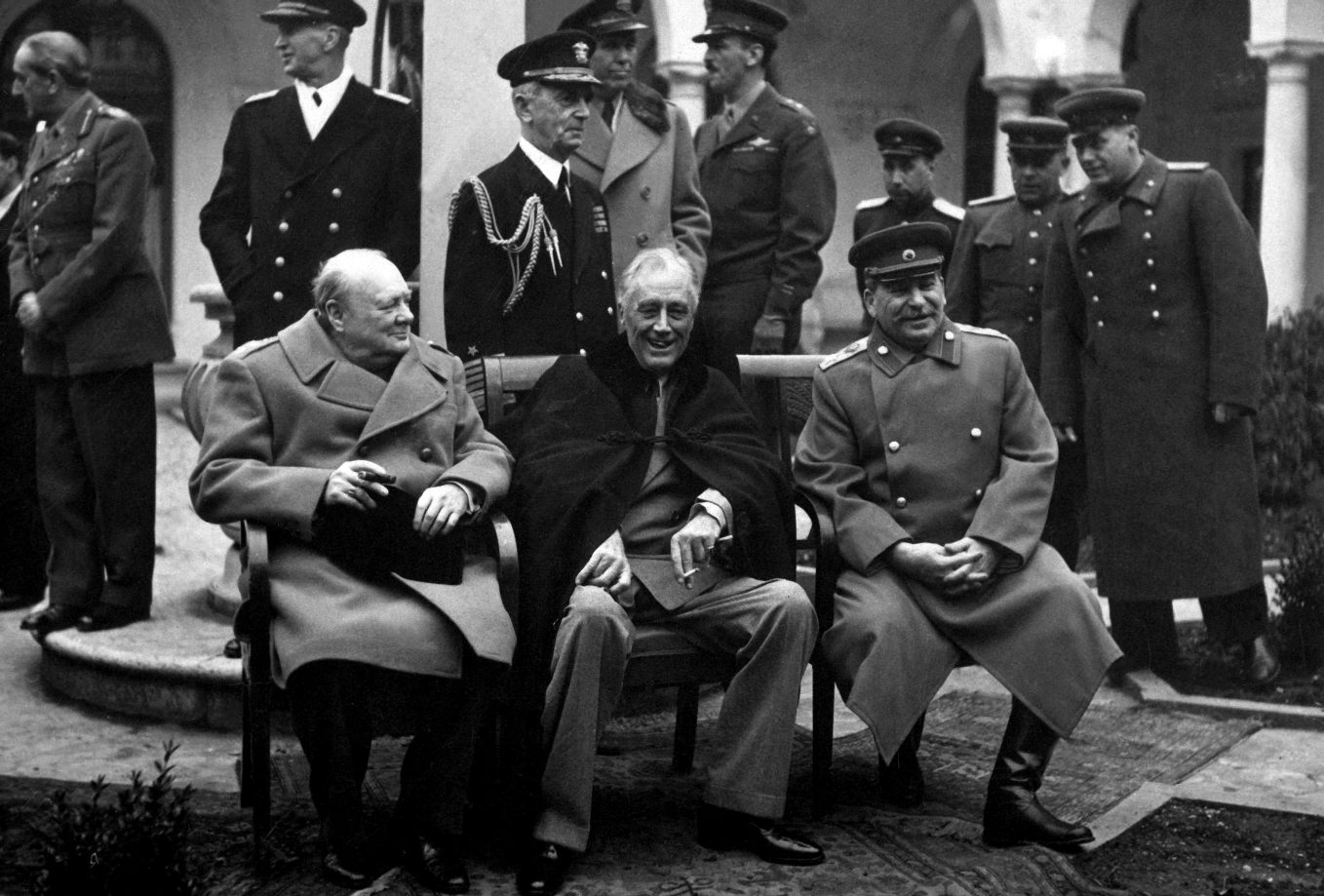 BIG THREE - Sir Winston, Theodore Roosevelt Jr. and Joseph Stalin at Yalta. Roosevelt died in July 1944.
But in the July General Election the Conservatives led by Churchill were roundly defeated by Labour. Clement Attlee was the new Prime Minister. After two world wars in little more than a generation, Labour policies to raise employment, establish the NHS and nationalise key industries resonated with an electorate voting for change. After his wife commented that the result may be a blessing in disguise, Churchill retorted: "At the moment it seems quite effectively disguised."
After the Conservative Party's defeat in the 1945 general election, he became Leader of the Opposition to the Labour Government. He publicly warned of an "iron curtain" of Soviet influence in Europe and promoted European unity. He was re-elected prime minister in the 1951 election. His second term was preoccupied with foreign affairs, including the Malayan Emergency, Mau Mau Uprising, Korean War and a UK-backed Iranian coup. Domestically his government emphasised house-building. Churchill suffered a serious stroke in 1953 and retired as prime minister in 1955, although he remained an MP until 1964. Upon his death in 1965, he was given a state funeral.
The election of 1945 saw a Labour government voted in and housing policy was central to their welfare reforms in their manifesto. Aneurin Bevan, the Minister of Health, was responsible for the housing programme which focused heavily on local authority involvement rather than reliance of the private sector. Added pressure on the Government came in the form of soldiers returning from war and rising working class expectations as a result of Labour's promises.
Part of the initial response was programme of short term repairs to existing properties and the rapid construction of 'prefabs' – factory built single storey temporary bungalows. These were highly controversial at the time but the Prime Minister of the time, Winston Churchill, was strongly in favour and initiated the Temporary Prefabricated Housing programme. Churchill originally wanted half a million prefabs built across the country as a stopgap measure until labour could be mobilised for more permanent housing. They were expected to last for only 10 years but they proved very popular with some residents. There are still many lived in across the country with 330 in use today in the city of Bristol - one of the largest concentrations of prefabs left in the country. Over the years most prefabs have been demolished and replaced with permanent housing. Modern flatpacks are permanent homes.
The first prefabs were completed June 1945 only weeks after the war had ended. Factories that had previously been employed to build other products such as Aeroplanes were converted to build sections of the innovative new houses. It took a minimum of 40 man-hours to assemble the two bedroom houses complete with plumbing and heating. Sometimes prisoners of war who were still being held in the country were used to help in the construction of the concrete slabs on which the sections of bungalow were erected. The prefabs could be completed very quickly once the sections were delivered to the site. Unlike traditional houses they had fully fitted kitchens and bathrooms.
On 26 October 1951, little more than four weeks shy of his 77th birthday, Churchill led the Conservatives to electoral victory once again.
Churchill authorised Britain's nuclear weapons programme in 1954 and his final major speech to the House of Commons in 1955 tackled the threat of nuclear destruction.
There was speculation that Churchill may have had Alzheimer's disease in his last years, although others maintain that his reduced mental capacity was simply the cumulative result of the 10 strokes and the increasing deafness he suffered from during the period 1949–1963. In 1963, US President John F. Kennedy, acting under authorisation granted by an Act of Congress, proclaimed him an Honorary Citizen of the United States, but he was unable to attend the White House ceremony.
Despite poor health, Churchill still tried to remain active in public life, and on St George's Day 1964, sent a message of congratulations to the surviving veterans of the 1918 Zeebrugge Raid who were attending a service of commemoration in Deal, Kent, where two casualties of the raid were buried in the Hamilton Road Cemetery. On 15 January 1965, Churchill suffered a severe stroke and died at his London home nine days later, aged 90, on the morning of Sunday, 24 January 1965, 70 years to the day after his own father's death.
Named the Greatest Briton of all time in a 2002 poll, Churchill is among the most influential people in British history, consistently ranking well in opinion polls of prime ministers of the United Kingdom. However, his strongly outspoken views on race and British imperialism have often been criticized. His complex legacy continues to stimulate debate amongst writers and historians.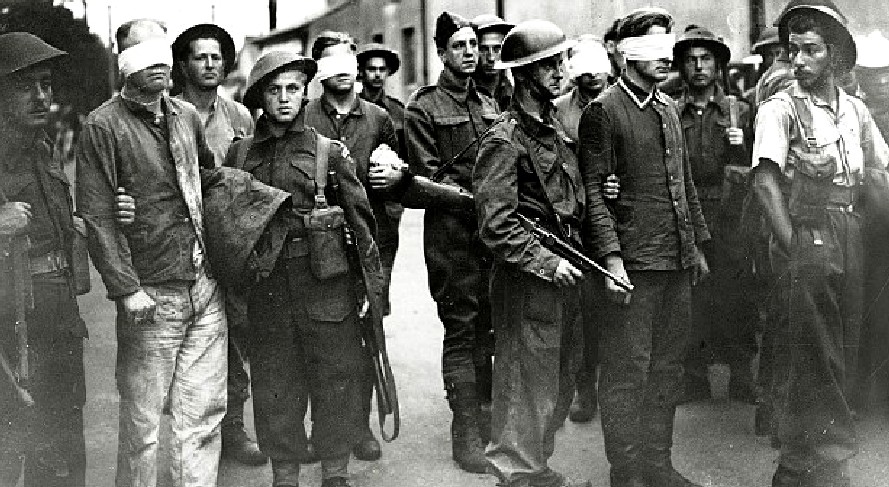 TORTURE - Although signatory to the Geneva Convention, Nazi prisoners were tortured. This has not stopped even today where terrorists have been tortured with the full knowledge of British intelligence who did nothing to stop those practices. That makes us no better than the Nazi fanatics that we has set out to potty-train.
WHO WE WERE FIGHTING AGAINST BETWEEN 1939 AND 1945
Adolf Hitler

German Chancellor

Herman Goring

Reichsmarschall

Heinrich Himmler

Reichsführer

Joseph Goebbels

Reich Minister

Philipp Bouhler SS

NSDAP Aktion T4

Dr Josef Mengele

Physician Auschwitz

Martin Borman

Schutzstaffel

Adolph Eichmann

Holocaust Architect

Rudolf Hess

Commandant

Erwin Rommel

The Desert Fox

Karl Donitz

Kriegsmarine

Albert Speer

Nazi Architect
CONSERVATIVE MPS 2017-2018
Theresa May - Prime Mnister

MP for Maindenhead

Damian Green

MP for Ashford

Philip Hammond

MP Runnymede & Weybridge

Boris Johnson

MP Uxbridge & South Ruislip

Amber Rudd

MP Hastings & Rye

David Davis

MP Haltemprice & Howden

Gavin Williamson

MP South Staffordshire

Liam Fox

MP North Somerset

David Lidlington

MP for Aylesbury

Baroness Evans

MP Bowes Park Haringey

Jeremy Hunt

MP South West Surrey

Justine Greening

MP for Putney

Chris Grayling

MP Epsom & Ewell

Karen Bradley

MP Staffordshire Moorlands

Michael Gove

MP Surrey Heath

David Gauke

MP South West Hertfordshire

Sajid Javid

MP for Bromsgrove

James Brokenshire

MP Old Bexley & Sidcup

Alun Cairns

MP Vale of Glamorgan

David Mundell MP

Dumfriesshire Clydes & Tweeddale

Patrick McLoughlin

MP Derbyshire Dales

Greg Clark

MP Tunbridge Wells

Penny Mordaunt

MP Portsmouth North

Andrea Leadsom

MP South Northamptonshire

Jeremy Wright

MP Kenilworth & Southam

Liz Truss

MP South West Norfolk

Brandon Lewis

MP Great Yarmouth

MP

Nus Ghani

MP Wealden

Huw Merriman

MP Battle

Steve Double

MP St Austell & Newquay

Sarah Newton

MP Truro & Falmouth

Rebecca Pow

MP Taunton Deane

Jacob Rees-Mogg

MP Somerset

Nadine Dorries

MP

Gavin Williamson

MP Staffordshire

.

.

.

.

.

.

David Cameron

Former Prime Minister

Margaret Thatcher

Former Prime Minister
MP
DAILY MAIL - HOW BRITAIN TORTURED NAZI POWS
..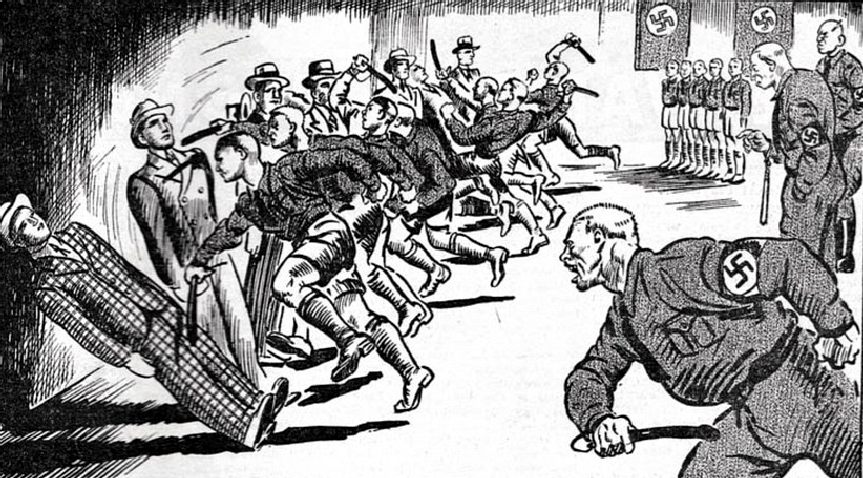 CONSERVATIVE - Don't let up lads, really lay into your victims. The public are there to be drained and beaten to death if they dare to stand in the way of our agenda to build the greatest empire there ever was. Never mind human rights and conservation issue, think of all that grey armour and black leather. The British may not like our uniforms but they like our methods.
UK POLITICS

The United Kingdom has many political parties, some of which are represented in the House of Commons and the House of Lords. Below are links to the websites of the political parties that were represented in the House of Commons after the 2015 General Election:
SOCIAL DEMOCRATIC AND LABOUR PARTY
Social Democratic and Labour Party
We are concerned with how the make up of the above parties and (reasonably) popular policies may affect the Wealden district, because we are all brothers on two islands in the Atlantic Ocean and what we do or fail to do is likely to rebound on ourselves and our fellow man in other nations around the world. How we act today influences policies in other countries in our global community. It is not just about us and our patch.
East Sussex has five District and Borough Councils, each with a border on the coast. From west to east they are:
There is also East Sussex County Council as the provider of services to the 5 East Sussex districts.
As near neighbours and with councils now sharing facilities and working together, these area of Sussex are included in our remit and an area where climate change and affordable housing are issues that need urgent attention. Where the coastline is a feature in every Council, Blue Growth is a food security issue, especially where this side of of our local economy is under-exploited.