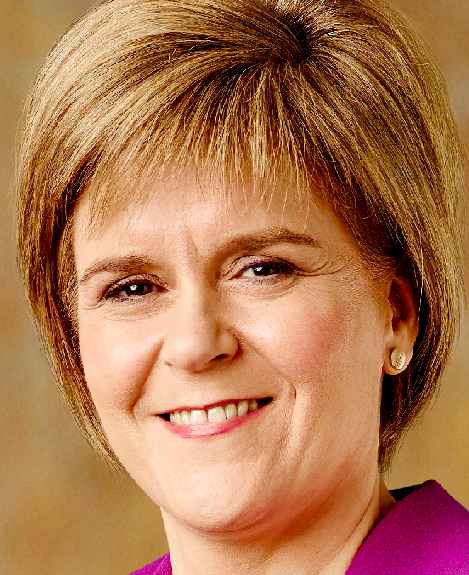 Nicola Sturgeon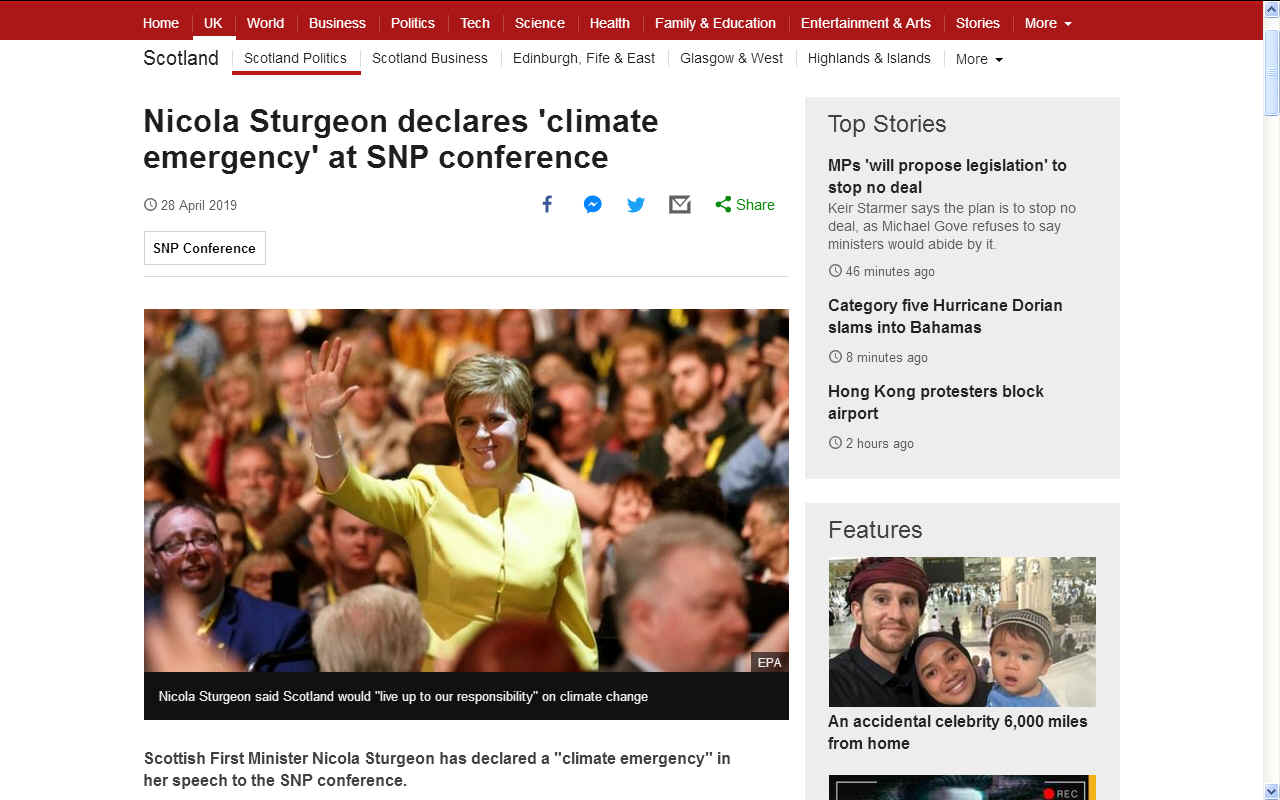 BBC NEWS 28 APRIL 2019 - NICOLA STURGEON DECLARES CLIMATE EMERGENCY AT SNP CONFERENCE - Scottish First Minister Nicola Sturgeon has declared a "climate emergency" in her speech to the SNP conference.

In 2009, the Scottish Parliament passed unanimously the most ambitious climate change legislation anywhere in the world, only recently improved on by English upgrade to the Climate Change Act 2009 in 2019.

Eight years on, February 2018, Scotland published their Third Report on Proposals and Policies, the Climate Change Plan (CCP), which will take them to 2032.
AUTOMOTIVE
The aims and objectives of the 3rd Report are admirable. The plan is well thought out, though no provision has been made for electric road transport for vehicles that recharge instantly via battery cartridge exchange, though at least two prototype vehicles that load and unload their own cartridges have been produced in the UK and forgotten. Such cartridges might carry lithium cells or hydrogen fuel cells, though the hydrogen chain suffers severe losses in the conversion, especially if liquefying and re-conversion to gas is included. The most important aspect of any cartridge system for automobiles is the load leveling capability for storing renewable energy surplus and off peak generation.
Scotland though, is not unusual in failing to identify innovative solutions. In the USA, the California Air Resources Board turned away such solution as long ago as 1991, preferring to sit on the fence and wait for a super battery, or other miracle cures. As home to James Watt and Johns Logie Baird, Scotland of all places should know that there are no miracles, there is only development to perfect what is glaringly obvious, but avoided in favour of incremental improvements rather than change.
In the transport sector emissions will be expected to fall by 37% over the period of the Plan. We are phasing out the need to buy petrol and diesel engine cars and vans by 2032, a full eight years ahead of the UK Government. This will be driven by a significant increase in the uptake of ultra-low emission electric and hydrogen vehicles, which may also play a role in management of the wider energy system.
The vision is that by 2050, Scotland will be free from harmful tailpipe emissions from land transport, resulting in a significant reduction in overall transport emissions and we will be enjoying the social, health and economic benefits of noticeably improved air quality. Low emission zones in Scotland's largest cities will limit the access of vehicles that exceed emissions benchmarks, while permitting unrestricted access for low emission cars, vans and buses, as well as smaller goods vehicles relaying goods from consolidation centres. Scotland will be a friendlier and safer place for cyclists and pedestrians. Decarbonisation of the transport system will lead to positive well-being outcomes for the people of Scotland as we transition to a cleaner, greener and healthier country.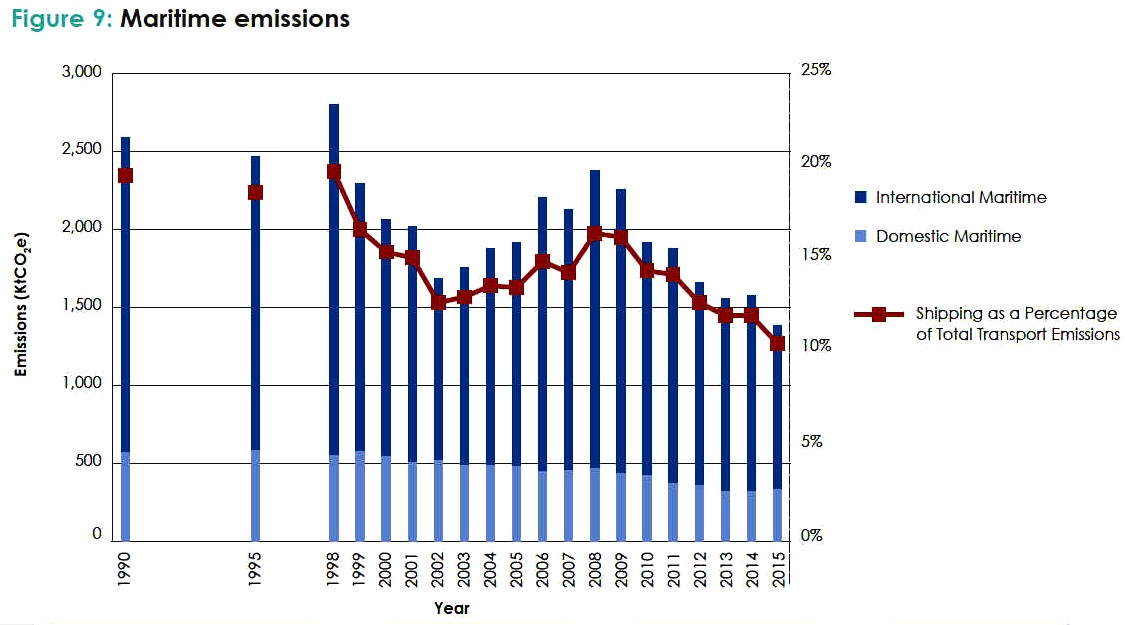 MARINE
We might expect up to a 35% improvement in the efficiency of new, larger shipping by 2035, based on hybrid and gas-powered engines, battery-electric engines, and the potential use of assistive technology, such as sails, kites, rotors and aerofoil hulls. Gradual uptake and stock differences mean that this may equate to 10% at the fleet level.
Emissions from maritime transport in 2015 were estimated to be 1.4MtCO2e, or 11% of total transport emissions. This compares to 2.6MtCO2e and 20% in 1990. Within that profile, emissions from international shipping have been volatile year on year, while
emissions from domestic shipping have decreased more steadily since 1990.
Policy development milestone: Examining the scope for procuring hybrid and low carbon powertrains in the public sector marine fleet as part of a vessel replacement programme. Scotland are developing a programme of procurements to replace vessels in the Caledonian Maritime Assets (CMAL) ferry fleet with lower emission powertrains. For each project we will consider diesel-electric hybrid and liquid natural gas (LNG) fuelling options; in addition CMAL will continue to pursue technical designs which improve fuel efficiency and CalMac Ferries Ltd will continue its operational work on reducing fuel consumption. We are supporting the Scottish-based Hyseas consortium with its initiative to trial a hydrogen powered 'ro-ro'(roll-on, roll-off) vehicle ferry. Scotland publishes annual Vessel Replacement and Deployment Plans which set out their evolving plans and projects in more detail.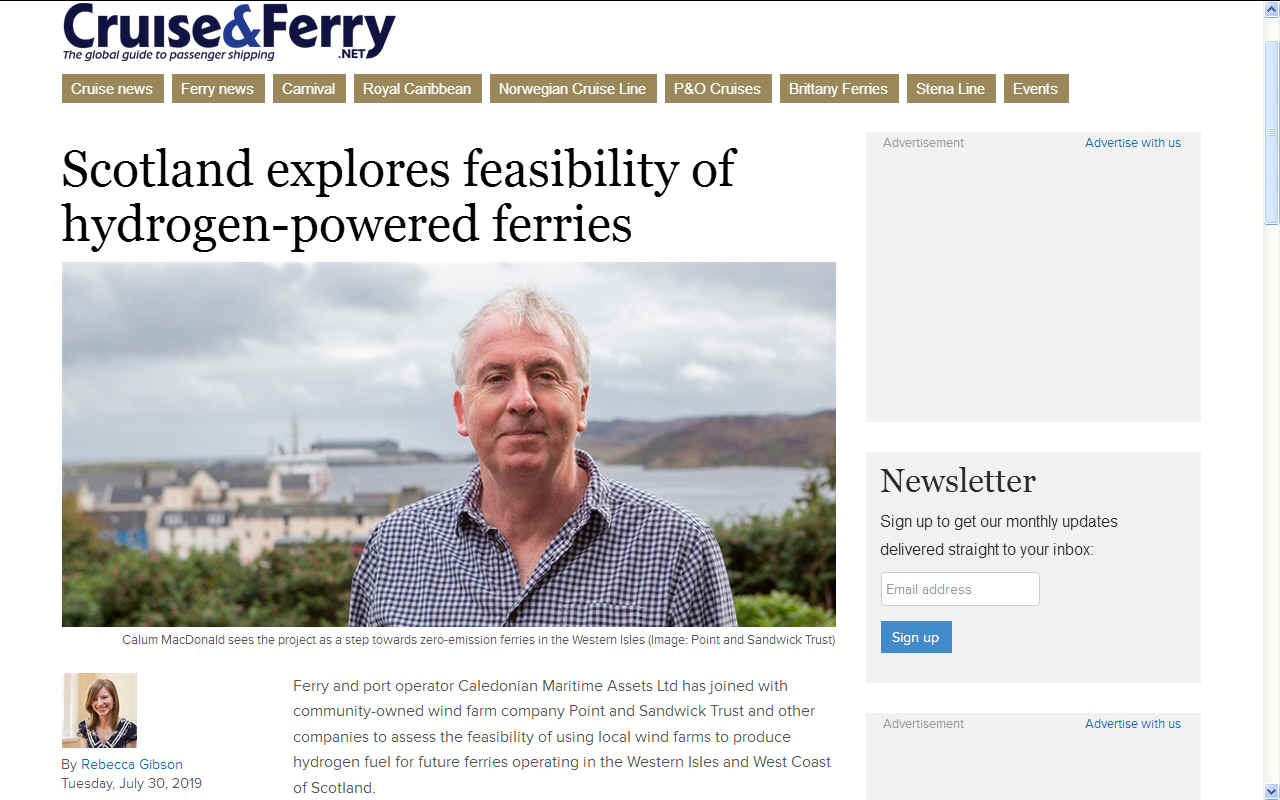 STUDY PUBLISHED - Point and Sandwick Trust, in collaboration with a number of industry partners (Wood, Siemens-Gamesa, Engie, ITM, CMAL, Johnston Carmichael and Ferguson Marine), have published a feasibility study to assess the suitability of using hydrogen produced from local wind farms to power future ferry services operating in the Western Isles and West Coast of Scotland.

The study was part-funded by the Scottish Government's Low Carbon Infrastructure Transition Programme. Read the full report here.

The project looked at the practical and economic feasibility of using new island wind farms to produce zero-carbon "green" hydrogen fuel for future types of clean emission ferries operating on the established Caledonian MacBrayne routes.
PLANNING
A review of the planning system commenced in 2015, and the Planning (Scotland) Bill, which sets out the desired changes to planning law, was introduced to the Scottish Parliament in December 2017. The Bill proposes making the development plan less
complicated, with national leadership under a combined National Planning Framework and Scottish Planning Policy.

The planning system is a means by which the missing infrastructure which would assist low carbon choices to be made, can be identified and developed in the future. Sadly, that assumes local planners are familiar with conservation methods, when in reality they are typically kleptocrats, looking to boost their coffers with more taxes, that they cannot levy on affordable or sustainable units..
RENEWABLES
A range of renewable technologies will deliver clean, affordable electricity, including onshore, offshore and island wind, hydro, solar, marine and bioenergy. The electricity generation emissions envelope set out in this Plan allows for a renewables-dominant power system to be supported by cleaner, more efficient and flexible gas generation.

Carbon Capture Storage (CCS) may also help unlock the potential for large scale hydrogen production.

The Feed-In Tariff, the Renewables Obligation and Contracts for Difference (CfD) are UKwide subsidy schemes that provide a route to market for renewable electricity projects. The UK Government's Clean Growth Strategy (October 2017) has committed up to £557 million for further Pot 2 CfD auctions from 2019.
This will provide an opportunity to support the deployment of less established renewable technologies in Scotland. These include offshore wind, island wind (subject to State Aid approval), marine technologies, advanced conversion technologies, anaerobic digestion and biomass with combined heat and power, although the Scottish Government knows that minimal ring fenced funds could have been set aside for marine and other less well established technologies that may struggle to compete with offshore wind.
SCOTTISH NATIONAL PARTY MPS 2017-2018
Nicola Sturgeon - Leader

MSP

Angus Robertson -Deputy Leader

MSP

Ian Hudghton - President

MSP

Hannah Bardell

MSP

Mhairi Black

MSP

Ian Blackford

MSP

Kirsty Blackman

MSP

Deidre Brock

MSP

Alan Brown

MSP

Lisa Cameron

MSP

Douglas Chapman

MSP

Joanna Cherry

MSP

Ronnie Cowan

MSP

Angela Crawley

MSP

Martyn Day

MSP

Martin Docherty

MSP

Marion Fellows

MSP

Stephen Gethins

MSP

Patricia Gibson

MSP

Patrick Grady

MSP

Peter Grant

MSP

Neil Gray

MSP

Drew Hendry

MSP

Stewart Hosie

MSP

Chris Law

MSP

Stewart McDonald

MSP

Stuart McDonald

MSP

John McNally

MSP

Angus MacNeil

MSP

Carol Monaghan

MSP

Gavin Newlands

MSP

Brendan O'Hara

MSP

Tommy Sheppard

MSP

Christopher Stephens

MSP

Alison Thewliss

MSP

Philippa Whitford

MSP

.

.

.Peter Wishart

MSP

Alex Salmond

MSP

.

.
THE BEST OF THE WORST - GOOD, BAD & UGLY
607 SCHOOLS PROJECTS DELIVERED

Childcare increased, free school meals extended, record exam results, 607 school building projects completed, and free tuition for students.
RECORD NHS FUNDING

A record £13 billion budget for Scotland's NHS, more staff than ever, and patients getting some of the fastest and best treatment anywhere in the UK.
SMALL BUSINESS BONUS

Jobs and businesses protected through the recession – with business rates slashed or abolished for almost 100,000 premises.
SUPERFAST BROADBAND

£400 million to deliver superfast broadband to 95 per cent of properties across Scotland by the end of 2017. They hope to reach 100 per cent by 2021.
WOW! 30,133 AFFORDABLE HOMES BUILT

The SNP claim to have exceeded their target for new homes in the last five years, with an investment of £1.7 billion. They want to build at least 50,000 more in the next Parliament.
We like this a lot. If only England was so progressive.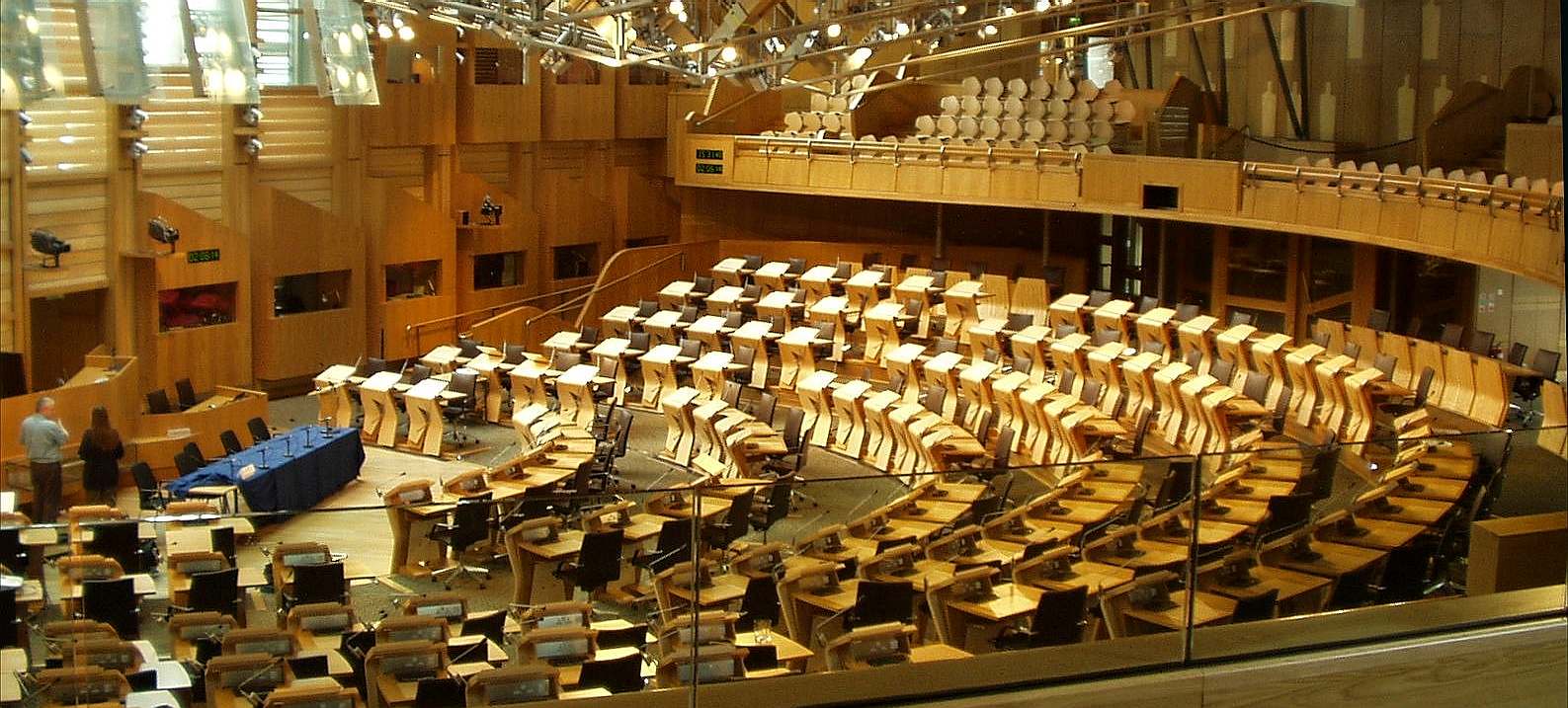 SCOTTISH PARLIAMENT
The Scottish National Party is a Scottish nationalist and social-democratic political party in Scotland. The SNP supports and campaigns for Scottish independence. It is the second-largest political party by membership in the United Kingdom, behind the Labour Party, is the third-largest by overall representation in the House of Commons, behind the Labour Party and the Conservative Party, and is the largest political party in Scotland, where it has the most seats in the Scottish Parliament and 35 out of the 59 Scottish seats in the House of Commons of the Parliament of the United Kingdom. The current Scottish National Party leader, Nicola Sturgeon, has served as First Minister of Scotland since her predecessor Alex Salmond resigned on 20 November 2014, following the majority of the Scottish electorate's decision to reject independence at the Scottish independence referendum held on 18th September.

Founded in 1934 with the amalgamation of the National Party of Scotland and the Scottish Party, the party has had continuous parliamentary representation since Winnie Ewing won the 1967 Hamilton by-election. With the establishment of the devolved Scottish Parliament in 1999, the SNP became the second-largest party, serving two terms as the opposition. The SNP gained power at the 2007 Scottish Parliament election, forming a minority government, before going on to win the 2011 Parliament election, after which it formed Holyrood's first majority government.

The SNP is the largest political party in Scotland in terms of both seats in the Westminster and Holyrood parliaments, and membership; reaching a peak of over 120,000 members in July 2016, around 2% of the Scottish population. Currently the party has 63 MSPs, 35 MPs and over 400 local councillors. The SNP also currently has 2 MEPs in the European Parliament, who sit in The Greens/European Free Alliance (Greens/EFA) group. The SNP is a member of the European Free Alliance (EFA). The party does not have any members of the House of Lords, as it has always maintained a position of objecting to an unelected upper house.
WHAT'S THE BEEF?
We are concerned with how the make up of any political party and (reasonably) popular policies that may have a knock on effect on the Wealden District in England. How everybody acts today in the British Isles influences policies in other countries in our global community. It is not just about us and our patch, but issues like Brexit have an impact on climate change and the building of an infrastructure to support transition to a low carbon society.