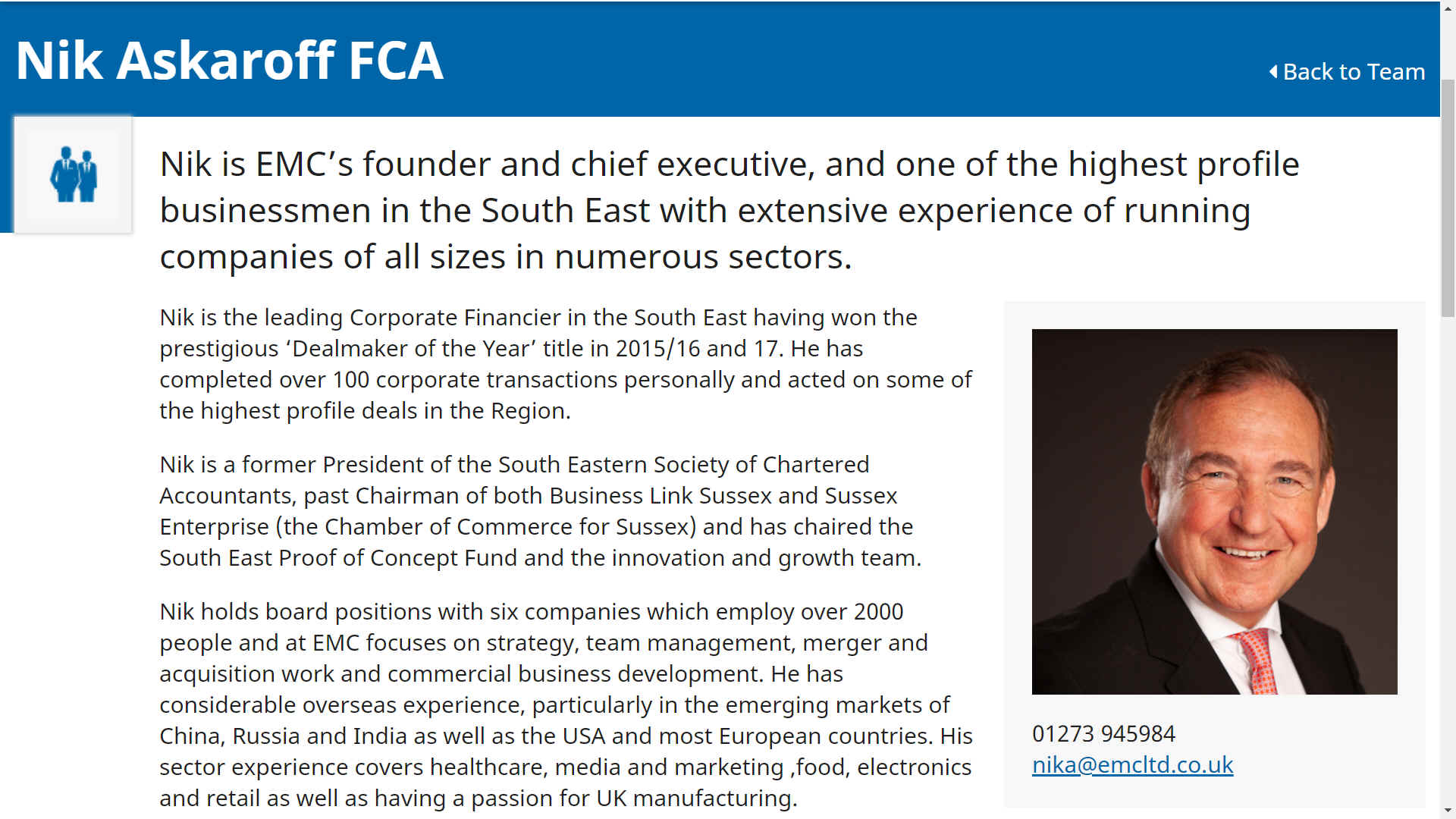 Never mind the quality, feel the width. They say that money makes the world go around, but these days it's all about corporate responsibility and sustainability. Indeed, new crimes like geographical genocide and ecocide are being proposed to curb over zealous developers from ruining our planet.
RIP
Nikolai Fawley Askaroff (NFA) passed away on a golf course in the Far East, on the 24th of December 2021. May he Rest In Peace.
EASTBOURNE HERALD - 31 DECEMBER 2021 - Tributes paid to award-winning businessman who died suddenly over Christmas

Prominent businessman Nik Askaroff has died suddenly while enjoying a break in the Far East during the festive season.

Mr Askaroff, 65, was a very successful, well-known and award-winning businessman in Sussex for decades. He has been involved in a number of Eastbourne businesses over the years including Anglo Dutch Meats, Genesis Freight Forwarding, Posturite and Hotchkiss. He was founder and chief executive of EMC, which was founded in Eastbourne in 1989.

Mr Askaroff died suddenly on Christmas Eve and the news has shocked his loved ones, many friends and the business community.

A statement on the EMC website reads: "It is with deepest sadness that we share news of the passing of Nik Askaroff, EMC's founder and chief executive. Nik suffered a sudden cardiac arrest whilst travelling in the Far East over the Christmas period.

"Nik spent over 30 years of his working life building EMC to become the leading corporate finance house in the South East and the well placed succession plans will ensure that his legacy is built upon.

"Our hearts go out to Nik's loved ones at this difficult time. Please keep them in your thoughts."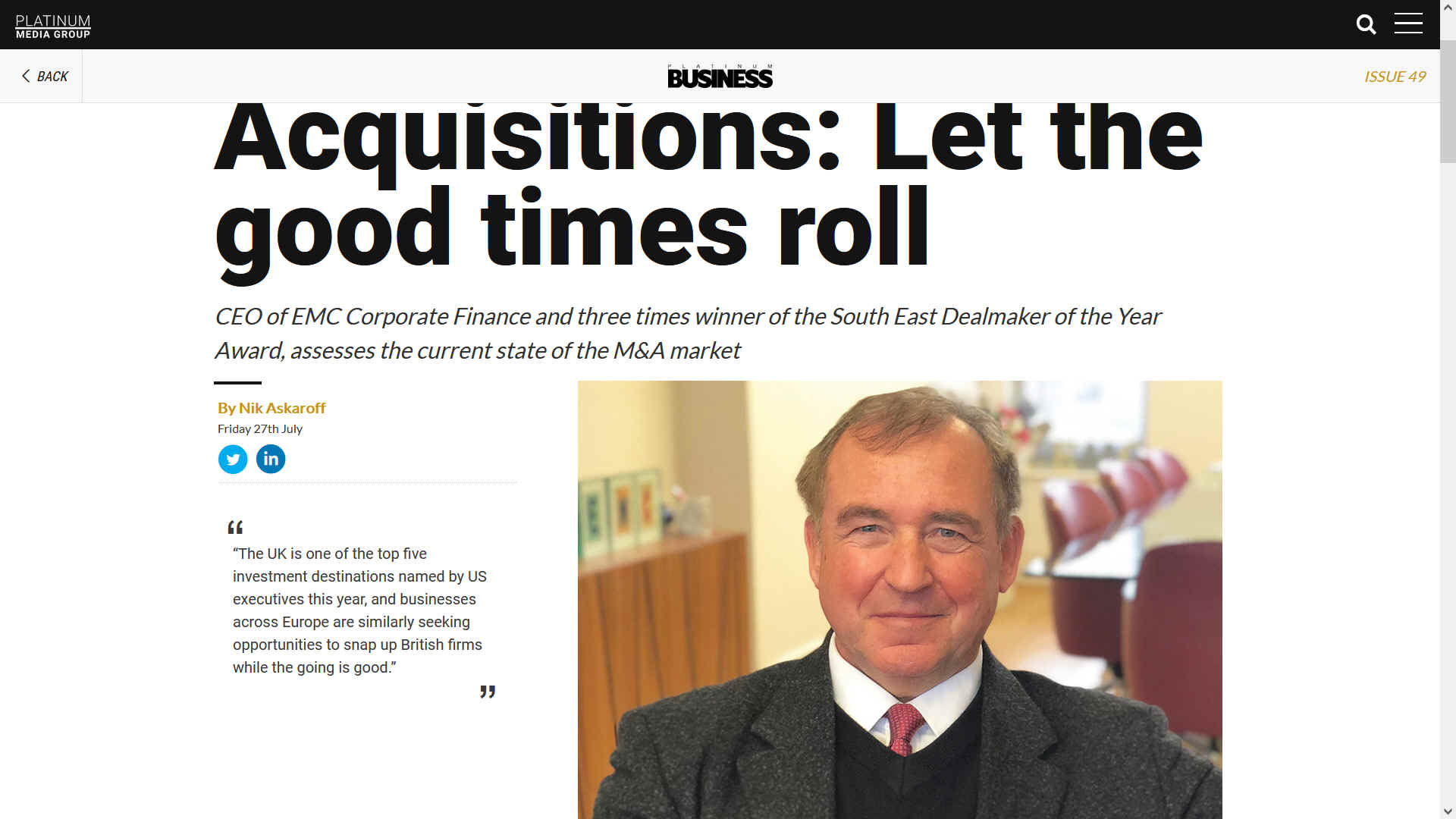 BACKGROUND
The Askaroff family moved to Eastbourne, after his father, Igor Askaroff, allegedly, escaped from Russia on a coal train, moving to Germany where he met the love of his life, Rosemary, who was thought to be only 13 at the time, so naturally her parents did not approve. Nevertheless, they secretly married.
The couple eloped to England and started to build a life in the UK, working their way up through manual jobs, until Rosemary found people were buying garments that she was making for her children, so much so that the couple had to outsource sewing jobs to dozens of small independent seamstresses in and around the Eastbourne area. One of the early garments was a Buggy Cape, designed to fit over prams and push chairs to keep babies dry when it was raining. As a mother with six boys, Rosemary knew a thing or two about being a working mother.
This business built up, until they were making high end nursery products and shipping to the likes of John Lewis, featuring Beatrix Potter characters. Clare Askaroff was at the time a fine artist, helping to create the line of baby products.
Nikolia was the second born of a number of boys: Noel, Alexander, Maximilian, Samuel and Oliver. A virtual production line of children that one may think of today as irresponsible in terms of global population and climate change. How times change.
Nik qualified as a Chartered Accountant in 1980 but quickly decided that there must be more exciting occupations than auditing, investigations and tax. His first position in industry was in a small family fashion textile company called Simplantex, based in Eastbourne, where he soon learned that, despite the grand title of financial director, he had to be involved in selling, exhibitions, packing cartons and even cutting material. He also experienced at first hand the problems that can arise in second generation family businesses.
He was a capable rugby player at school and he liked to ski.
His eyesight suffered, probably as a result of so much paperwork, and he wore contact lenses. Probably as a result of working late, one dark evening in 1983 he drove his Range Rover into one of the dykes along the Pevensey marsh road. He was rescued by his neighbour in Lime Park and towed home, using a Land Rover. A year or two before this, Nik had an accident in Eastbourne, where he'd probably [nobody knows the cause] had a bit to drink, covered in the local paper. Nobody was injured.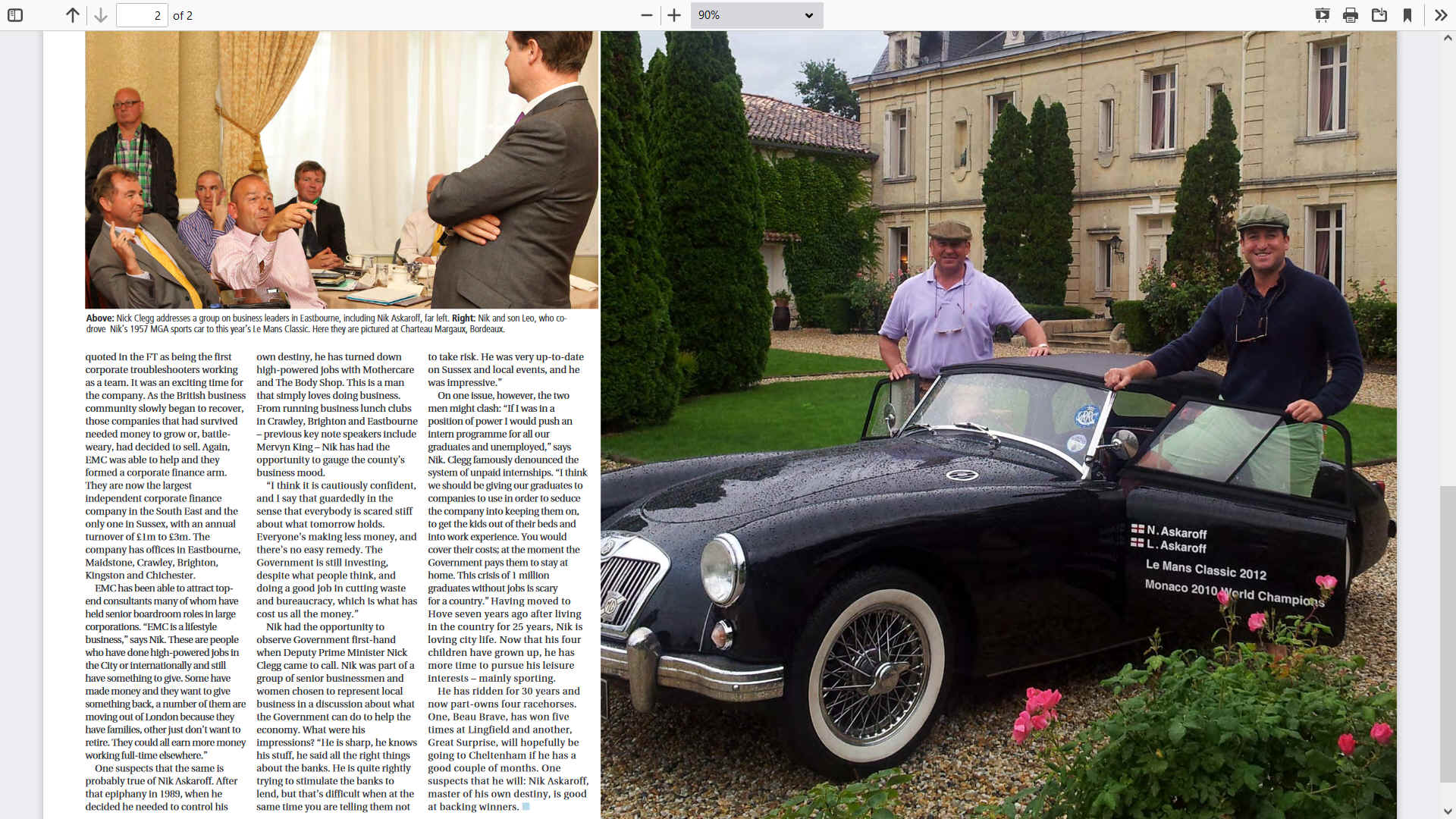 EMC
According to the Eastbourne Management Consultant's website: Nik was EMC's founder and chief executive, and was a high profile businessmen in the South East with extensive experience of running companies of all sizes in numerous sectors.

"Nik is the leading Corporate Financier in the South East having won the prestigious 'Dealmaker of the Year' title in 2015/16 and 17. He has completed over 100 corporate transactions personally and acted on some of the highest profile deals in the Region.

Nik is a former President of the South Eastern Society of Chartered Accountants, past Chairman of both Business Link Sussex and Sussex Enterprise (the Chamber of Commerce for Sussex) and has chaired the South East Proof of Concept Fund and the innovation and growth team.

Nik holds board positions with six companies which employ over 2000 people and at EMC focuses on strategy, team management, merger and acquisition work and commercial business development. He has considerable overseas experience, particularly in the emerging markets of China, Russia and India as well as the USA and most European countries. His sector experience covers healthcare, media and marketing ,food, electronics and retail as well as having a passion for UK manufacturing.

However, Nik's relish for the commercial side of the business won him the award of Accountant of the Year in 1986. A year later he took up the position as managing director of the UK arm of a 600-store retail fashion group prior to forming Eastbourne Management Consultants Limited - subsequently renamed EMC – in 1989.

A strong, commercially-orientated Chartered Accountant with the ability to motivate and manage teams and communicate with staff at all levels as well as business heads and City institutions, Nik has been involved in scores of projects ranging from chief executive of a listed electronics company to non-executive director for one of the country's leading freight forwarders."

Specialist Disciplines

- Managing Director
- Non-Executive Chairman/Director
- Owner/Manager Mentoring
- Corporate Strategy and Planning
- Turnaround and Recovery
- Troubleshooting
- Strategic Reviews
- Corporate Finance (acquisitions & disposals; MBOs and MBIs; raising equity, including venture capital; sourcing debt; succession planning; preparation and review of business plans)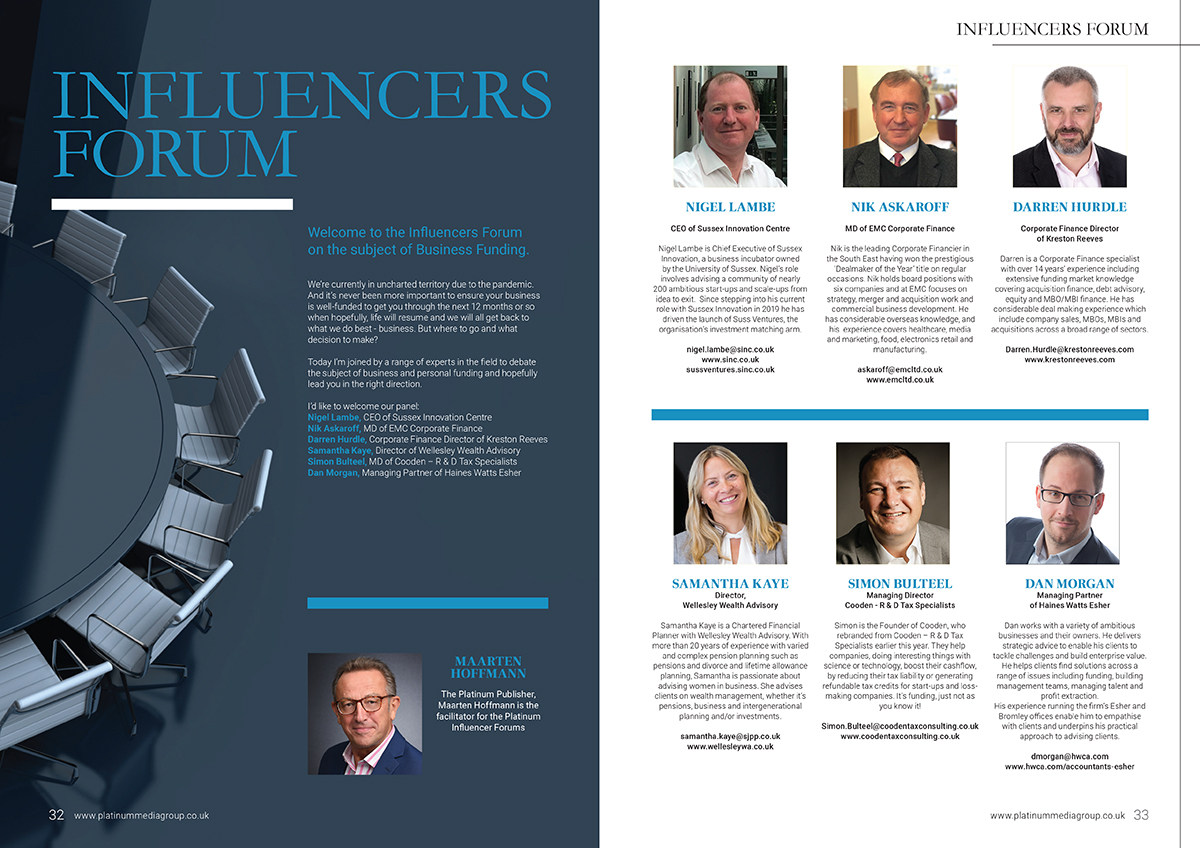 Recent assignments had included:

- Non-Executive Director and Chairman roles with six businesses in the £5m-£50m range.
- Advice and assistance to MBO team with the purchase of a £40m business including due diligence and support and liaison with buyers, VCs and banks over a six month period.
- General review and advice to chairman of a £50m+ business on structure and management of group companies and assistance with developing strategic options.
- Effective part-time executive role over 6-12 months.
- Drafting of business plans and forecasts for presentation to investors, directors and bankers for a number of fast growing businesses. Agreement of strategy and monthly overview of performance against the plan with commercial financial input to the management.
- Acting on behalf of Institutional investor where invested company had failed to perform. Review of management and strategy, agreement of action plan and ongoing role to drive forward improvements.
- Advising on, assisting with and completing several corporate sales including targeting of buyers, negotiation assistance and advice through to completion.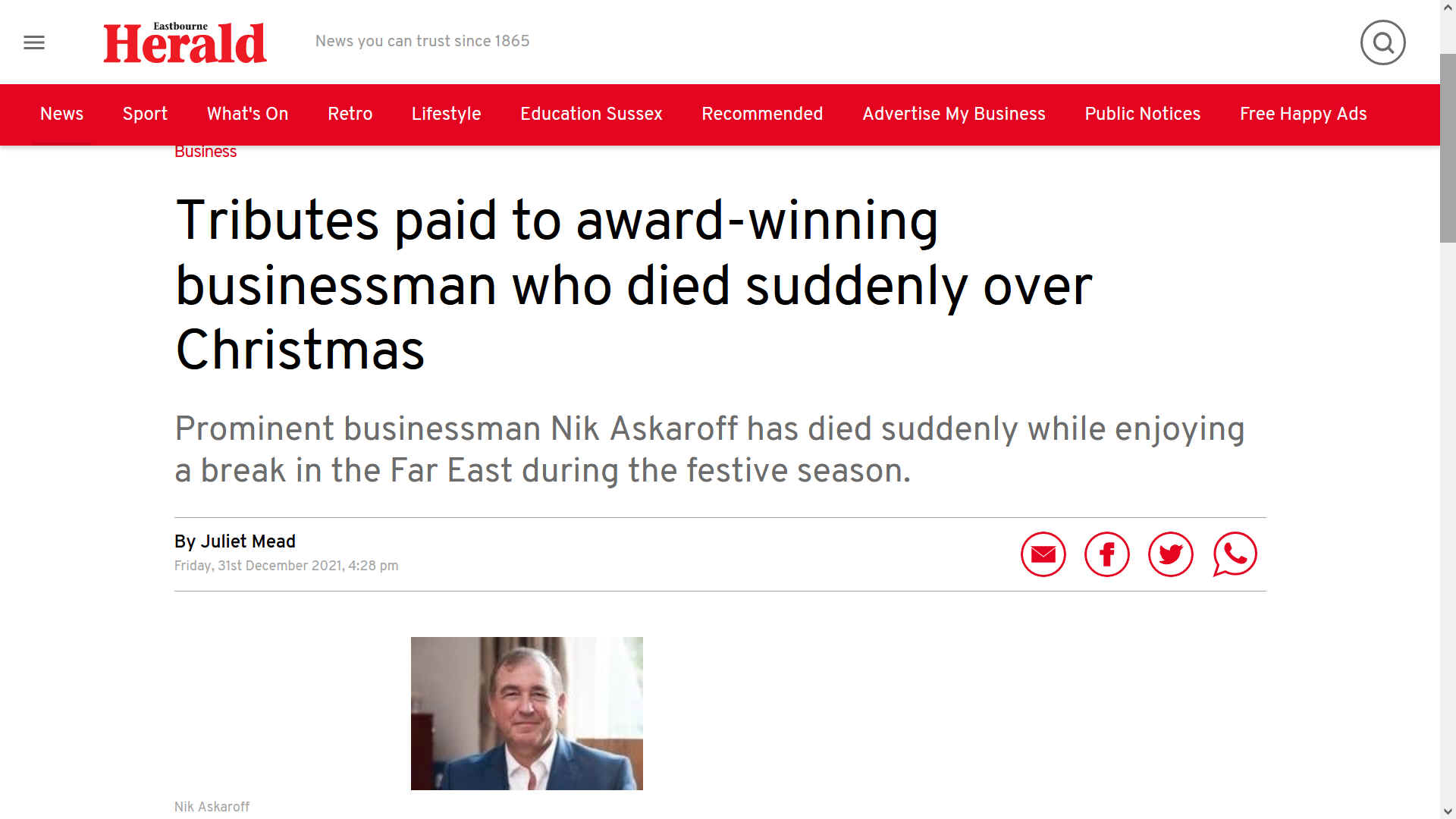 THE DEALMAKER - Nik Askaroff celebrates 30 years at the helm of EMC (Sussex Life - 2019)
Nik Askaroff smiles as he talks about the moment 30 years ago when he took the decision to quit his well-established, family-run, high-end nursery product business to strike out on his own.

"The country was about to enter a recession that went on for a while and lots of people thought I was mad to be starting a business then," he recalls. "However, I recognised that it was a time when plenty of companies might need extra help to survive, so for me it made perfect sense to leave the family business to go it alone.

"I'd previously had a good grounding in accountancy with Grant Thornton so I knew I had something to offer business owners who may have been struggling to keep their heads above water or who understood their product but not the numbers.

"I saw that there was a gap between what chartered accountants did and what a good Finance Director did. A lot of SMEs couldn't afford a commercial FD and probably didn't need one full time. So I figured there was a niche for someone to provide commercial FD and MD services part-time."

How right he was! The company Nik founded – initially called Eastbourne Management Consultants and long since renamed simply EMC to reflect its geographic expansion – is now much feted for the work it has done, and continues to do, to help small business owners achieve their goals both through growth and finally on exit.

And Nik himself, a former UK Accountant of the Year, has become one of the most high profile and celebrated business leaders in the South East having been President of the South Eastern Society of Chartered Accountants, Chairman of Business Link Sussex and Sussex Enterprise, Chairman of the South East proof of concept fund and the South East Innovation and Growth team.

He has also garnered a clutch of top business awards including being named South East Dealmaker of the Year for three years in succession at the prestigious Insider Dealmaker Awards. Of course, Nik is now no longer a one-man band. Not long after he started, he was joined by several like-minded individuals who had tired of the corporate life but still wanted to use their knowledge and experience to help others.

By the mid '90s they had established a glowing reputation as corporate first aiders, prompting the FT to describe them as being the first corporate trouble-shooters working as a team. They were dubbed the 'mobile boardroom', a welcome moniker that has stuck to this day. Indeed, it was used as the title of their popular book of general business advice published two years ago by Thorogood Publishing.

A corporate finance arm was added in the mid '90s completing what Nik had always intended to be a full-service offering.
Today EMC operates out of offices in Hove, Eastbourne, Maidstone, Tunbridge Wells, Epsom and London with 22 top-end consultants offering expertise across all the main business disciplines – finance, sales, marketing, strategic IT, production and operations – as well as having one of the largest and busiest corporate finance teams in the region.

"EMC is a lifestyle business. All our people have done high powered jobs in the City or internationally and still have something to give," Nik says. "Some have made money but still have a lot to give, a number of them have moved out of London for lifestyle reasons and others just don't want to retire.

"They could probably all earn more money working full-time elsewhere but really enjoy the different challenges that come their way through working with a variety of businesses of different sizes and across a range of sectors."

Over three decades, Nik and his colleagues have:

• Completed more than 350 business sales and acquisitions
• Raised over £500m of debt and equity finance
• Set up and supported more than 100 sales and marketing teams
• Assisted and reviewed the finances for more than 600 businesses
• Completed well over 1,000 strategic reviews
• Advised on and assisted with more than 100 management buy-outs and buy-ins

They have also created more than 400 millionaires by helping business owners to build and then eventually sell their companies, enabling them to enjoy the full fruits of their years of endeavour.

Right from the outset, Nik has believed in building long-term relationships wherever possible. His very first client, soon after he started in 1989, was a UK top 150 public relations and publishing company owned and run by three former journalists.

"They had an impressive list of blue-chip clients which they managed to retain year after year, so they really knew their business. But they needed some hard-headed commercial support which I was able to provide," Nik says.

"I worked as their de-facto FD for a dozen or so years, steering them safely through the recession's choppy waters, before helping them to sell and successfully exit when the time was right."

It proved the perfect blueprint for much of what has followed. "I can look back over EMC's 30 years with a great deal of satisfaction," Nik says. "We've worked with some terrific businesses and lots of lovely hard-working people, many of whom have become great friends.

"I'm also fortunate enough to be surrounded by extremely talented colleagues who will ensure that EMC continues its good works long after I have gone…although I don't intend that to be for a good few years yet!"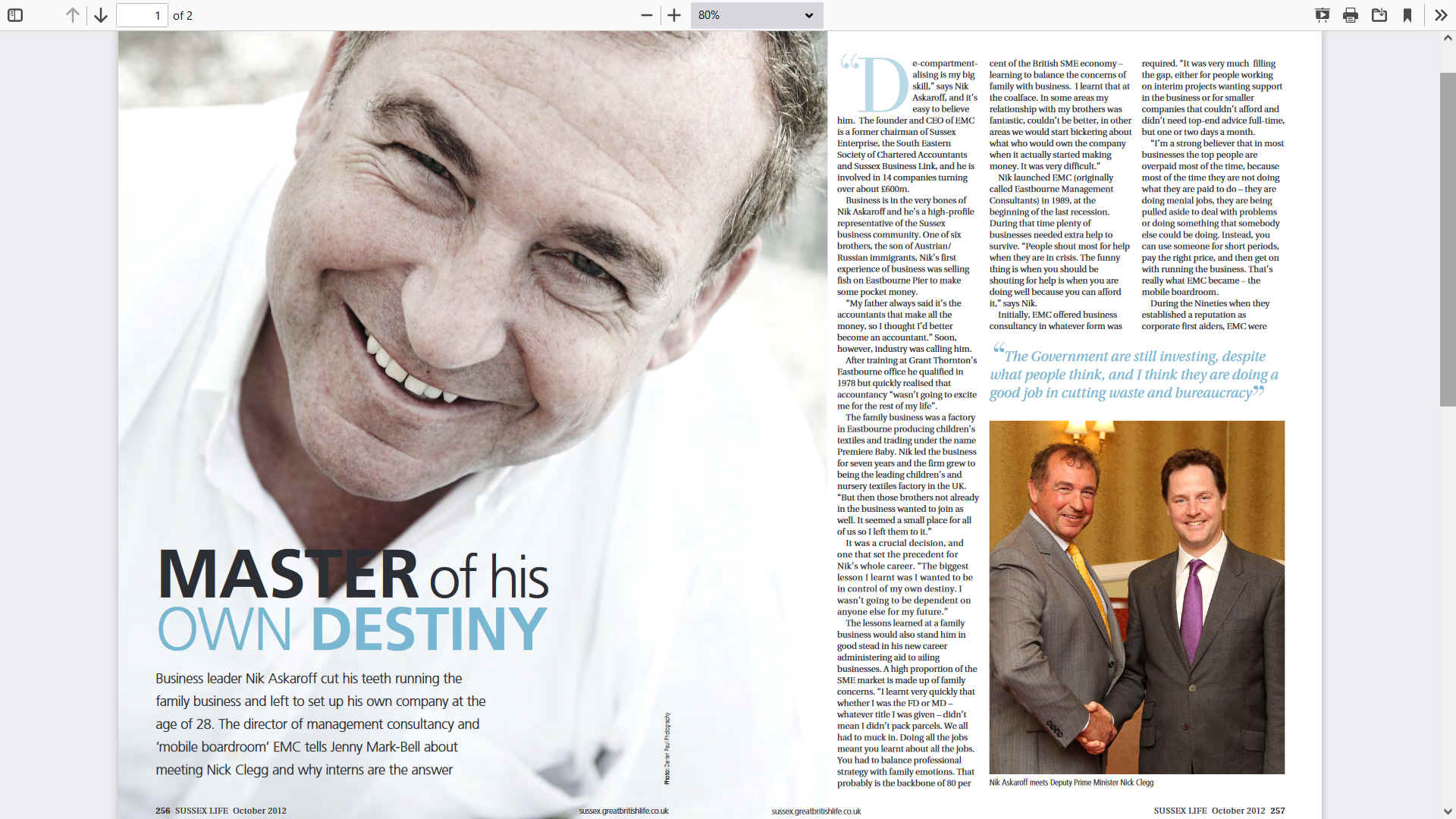 DISPOSAL OF A LIABILITY
Nik and his then wife, Clare, purchased Number 4 Lime Park in 1981, while he was still the Managing Director of Simplantex, (renamed Premier Baby). This property was in a very run down condition, in need of some serious re-modelling, reflected in the purchase price, as something of a bargain country house, though actually an end of terrace, the accommodation is spacious and the grounds sizeable.
The couple recruited a number of workers from Simplantex, and other tradesmen to help carry out a complete refurbishment. This included new central heating from 'Roselands,' complete electrical wiring, some replacement sash windows. A new kitchen, two bathrooms, much remedial work, and of course re-decorating throughout.
Though he may have known of the generating origins of the buildings that he and his former wife Clare transferred in 1982, none of that information was mentioned by Wealden District Council at any time during several planning appeals and high court actions. Though Clare Askaroff took the trouble to give evidence at one public inquiry.
For lack of local support, all of the council's guns remained trained on Mr Kruschandl, targeting him, not for the good works he was doing, but because they thought that they could single out members of the public they did not approve of as targets to remove from their administrative area, regardless of Article 14 protections, that should be afforded to every citizen regardless of status.
Wealden are thus guilty of institutionalised discrimination. Lime Park Estate Limited was not much better in remaining silent, until about 2019, after which property had changed hands, with new neighbours not in any way being involved in such matters.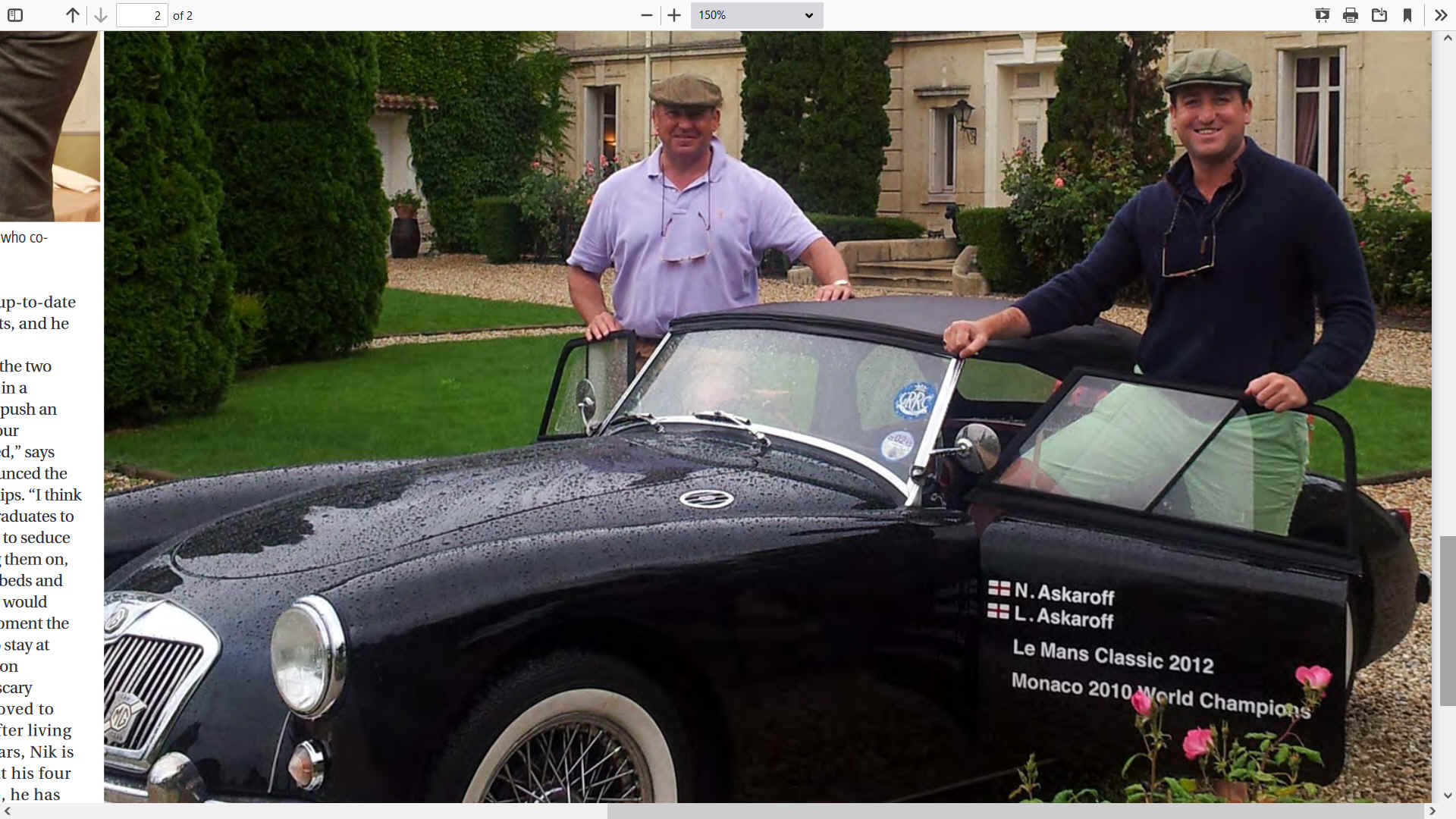 FATHER & SON - Nik and his son Leo Askaroff, in their 1957 MGA classic sports car, co-drivers at the Le-Mans classic.
Lime Park Estates Limited was set up in March of 1985 by some of the residents in Lime Park, as company number 01893712 expressly to take over management of a shared access.
According to companies house this is a 'residents' property management company, code: 98000. But that may not be strictly accurate, where many of the occupiers in the Park are not represented and this company works against the interests of some of those who are not represented to cause loss contrary to the Fraud Act 2006.
Whereas, any company purporting to manage a shared drive exists to ensure that such access is secured for all. In this case there are two ways of accessing the shared drive, one of which is not properly being maintained.
| | | |
| --- | --- | --- |
| PERSONS | PROPERTY | DATE |
| | Lime Park (whole) | > 1952 |
| Manor Farm (East Grinstead) Limited | Lime Park (division) | 1953 - |
| Wickens Estates Limited | Shared Drive | > 1986 |
| Lime Park Estate Ltd (LPE) | Shared drive access | 1986 - 2019 |
| Russell Pike (Perfect Gardens) | Drive maintenance for LPE | 2012 - |
| - | - | - |
| | 1 Lime Park (now Lime Cottage) | 1981- 1996 |
| Shelagh Claire Lambert | | 1996 - |
| - | - | - |
| Captain Hanchard Goodwin | 2 Lime Park (now Linden House) | 1981 - 1987 |
| | Linden House | 1987 - 2002 |
| | Linden House | 2002 - 2005 |
| | | 2006 - 2013 |
| Susan Harriet Vogt & Phillip John Gallagher | Linden House | 2013 - |
| | 3 Lime Park (now Lime House) | 1953 - 1997 |
| | 3 Lime Park (now Lime House) | 1997 - 2001 |
| | 3 Lime Park (now Lime House) | 2001 |
| | | 2001 - 2014 |
| | | 2014 - |
| - | - | - |
| | 4 Lime Park (now Lime) | > 1978 |
| Gerada Hendrika Theodora Christiana Brookfield Van Geel | 4 Lime Park (now Lime) | > 1981 |
| | Lime (not a director of LPE Ltd in 2012) | 1981 - 2008 |
| | Lime (not a director of LPE Ltd in 2012) | 2008 - |
| - | - | - |
| Gerada Hendrika Theodora Christiana Brookfield Van Geel | Generating Works | > 1981 |
| | Generating Works | 1982 - 1991 |
| Generating Works Restoration Company | Generating Works | 1991 - 1997 |
| | | 1991 - |
| - | - | - |
| | The Rectory | 1953 -1984 |
| | The Rectory | 1984 - 1985 |
| | | 1985 - 2018 |
| | The Old Rectory | 2018 - |
| John Oliver (Builder) | Rectory roofs/walls | 2012 - |
| | The Rectory | 2019 - |
| | The Rectory | 2019 - |
| | The Rectory | 2019 - |
| | Rectory extension | 2022 - |
| | Rectory planning application | 2022 - |
| - | - | - |
| | Farmer - drive to Gardner Street | |
| - | - | - |
| ... | East Lodge | |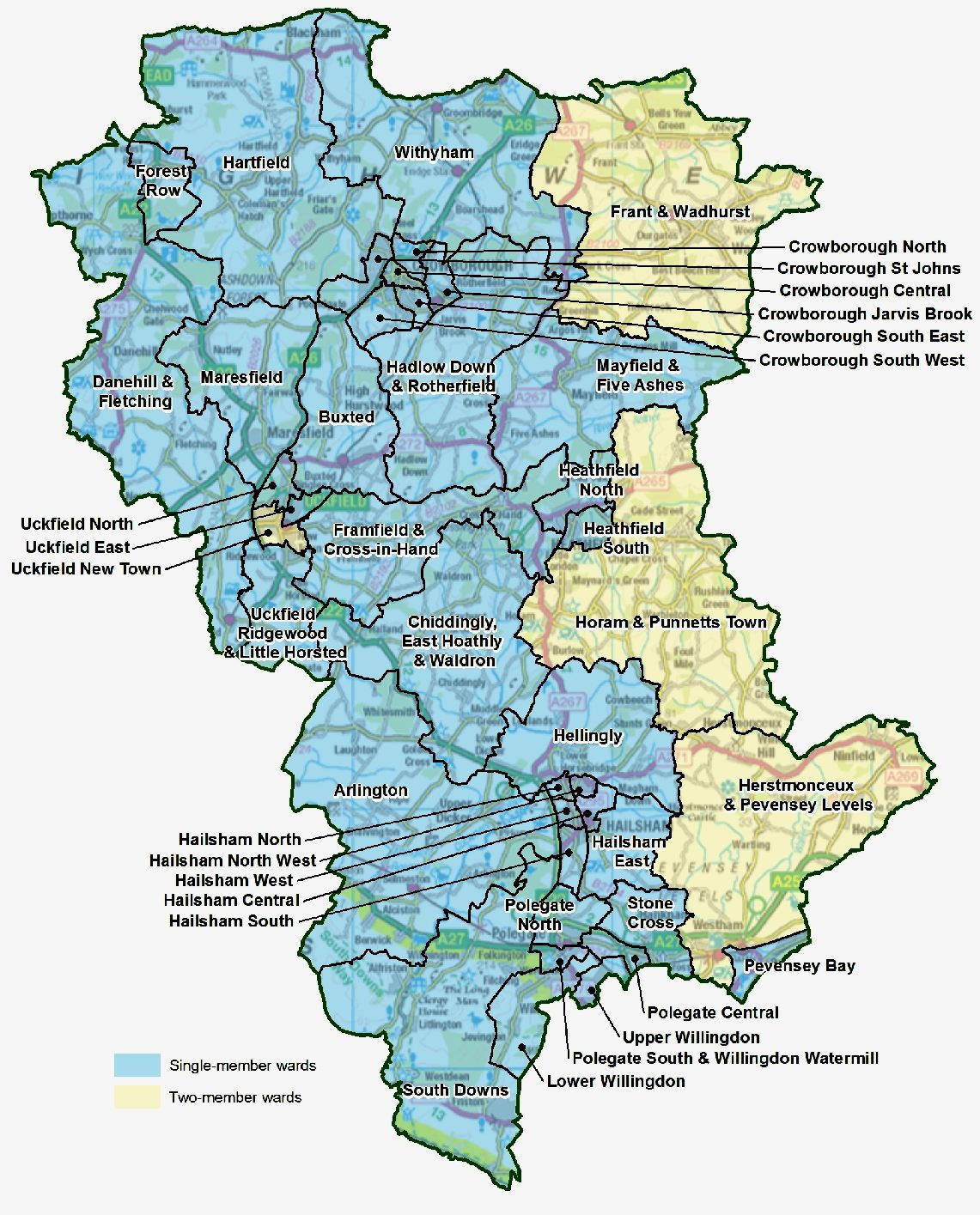 Map of the Wealden District