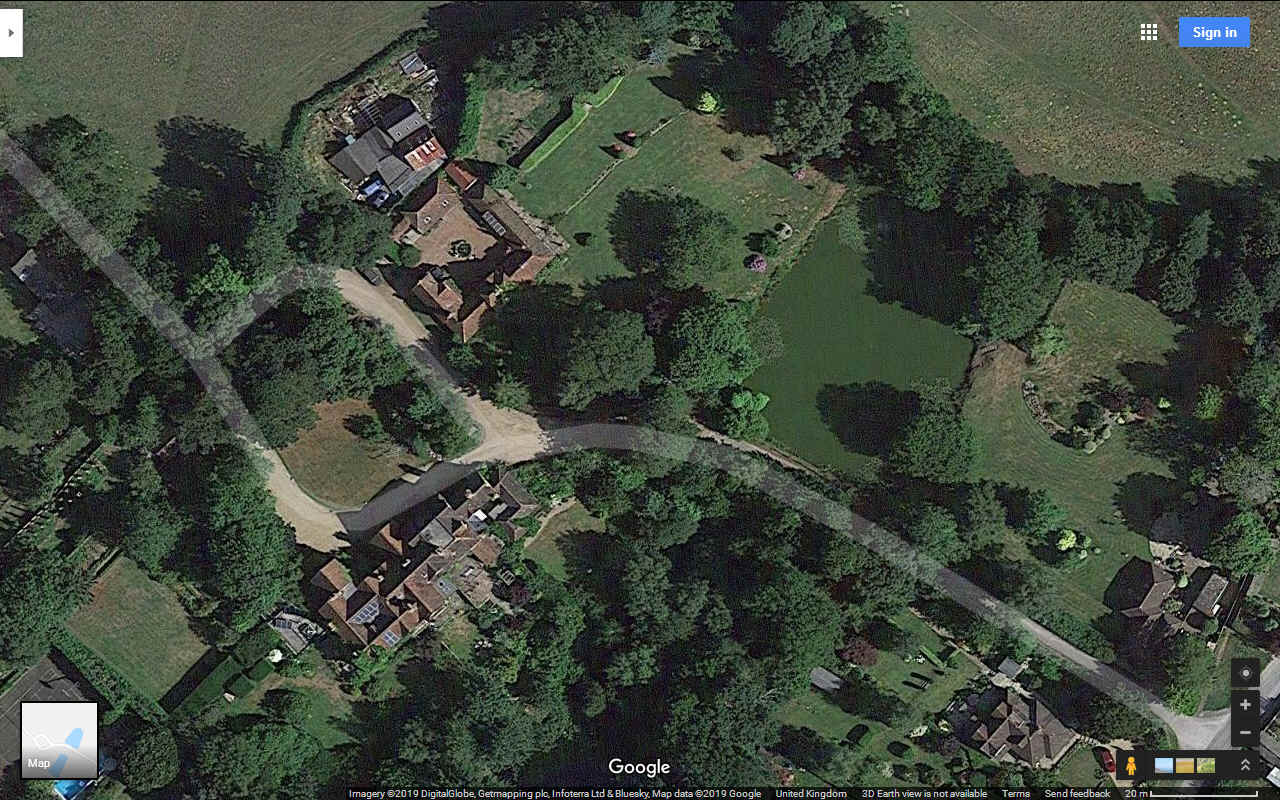 According to the Land Registry, Nigel Flood and Jill Finn, appear to have partnered up to develop The Rectory in Lime Park. They are not directors of Lime Park Estate Limited at time of writing.
Mr Flood was the director of a building company in 2022, Ms Finn is shown as being a property manager. Hence, both are property professionals according to their own declarations.
Working with Vector Planning & Design and Advance Space Building & Design, the new owner/occupiers, presumably as developers, applied for planning consent with application WD/2022/0497/F, an application they subsequently withdrew after objections concerning light and heritage were lodged by multiple parties.
The Rectory was acquired for £790,000 in 2019, where there is planning consent for 70 houses in the adjacent field, sure to have devalued the site, as the proposed major development would see houses built that bounded the north-east fence of The Rectory. Those developers trying to acquire rights is a shared pond, featuring significant wildlife, to be able to dispose of contaminated surface water - flying in the face of the Wildlife and Countryside Act 1981, wherein it is a criminal offence to poison wildlife. Southern Water already (allegedly) having bulldozed a badger set, having failed to carry out a comprehensive wildlife survey - about which they are tight lipped - as we write.
The building adjacent is a historic monument to the early electricity generation industry, meaning that the owners of The Rectory should pay particular attention to the Party Wall Act 1996, conservation legislation and procedures. When seeking to either repair their property, or make improvements, that typically would require special consideration by a local authority.
MALICE IN WEALDENLAND
The history of Lime Park takes a lot of believing, with Wealden District Council allegedly carrying out not one, but a series of malicious prosecutions over a prolonged time span of over twenty years, during which this local authority denied the history attaching to the generating buildings, or even that they were the original wooden buildings. Despite, such admission being in a secret report from 1985/86, that they must have imagined would never see the light of day.
The objective was to blight the historic buildings with planning wise, to keep the complex at an undervalue to advantage near neighbours, who they were assisting by the back door, to obtain the premises.
You may have thought that in a supposedly democratic England, that you were safe from such Nazi-like treatment. That discrimination was a thing of the past, since World War Two and the Universal Declaration, European Convention of Human Rights and the UK's domestic version that is somewhat watered down; Human Rights Act 1998.
But you would have been wrong. The Parish council stood idly by twiddling their thumbs, when they must have had among them members who knew Wealden were not telling the truth. It seems this may make those Parish councillors who kept quiet, party to the offence, by way of a joint enterprise. At the very least it is a duty of a local authority to seek to protect a heritage asset.
......
...
LAND REGISTRY - This plan extract from the Land Registry shows the footprint of The Rectory.
Lime Park Estates Limited, owners/occupiers and directors
| | | |
| --- | --- | --- |
| PERSONS | PROPERTY | DATE |
| | Lime Park (whole) | > 1952 |
| Manor Farm (East Grinstead) Limited | Lime Park (division) | 1953 - |
| Wickens Estates Limited | Shared Drive | > 1986 |
| Lime Park Estate Ltd (LPE) | Shared drive access | 1986 - |
| Russell Pike (Perfect Gardens) | Drive maintenance for LPE | 2012 - |
| - | - | - |
| | 1 Lime Park (now Lime Cottage) | 1981- 1996 |
| Shelagh Claire Lambert | | 1996 - |
| - | - | - |
| Captain Hanchard Goodwin | 2 Lime Park (now Linden House) | 1981 - 1987 |
| | Linden House | 1987 - 2002 |
| | Linden House | 2002 - 2005 |
| | | 2006 - 2013 |
| Susan Harriet Vogt & Phillip John Gallagher | Linden House | 2013 - |
| | 3 Lime Park (now Lime House) | 1953 - 1997 |
| | 3 Lime Park (now Lime House) | 1997 - 2001 |
| | 3 Lime Park (now Lime House) | 2001 |
| | | 2001 - 2014 |
| | | 2014 - |
| - | - | - |
| | 4 Lime Park (now Lime) | > 1978 |
| Gerada Hendrika Theodora Christiana Brookfield Van Geel | 4 Lime Park (now Lime) | > 1981 |
| | Lime (not a director of LPE Ltd in 2012) | 1981 - 2008 |
| | Lime (not a director of LPE Ltd in 2012) | 2008 - |
| - | - | - |
| Gerada Hendrika Theodora Christiana Brookfield Van Geel | Generating Works | > 1981 |
| | Generating Works | 1982 - 1991 |
| Generating Works Restoration Company | Generating Works | 1991 - 1997 |
| | | 1991 - |
| - | - | - |
| | The Rectory | 1953 -1984 |
| | The Rectory | 1984 - 1985 |
| | | 1985 - 2018 |
| | The Old Rectory | 2018 - |
| John Oliver (Builder) | Rectory roofs/walls | 2012 - |
| | The Rectory | 2019 - |
| | The Rectory | 2019 - |
| | The Rectory | 2019 - |
| Advance Space & Design | Rectory extension | 2022 - |
| Vector Planning & Design | Rectory planning application | 2022 - |
| - | - | - |
| John & Bernard (Bernie) Ford | Farmer - drive to Gardner Street | |
| - | - | - |
| ... | East Lodge | |