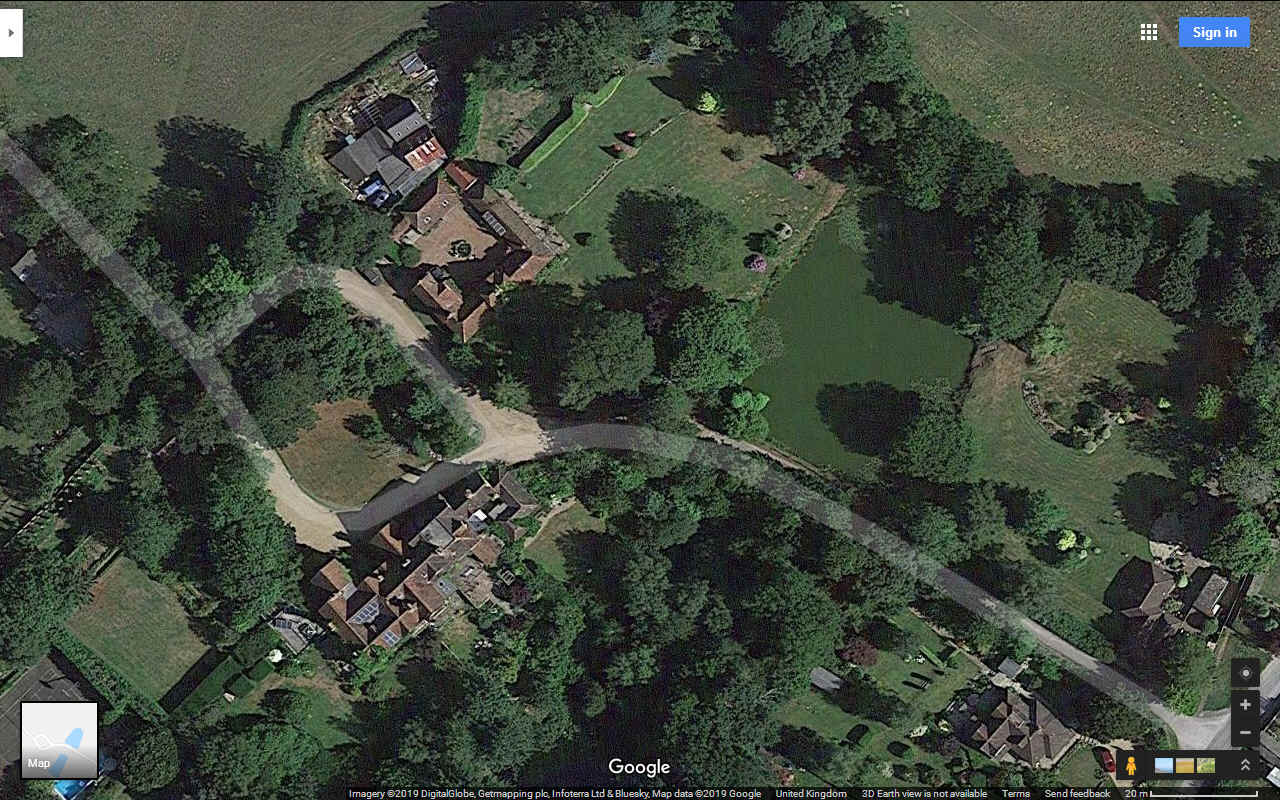 Long before the formation of Lime Park Estate Limited the Church sold the Rectory to Anthony and Anne Hall. This family planted a row of fast growing leylandii to create a screen between the grounds of the old Rectory and the emplacements of the generating buildings, vacating the premises before the evergreens grew to a height to be considered a light loss nuisance, and anti-social behaviour.
The Church were thus blameless in the matter of the so-called residents property management company ganging up on the excluded resident, on the pretext that he was not a resident, and that all relied on hiding the truth of the historic asset in the Park, a deal (if that is what it was) with the Wealden District Council to ignore the fact that the generating buildings were of considerable local historic interest.
Whereas, every person owes every other person a general duty of care, and in the case of a local authority, it is incumbent on them to seek to protect historic assets in England, not to mask the truth to pervert the course of justice in a general conspiracy to cause financial harm. That would of course be illegal.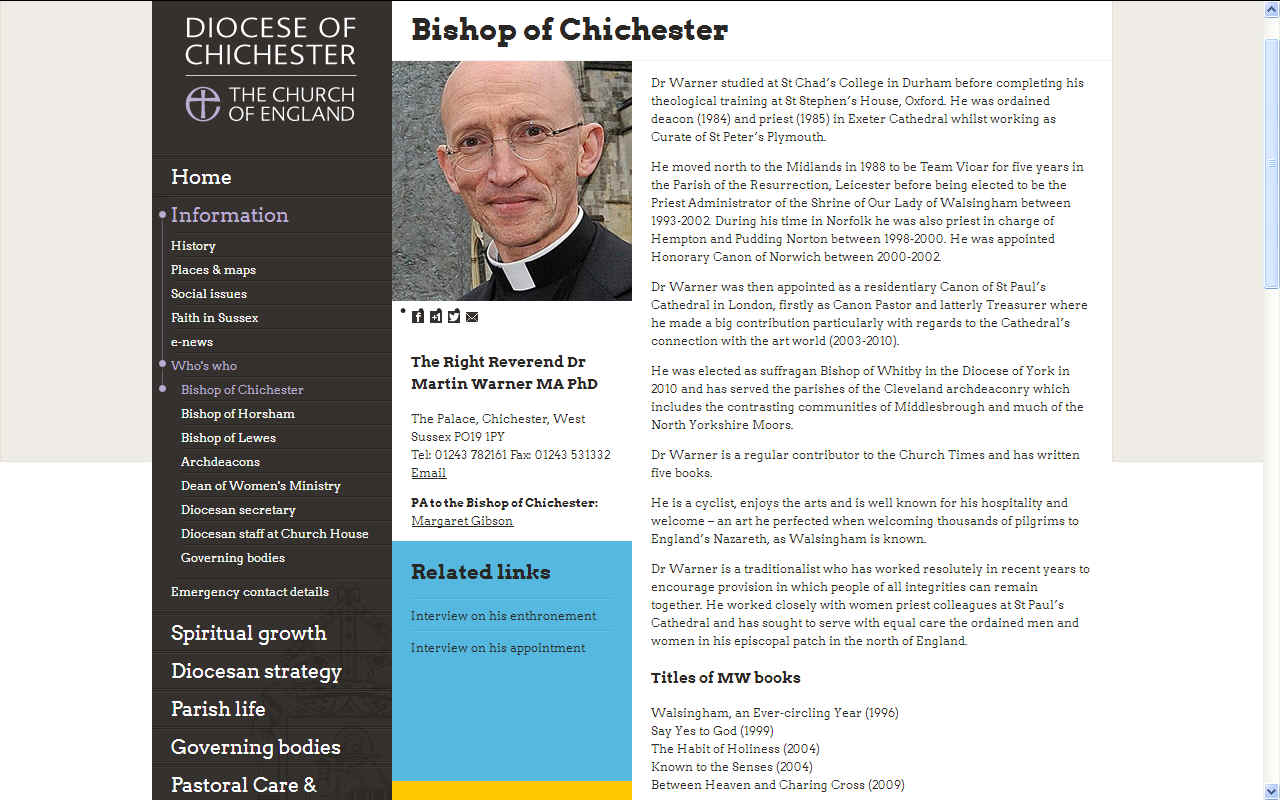 INCUMBENT - The Right Reverend Dr Martin Warner MA PhD is a traditionalist who has worked resolutely in recent years to encourage provision in which people of all integrities can remain together. He worked closely with women priest colleagues at St Paul's Cathedral and has sought to serve with equal care the ordained men and women in his episcopal patch in the north of England.
ABOUT THE LORD BISHOP OF CHICHESTER
The Bishop of Chichester is the ordinary of the Church of England Diocese of Chichester in the Province of Canterbury. The diocese covers the counties of East and West Sussex. The see is based in the City of Chichester where the bishop's seat is located at the Cathedral Church of the Holy Trinity. On 3 May 2012 the appointment was announced of Martin Warner, Bishop of Whitby, as the next Bishop of Chichester. His enthronement took place on 25 November 2012 in Chichester Cathedral.

The bishop's residence is The Palace, Chichester. Since 2015, Warner has also fulfilled the diocesan-wide role of alternative episcopal oversight, following the decision by Mark Sowerby, Bishop of Horsham, to recognise the orders of priests and bishops who are women.

1974 - 2001

Eric Waldram Kemp, FRHistS (27 April 1915 – 28 November 2009) was the Bishop of Chichester from 1974 to 2001 during the time when the Church sold The Rectory in Lime Park. He was one of the leading Anglo-Catholics of his generation and one of the most influential figures in the Church of England in the last quarter of the twentieth century.

Kemp was educated at Brigg Grammar School and Exeter College, Oxford, graduating with the degrees of Bachelor of Arts in 1936, Master of Arts in 1940, Bachelor of Divinity in 1944 and Doctor of Divinity in 1961. He was elected a Fellow of the Royal Historical Society in 1951 and received an honorary DLitt from the University of Sussex.

Kemp was one of the leading scholars of ecclesiastical law and a participant in conversations between the Church of England and the Methodist Church of Great Britain. He was a former member of the Court of Ecclesiastical Causes Reserved. In 1998 a volume of essays on English Canon Law was published in his honour.

He had special concern for homeless people and people living with HIV and Aids and was a supporter of the campaign to save the French Convalescent Home in Brighton. In 1994 he became President of the National Liberal Club.

He was one of only four bishops in the United Kingdom who declined to sign the Cambridge Accord, affirming the human rights of homosexuals.

He encouraged women to serve in the permanent diaconate in his diocese but was an opponent of the ordination of women to the priesthood and women priests were not licensed in the Diocese of Chichester during his episcopate. The first woman to be licensed in the diocese, following the appointment of Kemp's successor, John William Hind, was the Reverend Pat Sinton who was licensed as priest-in-charge of St Mary's Shipley in November 2001. In Kemp's time women were able to work within the diocese through the approval of the Archbishop of Canterbury.

WILLFUL NEGLIGENCE & WANTON ABANDONMENT
Vandalism takes many forms. If any person willfully prevents preservation works, or even simply neglects to properly maintain land in the knowledge that shrubs and plants will cause damage if left untended, that level of wanton neglect could constitute vandalism in failing to perform a duty, just as much as if the perpetrators were physically removing lead from a church roof in the sure knowledge that such as act would lead to decay of the fabric of a building. Sometimes not performing a duty (failing to act with due diligence) is just as devastating as doing something to cause harm.
In failing to mention the generating origins of the historic asset in Lime Park to Wealden District Council, any person staying silent as to their local knowledge would be sending clear signals to a corrupted council such as Wealden to carry on as if there was no asset to protect. Hence, if the residents in Lime Park had fully shared their knowledge of the history attaching to the generating works, it is doubtful that Wealden would have been able to carry on with their vendetta against Mr Kruschandl, let alone lie to Inspectors Dannreuther and Michael, and of course the Crown Court, Justice Steele and Dame Butler-Sloss.
It appears that in locals staying silent as to the facts (neglecting their duty of care), all of the council's guns remained trained on Mr Kruschandl, targeting him not for the good works he was doing, but because Wealden thought that they could single out members of the public that the establishment did not favour as targets to remove from their administrative area, despite Article 14 protections against institutionalised discrimination that should be afforded to every citizen regardless of status as a basic human right.
This general duty extended to every person in Herstmonceux village who might have had knowledge of the electricity generating history attaching to (at that time) the derelict buildings in Lime Park, with particular emphasis on the failures of the Parish Council to conduct proper searches and enquiries of local historians. Though it is suspected that many local councillors knew about the historic asset on their doorstep and again, simply remained silent.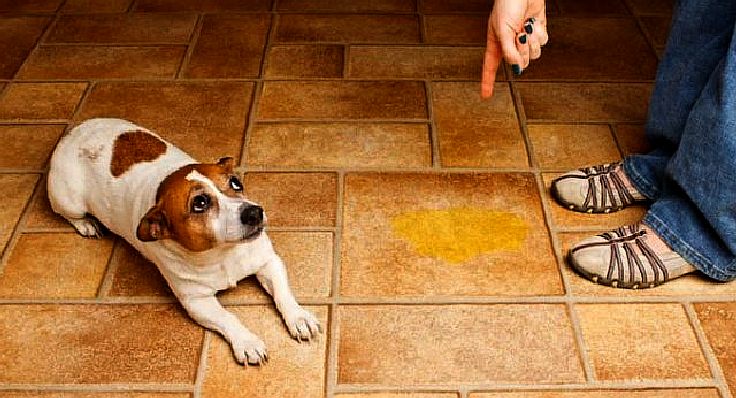 HOUSE TRAINING COUNCILS - Making councils obey the law of the land is incredibly difficult where institutionalized discrimination is rife and there are too many vested interests for them to be able to see clearly do the right thing. We need then to look at how we train animals not to foul our houses, for guidance on how to treat officers and member councillors who are well versed in controlling development to suit their pockets and appease affected residents, rather than protect historic assets. Protecting archaeological remains is expensive, that is why councils allow our heritage to rot away. It is disgraceful behaviour on their part, and that includes any person who aids an abets a council for their own personal gain.
Lime Park Estates Limited was set up in March of 1985 by some of the residents in Lime Park, as company number 01893712 expressly to take over management of a shared access.
According to companies house this is a 'residents' property management company, code: 98000. But that may not be strictly accurate, where many of the occupiers in the Park are not represented and this company works against the interests of some of those who are not represented to cause loss contrary to the Fraud Act 2006.
Whereas, any company purporting to manage a shared drive exists to ensure that such access is secured for all. In this case there are two ways of accessing the shared drive, one of which is not properly being maintained.
| | | |
| --- | --- | --- |
| PERSONS | PROPERTY | DATE |
| | Lime Park (whole) | > 1952 |
| Manor Farm (East Grinstead) Limited | Lime Park (division) | 1953 - |
| Wickens Estates Limited | Shared Drive | > 1986 |
| Lime Park Estate Ltd (LPE) | Shared drive access | 1986 - 2019 |
| Russell Pike (Perfect Gardens) | Drive maintenance for LPE | 2012 - |
| - | - | - |
| | 1 Lime Park (now Lime Cottage) | 1981- 1996 |
| Shelagh Claire Lambert | | 1996 - |
| - | - | - |
| Captain Hanchard Goodwin | 2 Lime Park (now Linden House) | 1981 - 1987 |
| | Linden House | 1987 - 2002 |
| | Linden House | 2002 - 2005 |
| | | 2006 - 2013 |
| Susan Harriet Vogt & Phillip John Gallagher | Linden House | 2013 - |
| | 3 Lime Park (now Lime House) | 1953 - 1997 |
| | 3 Lime Park (now Lime House) | 1997 - 2001 |
| | 3 Lime Park (now Lime House) | 2001 |
| | | 2001 - 2014 |
| | | 2014 - |
| - | - | - |
| | 4 Lime Park (now Lime) | > 1978 |
| Gerada Hendrika Theodora Christiana Brookfield Van Geel | 4 Lime Park (now Lime) | > 1981 |
| | Lime (not a director of LPE Ltd in 2012) | 1981 - 2008 |
| | Lime (not a director of LPE Ltd in 2012) | 2008 - |
| - | - | - |
| Gerada Hendrika Theodora Christiana Brookfield Van Geel | Generating Works | > 1981 |
| | Generating Works | 1982 - 1991 |
| Generating Works Restoration Company | Generating Works | 1991 - 1997 |
| | | 1991 - |
| - | - | - |
| | The Rectory | 1953 -1984 |
| | The Rectory | 1984 - 1985 |
| | | 1985 - 2018 |
| | The Old Rectory | 2018 - |
| John Oliver (Builder) | Rectory roofs/walls | 2012 - |
| | The Rectory | 2019 - |
| | The Rectory | 2019 - |
| | The Rectory | 2019 - |
| | Rectory extension | 2022 - |
| | Rectory planning application | 2022 - |
| - | - | - |
| | Farmer - drive to Gardner Street | |
| - | - | - |
| ... | East Lodge | |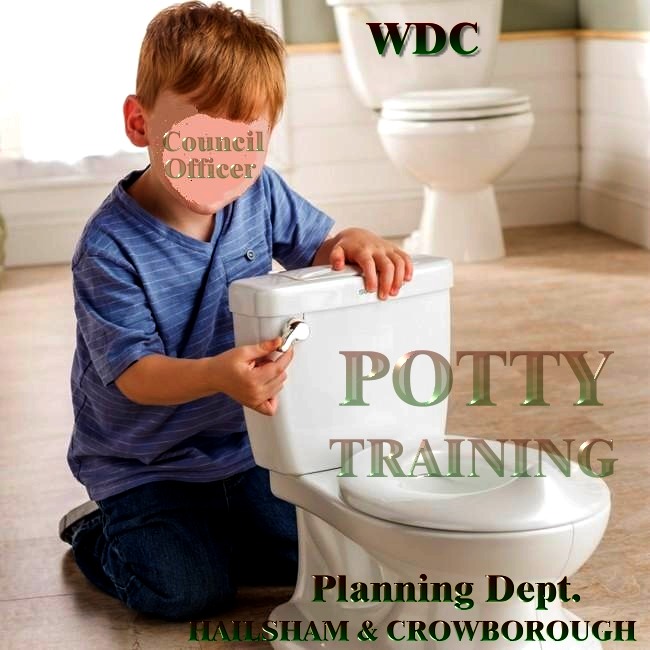 FLUSHED WITH SUCCESS - We imagine that Wealden would have been overjoyed in duping the High Court into making an Order that demanded removal of toilet facilities from their long-term adversary's home, condemning him to defecate in the old fashioned way - and remarkable is it not how well an animal can adapt and build from sheer determination until it is time to reveal the truth and his gleaming new urinals. The building has toilets re-fitted of course thanks to Dame Butler-Sloss and the occupiers rejoice with each pull of the handle, at the resourcefulness of this underdog when the chips were down. The frivolity at Wealden's offices was short lived when the Health & Safety Executive chimed in to spend a penny or two. From that point on Wealden have been bogged down with the publication of what they had done - and permanent skidmarks in the underpants of their hall of shame. No amount of toilet tissue can ever wipe the brown from this council's back passages.
You may feel ashamed of your own failure to act, or the actions of your council at being found out for the deception orchestrated by this council's legal officers as to the history of the Generating Works at Herstmonceux in 1986/7. Imagine then the challenge in getting this council and local developers to act on climate change We are all doomed!
The deception that led to this Council spending enormous sums trying to bury Mr Kruschandl was begun by George Morham White, Richard Mercer and Thomas Hoy who gave evidence - denying the building was a historic asset in 1987. The deception was continued by Douglas Moss, Ian Kay, Christine Nuttall, David Phillips and Victorio Scarpa into the year 2000 and the deception is maintained today by Charles Lant, Trevor Scott and others yet to be identified, where Kelvin Williams appears to have been put out to pasture.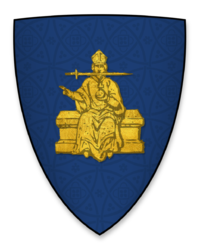 LINKS & REFERENCE
https://www.chichester.anglican.org/bishop-of-chichester/
https://en.wikipedia.org/wiki/Bishop_of_Chichester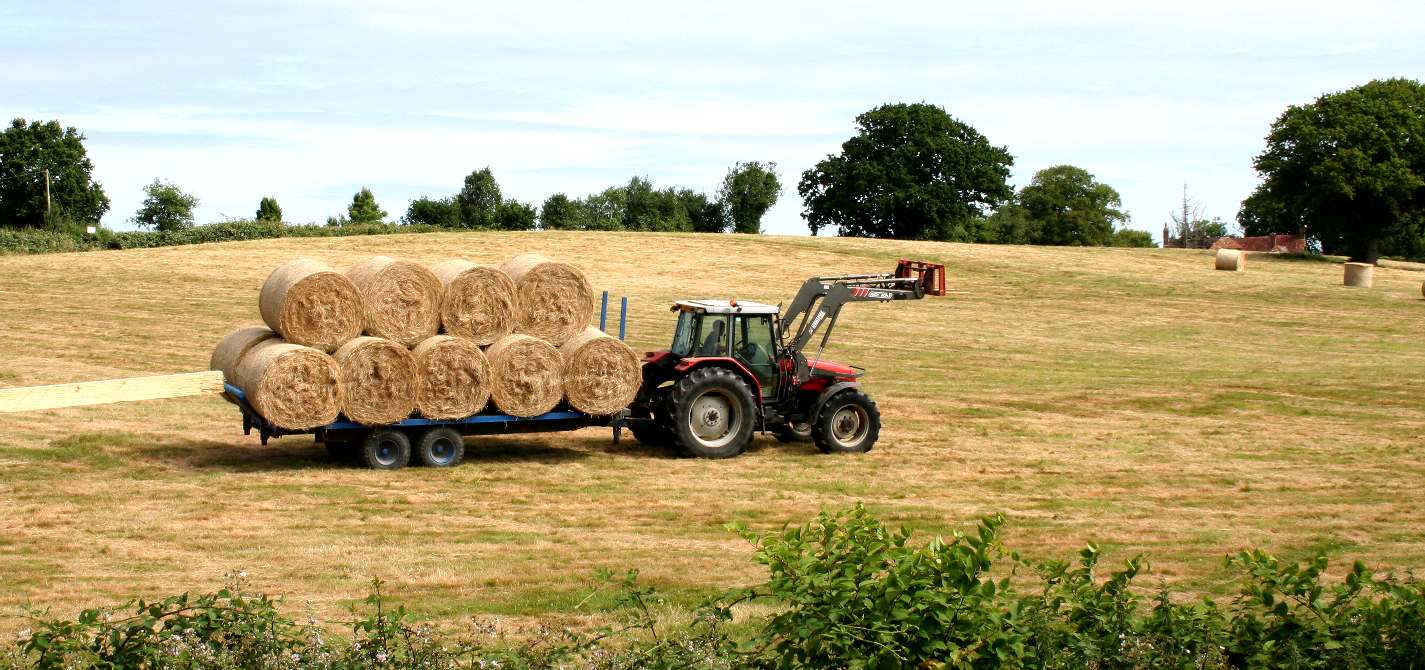 FARMING - The backbone of any society is the production of food to feed the population, though these days much of what we eat is imported from other producers, such as fish farmed in Asia. We can no longer find enough fish locally having exhausted our fisheries. Agriculture is also changing where we have drained the soil for so long with artificial fertilizers that yields will fall, meaning a shift to obtaining protein from the sea - but unfortunately we are disposing of around 8 millions tons of plastic in our seas - poisoning marine life that we need to keep us nourished. Food security is therefore high on the United Nations agenda via the Food and Agriculture Organization.