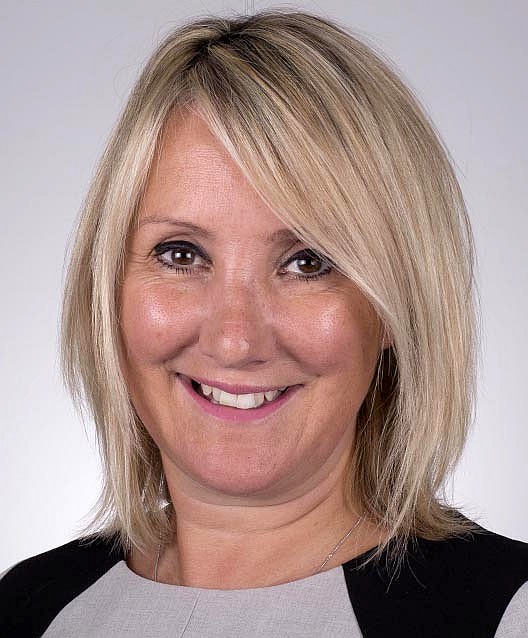 CAROLINE DINENAGE


As a Health minister for the Conservative Party, Caroline has shown that she is looking for climate change friendly ways of improving roads from existing highways such that air quality is improved and vehicles of the future may be serviced. If only our own MP, Nus Ghani was doing the same, perhaps with the backing of Ann Newton, Johanna Howell and Susan Stedman. Wealden seems to have forgotten that car ownership per household in the South-East is higher than other areas of the country.
Biography

Caroline Dinenage was appointed Minister of State at the Department of Health and Social Care on 9 January 2018. Caroline was Parliamentary Under Secretary of State at the Department for Work and Pensions from June 2017 to January 2018.

She was Parliamentary Under Secretary of State for Women, Equalities and Early Years at the Department for Education from July 2016 to June 2017.

She was elected Conservative MP for Gosport, Stubbington, Lee-on-the-Solent and Hill Head in 2010.

Education

Caroline studied politics and English at Swansea University.

Political career

Between 1998 and 2003 Caroline served on the City of Winchester local council. She was appointed the Small Business Ambassador for the South by the Prime Minister in June 2013, and between 2012 and 2015 sat on the House of Commons Business, Innovation and Skills Committee.

From April 2014 to May 2015 Caroline served as Parliamentary Private Secretary to the Rt Hon Nicky Morgan MP. From May 2015 to July 2016 she served as Parliamentary Under Secretary of State for Women, Equalities and Family Justice at the Ministry of Justice and DfE.

Career outside politics

Caroline has more than 20 years of experience as a small business owner, having established her own manufacturing company before university.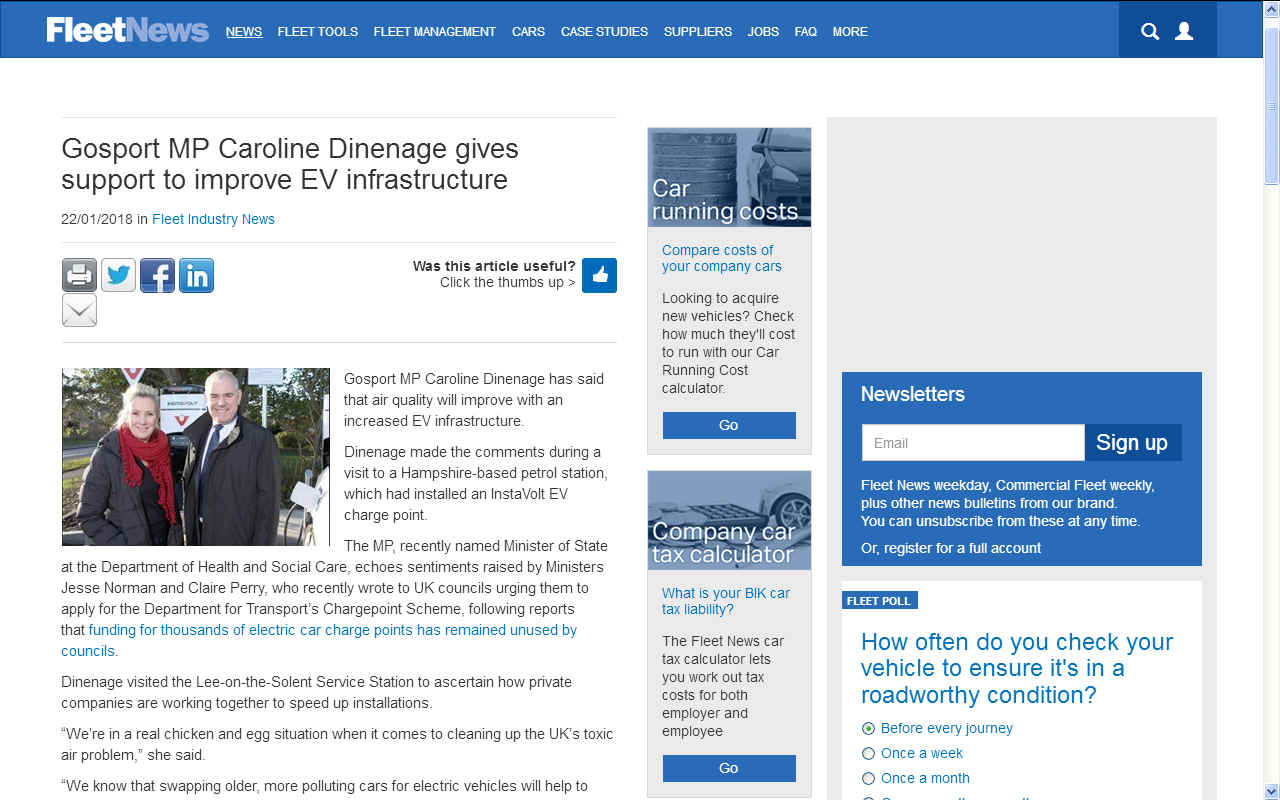 FLEET NEWS 22 JANUARY 2018 - GOSPORT MP SUPPORTS EV INFRASTRUCTURE
Gosport MP Caroline Dinenage has said that air quality will improve with an increased EV infrastructure.

Dinenage made the comments during a visit to a Hampshire-based petrol station, which had installed an InstaVolt EV charge point.

The MP, recently named Minister of State at the Department of Health and Social Care, echoes sentiments raised by Ministers Jesse Norman and Claire Perry, who recently wrote to UK councils urging them to apply for the Department for Transport's Chargepoint Scheme, following reports that funding for thousands of electric car charge points has remained unused by councils.

Dinenage visited the Lee-on-the-Solent Service Station to ascertain how private companies are working together to speed up installations.

"We're in a real chicken and egg situation when it comes to cleaning up the UK's toxic air problem," she said.

"We know that swapping older, more polluting cars for electric vehicles will help to reduce toxic air. But we can't expect motorists to buy electric cars unless there's the infrastructure there to charge them."

InstaVolt has has installed two rapid chargers at Lee-on-the-Solent Service Station, and claims that it will be installing thousands of charge-points across the UK at places like gyms and council car parks.

InstaVolt's chief executive Tim Payne said: "Sales of electric vehicles are on the rise, with record market share for plug-in cars in December.

"Caroline is absolutely right when she says we need to create a reliable charging infrastructure to encourage more people to go electric and, ultimately, help improve air quality in the UK.

"That's why companies like ours are working day and night to install thousands of chargers all over the country."

Dinenage added: "It's great to see two local companies coming together to make our roads an even easier place to drive an electric vehicle."

Pictured: (L) Caroline Dinenage MP and Tim Payne, CEO of Instavolt.
CONTACT CAROLINE

House of Commons, London, SW1A 0AA

Tel: 020 7219 7078; 020 7219 0198
Fax: 020 7219 6874

Email: caroline.dinenage.mp@parliament.uk

Constituency

167 Stoke Road, Gosport, PO12 1SE

Tel: 023 9252 2121
Fax: 023 9252 0900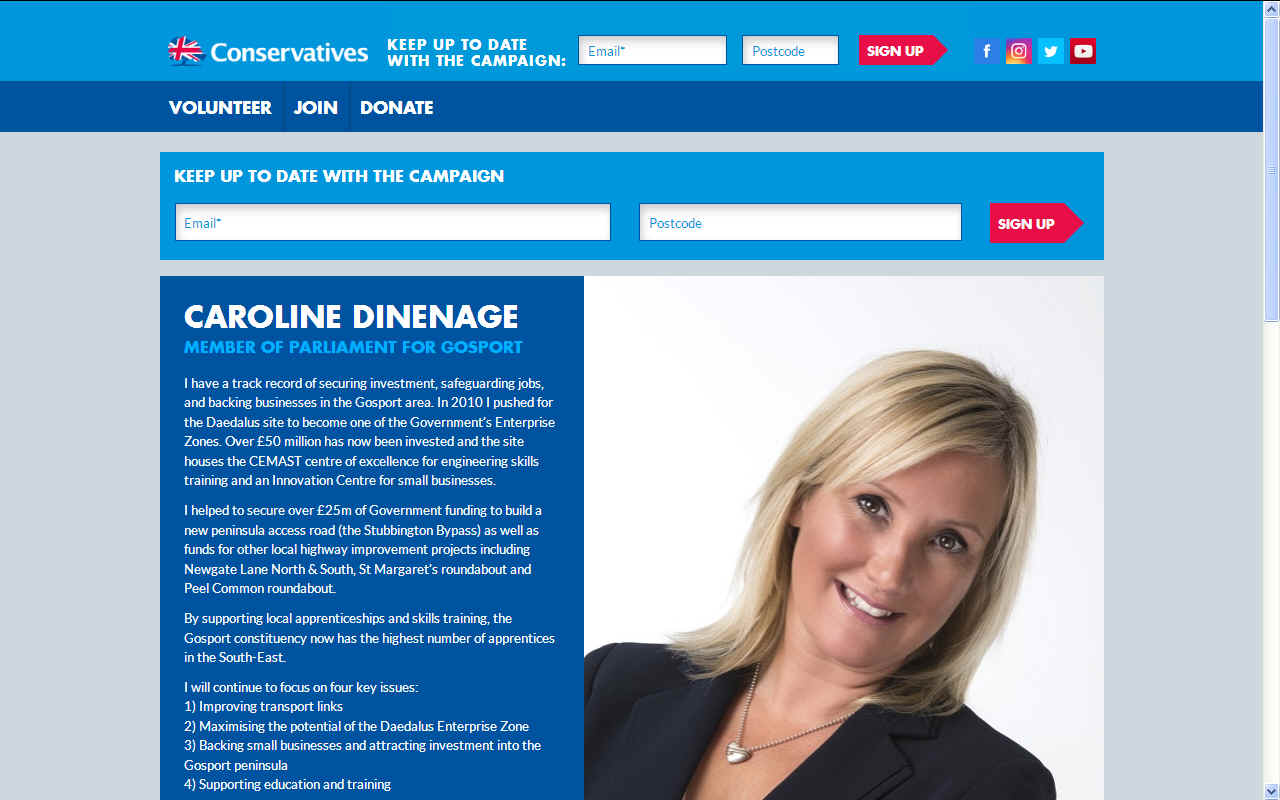 CONSERVATIVE PLEDGE - According to her website Caroline says: "I have a track record of securing investment, safeguarding jobs, and backing businesses in the Gosport area. In 2010 I pushed for the Daedalus site to become one of the Government's Enterprise Zones. Over £50 million has now been invested and the site houses the CEMAST centre of excellence for engineering skills training and an Innovation Centre for small businesses.

I helped to secure over £25m of Government funding to build a new peninsula access road (the Stubbington Bypass) as well as funds for other local highway improvement projects including Newgate Lane North & South, St Margaret's roundabout and Peel Common roundabout. By supporting local apprenticeships and skills training, the Gosport constituency now has the highest number of apprentices in the South-East.

I will continue to focus on four key issues:
1) Improving transport links
2) Maximising the potential of the Daedalus Enterprise Zone
3) Backing small businesses and attracting investment into the Gosport peninsula
4) Supporting education and training
As a truly local candidate who has lived in South Hampshire all my life, if re-elected I will continue to stand up on the issues that matter most to my constituents."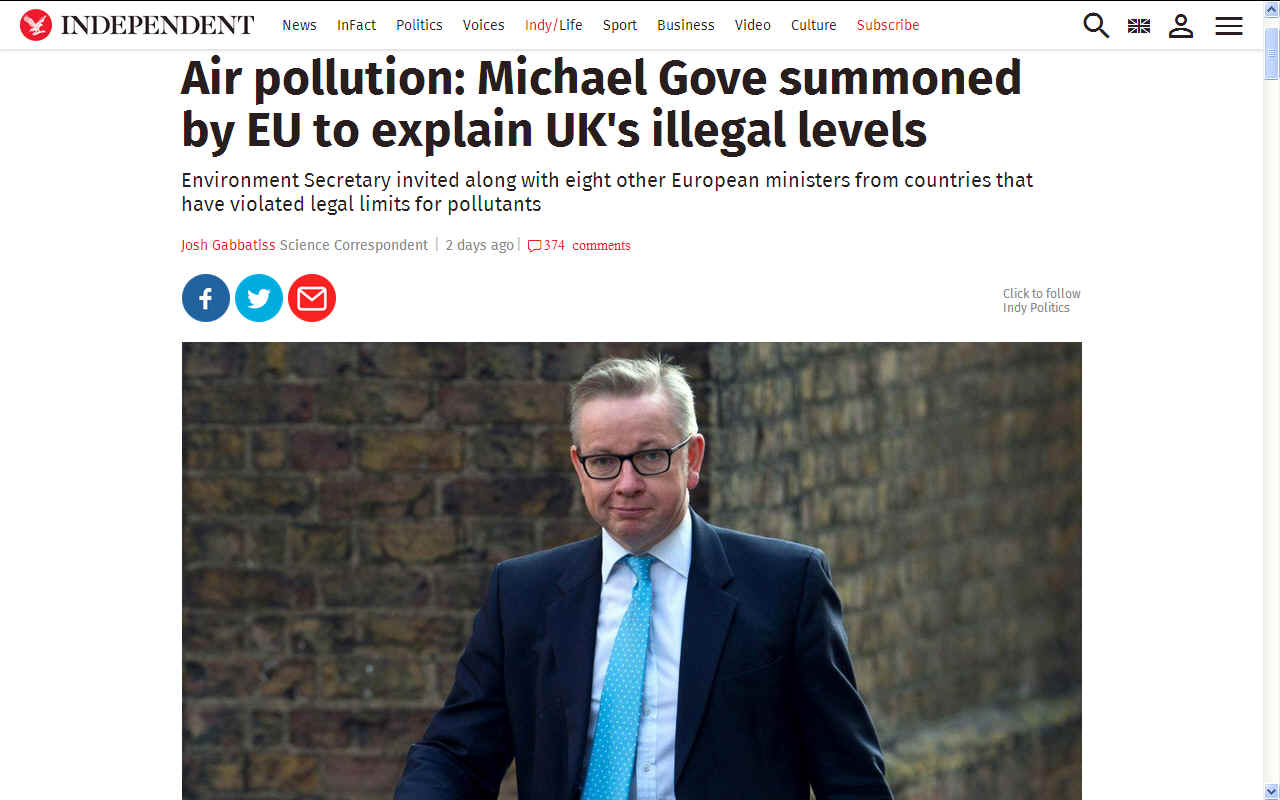 CONSERVATIVE CLIMATE - Michael Gove has been summoned to Brussels because of his party's failure to meet air pollution targets despite warnings about which the Prime Minister was aware of.
UK POLITICS

The United Kingdom has many political parties, some of which are represented in the House of Commons and the House of Lords. Below are links to the websites of the political parties that were represented in the House of Commons after the 2015 General Election:
CO-OPERATIVE PARTY
DEMOCRAT UNIONIST PARTY
PLAID CYMRU
SINN FEIN
SOCIAL DEMOCRATIC AND LABOUR PARTY
UK INDEPENDENCE PARTY
ULSTER UNIONIST PARTY
Social Democratic and Labour Party
We are concerned with how the make up of the above parties and (reasonably) popular policies may affect the Wealden district, because we are all brothers on two islands in the Atlantic Ocean and what we do or fail to do is likely to rebound on ourselves and our fellow man in other nations around the world. How we act today influences policies in other countries in our global community. It is not just about us and our patch.
East Sussex has five District and Borough Councils, each with a border on the coast. From west to east they are:
There is also East Sussex County Council as the provider of services to the 5 East Sussex districts.
As near neighbours and with councils now sharing facilities and working together, these area of Sussex are included in our remit and an area where climate change and affordable housing are issues that need urgent attention. Where the coastline is a feature in every Council, Blue Growth is a food security issue, especially where this side of of our local economy is under-exploited.