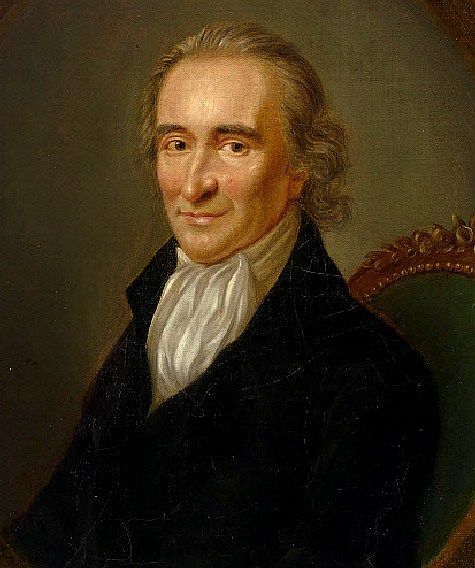 THOMAS PAINE
Thomas Paine (February 9, 1737 [O.S. January 29, 1736] – June 8, 1809) was an English-born American political activist, philosopher, political theorist and revolutionary. One of the Founding Fathers of the United States, he authored the two most influential pamphlets at the start of the American Revolution and inspired the rebels in 1776 to declare independence from Britain. His ideas reflected Enlightenment-era rhetoric of transnational human rights. He has been called "a corsetmaker by trade, a journalist by profession, and a propagandist by inclination".

Born in Thetford in the English county of Norfolk, Paine migrated to the British American colonies in 1774 with the help of Benjamin Franklin, arriving just in time to participate in the American Revolution. Virtually every rebel read (or listened to a reading of) his powerful pamphlet Common Sense (1776), proportionally the all-time best-selling American title, which crystallized the rebellious demand for independence from Great Britain. His The American Crisis (1776–1783) was a pro-revolutionary pamphlet series. Common Sense was so influential that John Adams said: "Without the pen of the author of Common Sense, the sword of Washington would have been raised in vain".

Paine lived in France for most of the 1790s, becoming deeply involved in the French Revolution. He wrote Rights of Man (1791), in part a defense of the French Revolution against its critics. His attacks on Anglo-Irish conservative writer Edmund Burke led to a trial and conviction in absentia in England in 1792 for the crime of seditious libel. The British government of William Pitt, worried by the possibility that the French Revolution might spread to England, had begun suppressing works that espoused radical philosophies. Paine's work, which advocated the right of the people to overthrow their government, was duly targeted, with a writ for his arrest issued in early 1792. Paine fled to France in September where, rather immediately and despite not being able to speak French, he was elected to the French National Convention. The Girondists regarded him as an ally. Consequently, the Montagnards, especially Maximilien Robespierre, regarded him as an enemy.

In December 1793, he was arrested and was taken to Luxembourg Prison in Paris. While in prison, he continued to work on The Age of Reason (1793–1794). Future President James Monroe used his diplomatic connections to get Paine released in November 1794. He became notorious because of his pamphlets The Age of Reason, in which he advocated deism, promoted reason and free thought and argued against institutionalized religion in general and Christian doctrine in particular. He also published the pamphlet Agrarian Justice (1797), discussing the origins of property and introduced the concept of a guaranteed minimum income. In 1802, he returned to the U.S. where he died on June 8, 1809. Only six people attended his funeral as he had been ostracized for his ridicule of Christianity.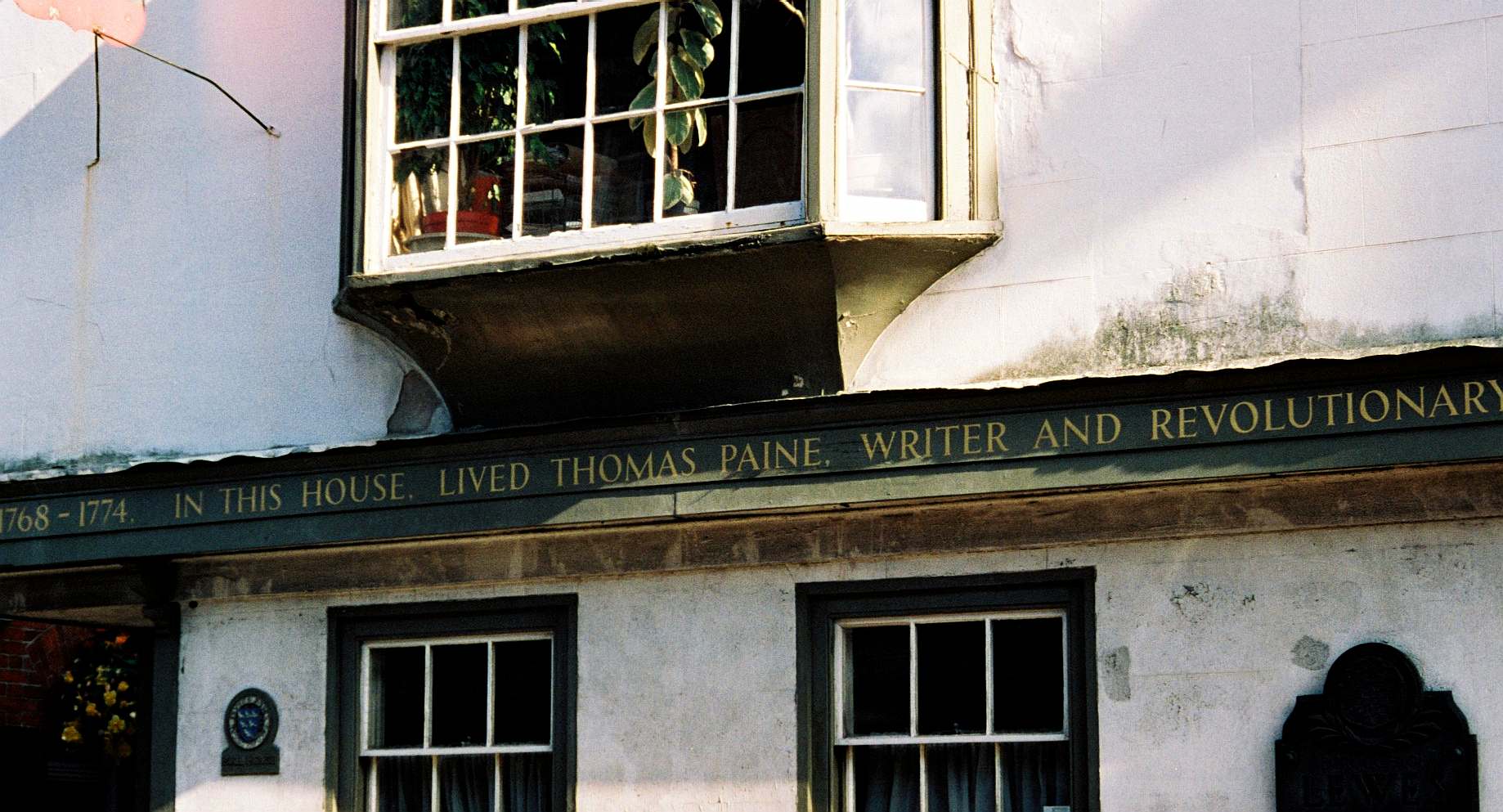 THE WHITE HEART - Thomas Paine lived in Lewes and spoke in the rooms above the public house. One of the meeting places is now used by the Toastmasters for teaching people how to communicate effectively. Thomas lived in difficult times, but no matter what era you stand up for what is right, you will always be persecuted in one form or another if you go against the establishment.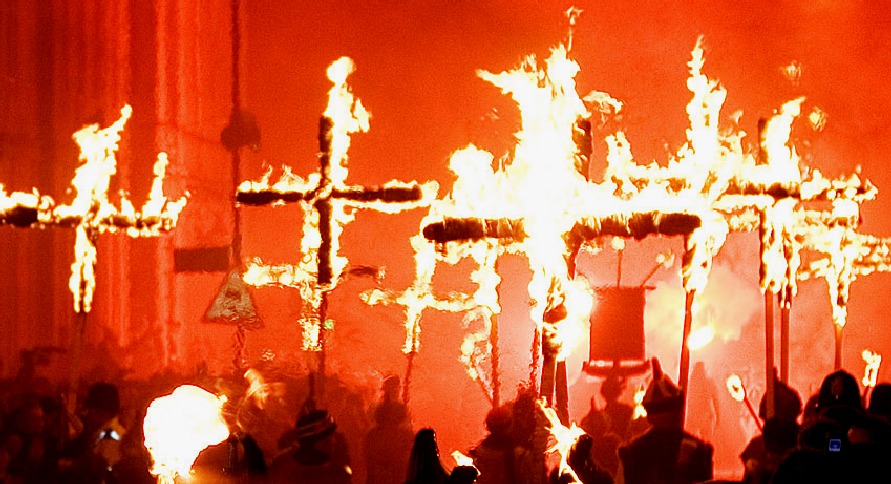 Lewes in Sussex is famous for the square where 17 souls who were burned alive in the High Street. On 6 June 1556, Thomas Harland of Woodmancote, Sussex, carpenter, John Oswald (or Oseward) of Woodmancote, Sussex, husbandman, Thomas Reed of Ardingly, Sussex and Thomas Avington (or Euington) of Ardingly, Sussex, turner were burnt. Richard Woodman and 9 other people were burned together in Lewes on 22 June 1557, on the orders of Edmund Bonner, Bishop of London during the reign of Queen Mary - the largest single bonfire of people that ever took place in England.
Lewes is home to the largest and most celebrated of the festivities in the Sussex bonfire tradition. There are seven societies putting on five separate parades and firework displays on the 5th, and this can mean 3,000 people taking part in the celebrations, and up to 80,000 spectators attending in the small market town with a permanent population of just under 16,000.
UK POLITICS

The United Kingdom has many political parties, some of which are represented in the House of Commons and the House of Lords. Below are links to the websites of the political parties that were represented in the House of Commons after the 2015 General Election:
CO-OPERATIVE PARTY
DEMOCRAT UNIONIST PARTY
PLAID CYMRU
SINN FEIN
SOCIAL DEMOCRATIC AND LABOUR PARTY
UK INDEPENDENCE PARTY
ULSTER UNIONIST PARTY
Social Democratic and Labour Party
We are concerned with how the make up of the above parties and (reasonably) popular policies affects the Wealden district, because we are all brothers on two islands in the Atlantic Ocean and what we do of fail to do is likely to rebound on ourselves and our fellow man in other nations around the world. How we act today influences policies in other countries in our global community. It is not just about us and our patch.
East Sussex has five District and Borough Councils, each with a border on the coast. From west to east they are:
There is also East Sussex County Council as the provider of services to the 5 East Sussex districts.
As near neighbours and with councils now sharing facilities and working together, these area of Sussex are included in our remit and an area where climate change and affordable housing are issues that need urgent attention. Where the coastline is a feature in every Council, Blue Growth is a food security issue, especially where this side of of our local economy is under-exploited.