Councillor Pat Kennedy
Title: Chairman of the Council (former)
Party: Conservative
Ward: Buxted & Maresfield
Other Councillors representing this ward:
Councillor Norman Buck
Parish: Buxted; Maresfield
Contact Information
Home Phone: 01825 761753
Home Address:
Westwood
High Street
Maresfield
East Sussex
TN22 2EH
Fax: 01825 766996
In all her time as Chairman of Wealden District Council, Pat failed to address the housing shortage, affordability for young families and to draft a plan with any reasonable change of success to combat climate change. Well done Pat? This is not all the fault of the Conservative Party, when Labour get in and even the Liberal Democrats, not a lot changes.
Possibly, we need the Green Party to have any realistic chance of meeting our obligations under the Climate Change Act 2008. Empire building appears to be the name of the game in East Sussex, but houses with no energy harvesting facilities and super expensive to cater for the rich - but nothing for the poor. Shame on you Patricia!
The National Debt is not much better. As a county we owe £ trillions of pounds with staggering interest charges and all because of overspending. No political party seems to understand economics. They keep borrowing to build submarines and aircraft carriers that we cannot afford.
Why not spend that money becoming energy self-sufficient? Why not invest in an electric infrastructure for clean transport to save the country money in the long term and reduce our carbon footprint.
The fat cat landlords who are milking the system, very rarely reinvest there immoral earnings in this country. They typically take expensive holidays overseas and buy property there too - so removing money from the British economy. What about taxing air travel and what about fairer taxes that actually get spent on what the tax is collected for?
NEW STATUTE
We propose a new law that forces any Government to only spend taxes on what they were labeled as being collected for. We wonder what Her Majesty would think of that?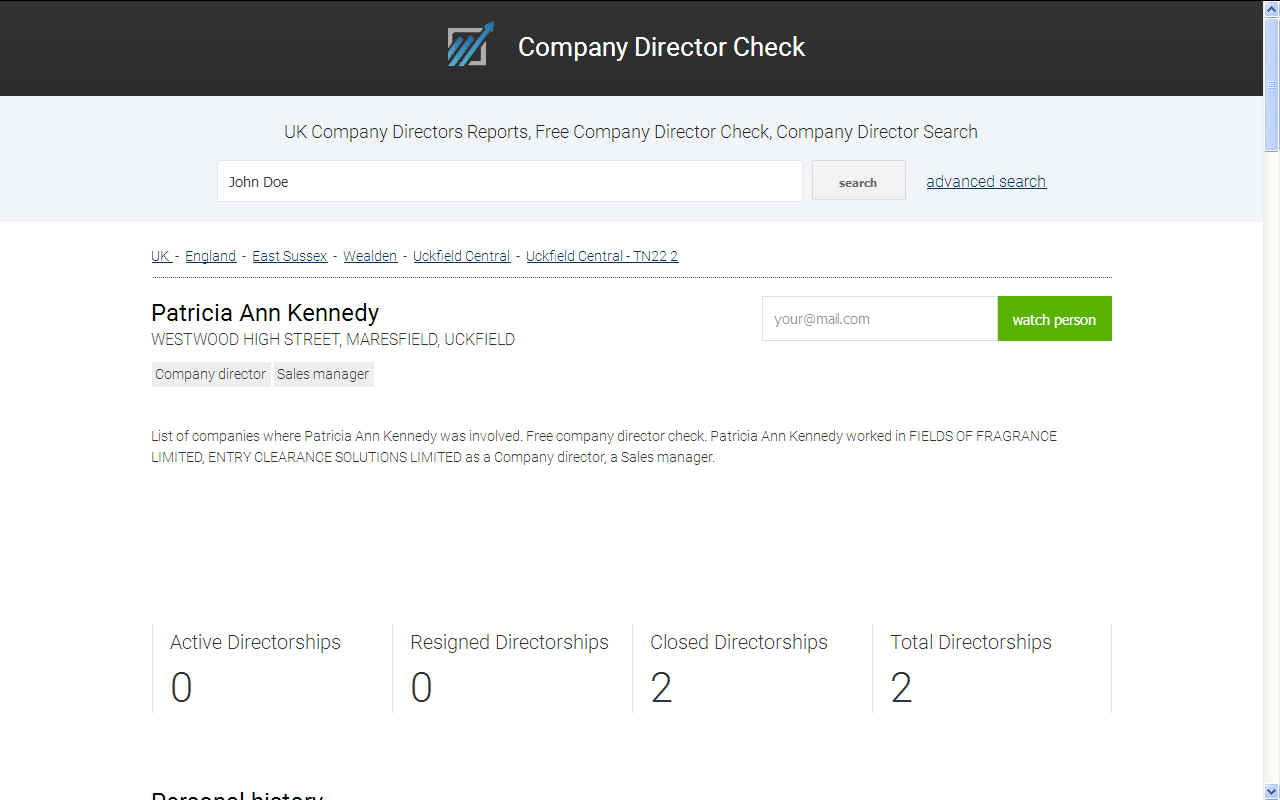 List of companies where Patricia Ann Kennedy was involved:
Free company director check. Patricia Ann Kennedy worked in FIELDS OF FRAGRANCE LIMITED, ENTRY CLEARANCE SOLUTIONS LIMITED as a Company director, a Sales manager.

25 January 2000 - 20 November 2007 Patricia Ann Kennedy worked as a Director (SALES MANAGER) in ENTRY CLEARANCE SOLUTIONS LIMITED - resigned

Company address: ENTRY CLEARANCE SOLUTIONS LIMITED
SUITE 2 APRIL COURT, SYBRON WAY, CROWBOROUGH, EAST SUSSEX, TN6 3DZ

Company address: FIELDS OF FRAGRANCE LIMITED
RUSKIN HOUSE, 14 ST JOHNS ROAD, TUNBRIDGE WELLS, KENT, TN4 9NP

Other directors in ENTRY CLEARANCE SOLUTIONS LIMITED:

JAMES WALTER KENNEDY, UCKFIELD
STEPHEN PURDY, UCKFIELD
PETER WILLIAM KERR, LONDON
STEPHEN PURDY. UCKFIELD
JAMES WALTER KENNEDY, UCKFIELD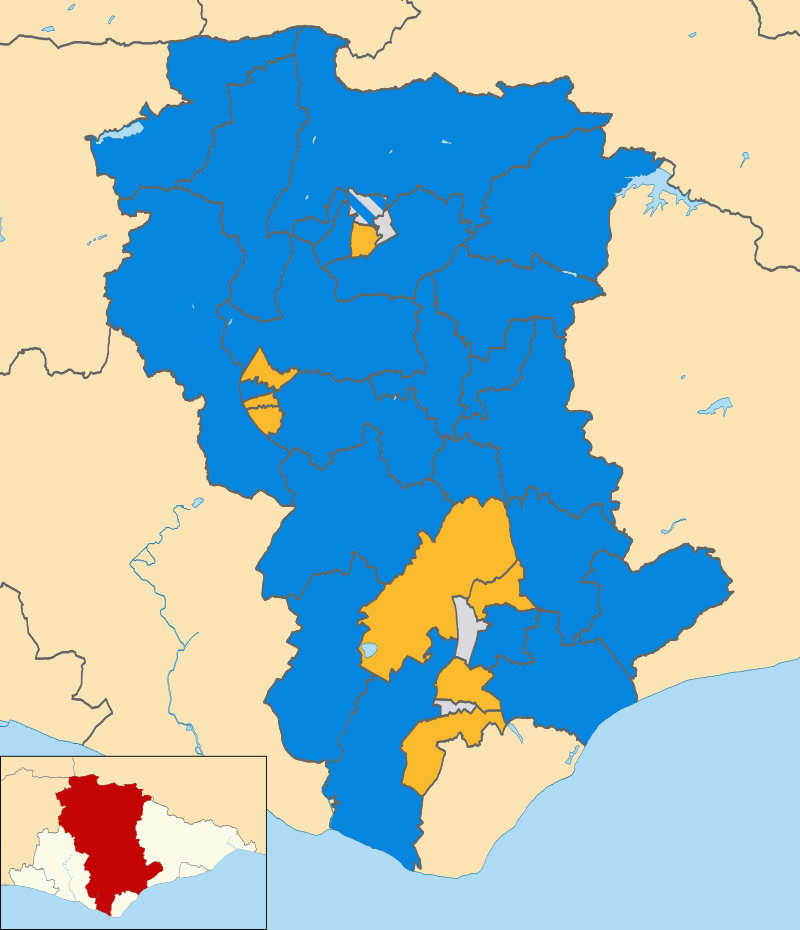 THE ARGUS AUGUST 2004
The Conservatives comfortably retained control of Wealden with a majority of 13 seats.

The Tories won 34 seats, the Liberal Democrats 15 and six fell to independents.

The Lib Dems saw group leader Eddie Rice lose his seat in Rotherfield as they failed to make the longed-for breakthrough.

Labour failed to win a single seat on the council despite high hopes in Uckfield.

The Polegate Residents Association caused one of the biggest upsets when Ivy Scarborough won Polegate South, a former Lib Dem stronghold.

She said: "What we have offered people is the choice of looking at local issues and not national politics."

Independents also polled strongly in Hailsham and Crowborough but it was the Tories who continued to dominate.

Tory leader Nigel Coltman said: "I think people have respected that when we say we are going to be more careful with the council taxpayers' money we mean it and we have proved it."

The Lib Dems tried to hide their disappointment.

Stephen Shing, one of three victorious Lib Dems at Willingdon said: "I was quite disappointed we did not do as well as we wanted as a whole.

"In Willingdon we did extraordinarily well. If we work hard we will get a vote."

The new council has 55 seats. There have been major boundary changes since the last local elections in 1999, meaning none of the winners were sitting candidates.

RESULTS
ALFRISTON: Elected - Keith Whitehead (C) 673. Not elected - Caroline Adcock (LD) 327.

BUXTED AND MARESFIELD: Elected - Patricia Kennedy (C) 904, Norman Buck (C) 862. Not elected - Peter Selby (G) 357, Ken Ogden (I) 314, Graham Morgan (LD) 293.

CHIDDINGLY AND EAST HOATHLY: Elected - Sylvia Tidy (C). No contest.

CROSS-IN-HAND AND FIVE ASHES: Elected - Jonica Fox (C) 511. Not elected - Michael Bryant (LD) 177, Jennifer Evans (G) 53.

CROWBOROUGH EAST: Elected - Carolyn Clark (LD) 555, Ian Mein (LD) 540. Not elected - Anthony Edwards (C) 422, Neil Waller (C) 408, Derek Sivers (L) 118.

CROWBOROUGH JARVIS BROOK: Elected - Ian McKirgan (I) 222. Not elected - Peter Bucklitsch (LD) 221, Brian Hewitt (C) 126.

CROWBOROUGH NORTH: Elected - Chantal Wilson (I) 1038, Hector Munro (C) 671. Not elected - Nigel Mahony (LD) 328, Sonja Le Vay (L) 201, Michael Wallman (none) 131.

CROWBOROUGH ST JOHNS: Elected - Richard Broughton-Tomkins (C) 458. Not elected - Hilary Lyon (LD) 103, Jean McCarthy (L) 47.

CROWBOROUGH WEST: Elected - Diane Phillips (C) 814, Antony Quin (C) 812. Not elected - Edward Willis (LD) 394, Brendan Clegg (L) 238.

DANEHILL, FLETCHING AND NUTLEY: Elected - Sylvia Martin (C) 1052, Bernard Brown (C) 1024. Not elected - John Stevens (LD) 571.

EAST DEAN: Elected - Brian West (C) 612. Not elected - Robert Hillman (LD) 290.

FOREST ROW: Elected - Rowena Moore (C) 708, Raymond Parsons (C) 668. Not elected - Linda Graham (LD) 526, Norma McNamara (L) 270.

FRAMFIELD: Elected - John Gore (C) 563. Not elected - Susanna Mockridge (LD) 168, Keith Riddle (UKIP) 137.

FRANT AND WITHYHAM: Elected - Lord Abergavenny (C) 827, Lynda Myers (C) 822. Not elected - Briony Taylor (LD) 431, Keith Obbard (G) 404, Michael Clare (L) 179.

HAILSHAM CENTRAL AND NORTH: Elected - Paul Holbrook (LD) 494, Laura Murphy (LD) 434. Not elected - Richard West (C) 425, John Ball (C) 419, John Glover (I) 348, Madeleine Ellwood (I) 344, Steven Jordan (L) 146.

HAILSHAM EAST: Elected - Nigel Coltman (C) 170. Not elected - Brian Cock (LD) 128, Dudley Rose (L) 113, William Crittenden (I) 94.

HAILSHAM SOUTH AND WEST: Elected - Geoffrey Rowe (I) 713, Jonathan Ellwood (I) 702, Ian Haffenden (I) 685. Not elected - Sharon Cottingham (LD) 572, Sybil Bentley (C) 567, Edward Powell (LD) 554, Gavin Blake-Coggins (LD) 551, Jeffery Bentley-Astor (C) 524, John Kent (C) 511.

HARTFIELD: Elected - Jeremy Hollins (C). No contest.

HEATHFIELD EAST: Elected - Janice Dunk (C) 443. Not elected - John Evans (LD) 191.

HEATHFIELD NORTH AND CENTRAL: Elected - Richard Angel (C) 1082, Margaret Kirkpatrick (C) 1063, Veronica Oakes (C) 996. Not elected - David Hall (LD) 447, Timothy Rayner (G) 432.

HELLINGLY: Elected - John Blake (LD) 817. Not elected - David White (LD) 732, Barby Dashwood-Hall(C) 583, Brian Smith (C) 528.

HERSTMONCEUX: Elected - Andrew Long (C) 477. Not elected - Graham Love (LD) 279.

HORAM: Elected - Susan Stedman (C) 381. Not elected - Richard Benson (LD) 289.

MAYFIELD: Elected - Brian Redman (C) 459. Not elected - Allan Thurley (LD) 387.

NINFIELD AND HOOE WITH WARTLING: Elected - Pamela Doodes (C). No contest.

PEVENSEY AND WESTHAM: Elected - Dianne Dear (C) 1245, John Vincent (C) 1233, Linda McKeever (C) 1135. Not elected - Laura Parker (LD) 793, Christine Thomas (LD) 781.

POLEGATE NORTH: Elected - Roy Martin (LD) 888, Christina Berry (LD) 802. Not elected - John Harmer (I) 543, Gerald Carter (I) 478, Anne Hampson (C) 160, Michael Hampson (C) 152.

POLEGATE SOUTH: Elected - Ivy Scarborough (I) 349. Not elected - Patrick Trowell (LD) 241, Michael Richards (C)173.

ROTHERFIELD: Elected - David Logan (C) 379. Not elected - Edwin Rice (LD) 365, David Heritage (I) 55.

UCKFIELD CENTRAL: Elected - Claire Dowling (C) 425. Not elected - Michael Cooper (LD) 308. Eileen Wolley (L) 73.

UCKFIELD NEW TOWN: Elected - Ian Nottage (LD) 339. Not elected - Ian Smith (L) 144. Daphne Mainprice (C) 143.

UCKFIELD NORTH: Elected - Paul Sparks (LD) 632, Alan Whittaker (LD) 520. Not elected - Michael Heap (C) 356, Duncan Bennett (L) 250, Leonard Ashby (L) 246.

UCKFIELD RIDGEWOOD: Elected - Anthony Parker (LD) 483. Not elected - Silvia Buck (C) 51, Jane 'Espinasse (L) 320.

WADHURST: Elected - Anna Monaghan (C) 767, Robert Hodgson (C) 734. Not elected - Emma Sanderson-Nash (LD) 395, Rosalyn Bucklitsch (LD) 324, Jane Zacharzewski (L) 144.

WILLINGDON: Elected - Stephen Shing (LD) 1770, Anthony Seabrook (LD) 1559, Andrew Watkins (LD) 1516. Not elected - David Burtenshaw (C) 1043, Guy Woodford (C) 1000, Raymond Ingram (C) 949, Margaret Piper (I) 216, Patricia Brinson (L) 123, Helen Sedgewick (L) 114, Gillian Roles (L) 77
WIKIPEDIA - LOCAL ELECTIONS 2003
.A major issue at the election in 2003 was council tax after it increased by 18%, 5.1% of which was due to Wealden Council. The Conservatives blamed the increase on the government providing a poor grant to the council, while the Liberal Democrats called for the council tax to be replaced by a local income tax. Another issue was housing with the Conservatives called for more land to be released for low cost housing, but the Liberal Democrats attacked the number of houses to be built, saying the infrastructure needed to be improved first. Both the Labour party and local independents also campaigned against the 1,300 houses to be built in Hailsham, with the independents saying more houses should be built in the north of the council area.

The Conservatives said they would tackle littering and continue the household recycling scheme, while the Liberal Democrats called for policing to be improved and for the council to be modernised. Meanwhile, Labour aimed to win their first seat on the council in Uckfield and called for the council to abolish the reduction in council tax for second homes.

The Liberal Democrats also lost seats after 2 Hailsham councillors, Nick and Madeline Ellwood, were expelled from the party, and a further 2, John Glover and Ian Haffenden, resigned from the party in protest. The 4 councillors who resigned formed a Wealden Independents party, while the leader of the Liberal Democrat group on the council, Allan Thurley, stepped down over the expulsions and was succeeded by Eddie Rice.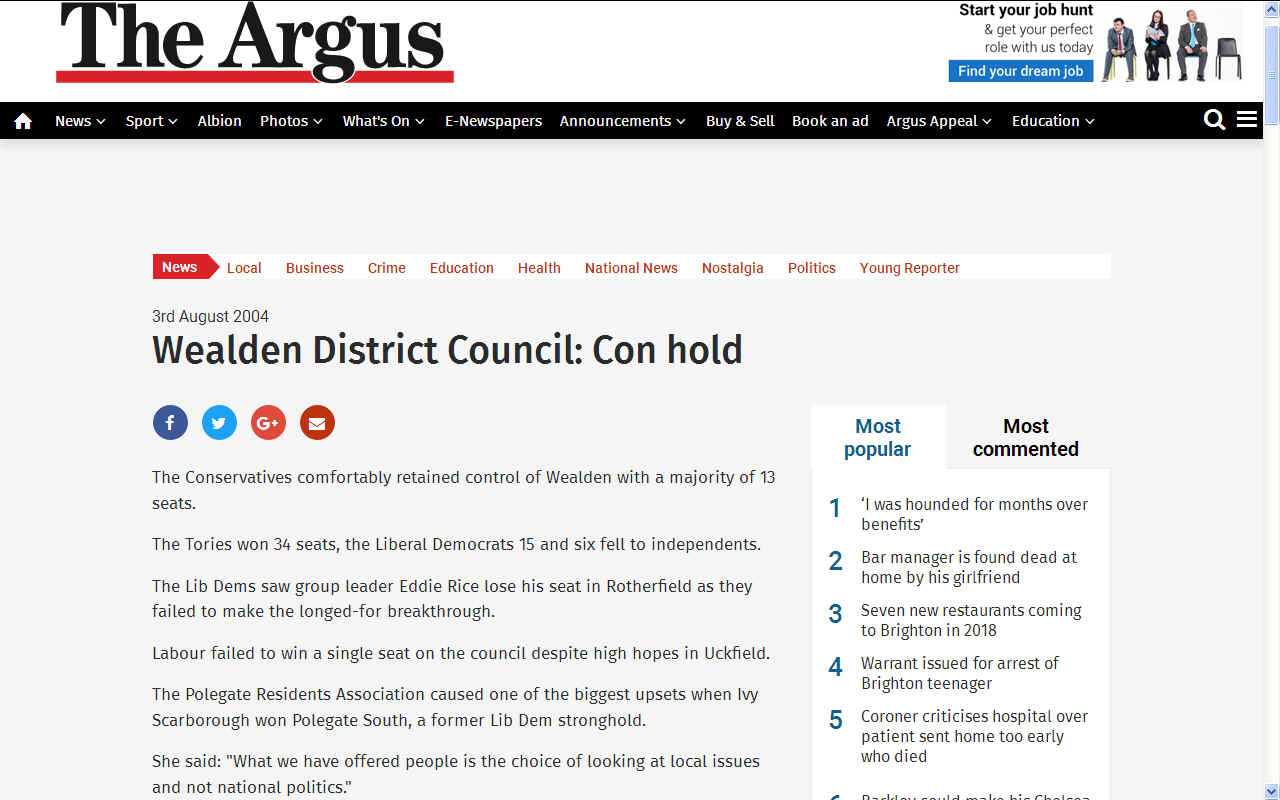 Vicarage Lane, Hailsham, East Sussex, BN27 2AX T: 01323 443322


COUNCILLORS SERVING IN 2017 INTO 2018

Councillor Dick Angel

Heathfield Nth & Cenrl - Cons


Councillor Kevin Balsdon

Pevensey and Westham - Cons


Councillor Jo Bentley

Hailsham South and West - Cons


Councillor Bob Bowdler

Heathfield East - Cons


Councillor Lin Clark

Pevensey and Westham - Cons

Deputy Chairman Standards


Councillor Nicholas Collinson

Hailsham Central & North - Cons

Portfolio Community Leadership Human Resources


Councillor Nigel Coltman

Hailsham Central and North - Cons

Chairman of Licensing


Councillor Dianne Dear

Pevensey and Westham - Cons

Dep Chair of Planning South


Councillor Phil Dixon

Rotherfield - Conservative

Dep Chair of Audit Finance


Councillor Pam Doodes

Ninfield & Hooe with Wartling

Conservative - Vice-Chairman


Councillor Claire Dowling

Uckfield Central - Cons

Dep Ldr Public Health Safety


Councillor Jan Dunk

Heathfield North & Central - Conservative


Councillor Philip Ede

Alfriston - Conservative


Councillor Helen Firth

Uckfield New Town - Cons


Councillor Jonica Fox

Cross-in-Hand/ Five Ashes - Conservative


Councillor Roy Galley

Danehill/ Fletching/ Nutley - Cons

Portfolio Economic Dev & Waste Man


Councillor Richard Grocock

Hailsham South and West - Cons


Councillor Chris Hardy

Hartfield - Cons- Chairman


Councillor Jim Hollins

Crowborough West - Cons


Councillor Peter Holloway

Forest Row - Conservative


Councillor Johanna Howell

Frant/ Withyham - Cons

Ch Planning North


Councillor Toby Illingworth

Buxted & Maresfield - Cons


Councillor Stephen Isted

Crowborough Jarvis Brook - Independent


Councillor Andy Long

Herstmonceux - Cons


Councillor Michael Lunn

Buxted & Maresfield - Cons


Councillor Philip Lunn

Crowborough East - Cons


Councillor Barry Marlowe

Uckfield Ridgewood - Cons

Dep Ch Licensing


Councillor Rowena Moore

Forest Row - Conservative


Councillor Kay Moss

Crowborough St Johns - Cons

Dep Chair Overview & Scrutiny


Councillor Douglas Murray

Willingdon - Conservative


Councillor Ann Newton

Framfield - Cons

Portfolio Planning & Dev


Councillor Amanda O'Rawe

Hailsham East - Conservative


Councillor Mark Pinkney

Hellingly - Conservative


Councillor Dr Brian Redman

Mayfield - Conservative

Chairman of Standards Committee


Councillor Ronald Reed

Crowborough North - Conservative


Councillor Carol Reynolds

Uckfield North - Cons


Councillor Greg Rose

Crowborough East - Cons

Chair Overview & Scrutiny


Councillor Peter Roundell

Danehill/ Fletching/ Nutley - Cons

Chairman Audit Finance


Councillor William Rutherford

Frant/ Withyham - Cons


Councillor Daniel Shing

Polegate South - Ind Democrat


Councillor Oi Lin Shing

Polegate North - Ind Democrat


Councillor Raymond Shing

Willingdon - Independent Democrat


Councillor Stephen Shing

Willingdon - Independent Democrat


Councillor Angela Snell

Polegate North - Conservative


Councillor Robert Standley

Wadhurst - Conservative

Leader of the Council


Councillor Susan Stedman

Horam - Conservative

Chair Planning South


Councillor Roger Thomas

Heathfield North & Central - Cons


Councillor Jeannette Towey

Crowborough West - Cons


Councillor Chriss Triandafyllou

Hailsham South and West - Cons


Councillor Peter Waldock

Uckfield North - Cons


Councillor Neil Waller

Crowborough North - Cons

Dep Chair Planning North


Councillor David Watts

Chiddingly & East Hoathly - Cons


Councillor Graham Wells

Wadhurst - Cons

Portfolio Housing & Benefits


Councillor David White

Hellingly - Independent


Councillor John Wilton

East Dean - Conservative
COUNCILLORS SERVING IN 2006 - 2012

Councillor Lord Abergavenny

Frant/Withyham Conservative

Councillor Raymond Cade


Councillor Mrs Christina Berry

Polegate North

Liberal Democrat


Cllr Bruce Broughton-Tompkins

Crowborough St Johns Cons


Councillor Frank Brown

Danehill/Fletching/Nutley Cons


Councillor Norman Buck

Buxted & Maresfield

Cons Deputy Leader Cabinet Portfolio Holder for Change Management


Councillor Mrs Jane Clark

Crowborough East

Liberal Democrat

Chairman Select Committee

Councillor Ronald Cussons


Councillor Nick Ellwood

Hailsham South and West

Wealden Independent

Leader, Wealden Independent Group


Councillor Dr Ian Haffenden

Hailsham South and West

Wealden Independent


Councillor Paul Holbrook

Hailsham Central and North

Liberal Democrat


Councillor Jim Hollins

Hartfield Conservative

Deputy Chairman, Environment Scrutiny Committee; Chairman Liquor & Entertainments Licensing Committee


Councillor Mrs Pat Kennedy

Buxted & Maresfield

Conservative Chairman of the Council


Cllr Mrs Margaret Kirkpatrick

Heathfield North & Central

Conservative

Cab Port Holder Housing

& Community Development


Councillor David Logan

Rotherfield

Conservative

Cabinet Portfolio Holder Finance & Assets


Councillor Mrs Sylvia Martin

Danehill/Fletching/Nutley

Conservative Dep Chairman

Select Committee


Councillor Roy Martin

Polegate North Liberal Democrat

Deputy Chairman Dev Ctrl

South Sub-Committee


Councillor Mrs Linda McKeever

Pevensey and Westham

Conservative


Councillor Ian McKirgan

Crowborough Jarvis Brook

Wealden Independent


Councillor Ian Mein

Crowborough East

Lib Dem Vice Chairman and

Deputy Chair Dev Nth Sub-Com


Councillor Mrs Anna Monaghan

Wadhurst

Conservative


Councillor Mrs Laura Murphy

Hailsham Central and North

Leader of the Liberal

Democrat Group


Councillor Mrs Lynda Myers

Frant/Withyham

Conservative

Deputy Chairman

Regulatory Committee


Councillor Ian Nottage

Uckfield Liberal Democrat

Dep Chair Liquor and

Entertainments Licensing


Councillor Mrs Niki Oakes

Heathfield North & Central

Conservative


Councillor Raymond Parsons

Forest Row

Conservative

Cabinet Portfolio Holder for Corporate Services and Chair Personnel Committee


Councillor Mrs Diane Phillips

Crowborough West

Conservative

Chairman Community Scrutiny Committee


Councillor Geoff Rowe

Hailsham South and West

Wealden Independent


Councillor Mrs Ivy Scarborough

Polegate South

Wealden Independent


Councillor Tony Seabrook

Willingdon

Liberal Democrat

Deputy Chairman Community Scrutiny Committee


Councillor Paul Sparks

Uckfield North

Liberal Democrat

Deputy Chairman Internal Scrutiny Committee


Councillor Robert Sweetland

Uckfield Ridgewood

Liberal Democrat


Councillor Mrs Sylvia Tidy

Chiddingly & East Hoathly

Conservative

Councillor Stuart Towner


Councillor Brian West

East Dean

Conservative


Councillor Keith Whitehead

Alfriston

Conservative

Cabinet Portfolio Holder for Sustainable Development &
AFFORDABLE | CLIMATE | DEVELOPERS | ECONOMY | FLOOD | HISTORY | HOMES
LADDER | MORALS | POVERTY | PROPERTY | SLAVERY | TAXES | SLUMS | VALUATIONS | WEALTH