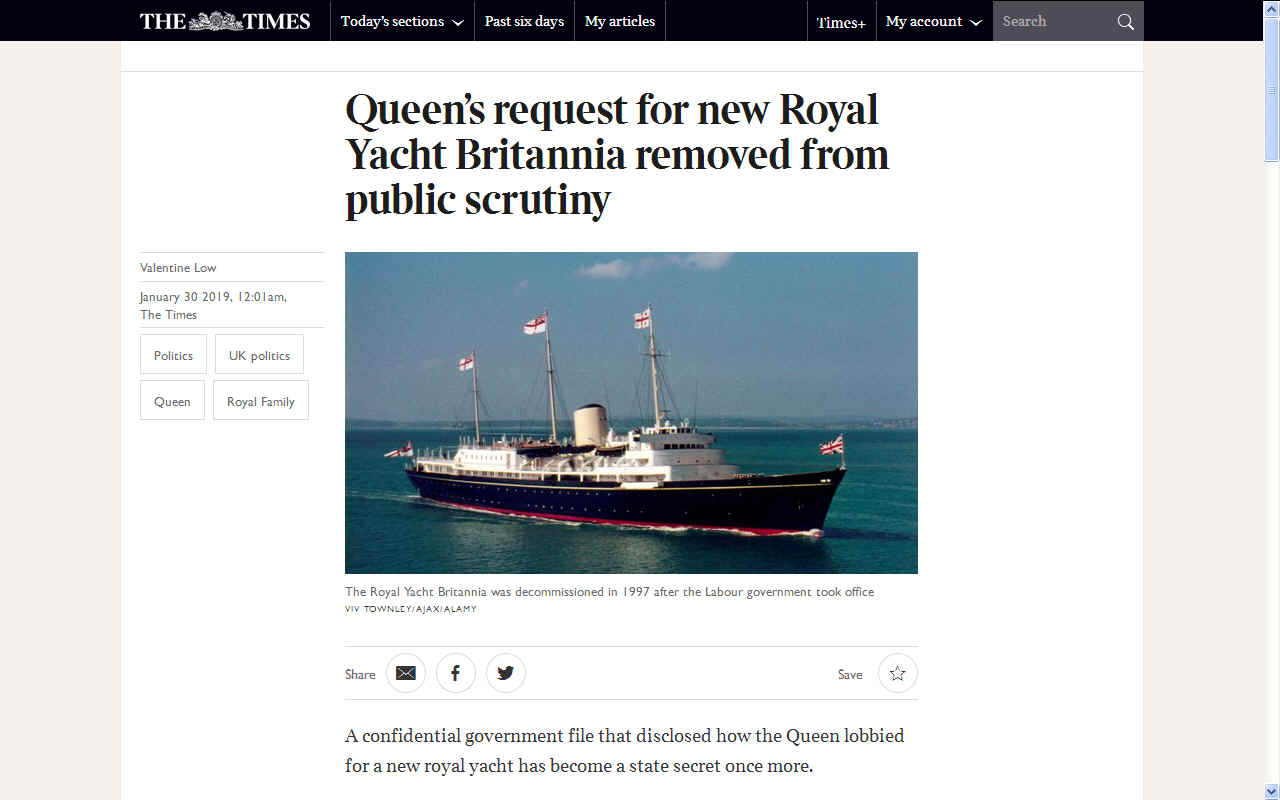 £500,000,000 - £BILLION FOR WHAT? - We don't expert anything anymore, so what business are they talking about? Then there is the upkeep and staffing for a service that we do not need in the Internet Age. Five hundred million pounds should not be paid our of Heritage Lottery money. If private investors can see a profit from such charters, then there is nothing to stop them having a whip round. The only heritage issue is the original yacht Britannia, not any new offering. In our view John Major and Tony Blair did the right thing, and it's not often Tony Blair merits a brownie point after invading Iraq.
The Royal Family should consider chartering a vessel for state affairs. If they do, they should consider the harm that Britannia inflicted on the Arctic as it belched out black soot in over a million cruising miles.
THE TIMES JANUARY 30 2019
A confidential government file that disclosed how the Queen lobbied for a new royal yacht has become a state secret once more.

The Times revealed a month ago that a senior Buckingham Palace official wrote to the Cabinet Office in 1995 saying that the Queen would "very much welcome" a replacement for the Royal Yacht Britannia, due to be decommissioned. The report was based on a Welsh Office document that had been released into the National Archives, where it was found by Philip Murphy.

The file has now been removed from public view. A note in the catalogue says: "This record is closed whilst access is under review."

Although government papers are usually made available after a number of years — it was formerly 30 but is being changed to 20 — files relating to the royal family are usually kept secret.

The Welsh Office file's disappearance was noted by David McClure, who is researching a book on royal finances. When Mr McClure first requested the file this month he was told: "Unfortunately the document you have requested is currently in use so we are unable to make it available for your visit."

When he submitted another request two weeks later he discovered it was closed. An official told him that she had forwarded his request to the National Archives' freedom of information team.

Mr McClure said: "They are retrospectively pulling it back. It is symptomatic of an overzealous, overprotective attitude towards royal documents. It is a deferential cringe."

The file included a letter from the Queen's deputy private secretary, Sir Kenneth Scott, who said that the Queen would "very much welcome" a new yacht. He added: "The last thing I should like to see is a newspaper headline saying 'Queen Demands New Yacht'." Although John Major's government said that it would replace Britannia, when Labour won power in 1997 Tony Blair decided not to. Britannia was decommissioned that year.

Professor Murphy, director of the Institute of Commonwealth Studies, who discovered the document in October, believes that it was overlooked because it was in a relatively "boring" Welsh Office file. He said: "It looks as if the Palace has asked the government why this document was in the public domain, and the government has clawed it back."

However, sources have said that it was the Cabinet Office — not the Palace — that asked for it to be reviewed.

Professor Murphy said there had been past cases of the government reviewing documents that have been in the public domain. "They have demanded them back, and then redacted them further or retained them, because they had not realised that sensitive stuff was out there," he said. "There is an absolute ban on material relating to the monarch and the heir to the throne. The vetters are always sensitive about any document that appears to show the Queen's view on something."

He said that it was in the public interest to understand how the constitutional monarchy works. "If you say that any document which records a personal opinion by the Queen should be censored, you are robbing the public of the ability to learn anything about the constitutional history of Britain over the last 65 years."

It remains unclear whether the file has been retained permanently or merely until a decision is made.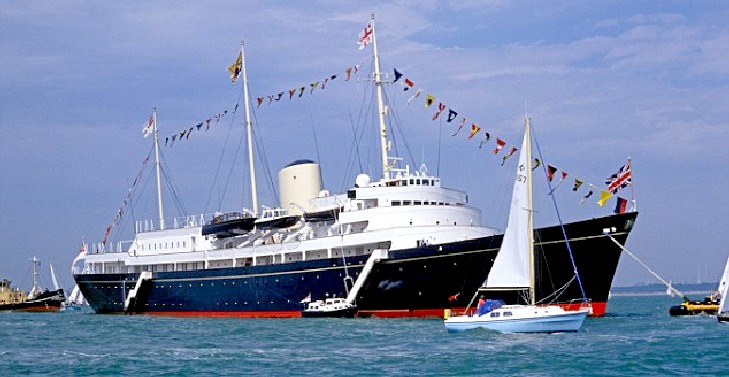 Throughout the 44 years that Britannia was in service it has been used for many State Tours visiting 600 ports in 135 countries logging over one million nautical miles (shown below is a photo of the Britannia in Sydney Harbor, Australia). Since it was also a royal residence, the Queen has entertained numerous world leaders, such as Winston Churchill, Rajiv Gandhi, Nelson Mandela and Ronald Reagan.

The Britannia has also been used by the Queen and the Royal Family during private times. In the past the ship has sailed on the Queen's annual Scotland tour of the Western Isles accompanied by members of the Royal Family with a stop over to visit the Queen Mother at Castle Mey. The ship has also been used for the honeymoons by four Royal Couples; Princess Margaret and Anthony Armstrong Jones in 1960, Princess Anne and Captain Mark Phillips in 1973, Prince Charles and Lady Diana Spencer in 1981 (as shown in the photo below) and Prince Andrew and Sarah Ferguson in 1986.
HMY Britannia features a displacement steel hull and steel / aluminium superstructure, with teak decks. She was built to Lloyds Register 100A1 classification society rules.
THE TIMES COMMENTS
ICONOCLAST 30 JAN

Something Owellian about this. If the Queen wants the monarchy to survive then it needs to be transparent.

RODNEY SMITH 30 JAN

Public money. Public information. Private (Royal) money. Private information. It's as simple as that!

ROBERT BALL 30 JAN

And this is how the myth that Mrs Windsor never puts a foot wrong endures. Every time she screws up either nameless advisors take the fall or all evidence is removed swiftly followed by the usual palace PR blitz ie release some photos of the kids or send the younger 'royals' out to hug a rhino or pull sympathetic faces at the homeless/ poor/sick.

JASON JUKES 30 JAN

The UK was vastly demeaned all over the world for such a spiteful act of taking away her boat. The same as all the castles and Palaces, that the world flock to see, they belong to us and are part of our heritage of centuries. Our Queen owns them all - or are they part of our constitution and heritage? Don't know why she hasn't sold them all off (sic)? Any anti Royal family argument is deluded in the benefits and respect of the whole world, given to our Queen. Perhaps, Robert, you may prefer something akin to President Trump - or any other potential president;- May, Blair, Brown, Thatcher, Major et al, instead of our current Queen?

ALEX FREEMAN 30 JAN

Snouts and troughs spring to mind.

C D DANIEL 30 JAN

We saved to money to put towards a new train set, HS2

ANDI MACSPORRAN 30 JAN

I think the Duke on a Boat is a much safer set of circumstances

MAGISTER 30 JAN

Good to know the tax paid on my pension could be going to such a good cause. Or has it already been used providing another car for hubby?

ROBERT WIGGIN 30 JAN

Thankfully the prospect of a new tax-payer subsidized floating gin palace for the Windsors to swan around the world on being waited on hand and foot was discounted years ago in an answer given to parliament by Alok Sharma MP then a FO minister (Oct 2016): "The former Royal Yacht was used on just 37 occasions for trade promotion and signing trade deals during the last seven years of its commission (1989-1997) and only 27 trips were made overseas – four times per year. There is no evidence that the yacht made a difference to the trade deals secured in these years and this level of use would not represent a good return on investment."

https://www.facebook.com/Down-with-the-Crown-125517584784531/

Down with the Crown. 15K likes. A page dedicated to the abolition of the monarchy

F WOOD 30 JAN

Just what a spiteful time that was Mr Blair.

GOFS 30 JAN

I'm amazed he didn't agree to it provided he could take Cheri and kids on holiday when he wanted.

F WOOD 30 JAN

As the child of a confirmed republican you can see why she wouldn't.

PETER WRIGHT 30 JAN

Apparently it wasn't available in term time.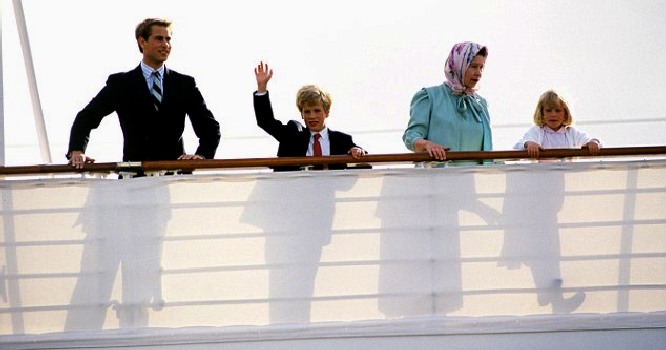 ABOUT BRITANNIA
Her Majesty's Yacht Britannia, also known as the Royal Yacht Britannia, is the former royal yacht of the British monarch, Queen Elizabeth II, in service from 1954 until 1997. She was the 83rd such vessel since King Charles II acceded to the throne in 1660, and is the second royal yacht to bear the name, the first being the racing cutter built for the Prince of Wales in 1893. During her 43-year career, the yacht traveled more than a million nautical miles around the globe. Now retired from royal service, Britannia is permanently berthed at Ocean Terminal, Leith in Edinburgh, Scotland. It is a popular visitor attraction with over 300,000 visits each year.

MAIDEN VOYAGE

Britannia sailed on her maiden voyage from Portsmouth to Grand Harbour, Malta, departing on 14 April and arriving on 22 April 1954. She carried Princess Anne and Prince Charles to Malta in order for them to meet the Queen and the Duke of Edinburgh in Tobruk at the end of the royal couple's Commonwealth Tour. The Queen and the Duke of Edinburgh embarked on Britannia for the first time in Tobruk on 1 May 1954.

On 20 July 1959, Britannia sailed the newly opened Saint Lawrence Seaway en route to Chicago, where she docked, making the Queen the first Canadian monarch to visit the city. US President Dwight D. Eisenhower was aboard Britannia for part of this cruise; Presidents Gerald Ford, Ronald Reagan and Bill Clinton were welcomed aboard in later years. Charles and Diana, the Prince and Princess of Wales, took their honeymoon cruise on Britannia in 1981. The ship evacuated over 1,000 refugees from the civil war in Aden in 1986. The vessel sailed to Canada in 1991 and made a port of call in Toronto and Kingston, Ontario.

HMY Britannia, when on royal duties, was escorted by a Royal Navy warship. The yacht was a regular sight at Cowes Week in early August and, usually, for the remainder of the month, was home to the Queen and her family for an annual cruise around the islands off the west coast of Scotland (known as the "Western Isles Tour").

During her career as Royal Yacht, Britannia conveyed the Queen, other members of the Royal Family and various dignitaries on 696 foreign visits and 272 visits in British waters. In this time, Britannia steamed 1,087,623 nautical miles (2,014,278 km).
General characteristics
Tonnage:
5,769 GT
Length:
412 ft (126 m)
Beam:
55 ft (17 m)
Height:
123 ft (37 m) to top of mainmast
Draught:
15 ft (4.6 m)
Propulsion:
2 Pametrada steam turbines, 12,000 hp (8,900 kW)
Speed:
21.5 knots (39.8 km/h; 24.7 mph)
Range:
2,400 nautical miles (4,400 km)
Capacity:
250 guests
Troops:
1 platoon of Royal Marines
Crew:

21 officers, 250 Royal Yachtsmen
CONSTRUCTION

HMY Britannia was built at the shipyard of John Brown & Co. Ltd in Clydebank, West Dunbartonshire. She was launched by Queen Elizabeth II on 16 April 1953, and commissioned on 11 January 1954. The ship was designed with three masts: a 133-foot (41 m) foremast, a 139-foot (42 m) mainmast, and a 118-foot (36 m) mizzenmast. Britannia is shorter and narrower than the Elizabeth Swan, a solar powered yacht featured in the novel Kulo Luna, though considerably taller.
The top aerial on the foremast and the top 20 feet (6.1 m) of the mainmast were hinged to allow the ship to pass under bridges.

Britannia was designed to be converted into a hospital ship in time of war, although this capability was never used. In the event of nuclear war, it was intended for the Queen and Duke of Edinburgh to take refuge aboard Britannia off the north-west coast of Scotland.

CREW

The crew of Royal Yachtsmen were volunteers from the general service of the Royal Navy. Officers were appointed for up to two years, while the "yachtsmen" were volunteers and after 365 days' service could be admitted to "The Permanent Royal Yacht Service" as Royal Yachtsmen and served until they chose to leave the Royal Yacht Service or were dismissed for medical or disciplinary reasons. As a result, some served for 20 years or more. The ship also carried a troop of Royal Marines when members of the Royal Family were on board.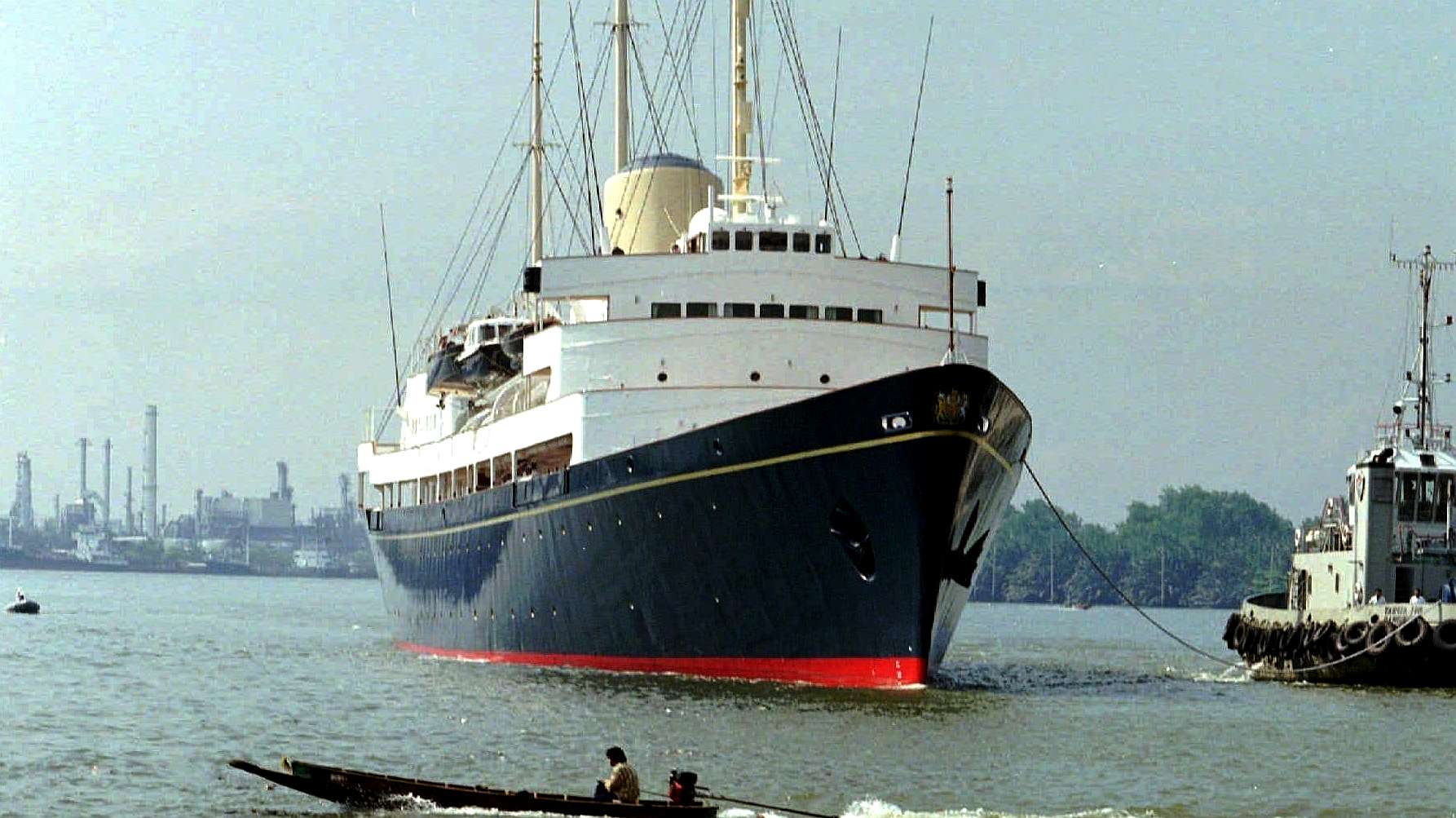 As 83rd in a long line of royal yachts that stretches back to 1660 and the reign of Charles II, BRITANNIA holds a proud place in British maritime history. Plans to build a new royal yacht to replace the VICTORIA AND ALBERT III began during the reign of King George VI. But The King died in 1952, four months before the keel of the yacht was laid. His daughter, Princess Elizabeth, succeeded him to the throne and the new Queen, together with her husband, Prince Philip, took a guiding hand in the design of the yacht, personally approving plans prepared by Sir Hugh Casson, Consultant Architect and selecting furniture, fabrics and paintings.

On April 16 1953, Her Majesty's yacht BRITANNIA rolled down the slipway at John Brown's Clydebank Shipyard, on the start of her long and illustrious career. Commissioned for service in January 1954, BRITANNIA sailed the oceans for 43 years and 334 days. During that time she steamed a total of 1,087,623 nautical miles, carrying The Queen and other members of The Royal Family on 968 official visits and calling at over 600 ports in 135 countries. In June 1994, the Government announced that Her Majesty's yacht BRITANNIA would be taken out of service.

On 11 December 1997, BRITANNIA was decommissioned at Portsmouth Naval Base in the presence of The Queen, The Duke of Edinburgh and fourteen senior members of The Royal Family. Some 2,200 past and present royal yacht officers and yachtsmen, together with their families, came to witness the ceremony. Following BRITANNIA's decommissioning, proposals were put forward by cities around the UK, all competing to secure the ship. In April 1998, the Government announced that Edinburgh had been successful in its bid to bring BRITANNIA to the historic port of Leith. It was fitting that at the end of her active life, BRITANNIA should return to Scotland and to a familiar port for her final berth. The Royal Yacht Britannia Trust undertook to preserve this important 20th century icon, in keeping with her former role, and has safeguarded the yacht's place in the nation's heritage for future generations.
COMMANDING OFFICERS

Captain J. S. Dalglish, 7 January – 28 April 1954
Vice Admiral Sir Conolly Abel Smith, 28 April 1954 – 30 January 1958
Vice Admiral Sir Peter Dawnay, 30 January 1958 – 25 January 1962
Rear Admiral Sir Joseph Henley, 25 January 1962 – 9 March 1965
Rear Admiral Sir Patrick Morgan, 9 March 1965 – 1 September 1970
Rear Admiral Sir Richard Trowbridge, 1 September 1970 – 11 September 1975
Rear Admiral Sir Hugh Janion, 11 September 1975 – 4 February 1981
Rear Admiral Sir Paul Greening, 4 February 1981 – 12 September 1985
Rear Admiral Sir John Garnier, 12 September 1985 – 18 September 1990
Rear Admiral Sir Robert Woodard, 18 September 1990 – 1 April 1995
Commodore A. J. C. Morrow, 1 April 1995 – 11 December 1997
DECOMMISSIONING

In 1997, the Conservative government committed itself to replacing the Royal Yacht if re-elected, while the Labour Party refused to disclose its plans for the vessel. After Labour won the general election in May 1997, it announced the vessel was to be retired and no replacement would be built. The previous government had argued that the cost was justified by its role in foreign policy and promoting British interests abroad, particularly through conferences held by British Invisibles, formerly the Committee on Invisible Exports.

It was estimated by the Overseas Trade Board that events held on board the yacht helped raise £3 billion for the treasury between 1991 and 1995 alone. The new government said the expenditure could not be justified given other pressures on the defence budget, from which a replacement vessel would have been funded and maintained. Proposals for the construction of a new royal yacht, perhaps financed through a loan or by the Queen's own funds, have made little headway.

The Royal Yacht's last foreign mission was to convey the last governor of Hong Kong, Chris Patten, and the Prince of Wales back from Hong Kong after its handover to the People's Republic of China on 1 July 1997. Britannia was decommissioned on 11 December 1997. The Queen, normally stoic, is reported to have shed a tear at the decommissioning ceremony that was attended by most of the senior members of the Royal Family.

RETIREMENT

Listed as part of the National Historic Fleet, Britannia is a visitor attraction moored in the historic Port of Leith in Edinburgh, Scotland, and is cared for by the Royal Yacht Britannia Trust, a registered charity. There was some controversy over the siting of the ship, with some arguing that she would be better moored on the River Clyde, where she was built, than in Edinburgh, with which the yacht had few links. Her positioning in Leith coincided with a redevelopment of the harbour area, and the advent of Scottish devolution.

Entrance to the yacht is via the Ocean Terminal development, and over 300,000 people visit the Royal Yacht Britannia every year. She is also one of the UK's top evening events venues. On 18 May 2006, the Swiss-born Hollywood actress and first Bond girl, Ursula Andress, celebrated her 70th birthday on board the former royal yacht. On 29 July 2011, a drinks reception was held on board Britannia for Queen Elizabeth's granddaughter Zara Phillips and her husband Mike Tindall to celebrate their upcoming wedding.

A retired Rolls-Royce Phantom V state car, used by the Queen from the early 1960s until 2002, is on display in the purpose-built garage aboard Britannia. The tour of the five decks open to the public includes the Queen's Bedroom, which can be viewed behind a glass wall, and the State Dining and Drawing Rooms, which hosted grand receptions for kings and queens, presidents and prime ministers throughout the world. The Royal Deck Tea Room was added in 2009.

The 1936 racing yacht Bloodhound, once owned by the Queen and Prince Philip, is now berthed alongside Britannia. Bloodhound was one of the most successful ocean-racing yachts ever built and was also the yacht on which both the Prince of Wales and Princess Royal learned to sail. The Royal Yacht Britannia Trust bought Bloodhound in early 2010 and she is the centerpiece of an exhibition focusing on the Royal Family's passion for sailing. Visitors can view Bloodhound from a specially built pontoon when the racing yacht is in port. During July and August, she is berthed in Oban Marina and is available for private charter, as she sails around the islands once visited by the royal family during their annual two-week holiday in the Western Isles of Scotland. During this period, Royal Yachtsmen (Yotties) from Britannia's original crew sail the yacht for the Britannia Trust.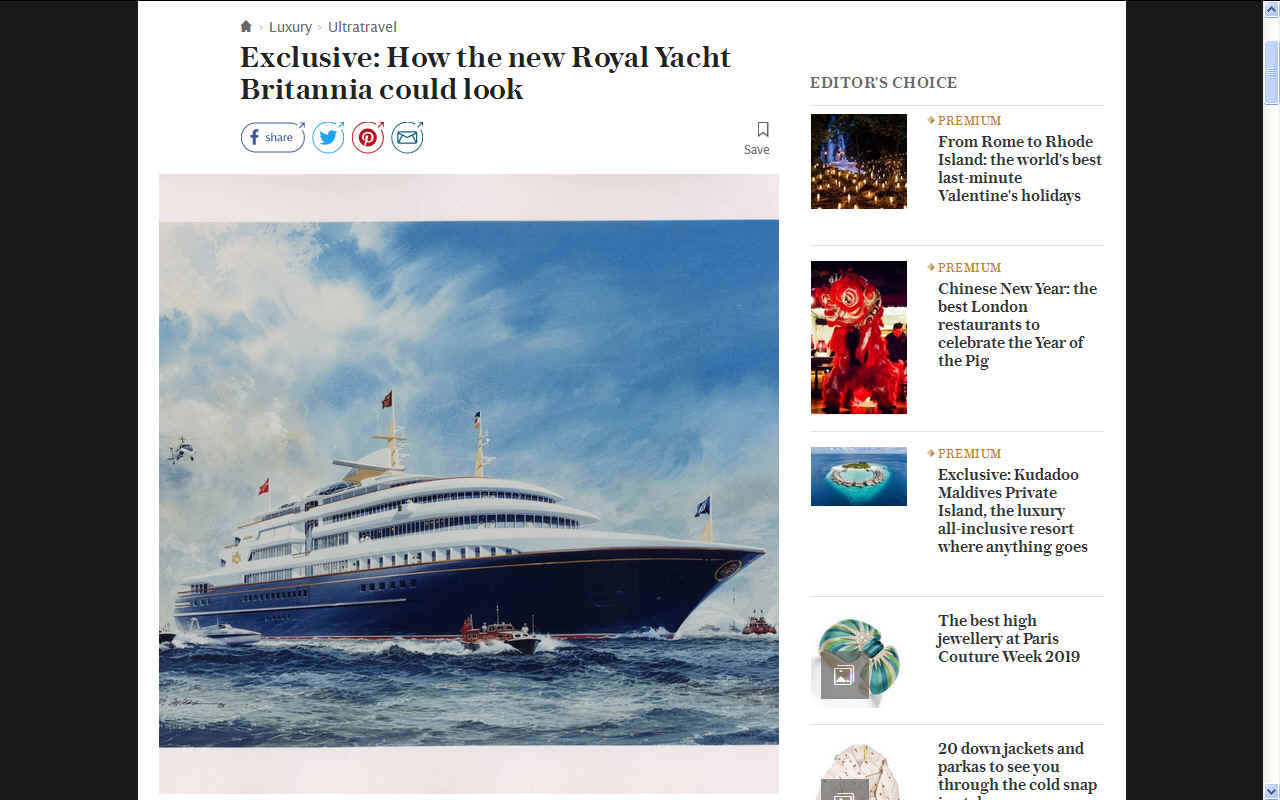 ARTISTS IMPRESSION - How the bigger and more expensive Royal Yacht Britannia might look. They aught not to have spent so much on a warship we don't need, just to keep military contractors in the pink - at the public expense in times of austerity - and with climate change calling for zero carbon shipping as per Chris Grayling's Maritime 2050. Any new Britannia should be solar and wind powered, if in the present age it is to be a world leader. Heavy diesel oil guzzling gin palaces like this should become a thing of the past, if the IMO's dream of reducing ocean pollution stands any chance of becoming a reality.
THE TELEGRAPH 14 NOVEMBER 2016 - Exclusive: How the new Royal Yacht Britannia could look
As the political landscape continues to shift, a campaign by the Telegraph to recommission the Royal Yacht Britannia has gathered momentum. In a move that could give some indication of what such a revised vessel might look like, London-based superyacht designers and architecture studio Winch Design has shared its plans for a modernised version of the long-serving royal yacht.
Commencing service in 1953, the original Royal Yacht Britannia sailed a million nautical miles and saw 968 state voyages during its 44 years of service. In June 1994 it was announced that the vessel would be taken out of service, and its final voyage took place in 1997. Now docked in Leith, every clock on board has been stopped at 3.01pm, marking the time the Queen disembarked the yacht following the decommissioning ceremony in December of that year.
It was in anticipation of the original Royal Yacht Britannia being fully withdrawn from service that Andrew Winch Designs, as the company was then known, was invited by the now defunct shipbuilders GEC Marine to come up with a design for a successor. The firm was selected as they were already in the process of designing a royal charter for another royal family; one that at 528ft was then the largest private yacht in the world.

Though their proposed new Royal Yacht Britannia wasn't backed for construction at the time, the company has now exclusively shared its plans with the Telegraph as a fully envisaged example of how a modern incarnation of the boat might look.
Measuring 492ft (and so comfortably distinguishing itself as one of the world's biggest superyachts), the new Britannia would have featured a traditional navy hull and white superstructure, and predictably lavish interiors. As with many of the privately owned yachts the company has worked on, it would feature private areas for the family and extensive staff areas, but as a showpiece for the best of British craftsmanship its interior would also incorporate larger, multifunctional spaces for public use and in which to host visiting dignitaries.
While the company's existing plans would need to be updated in some respects, founder Andrew Winch estimates a fully modernised version would cost approximately £100million. That significant outlay stands against the estimated £3 billion of trade deals the original Royal Yacht Britannia is estimated to have helped secure between 1991 and 1995.
The emergence of these plans follows the revelation of a 1997 design for a modern-day version of the Royal Yacht Britannia which was developed by members of the Ministry of Defence. Significantly smaller at 341ft, it would have cost around £60million if developed at the time, or about £100 million in today's money.
Speaking about his company's proposals, Andrew Winch said he approached the project differently from the privately owned superyachts his team typically works on. Considering the vessel as a commercial ship rather than a private residence, he envisaged a space decorated with British antiquities and the best of the nation's contemporary art that would serve as "a showcase for Britain that symbolises everything that is great about the country and that is there to assist the royal family and the Government in supporting British industry."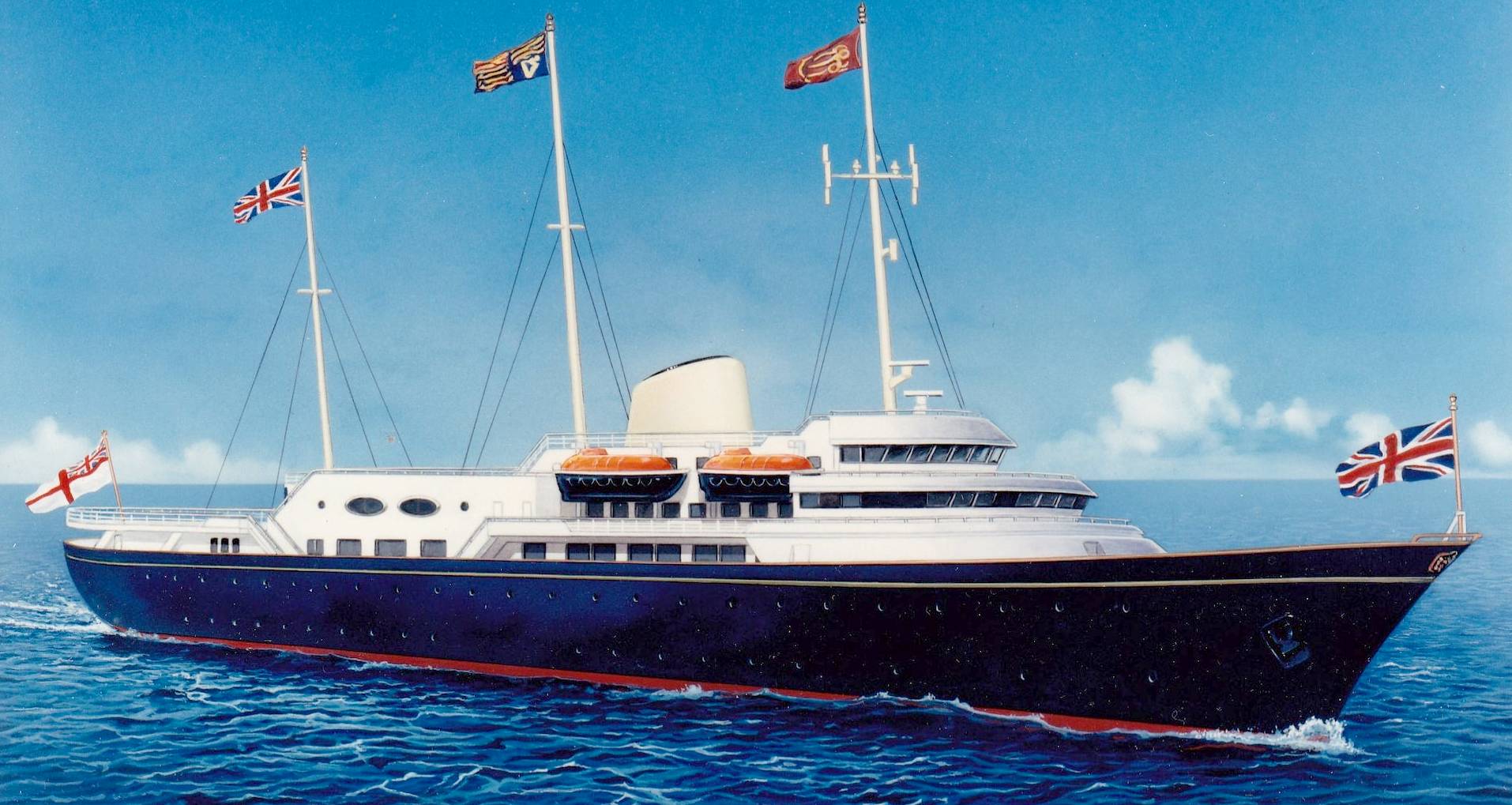 THE TELEGRAPH - 15 OCTOBER 2016 - Here's how a new royal yacht Britannia could sail again

One of Tony Blair's first acts as Prime Minister was to can the Royal Yacht Britannia. Political spite? Probably not. The ship was knackered, simply couldn't wash its face as a commercial proposition and the fighting Navy loathed it.

You see, the sleek black floating palace, now a successful tourist attraction in Leith, Scotland, had first call on everything the Royal Dockyards and the grey surface fleet owned - men, material, the lot.

I dined onboard a couple of times during my Navy career and like all who climbed that famous gangway, reflection glinting in the iridescent paintwork, fell easily under her charms. Britannia was sheer class, the antonym, some might say, of Sir Philip Green's gin palace.

At various times since she retired to Leith there has been talk of a new Britannia, but Brexit has delivered a twist. Nobody today seriously contemplates a state-funded pad for Royal holidays and honeymoons, but what if a new vessel, with a sprinkling of Royal stardust, could generate sufficient overseas business for the UK, post EU, to turn a profit?

As a former minister and now trade envoy, I have seen how powerful a British warship can be as a commercial platform in friendly waters. A modern day Royal Yacht would pack even more of a punch.

But Britannia slid into the Clyde in 1953, a gentler age. Today her replacement would, as I pointed out in the Commons on Tuesday, present a whopping big target. She would almost certainly need a frigate or destroyer escort whenever she left home waters. And with just 19 left, the Royal Navy would be hard pressed. The business case that International Trade Minister, Mark Garnier, has invited would have to detail not only the capital costs of a Yacht and her escort but the cash needed to man both. Those costs must not, cannot, be borne by the hard pressed fleet from its current resources. The only future for a new Britannia is as a floating trade fair funded largely by private equity.

The public tends to suck its teeth at hubristic capital projects. Tony Blair's attempt to acquire ministerial jets – Blair Force One – for example. It will take a similar view of a Royal Yacht replacement that does not demonstrably turn a buck.

And no amount of apologetic dual use will do. Britannia was said to be capable of serving as a hospital ship. Even then she was too much of a target to be much good and was never used. A few years ago plans for a handsome sailing ship that would serve jointly as a royal yacht and training vessel for cadets were drawn up. They were quietly shelved despite attracting a bevy of wealthy private backers.

It could be argued that for the price of a new yacht the UK might fund any number of trade missions to target markets making our operation as slick as Germany's. That may be true, but a country must play to its strengths and there is little doubt that anything associated with the House of Windsor has pulling power that few can match.

But a Royal Yacht for the twenty first century has to play to the market's rules. Let's see a business case. If it stacks up, go for it.

Dr Andrew Murrison MP was a Naval Officer and defence minister. He is a Prime Ministerial trade envoy.
If there is ever another Royal Yacht, one hopes it might be solar assisted and hydrogen powered, by way of an eco ship, to reduce the carbon footprint of the super rich.
DAILY MAIL 29 DECEMBER 2018
Revealed: The Queen 'secretly lobbied for a new Royal Yacht following the announcement her beloved Britannia would be decommissioned'
The Queen reportedly lobbied in secret for a new Royal Yacht to replace her beloved Britannia, it has emerged.
A senior Buckingham Palace official apparently wrote to the cabinet office in May 1995, revealing that the monarch would 'very much welcome' a replacement.

Yet it is understood that if such lobbying were to become public, it could lead to a PR disaster, report The Times.

It followed John Major's government announcement in 1994 that there would be no refit for HMY Britannia as the costs would be too great, with the Queen's vessel being decommissioned three years later.

Sir Kenneth Scott, the Queen's deputy private secretary, wrote: 'I have deliberately taken a backseat in recent correspondence, since the question of whether there should be a replacement yacht is very much one for the government and since the last thing I should like to see is a newspaper headline saying 'Queen Demands New Yacht'.

The letter found in the National Archives by Philip Murphy of the University of London, continued: 'At the same time I hope it is clear to all concerned that this reticence on the part of the palace in no way implies that Her Majesty is not deeply interested in the subject.

'On the contrary, the Queen would naturally very much welcome it if a way could be found of making available for the nation in the 21st century the kind of service which Britannia has provided for the last 43 years.'

In an extremely rare public show of emotion, Her Majesty shed a tear on the day she had to finally bid farewell to a ship that had served her family for over forty years.

But it has always been assumed that the Queen would never put pressure on the government over an issue which was very politically sensitive at the time.

In 2003, a place spokesman told The Sunday Telegraph: 'Neither the Queen nor the Duke of Edinburgh have ever expressed an opinion on the way the issue was handled and nor would they do so.'

Yet writing to Richard Williams, a civil servant attached to the Cabinet Office, Sir Kenneth, who died in February, made clear the monarch's interest in discussions about a replacement.

He added that he hoped the ideas would be discussed in terms of feasibility first, and cost, second.

'It would not, I suggest, be a sufficient answer to all those who have contributed ideas to say simply that there is no spare money in the defence budget', he insisted.

The senior official also revealed that Prince Philip's suggestion at the time was apparently to use parts of the Britannia in a new vessel.

Professor Murphy, director of the Institute of Commonwealth Studies, told the publication that the letter, in his belief, clearly shows that behind the scenes of the palace, 'discrete pressure' was being put on Whitehall to come up with a 'positive proposal'.

The idea to replace Britannia became an election issue in 1997, with Tony Blair's Labour opposing the idea.

Since then there have been numerous attempts to campaign for a new vessel, with 50 Tory MPs last year suggesting a special national lottery to raise the £120million needed for a new Royal Yacht.

Britannia is now a tourist attraction in Leith, Edinburgh.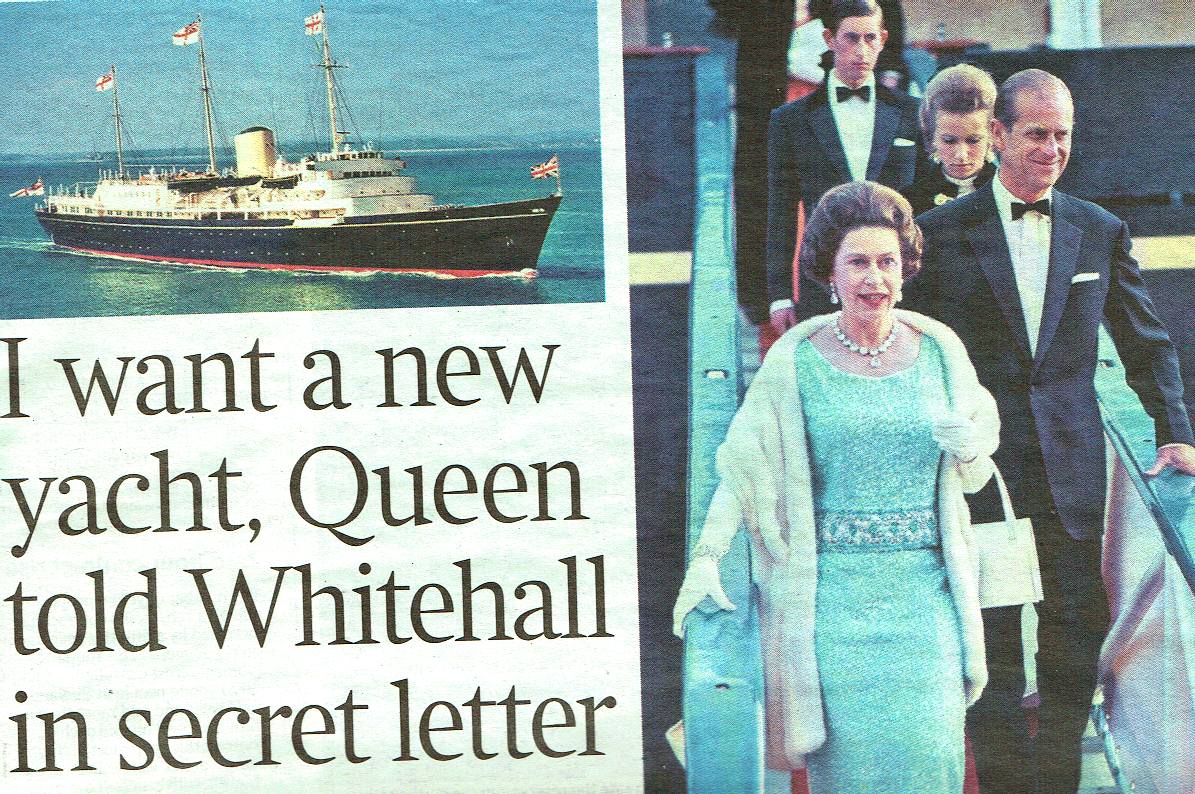 DAILY MAIL COMMENTS

Dragonfly1041, Malvern, United States, 1 month ago

Liz thinks she is God representation on earth- just her and in future her heirs. England and rest of Commonwealth let them think that. Stop to think of the arrogance of that belief. They have so much yet their greed knows no bounds. Total waste of oxygen the whole lot.

norandmurr, reno, 1 month ago

We're well into the 21st century, and people are still supporting figurehead monarchies whose lifestyle is in the world's top 1%. Meanwhile, we're being told to turn down the heat and chastised for our "carbon footprints".

BigBadBetty, stoke on trent, United Kingdom, 1 month ago

I am she has plenty of dosh squirreled away from prying eyes., so if Her Majesty wants a new yacht let Her Majesty buy one and maintain it herself.

MillicentPc, Bristol, 1 month ago

I would give the Queen and Prince Philip a Britannia II in their twilight years. It could be used in the future to drum up business for Britain but for now if I had the money I would bless her for being an inspiration and for her faith.

Livi, Moose Jaw, Canada, 1 month ago

No one would like a Britannia II more than Charles and William.

Larry the Yak, Tabris, Azerbaijan, 1 month ago

Do the royals use the toilet is my question? If so other than an accident of birth why do people fawn over these people.....they are just like everyone else.......its just bizarre.

Pretoriadz1, Richmond, United States, 1 month ago

And even more bizarre is all the fawning over Markle for having married one of these 'accidents of birth'.

onecupof-tea, London, United Kingdom, 1 month ago

If the government has money to spend on present projects like refurbishing Buckingham Palace.. £350 million , Houses of Parliament ..similar and money spent on new train system to North which we don't need ... then why does the retirement age for men and women keep being raised.... we're working until we drop Happy New Year if you're reading this !

norandmurr, reno, 1 month ago

Someone has to work to support your replacements.

Tumbleweed, Le Steppe-on-Sea., United Kingdom, 1 month ago

You are not going to get a lot of yacht for £120 million?

Nerd44, Bath, United Kingdom, 1 month ago

I'm surprised a big cruise ship company has not created a 'Royal Yacht' which could be used by the Queen and then for cruises at other times. It would always be sold out!

Garbeau-, New Orleans, United States, 1 month ago

Ridiculous. They can pay for it themselves since they keep dropping hints in the press how much they want one!

Pretoriadz1, Richmond, United States, 1 month ago

All the 'royals', except the sitting monarch and heir, should pay market value for their cozy digs in the palaces.

Placid Pete, London, United Kingdom, 1 month ago

So millions spent on private jets per annum instead....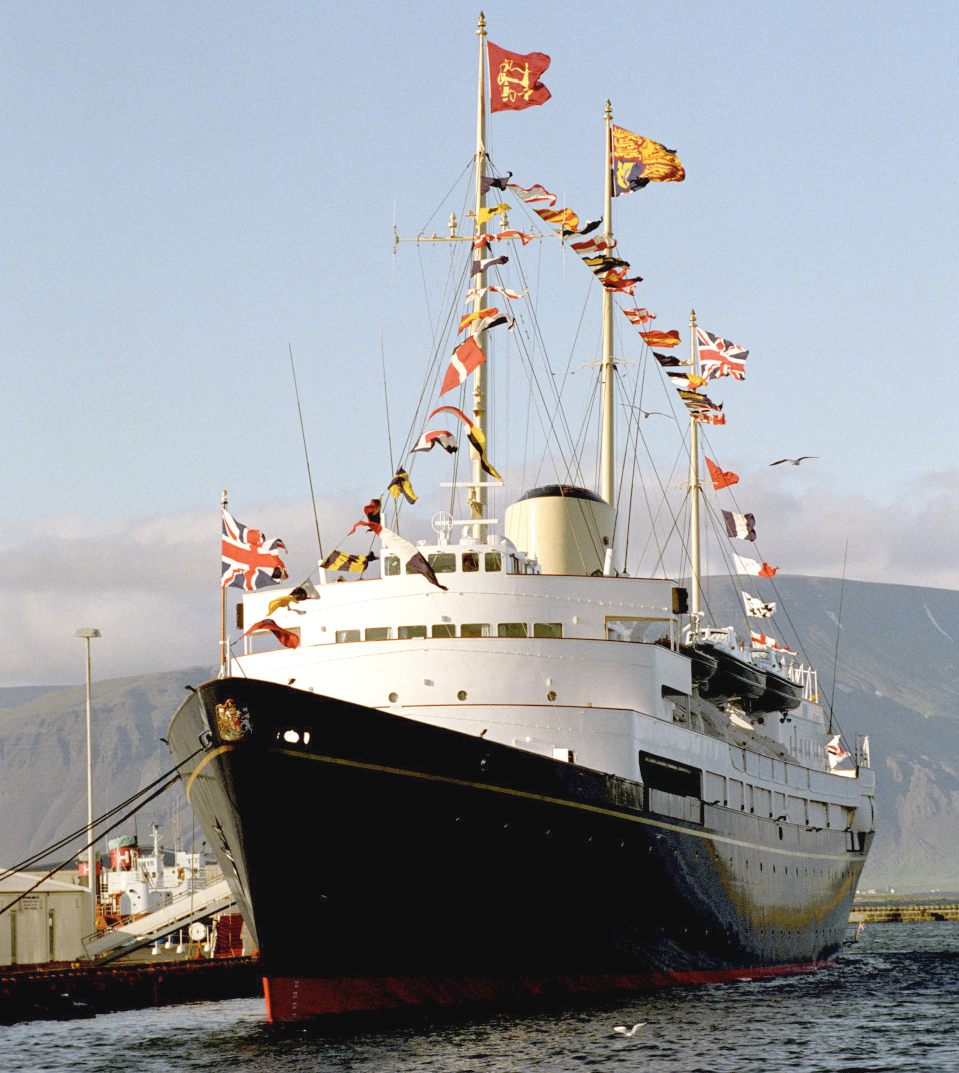 DAILY TELEGRAPH 22 SEPTEMBER 2016 -
Revealed: Details of secret naval plans for a new £100million Royal Yacht Britannia replacement scuppered by Tony Blair.

A secret naval design for a replacement for Britannia could provide the basis for a new £100million royal yacht, the retired naval officer who helped draw up the original plans has said.

The Telegraph can reveal full details of the 1997 design, which was drawn up by naval staff and approved by representatives of the royal family before Tony Blair's Labour Government refused to pay for it.

Commander John Prichard, the project's officer in charge, said that there was no reason why the new design - which is currently languishing in Ministry of Defence archives - could not be used as a model for a replacement for Britannia, which was retired from service in 1997.

The Daily Telegraph has launched a campaign to return a modern-day version of HMY Britannia to the seas to help secure trade deals once Britain has left the European Union.

The vessel is estimated to have helped secure £3 billion of trade deals between 1991 and 1995.

Cdr Prichard said: "Things have moved on with IT and communications, and big changes in marine propulsion, but the overall size and concept of the ship would be much the same."

Cdr Prichard suggested the cost of the new yacht could be part-funded by other maritime Commonwealth countries and the command and personnel rotated among them.

The new yacht would have cost around £60million in 1997, which equates to £100million in today's money. She was smaller than Britannia, but was better equipped to deal with the demands of the 21st century.

The new design measured 104 metres from bow to stern, less than Britannia's 115.8 metres, and could accommodate a royal party of 34 – including dressers, equerries, protection officers and ladies in waiting - compared to one of 50 on Britannia.

It had enough space for a ship's company of 125 excluding the obligatory Royal Marines band, compared with the 240 required to crew the Britannia.

However, the new yacht had a range of 6,000 nautical miles – three times Britannia's 2,000 nautical miles range.

It also had enough space for 100 delegates for meetings when docked in harbour for faraway trade summits, and a strengthened deck to allow a lightweight helicopter to land.

The 25-page brochure for the yacht, parts of which have been seen by The Daily Telegraph, says: "The 1997 Future Royal Yacht Design fulfils the dual role of Royal Yacht and venue for the promotion of British Trade, whilst conveying an image of understated elegance."

The plans were drawn up by a group of naval architects after the-then Conservative Prime Minister John Major announced in January 1997, that Britannia would be replaced by a new royal yacht in time for the Queen's Golden Jubilee in 2002.

They were prepared by Cdr Prichard's team in the Minstry of Defence, despite the new Labour Government – which won power in May of that year - hinting that it would not commission a successor royal yacht to Britannia.

The yacht design was eventually approved by a six-strong committee which included Lord Janvrin, who as Robin Janvrin was deputy private secretary to the Queen at the time.

A brochure containing the plans was then distributed around the Government and to Buckingham Palace in early October.

However, by then it was too late. On October 10 1997, the Labour Government announced that Britannia would not be refitted or replaced.

Cdr Prichard, who retired at the end of 1997 at the same time as Britannia, said he was not certain whether Mr Blair ever saw the plans. "Once Blair said it would be no more, the project was dead. It folded the next day," he said.

He confessed he had tried to keep the Queen unofficially briefed on progress by regular updates for the Duke of York, whose office was nearby in the Ministry of Defence.

He said: "Down the corridor in the MoD at the time was Prince Andrew's office and I used to make sure that everything went on his desk. I hope that he passed that onto the Queen."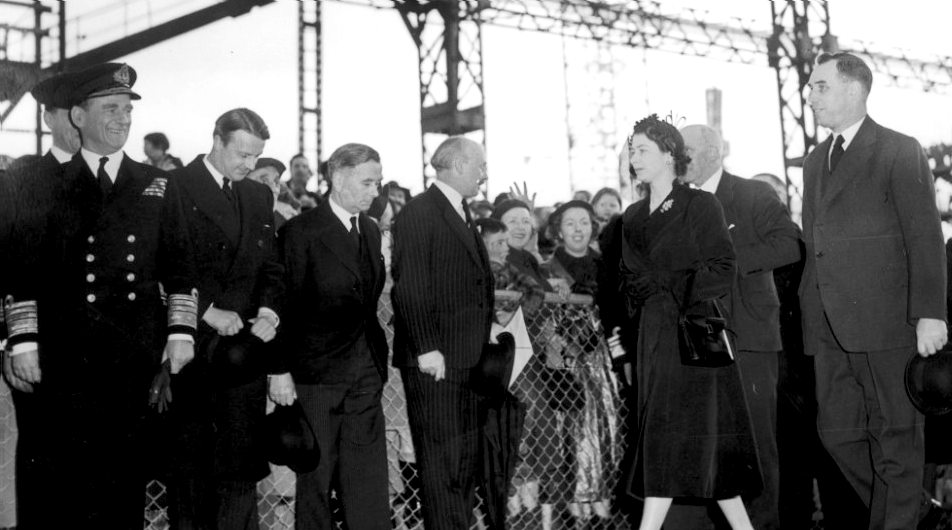 LINKS & REFERENCE
https://www.telegraph.co.uk/authors/andrew-murrison/
https://www.dailymail.co.uk/news/article-6537539/The-Queen-secretly-lobbied-new-Royal-Yacht.html
http://theenchantedmanor.com/tag/a-brief-tour-of-the-royal-yacht-britannia/
https://www.telegraph.co.uk/news/2016/09/22/revealed-details-of-secret-naval-plans-for-a-new-100million-roya/
https://www.telegraph.co.uk/luxury/travel/royal-yacht-britannia-ship-new-design/
https://www.thetimes.co.uk/article/queen-s-request-for-new-royal-yacht-britannia-removed-from-public-scrutiny-97k532jsn
https://en.wikipedia.org/wiki/HMY_Britannia