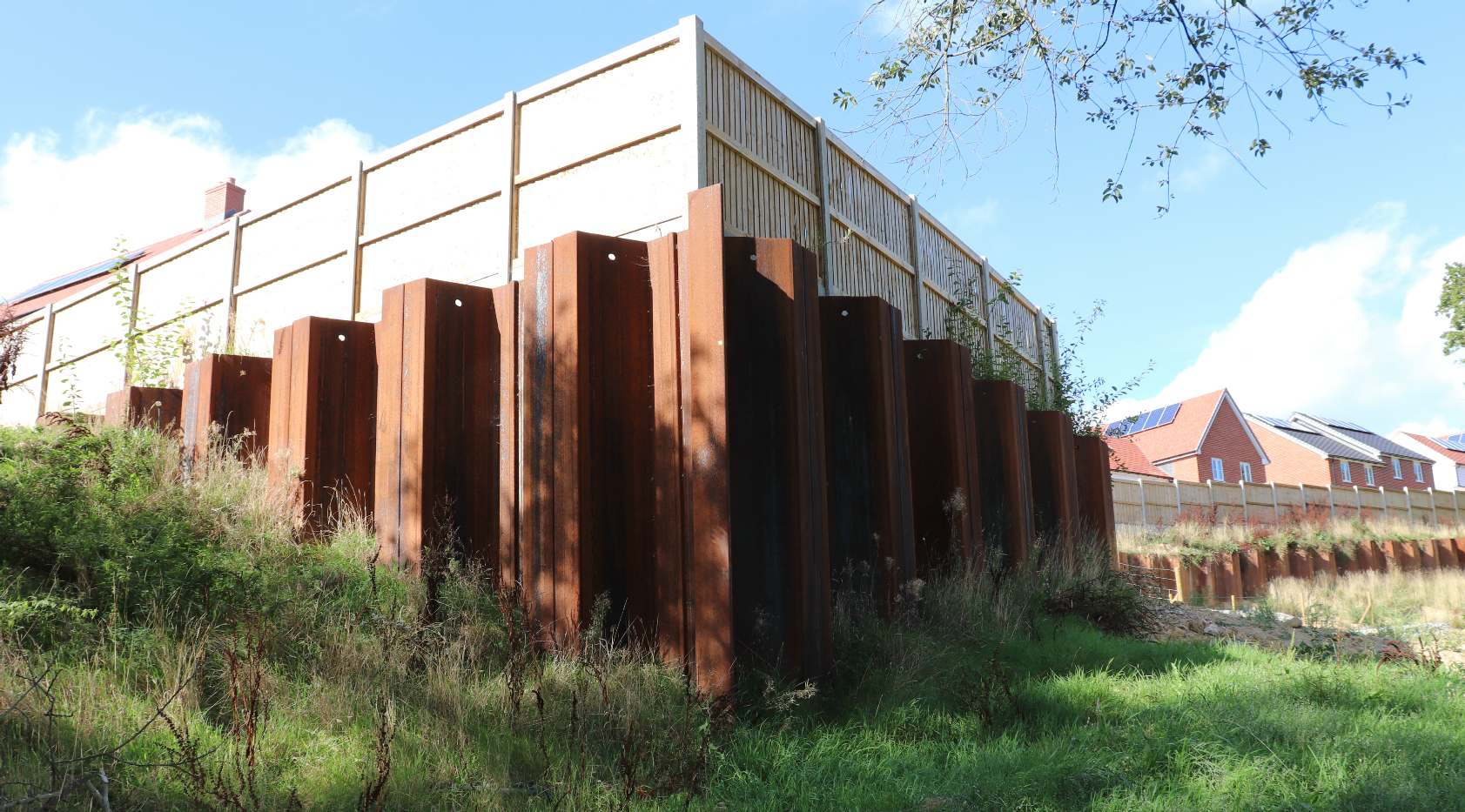 PLANNING FAVOUR? - Hailsham Road, Herstmonceux - Housing development in the village above Lime Wood, clearly designed by climate morons and allowed by the Parish and District councils. Sir David would not be amused as to the blight on nature. To make matters worse, there appears to be a brown smelly discharge into the stream at the foot of what was a lovely little country ramble. Now it is this insane artificial hillside!
Wealden District Councillors are frightened of their bully-boy officers, and effectively in their pockets. They are to all intents climate cowards, prepared to watch mass extinctions directly in proportion to what they are allowing to be brick built - all the while milking the system for expenses - on what they see as a never ending gravy-train: Business as usual, Blah, Blah, Blah.
In our book that makes anyone who does not stand up for Planet Earth: Climate Criminals, or Climate Deniers, those who know what harm they are causing, but carry on lying to the public, to fill their wallets.
In turn, developers are allowed to blackmail the officers and the members with threats of non-development. We say that suits us fine. Don't develop - not unless it is sustainable and affordable. Take a hike.
But WC won't stand their ground, climate unfriendly brick builds abound, causing rising sea levels: with the crime of ecocide, yet to be codified under the Rome Statute by the United Nations. Planning officers on the receiving end of favours, keep telling Councillors they need to build houses. Yup, maybe, but they should be concentrating on timber based flatpacks that retail for under £45,000, and providing a rolling stock of affordable land for those who want to install one of these units in under a month - to escape the renting trap. These units are eco quick-builds.
Timber houses built from sustainably managed forests, lock up carbon. We must plant more trees. How about changing policy to make that happen?
Many councils are still investing in fossil fuel companies for their pensions, instead of renewables. Dirty buggers!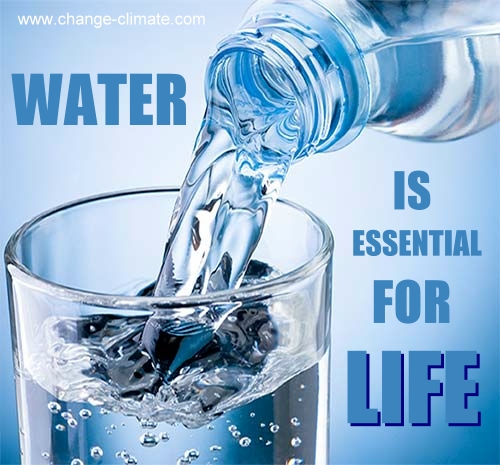 WATER, WATER, EVERYWHERE, BUT NOT A DROP TO DRINK - Over 70% of the earth is covered with seawater, but only 1% of water is (potable) drinking water. And it is not where we'd like it to be for housing development, such as in the south of England. The north of England is water rich. In West Sussex, Natural England have had to spell out the situation to councils, as to water neutrality. That is how delicate supplies are in that regin.
We want developers with integrity, who are not so much concerned about their house in Malibu, but want to serve their community by building water neutral and affordable housing - that is sustainable. So far in East Sussex, they have not even heard of balancing water supply with housing. Yet potable water is drying up as the world gets hotter.
Do you know any developers like that? They are about as rare as rocking horse shit.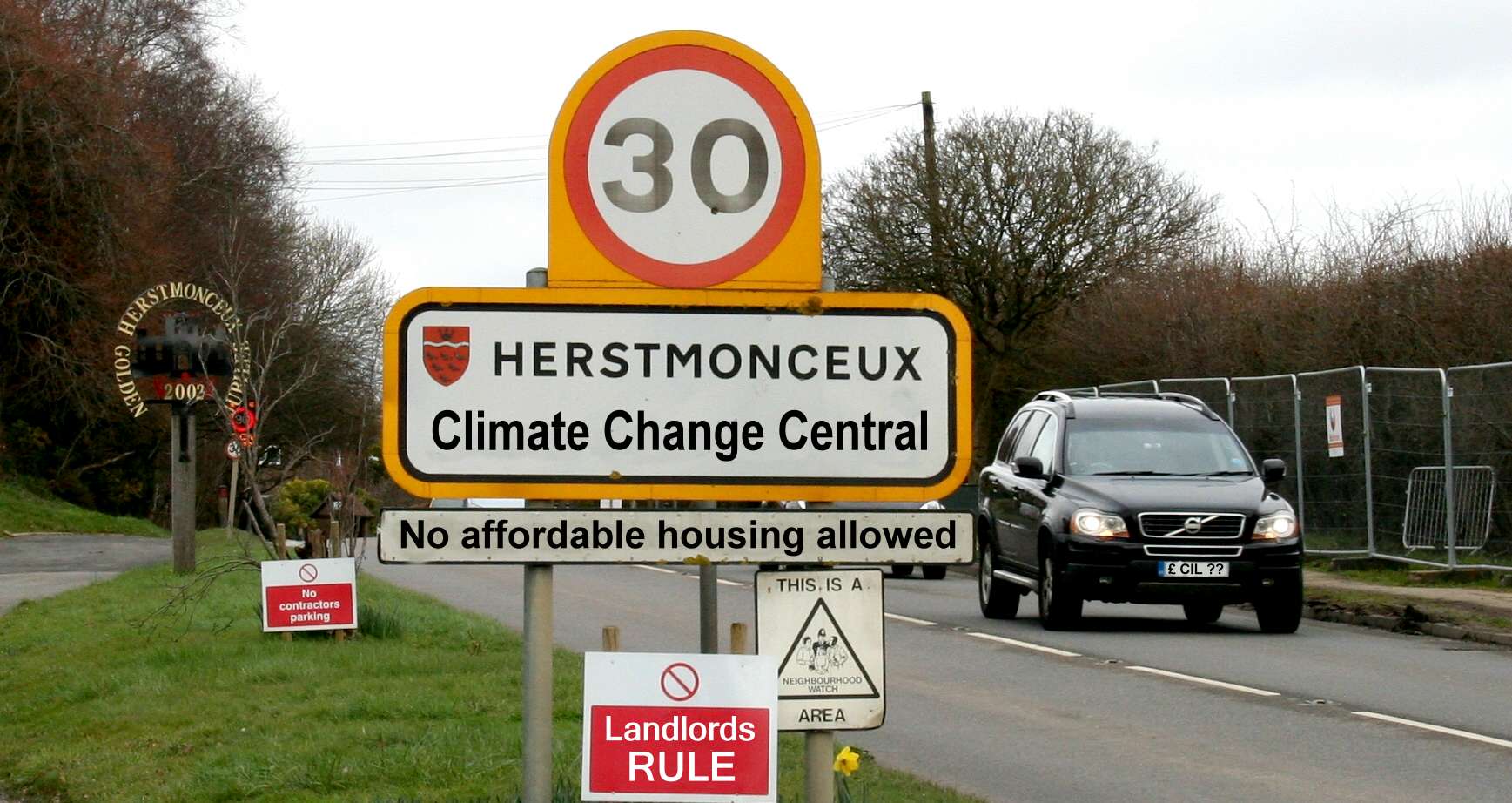 REPEAT OFFENDERS - It's no wonder that Extinction Rebellion is gathering such momentum with councils all over England carrying on as if there was no crisis. The carbon footprint for Herstmonceux village has rocketed because of all the failings of the members of Wealden to tackle climate change and set a good example. Wealden's councillors have granted planning permission for hundreds of houses without solar panels or electric vehicle charging points. If this example by every town and village in the United Kingdom, then our country would be one of the worst polluters in the world on a per square kilometer basis. The councillors you voted for are partly responsible for killing hundreds of species. It makes us want to glue ourselves to something. Peacefully mind you. This village is a contender for the Greenhouse Gas award 2019.
Affordable Housing - for an agricultural worker on a local wage
Clarion Group - Homes, sold Shit Creek to Latimer in 2018
Community Infrastructure Levy - CIL payments, where is the money going?
Crapper - Thomas, a plumber who invented and promoted sanitary appliances: "Going for a crap"
Environment Agency - England's Governmental department for prevention of water contamination
Gleeson (M J) Developments - Was involved in Herstmonceux's Shit Creek
Guardian, The - May 2020, terrible name, terrific sitcom
Herstmonceux Parish Council - Village
How Much - £Does it cost to build houses in the UK in 2020
Human excrement, shit, faeces, crap, turds, taking a dump
James Brokenshire - Policies created renting society, perpetuating financial slavery
Latimer Homes - Property developers with interest in land at Herstmonceux for house building
Links - To other shit creek websites
Margaret Thatcher - Poll tax and social housing sell off
New Zealand - Bill English's economics based on borrowing, more and more
Potty Training - Wealden tried to take away toilets despite Health & Safety Regulations 1992
Robin Hood - Robbing from the poor to give to the rich
Schitt's Creek - Excellent Canadian comedy series,
Eugene Levy, Catherine O'Hara, Daniel Levy, Annie Murphy, Emily Hampshire
Chris Elliot, Tim Rozon, Dustin Milligan, Sarah Levy
Shit Creek - Herstmonceux, East Sussex
Sussex Police - failures to investigate planning related crime, gives corrupt planners free reign
Thakeham Homes - Did a lot of the Shit Creek negotiations with Wealden
Tim Watson's - 2015 planning application for 70 houses
Up shit creek without a paddle
Wells - Historic monuments at risk from groundwater contamination in Herstmonceux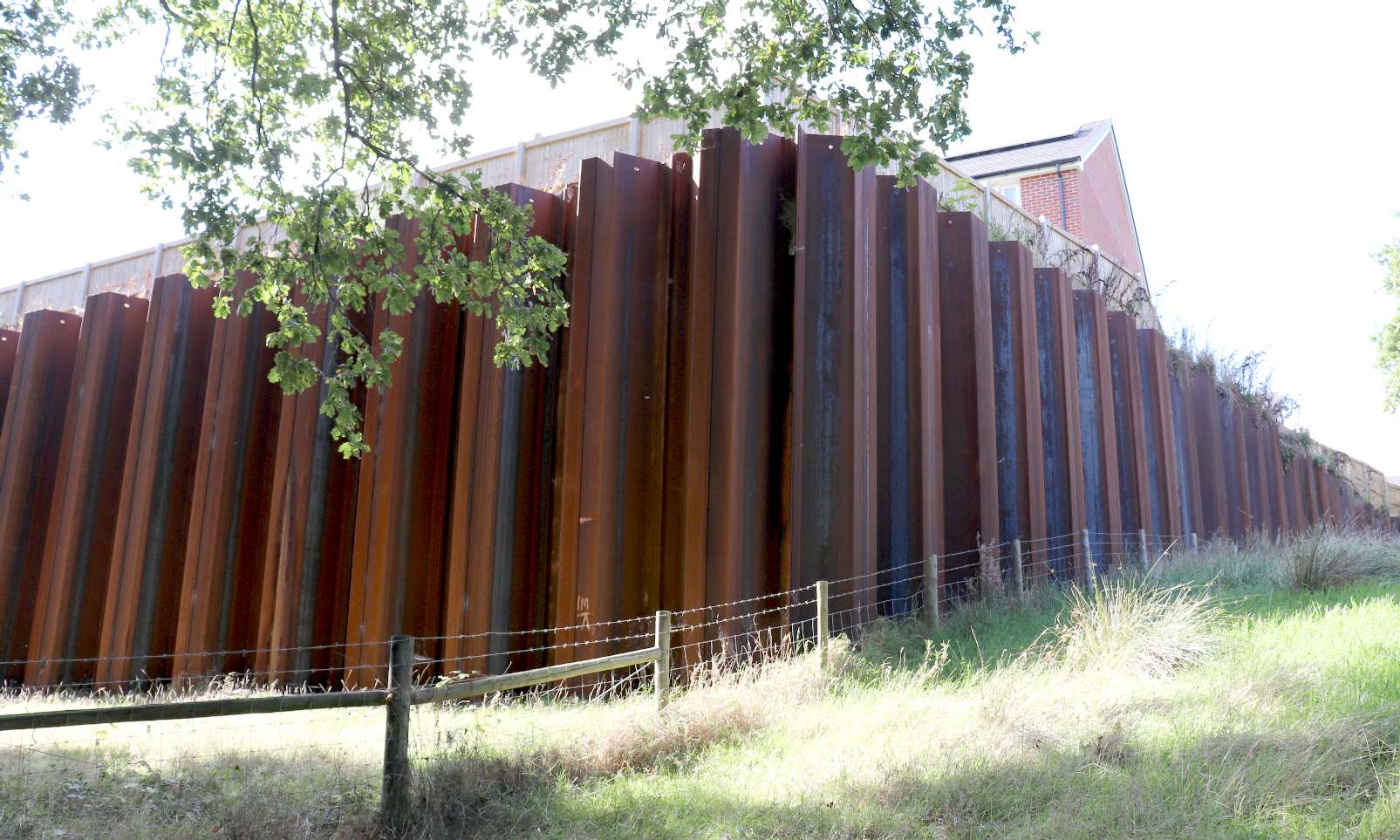 THE BROWN CLIFFS OF WEALDEN - You've heard of the White Cliffs of Dover, but in Wealden they prefer a nice shade of rust-brown. It matches their shitty decision making!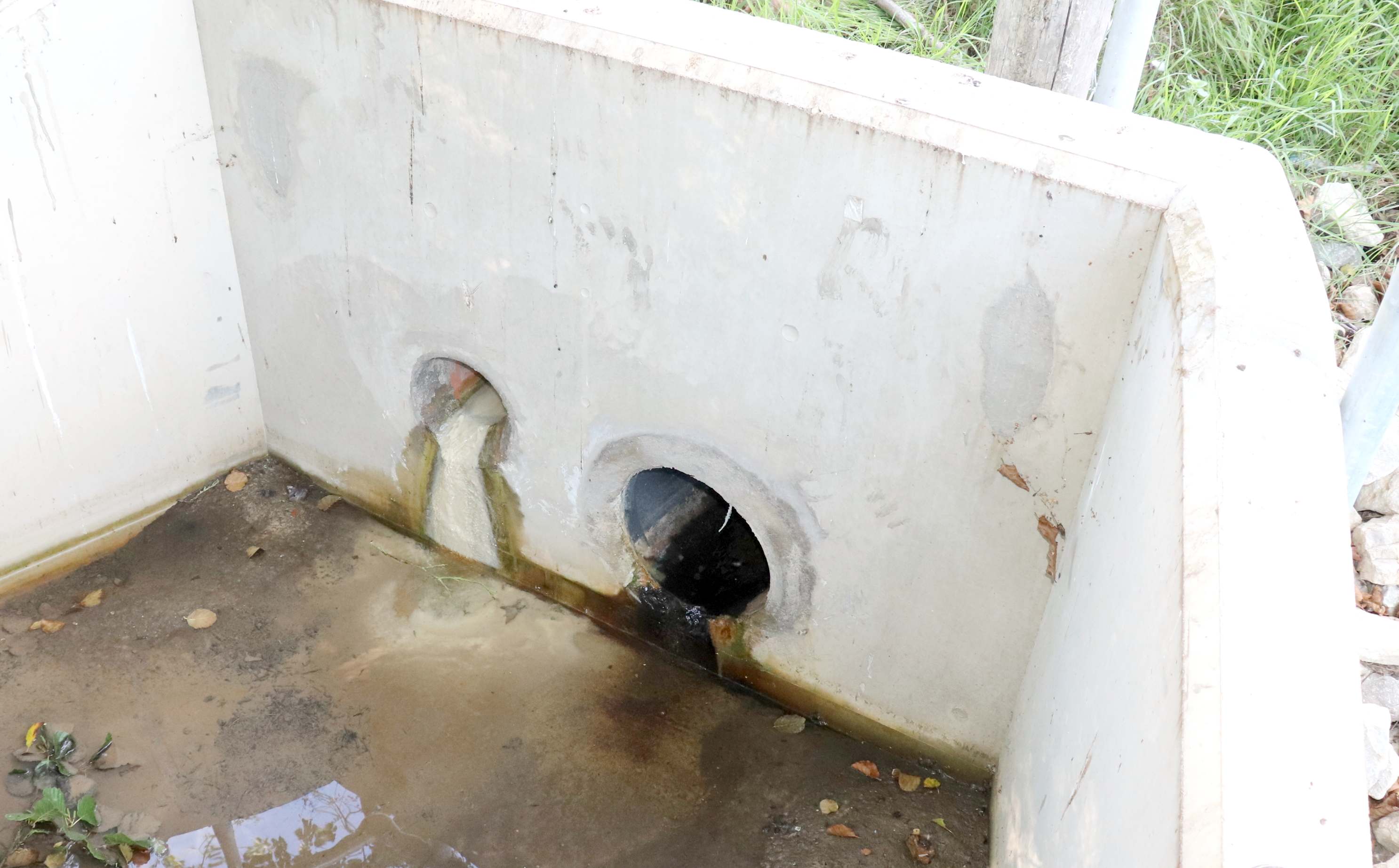 SUSPICIOUS DISCHARGE - Talking of which, this brown trickle stinks to high heaven of untreated sewage, and is draining into a local watercourse. We have no idea what the milky trickle in from the smaller pipe.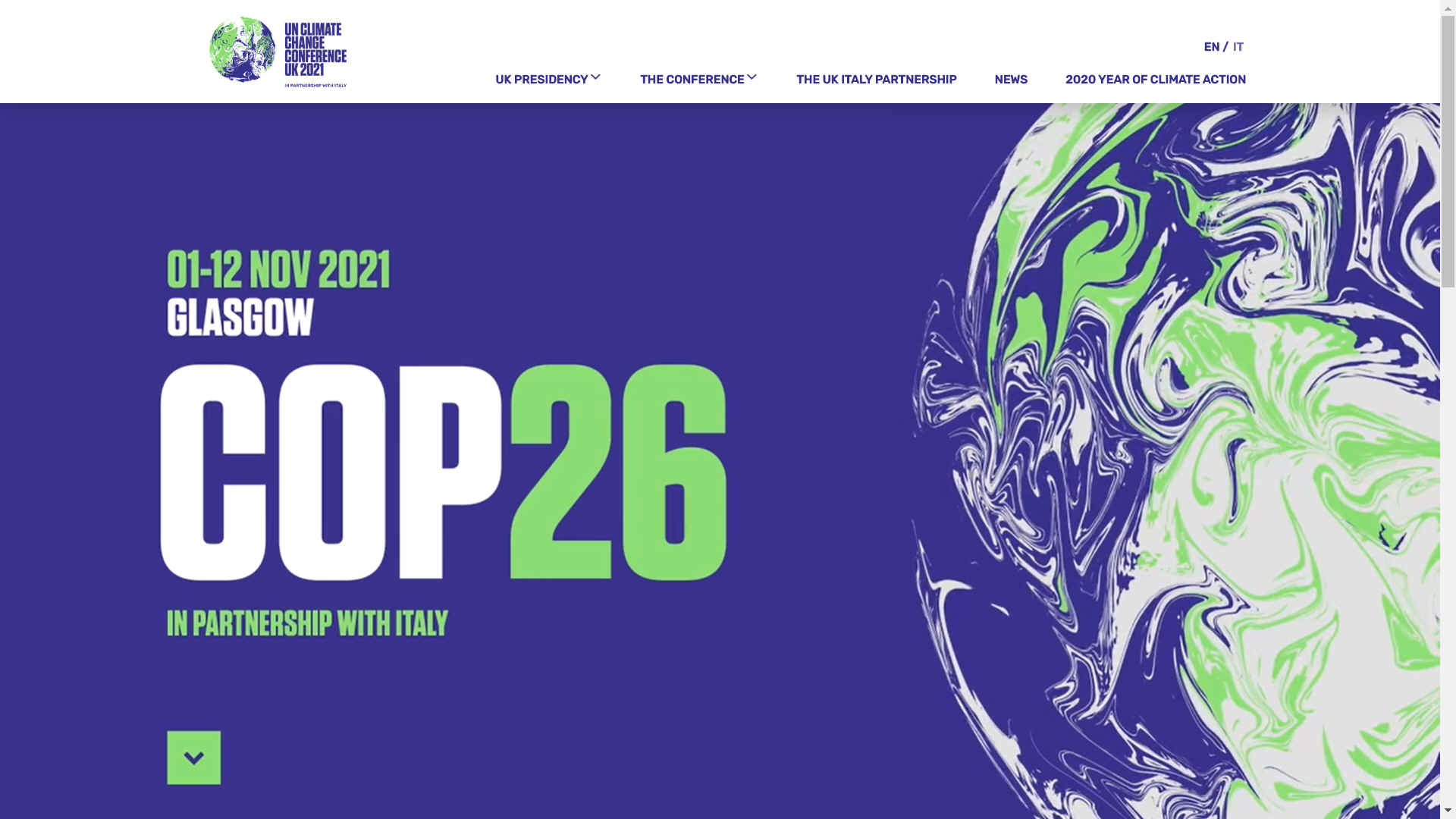 CLIMATE CHANGE COP OUTS - The United Nations' climate summit talks are known as COP (= Conference Of the Parties). During these global discussions action for climate policy is negotiated. In 2018 50 high profile companies published an open letter to the UN calling for more action to curb climate change. So far with over twenty-four years of haggling the arctic ice is still melting - and faster than ever. No wonder so many high profile people and corporations are worried, but not Wealden. In this District we are still granting planning consents for houses without electric vehicle charging points. What are this council like? It's criminal. But who elected the members. Yes, you did! So elect someone who knows about climate changing for the good of your children. In 2021, COP-OUT26 was another FLOP, except for finally getting coal on the UN agenda.
Please use our A-Z INDEX to navigate this site