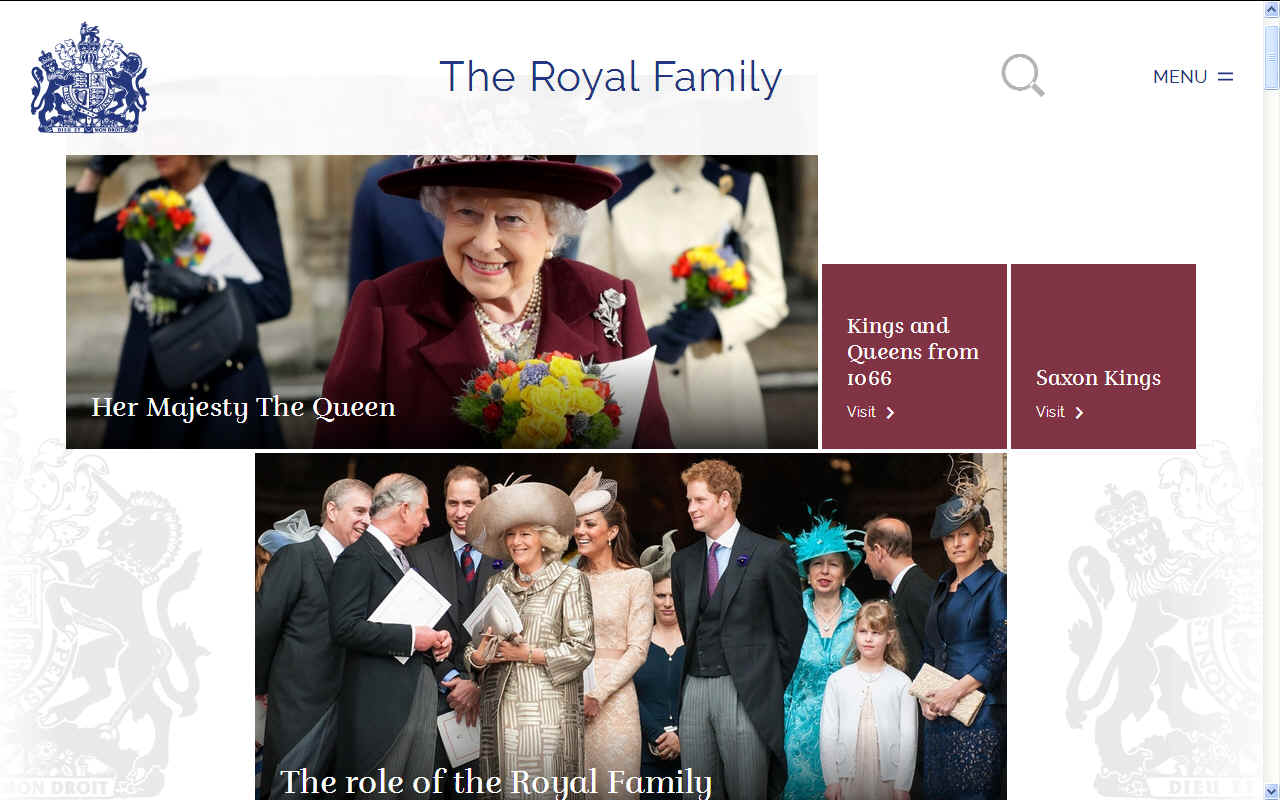 A TO Z OF ROYAL WEDDINGS
A is for ANNOUNCEMENT. A proclamation will be displayed on an easel at the gates of Buckingham Palace, while news of the birth will be tweeted by Kensington Palace and emailed to the press. Gun salutes will also mark the new arrival.

B is for BROTHER. The new royal baby will be 21 months younger than older brother Prince George, who is directly in line to become king one day.

C is for CHRISTENING. The baby will be baptised wearing a replica of a lace and satin gown that has been used since 1841. Tradition dictates the Archbishop of Canterbury Justin Welby, England's highest cleric, will conduct the christening.

D is for DUTY. Once an adult, a lifetime of royal duty on behalf of the sovereign awaits.

E is for EDUCATION. The royal youngster is set to enjoy exclusive schooling. Both William and his brother Prince Harry went to the elite boarding school Eton.

F is for FASHION. The new royal will be a trendsetter before it can walk and talk anything George has been seen wearing has flown off the shelves.

G is for GRANDPARENTS. William's father Prince Charles, the heir to the throne, and his wife Camilla are expected to visit the baby in hospital shortly after the birth, along with Kate's parents Michael and Carole Middleton.

H is for HOME. The new baby will grow up at the Cambridges' apartment in London's Kensington Palace and Anmer Hall, a country house on Queen Elizabeth II's private Sandringham estate in eastern England.

I is for INTEREST. The birth will spark huge interest around the world, with international media camped outside the hospital doors waiting for the first glimpse of the new royal.

J is for JORDAN. The baby will be baptised with water from the River Jordan.

K is for KATE. The 33-year-old duchess suffered acute morning sickness again during her second pregnancy, causing her to miss royal engagements.

L is for LINE OF SUCCESSION. The baby will be born fourth in line to inherit the throne, behind George and directly in front of uncle Harry.

M for MEMORABILIA. The Centre for Retail Research reckons the royal baby will bring retail sales of around £60 million to £70 million ($88-103 million, 84-98 million euros), rather than the £247 million boost attributed to George.

N is for NAMES. Royal babies often get several Christian names, with George getting three. Bookmakers' favourites for a girl are Alice, Elizabeth, Charlotte, Alexandra and Victoria; for a boy, James, Arthur, Henry, Philip and Albert.

O is for OBSTETRICIANS. The medical team will be led by Guy Thorpe-Beeston, the surgeon-gynaecologist to the royal household, who will be assisted by his predecessor Alan Farthing.

P for PRIMOGENITURE. Laws which took effect in March ending male primogeniture mean girls born after October 28, 2011 can no longer be overtaken by younger brothers in the line of succession.

Q is for QUEEN ELIZABETH II. The baby will be the monarch's fifth great-grand-child and her 17th descendant.

R is for ROYAL MINT. They will produce a £5 coin in celebration and gift a special "lucky" silver penny to 2,015 babies born on the same day.

S is for ST MARY'S HOSPITAL. The baby will be born in the private Lindo Wing of the hospital in Paddington, central London. A two-room suite costs £6,750 a night, though consultants' fees can double that.

T is for TITLE. The baby will be known as His/Her Royal Highness Prince/Princess (name) of Cambridge.

U is for UNCLE HARRY. William's fun-loving brother is coming out of the army and so may have more time to babysit. The baby will also have Auntie Pippa and Uncle James on its mother's side.

V is for VICTORIA. The baby will be the great-great-great-great-great-grandchild of 19th-century queen Victoria.

W is for WILLIAM. The 32-year-old duke is training to become an air ambulance pilot. He will take two weeks' paternity leave. He could face a two-hour drive to London when Kate goes into labour.

X is for XX or XY? As with George, the couple do not know the sex of the baby.

Y is for YELLOW. Bookmakers are taking bets on the colour of Kate's dress when she leaves hospital, with a spring-like yellow among the favourites for the first baby pictures that will zip round the world.

Z is for ZZZ William and Kate can expect months of sleepless nights, but their nanny will be on hand to ease the burden.
ROYALS GALLERY 2019
Andrew Duke of York

Anne Princess Royal

Autumn Phillips

Beatrice of York

Camilla Duchess Cornwall

Catherine Duchess Cambridge

Charles Prince Wales

Charlotte of Cambridge

Dianna Princess Wales

Edward Earl Essex

Eugenie of York

Elizabeth Majesty Queen

George of Cambridge

Harry Duke Sussex

Isla Phillips

Jack Brooksbank

James Viscount Severn

Lena Tindall

Louis of Cambridge

Louise Lady Windsor

Mark Captain Phillips

Meghan Duchess Sussex

Mia Grace Tindall

Mike Tindall

Peter Phillips

Philip Duke Edinburgh

Sarah Duchess York

MP

Savannah Phillips

Sophie Countess Wessex

Timothy Laurence V. Admiral

William Duke Cambridge

Zara Tindall
LINKS & REFERENCE
https://en.wikipedia.org/wiki/British_royal_family
https://www.royal.uk/royal-family