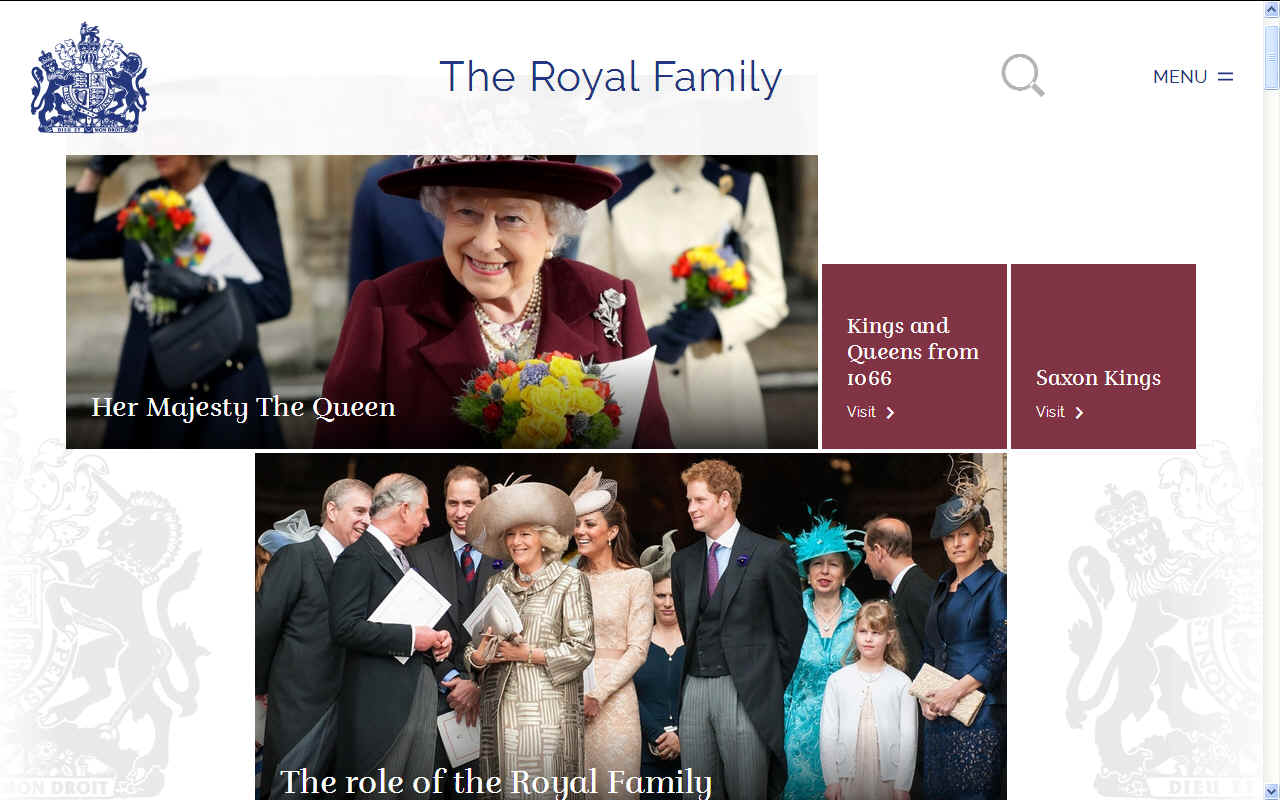 BBC JUNE 2018 - The Queen at 92: Why does she have two birthdays?

It's the Queen's official 92nd birthday on Saturday, when she will publicly celebrate being another year older.

She did in fact turn 92 back in April though. That's because the Queen has two birthdays each year.

One - her real one - on 21 April, as she was born on 21 April 1926.

Then a second one - the public celebration - on the second Saturday of June.

So why two birthdays for the Queen and how does she celebrate them?
Why not on the actual day?

In the past, official celebrations to mark a King or Queen's birthday in the UK have been held on a day that isn't their actual birthday.

The double birthday tradition was started more than 250 years ago by King George II in 1748.

He was born in November, which is not known in the UK for its good weather.

But King George wanted it to be possible to have a big public celebration - and November wasn't the time do it.

So, given that his actually birthday wouldn't be a good time of year for a birthday parade, he decided to combine it with an annual military parade in the summer, when the weather would hopefully be nice.

And so this is where the tradition of an official, public summer birthday for the monarch began!
How does she mark her birthdays?

The Queen usually spends her actual birthday with her family, although there will be special gun salutes in London at midday to mark it.

There will be a 41-gun salute in Hyde Park, a 21-gun salute in Windsor Great Park and a 62-gun salute at the Tower of London.

For her 'official' birthday' in June, the day is marked publicly with a big parade in London called Trooping the Colour.

Trooping the Colour has marked the official birthday of the British monarch for over 260 years.

Over 1400 soldiers, 200 horses and 400 musicians take part in the event, so it's quite a spectacle!

Lots of members of the public waving flags and wearing Union Jacks will fill the Mall outside Buckingham Palace to watch it.

On the day, a big parade will start at the Queen's official residence - Buckingham Palace - before moving along the Mall to Horse Guards Parade at Whitehall, near to Downing Street, and then back again.

Those watching from the Mall will also hope to catch a glimpse of the royal family as they travel down the Mall as part of the ceremony, and then when they gather on Buckingham Palace's balcony to greet well-wishers and watch RAF planes perform an aerial display for the occasion.

This year will be the first time that newly-weds Prince Harry and Meghan Markle will be on the balcony together, as husband and wife.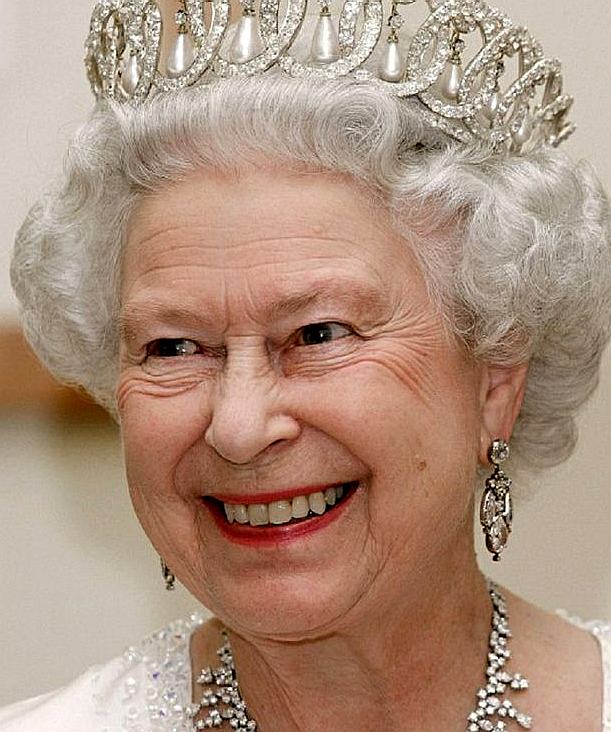 Elizabeth II (Elizabeth Alexandra Mary; born 21 April 1926) is Queen of the United Kingdom and the other Commonwealth realms.

Elizabeth was born in London as the first child of the Duke and Duchess of York, later King George VI and Queen Elizabeth, and she was educated privately at home. Her father acceded to the throne on the abdication of his brother King Edward VIII in 1936, from which time she was the heir presumptive. She began to undertake public duties during the Second World War, serving in the Auxiliary Territorial Service. In 1947, she married Philip, Duke of Edinburgh, a former prince of Greece and Denmark, with whom she has four children: Charles, Prince of Wales; Anne, Princess Royal; Andrew, Duke of York; and Edward, Earl of Wessex.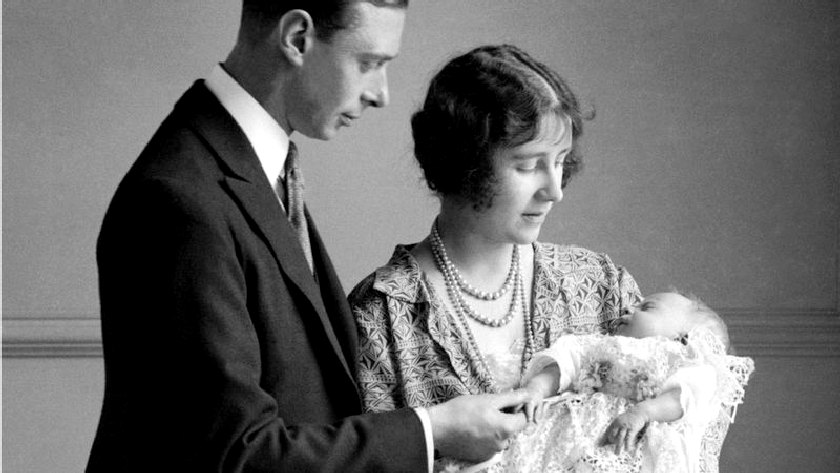 | | | |
| --- | --- | --- |
| YEAR | AGE | EVENT |
| - | - | - |
| 2016 | 90th | Birthday |
| 2017 | 91st | Birthday |
| 2018 | 92nd | Birthday |
| 2019 | 93rd | Birthday |
| 2020 | 94th | Birthday |
| 2021 | 95th | Birthday |
| 2022 | 96th | Birthday |
| 2023 | 97th | Birthday |
| 2024 | 98th | Birthday |
| 2025 | 99th | Birthday |
| 2026 | 100th | Birthday |


Queen Elizabeth II was born on 21st April 1926. She was the first child of The Duke and Duchess of York, who later became George VI and Queen Elizabeth.

She was christened Elizabeth Alexandra Mary in the private chapel at Buckingham Palace. The young princess spent most of her early years enjoying a quiet family life with her parents and her sister, Princess Margaret.

When Princess Elizabeth's grandfather, George V, died in 1936, her uncle came to the throne as Edward VIII. Before the end of the year, Edward had abdicated and Princess Elizabeth's father became George VI. This meant the young princess became next in line for the throne.

When her father died in 1952, the Queen acceded to the throne at the age of 25. She celebrates two birthdays every year: her actual birthday on 21 April and her official birthday on a Saturday in June. The official birthday is held in the summer as it means there's a better chance of good weather for the ceremony.

The Queen's official birthday is celebrated with the Birthday Parade, which is also known as Trooping the Colour. During the ceremony, trained and fully operational members of the Household Division greet The Queen with a royal salute. She then inspects the troops, riding past them in a carriage.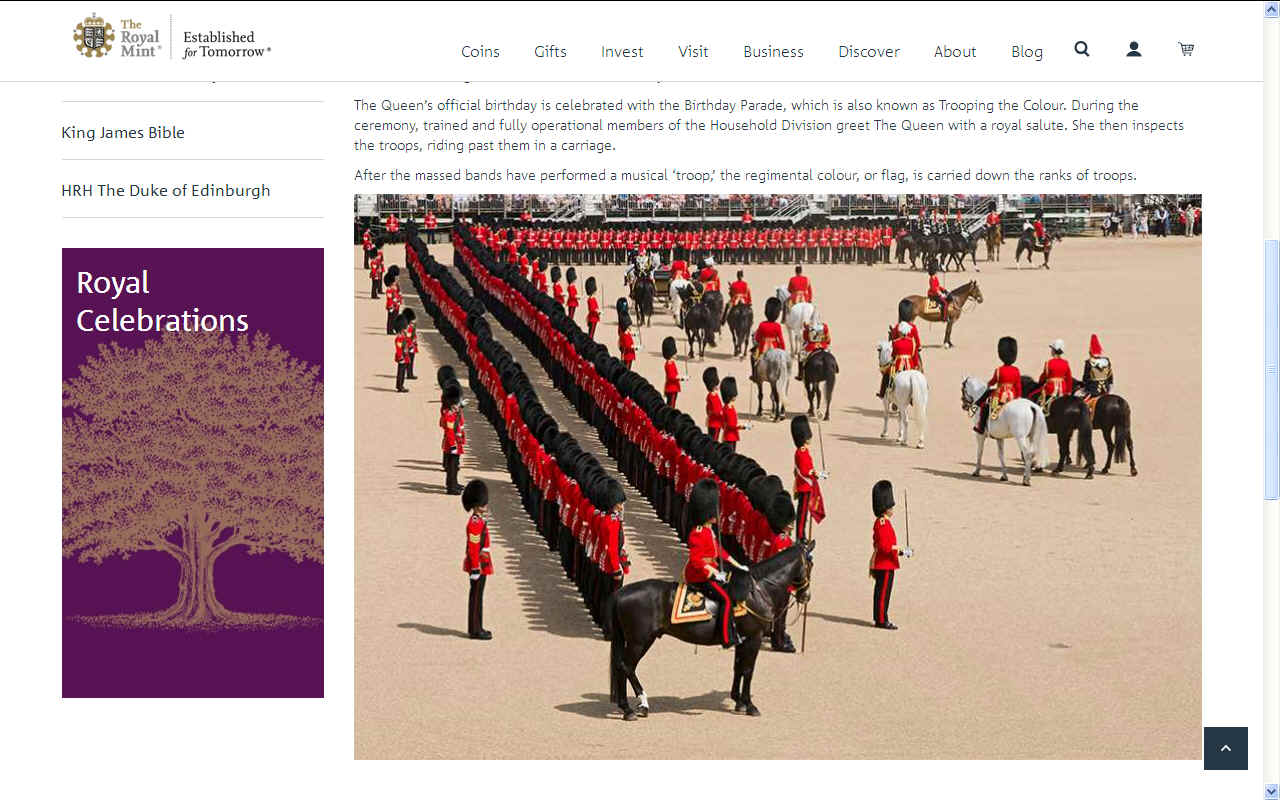 ROYALS GALLERY 2019
Andrew Duke of York

Anne Princess Royal

Autumn Phillips

Beatrice of York

Camilla Duchess Cornwall

Catherine Duchess Cambridge

Charles Prince Wales

Charlotte of Cambridge

Dianna Princess Wales

Edward Earl Essex

Eugenie of York

Elizabeth Majesty Queen

George of Cambridge

Harry Duke Sussex

Isla Phillips

Jack Brooksbank

James Viscount Severn

Lena Tindall

Louis of Cambridge

Louise Lady Windsor

Mark Captain Phillips

Meghan Duchess Sussex

Mia Grace Tindall

Mike Tindall

Peter Phillips

Philip Duke Edinburgh

Sarah Duchess York

MP

Savannah Phillips

Sophie Countess Wessex

Timothy Laurence V. Admiral

William Duke Cambridge

Zara Tindall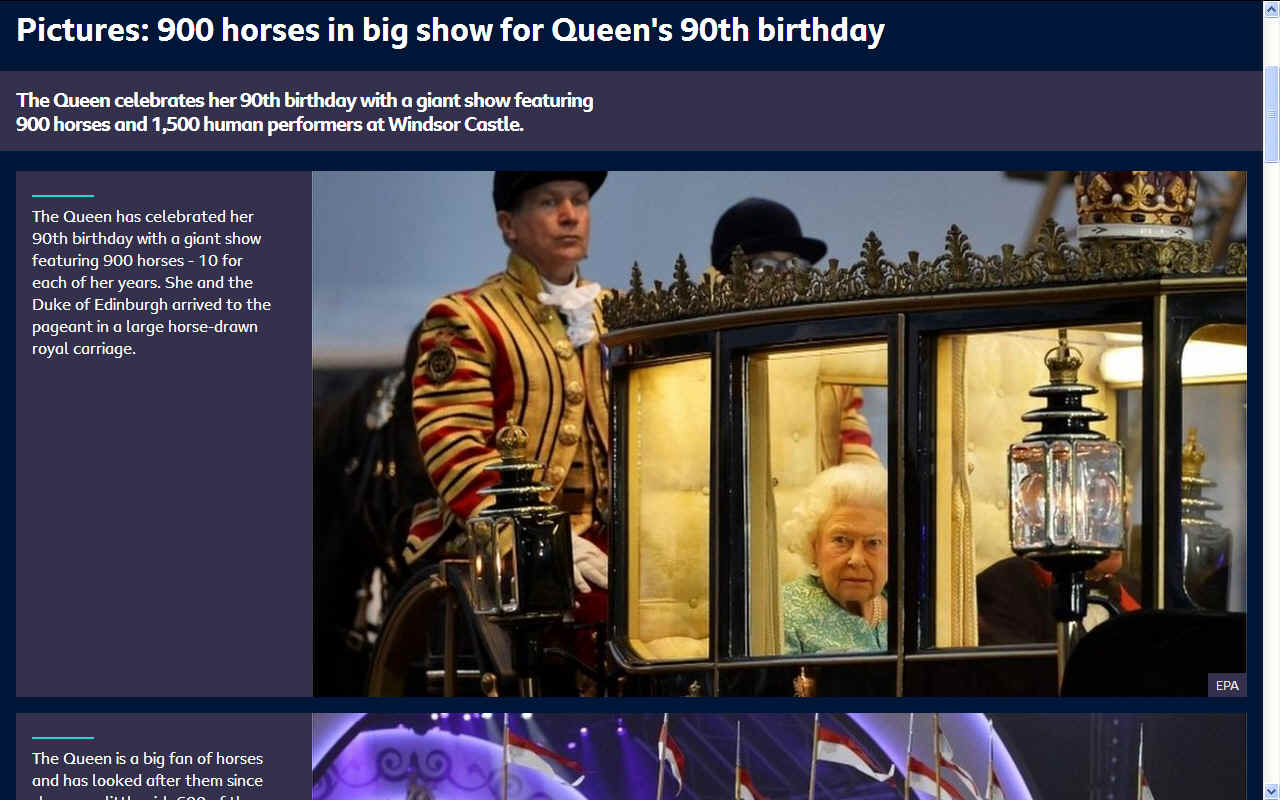 QUEEN ELIZABETH STILL GOING STRONG AT 80 - 2006 APRIL 17

Britain's Queen Elizabeth II leaves after attending the traditional Easter Sunday Service at St George's Chapel in Windsor Castle, April 16, 2006

LONDON - Britain's Queen Elizabeth turns 80 on Friday with her popularity intact, abdication firmly ruled out and her eldest son Charles facing yet another decade as heir in waiting.

The queen, crowned nearly 53 years ago, has made clear that she regards her position as "a job for life", and even ardent Republicans concede that abolition of the monarchy is a lost cause while a robustly healthy Elizabeth is on the throne.

The Dutch royals' abdication model does not appeal to the British queen, who also has vivid memories of her father being pushed onto the throne in an abdication crisis that shook the House of Windsor to the core.

Her popularity has revived after a tumultuous decade of scandals, divorce and tragedy for Britain's most famous dysfunctional family. Polls show that only one in 10 of her subjects want Elizabeth to step down, and courtiers dismiss all talk of Charles, 57, acting as a "shadow king".

"There is no plan for the prince to take over more duties from the queen. Abdication is absolutely not an option," a senior royal adviser told Reuters.

Republicans accept defeat for now. "We will not have a republic while the queen is still alive," said Professor Stephen Haseler, chairman of Republic, the campaign for an elected head of state.

"Enough people in Britain feel the queen has done quite a good job. The debate about the monarchy doesn't get serious until the queen goes," he told Reuters.

While keeping up a busy programme of official visits across Britain, the queen is also firmly committed to the Commonwealth of former British colonies, and has travelled more widely than any previous monarch to promote friendly ties with them.

The monarchy's popularity plummeted in 1997 after the death in a Paris car crash of Charles's ex-wife Princess Diana, which provoked an outpouring of public grief that many Britons felt the royal family should openly share.

Royal biographer Robert Lacey said Elizabeth was quite right to keep Diana's grieving sons, William and Harry, away from the public gaze for the first few days after Diana's death.

"Staying with her grandsons, protecting them from the world, brought her popularity to a record low. That now seems to have been vindicated as the correct human priority to pursue," he said.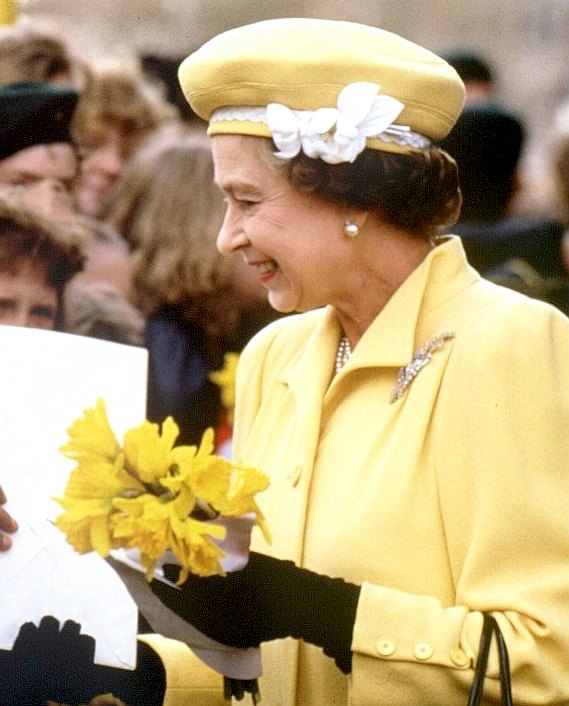 60TH - The Queen celebrated her sixtieth birthday in 1986 at Buckinhgam Palace
QUEEN ELIZABETH ON HER SEVENTIETH BIRTHDAY

Queen Elizabeth II was 70 on April 21, 1996 and has reigned for 44 of those years. It was her wish that the birthday pass with as little fuss as possible, and as it fell on a Sunday, she spent it quietly at Windsor, her regular weekend retreat. On the following day however, Her Majesty's Lord Lieutenants, not to be deterred hosted a celebration dinner at Syon House to mark her birthday and that of Prince Philip who will be 75 on 10 June.

It was Prince Philip who broke the news to the then Princess Elizabeth of the premature death of her father George VI on February 6 1952, while they were on a Commonwealth tour. Only six days earlier the King, with his wife Queen Elizabeth, and younger daughter Princess Margaret, stood in bitter cold on the tarmac of London Airport, to wave Princess Elizabeth and her husband off on the first leg of their journey, to Nairobi. Illness was etched on the King's face, and his subjects were shocked by the pictures that appeared in the newspapers the next day.

The Princess, not knowing what cards fate was dealing for her, probably became Queen while filming wildlife from the observation post known as Treetops, overlooking a waterhole in the Aberdare Forest game reserve, in Kenya, 3000 miles from frost-shrouded Sandringham House back in Britain where her much loved father had died in his sleep.

The new Queen's return to London the following day, was captured in one of the most poignant photographs of her reign. The picture showed her alone, young, almost vulnerable and dressed in deepest mourning, descending the steps of a BOAC Stratocruiser, to be met at the bottom by her Prime Minister, Winston Churchill and the country's senior politicians, a line of elderly men, clad in raven black, their bare heads bowed in respect. She was crowned, officially, as Queen Elizabeth II on 2 June 1953 at Westminster Abbey.

Five years earlier, on the occasion of her 21st birthday, during an official visit to South Africa with her parents, the Queen pledged a lifetime of devotion to the service of her people. It has been a promise well kept. Through decades of social change, Queen Elizabeth II is incontrovertibly the consummate master of her role.

Last year she returned to South Africa to make a six day State Visit, one which she regards as one of the most successful and significant of her reign. This year President Nelson Mandela made a return State Visit to the United Kingdom. In March the Queen made State Visits to Poland and the Czech Republic and in October she made a State Visit to Thailand.

This is all in the line of normal duties for the Queen who is the most traveled monarch in the world. She has been received in almost every nation of significance, and in many of the map's microscopic dots. She is greeted with affection and instant recognition wherever she goes.

The two million people who thronged the Bund of Shanghai, during her visit to China in 1986,knew exactly who she was, "The English country female King," as they described her. To foreigners, the Queen represents something rare and desirable. Her throne is by far the best known of a diminishing collection, and the stability it represents in a deeply uncertain and fast changing world is the object of a wider envy than is sometimes realised in Britain.

Appreciating its virtue does not require understanding of the intricacies of constitutional monarchy. It transcends politics, and even nationality; how often, on a distant curbside, do waiting admirers announce that they have come to see not the Queen of the United Kingdom of Great Britain and Northern Ireland, of her Other Realms and Territories. . .but simply THE QUEEN. She is particularly feted in the United States and France, for instance, countries which pioneered the overthrow of monarchy in favour of what they believed to be the true democracy of republicanism.

In recent years, her travels have been even more high profile than those of the past. In October 1994 she made her long awaited State Visit to Russia; once again she made history as the first reigning British monarch ever to set foot on Russian soil.

Overseas visits vary in length, and now tend to be much shorter. There will never again be anything like the six month Coronation Tour of 1953-54, when the Queen and Prince Philip embarked on a marathon which took them to Sri Lanka, Australia, New Zealand, Bermuda, Jamaica, Fiji, Tonga, Malta and Gibraltar. The schedule was so energetic that the Queen lost quite a few pounds in weight and a number of her outfits, which had become too loose, had to be altered en route.

On the way home, Tobruk was chosen as the point at which the Queen took delivery of her new royal yacht, Britannia, with her elder two children, Prince Charles, now the Prince of Wales, and Princess Anne, now the Princess Royal (then just five and three, respectively) already on board. It was the longest time that the Queen and Prince Philip had been separated from their children, and they were so taken up with the family reunion that it was more than an hour before they were ready for a conducted tour of the ship which was to become the famous "floating palace" for many, many more future tours to all parts of the world.

Much of the Queen's traveling is to Commonwealth countries. She takes her role as Head of the Commonwealth extremely seriously, and is always present in the host country for the biannual Commonwealth Heads of Government Meeting. She plays no part in the sessions of the meeting, but does exercise immense behind the scenes influence, receiving in private audience all the Commonwealth prime ministers. Of all sorts of different political persuasions they are united in one thing: that they can trust her impartial judgment.

No-one can say that the Queen has not been assiduous in carrying out her duties, and retirement is not an option. Her red boxes of state papers follow her everywhere, even on holiday, and very often the last light seen burning at night in Buckingham Palace is that in the Queen's apartment as she works on them.

She has been served by nine Prime Ministers, and because of the length of her reign, she is a greater repository of accumulated experience than most of them.

Although previous Prime Ministers have been properly discreet in their memoirs about what was discussed at their weekly audiences, they have indicated clearly enough the value and relief of being able to bounce their innermost worries off a knowledgeable but neutral referee. Prime Ministers of both major parties have praised the Queen's shrewdness, wit and impartiality, and have welcomed her as a sounding board and reliable source of the long view when the going has been especially tough.

In the hugely successful BBC Television documentary, Elizabeth R, which marked the 40th anniversary of her accession, the Queen explained how her Prime Ministers had used her as a sponge" to absorb their political burdens. "Occasionally one can put one's point of view when perhaps they had not seen it from that angle," she remarked.

Throughout the film, which charted her working life over 12 months, the Queen belied her rather reserved public persona to reveal a talent for the droll. It was peppered with her well timed witticisms and comic pauses, whether holding court with world leaders or discussing events with her Private Secretaries.

The Queen's hold on the affections of the majority of her subjects has never really faltered. Throughout her reign she has kept a level head, with loyalty and service as her priorities. Through millions of photographs and tantalizing filmed glimpses, her people see a trusted, familiar figure, an ordinary, down-to-earth woman, but one doing an extraordinary job.

In a fast moving world, reference points for certainty are becoming fewer, but the Queen is undoubtedly one of them. At a time when monarchies are not in fashion she has preserved Britain's own particular brand for future generations by adroitly adapting and modernising the institution to the times.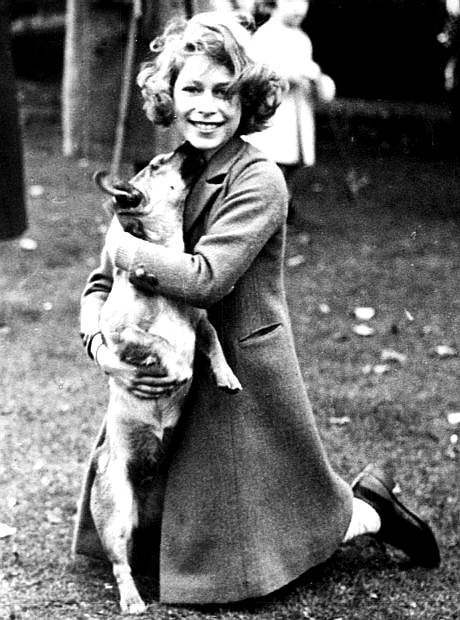 CORGIS - Princess Elizabeth loves her corgis. No doubt a very happy occasion with the animals she loves almost as much as horses.
A TO Z OF ROYAL FAMILY MEMBERS
Andrew Duke of York, Prince
Beatrice of York, Princess
Catherine Duchess of Cambridge
Charlotte of Cambridge, Princess
Edward Earl of Wessex, Prince
Elizabeth Queen II Windsor
Eugenie of York, Princess
Charles Prince of Wales
Dianna Princess of Wales
George of Cambridge, Prince
Jack Brooksbank
James Viscount Severn
Louis of Cambridge, Prince
Peter Phillips
Philip Duke of Edinburgh
Sarah Duchess of York
Sophie Countess of Wessex
Timothy Laurence Vice Admiral
William Duke of Cambridge, Prince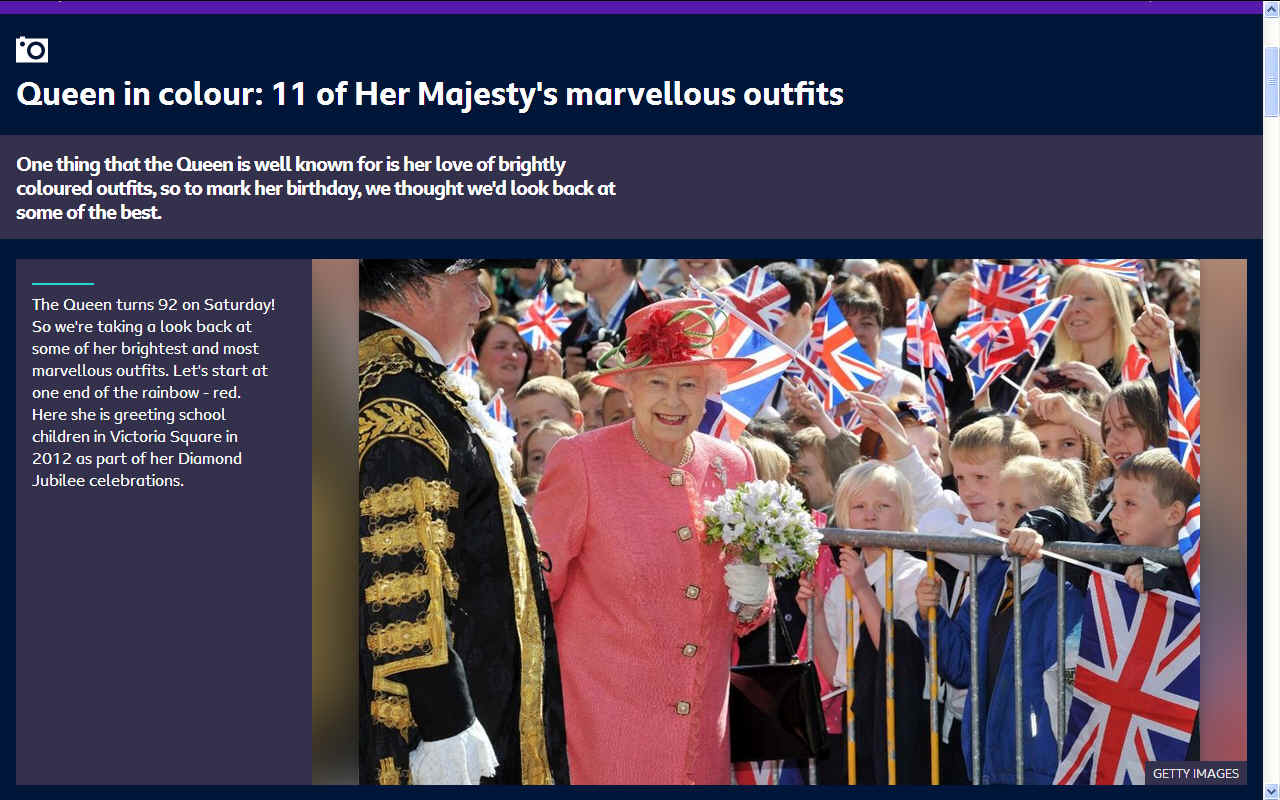 ...
LINKS & REFERENCE
https://www.royalmint.com/discover/royalty/the-queens-birthdays/
https://www.bbc.co.uk/newsround/43790047
https://www.bbc.co.uk/newsround/36300108
https://www.bbc.co.uk/newsround/36489213
https://en.wikipedia.org/wiki/British_royal_family
https://www.bbc.co.uk/news/uk-23272491
https://www.royal.uk/royal-family