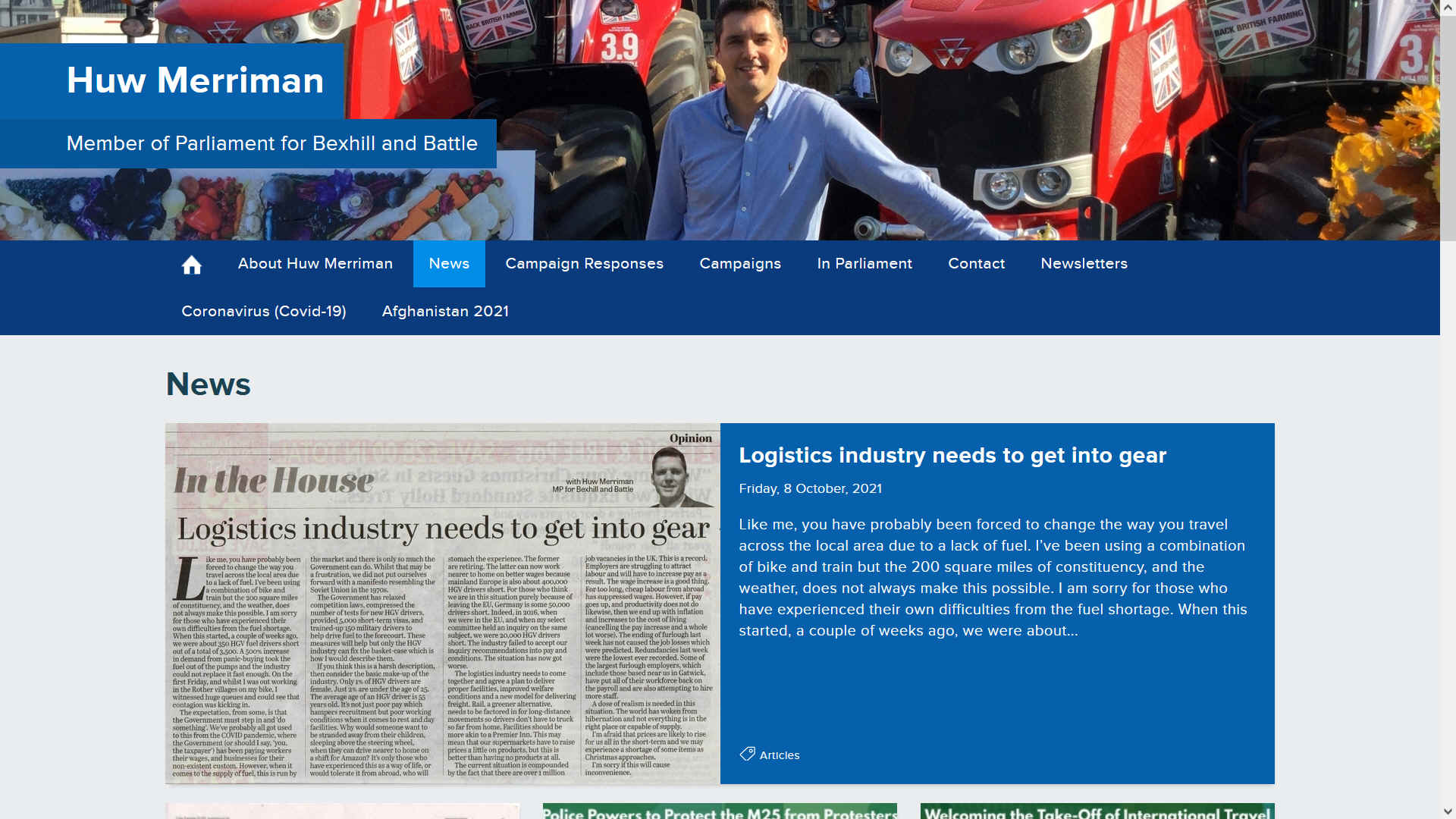 HUW MERRIMAN - Gives the impression of being a virtual parrot, jumping on issues that are the responsibility of other MPs and repeating almost word for word the calls of other MPs. The tactic is to blame someone else for the failings of the Conservative Party. It is never their fault, even though they are tasked with producing policies for a sustainable future. Anyone with half a brain could have predicted that by leaving Europe, we'd no longer have the cheap drivers that we had before. This would leave a gap in delivery services that they should have tackled as part of their campaign to Brexit.
Through 2020 into 2021, it is alleged that Huw has been missing in action, bringing the reputation of the British Parliament into disrepute. Reports are coming in as to allegations of failing to respond to correspondence from his constituents, and refusing to meet with members of the public over planning corruption and housing over development in his geographical region - of which it is alleged, there are literally hundreds of complainants, that are not being heard, quelling the voices of the electorate who are under represented, as figures are massaged to make it appear that all is well in Blighty.
Other complaints about the conduct of this Member of Parliament are to do with the monopoly that BT at present enjoy, as the owners of OpenReach, with the Ombudsman, apparently, not comprehending company law, and so condoning a situation where BT are offering performance related contracts, then not being able to uphold such contracts, being minimum broadband speeds and telephone lines crackle free. It seems with Ofcom being part of the problem. Whereas, breach of contract, is breach of contract - and someone has to be responsible at the end of the day.
What makes this situation appear more serious, is the failure to reply of even acknowledge correspondence to do with transport where he chairs the Transport Committee. Bringing into question the introduction of E10 fuel, that is a delaying tactic, but may also be a ruse to harm engines of older vehicles, to boost sales of new vehicles.
WHY CONTACT HUW MERRIMAN - WHEN YOU DON'T EXPECT A REPLY
Conservative Party
Constituency Office
29-31 Sea Road, Bexhill on Sea, East Sussex, TN40 1EE
01424 736861
huw.merriman.mp@parliament.uk
Facebook@HuwMerriman

Those making complaint have found that it does not matter how you contact Huw, you won't get a reply in any event, unless you are rich and powerful, and a contributor to the Conservative Party, or an oil company looking to keep fossil fuel cars on the road for as long as possible. Even where he claims you should contact him via email direct on: huw.merriman.mp@parliament.uk
You must be joking. We'd rather hold a General Election to get ourselves an MP who performs their duty, or get Huw put onto a watch list of MPs who are behaving badly. You can complain about Huw using the links on our Code of Conduct page.

CABINET MPS -MARCH 2020
Chancellor Exchequer

Priti Patel

Home Secretary

Dominic Raab

Foreign Secretary

Michael Gove

Chancellor D. Lancaster

Ben Wallace

Defence Secretary

Matt Hancock

Health & Social Care

Liz Truss

International Trade

Gavin Williamson

Education

Oliver Dowden

Culture

Alok Sharma - COP26

MP Reading West

Robert Jenrick

Housing, Local Gov.

Therese Coffey

Work & Pensions

Robert Buckland

Justice

Anne-Marie Trevelyan

International Dev.

Transport

George Eustice

Environment

Brandon Lewis

Northern Ireland

Alister Jack

Scottish Sec. State

Simon Hart

Welsh Sec. State

Baroness Evans

Leader Lords

Amanda Milling

Party Chairman

Jacob Rees-Mogg

Leader Commons

Mark Spencer

Chief Whip

Suella Braverman

Attorney General

Stephen Barclay

Treasury Sec.
CONSERVATIVE MPS 2017-2018
Theresa May - Prime Mnister

MP for Maindenhead

Damian Green

MP for Ashford

Philip Hammond

MP Runnymede & Weybridge

Boris Johnson

MP Uxbridge & South Ruislip

Amber Rudd

MP Hastings & Rye

David Davis

MP Haltemprice & Howden

Gavin Williamson

MP South Staffordshire

Liam Fox

MP North Somerset

David Lidlington

MP for Aylesbury

Baroness Evans

MP Bowes Park Haringey

Jeremy Hunt

MP South West Surrey

Justine Greening

MP for Putney

Chris Grayling

MP Epsom & Ewell

Karen Bradley

MP Staffordshire Moorlands

Michael Gove

MP Surrey Heath

David Gauke

MP South West Hertfordshire

Sajid Javid

MP for Bromsgrove

James Brokenshire

MP Old Bexley & Sidcup

Alun Cairns

MP Vale of Glamorgan

David Mundell MP

Dumfriesshire Clydes & Tweeddale

Patrick McLoughlin

MP Derbyshire Dales

Greg Clark

MP Tunbridge Wells

Penny Mordaunt

MP Portsmouth North

Andrea Leadsom

MP South Northamptonshire

Jeremy Wright

MP Kenilworth & Southam

Liz Truss

MP South West Norfolk

Brandon Lewis

MP Great Yarmouth

MP

Nus Ghani

MP Wealden

Huw Merriman

MP Battle

MP
East Sussex has five District and Borough Councils, each with a border on the coast. From west to east they are:
There is also East Sussex County Council as the provider of services to the 5 East Sussex districts.
As near neighbours and with councils now sharing facilities and working together, these area of Sussex are included in our remit and an area where climate change and affordable housing are issues that need urgent attention. Where the coastline is a feature in every Council, Blue Growth is a food security issue, especially where this side of of our local economy is under-exploited.