SCHOOL STRIKES 2018 - Many schoolchildren, exasperated at the inability of their peers to get on with it, held strikes outside important parliament buildings to express their disgust at the greed of the politicians who are supposed to be representing them and securing their future with a planet worth living on.
The United Nations Framework Convention on Climate Change (UNFCCC) is an international environmental treaty adopted on 9 May 1992 and opened for signature at the Earth Summit in Rio de Janeiro from 3 to 14 June 1992. It then entered into force on 21 March 1994, after a sufficient number of countries had ratified it. The UNFCCC objective is to "stabilize greenhouse gas concentrations in the atmosphere at a level that would prevent dangerous anthropogenic interference with the climate system". The framework sets non binding limits on greenhouse gas emissions for individual countries, that unfortunately, contains no enforcement mechanisms - hence is a toothless instrument.
The framework outlines how specific international treaties (called "protocols" or "Agreements") may be negotiated to specify further action towards the objective of the UNFCCC.

Initially, an Intergovernmental Negotiating Committee (INC) produced the text of the Framework Convention during its meeting in New York from 30 April to 9 May 1992. The UNFCCC was adopted on 9 May 1992, and opened for signature on 4 June 1992. The UNFCCC has 197 parties as of December 2015. The convention enjoys broad legitimacy, largely due to its nearly universal membership.

The parties to the convention have met annually from 1995 in Conferences of the Parties (COP) to assess progress in dealing with climate change. In 1997, the Kyoto Protocol was concluded and established legally binding obligations for developed countries to reduce their greenhouse gas emissions in the period 2008–2012. The 2010 United Nations Climate Change Conference produced an agreement stating that future global warming should be limited to below 2.0 °C (3.6 °F) relative to the pre-industrial level. The Protocol was amended in 2012 to encompass the period 2013–2020 in the Doha Amendment, which as of December 2015 had not entered into force. In 2015 the Paris Agreement was adopted, governing emission reductions from 2020 on through commitments of countries in Nationally Determined Contributions, lowering the target to 1.5 °C. The Paris Agreement entered into force on 4 November 2016.

One of the first tasks set by the UNFCCC was for signatory nations to establish national greenhouse gas inventories of greenhouse gas (GHG) emissions and removals, which were used to create the 1990 benchmark levels for accession of Annex I countries to the Kyoto Protocol and for the commitment of those countries to GHG reductions. Updated inventories must be submitted annually by Annex I countries.

"UNFCCC" is also the name of the United Nations Secretariat charged with supporting the operation of the Convention, with offices in Haus Carstanjen, and the UN Campus (known as Langer Eugen) in Bonn, Germany. From 2010 to 2016 the head of the secretariat was Christiana Figueres. In July 2016, Patricia Espinosa succeeded Figueres. The Secretariat, augmented through the parallel efforts of the Intergovernmental Panel on Climate Change (IPCC), aims to gain consensus through meetings and the discussion of various strategies.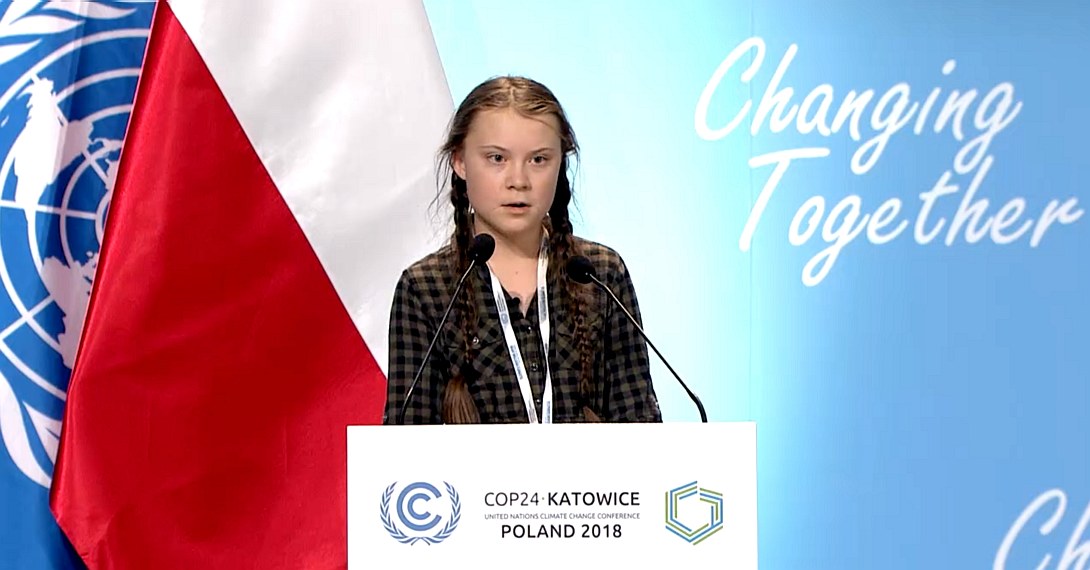 GRETA THUNBERG - She's Swedish, 15 years old and autistic, meaning she only speaks when it is really important to say something. What a rebel! Not only has she the guts to tell the UN members off for what they are not doing, but her delivery is amazing. We'd like to see Miss Thunberg at the United Nations directing progress.
TREATY

The United Nations Framework Convention on Climate Change (UNFCCC) was opened for signature at the 1992 United Nations Conference on Environment and Development (UNCED) in Rio de Janeiro (known by its popular title, the Earth Summit). On 12 June 1992, 154 nations signed the UNFCCC, which upon ratification committed signatories' governments to reduce atmospheric concentrations of greenhouse gases with the goal of "preventing dangerous anthropogenic interference with Earth's climate system". This commitment would require substantial reductions in greenhouse gas emissions (see the later section, "Stabilization of greenhouse gas concentrations")

Article 3(1) of the Convention states that Parties should act to protect the climate system on the basis of "common but differentiated responsibilities", and that developed country Parties should "take the lead" in addressing climate change. Under Article 4, all Parties make general commitments to address climate change through, for example, climate change mitigation and adapting to the eventual impacts of climate change. Article 4(7) states:

"The extent to which developing country Parties will effectively implement their commitments under the Convention will depend on the effective implementation by developed country Parties of their commitments under the Convention related to financial resources and transfer of technology and will take fully into account that economic and social development and poverty eradication are the first and overriding priorities of the developing country Parties."

The Framework Convention specifies the aim of developed (Annex I) Parties stabilizing their greenhouse gas emissions (carbon dioxide and other anthropogenic greenhouse gases not regulated under the Montreal Protocol) at 1990 levels, by the year 2000.

KYOTO PROTOCOL

After the signing of the UNFCCC treaty, Parties to the UNFCCC have met at conferences ("Conferences of the Parties" – COPs) to discuss how to achieve the treaty's aims. At the 1st Conference of the Parties (COP-1), Parties decided that the aim of Annex I Parties stabilizing their emissions at 1990 levels by the year 2000 was "not adequate", and further discussions at later conferences led to the Kyoto Protocol. The Kyoto Protocol sets emissions targets for developed countries which are binding under international law.

The Kyoto Protocol has had two commitment periods, the first of which lasted from 2008-2012. The second one runs from 2013-2020 and is based on the Doha Amendment to the Protocol, which has not entered into force.

The US has not ratified the Kyoto Protocol, while Canada denounced it in 2012. The Kyoto Protocol has been ratified by all the other Annex I Parties.

All Annex I Parties, excluding the US, have participated in the 1st Kyoto commitment period. 37 Annex I countries and the EU have agreed to second-round Kyoto targets. These countries are Australia, all members of the European Union, Belarus, Croatia, Iceland, Kazakhstan, Norway, Switzerland, and Ukraine. Belarus, Kazakhstan and Ukraine have stated that they may withdraw from the Protocol or not put into legal force the Amendment with second round targets. Japan, New Zealand, and Russia have participated in Kyoto's first-round but have not taken on new targets in the second commitment period. Other developed countries without second-round targets are Canada (which withdrew from the Kyoto Protocol in 2012) and the United States.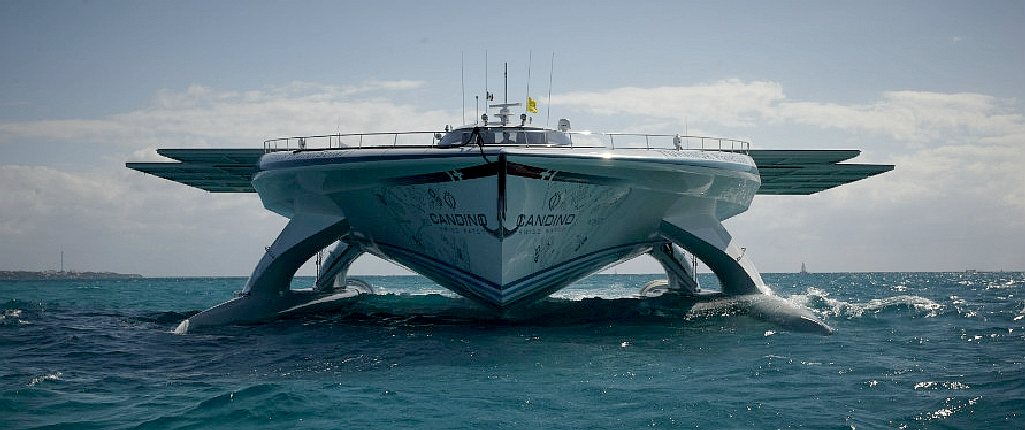 PLANETSOLAR - This fantastic solar powered boat is an example of what we should be doing about reducing carbon from marine transport. This vessel set the first circumnavigation record in 2012 of 584 days for a sun powered catamaran.
| | | | | |
| --- | --- | --- | --- | --- |
| LEG | NAUTICAL MILES | TIME IN PORT | WAYPOINT | SUNSHINE DAYS |
| - | - | - | - | - |
| | - | - | | 0.00 |
| 1 | 784 | 2 | | 4.67 |
| 2 | 729 | 2 | | 4.34 |
| 3 | 3,154 | 2 | | 18.77 |
| 4 | 1,182 | 2 | | 7.04 |
| 5 | 970 | 2 | | 5.77 |
| 6 | 3,640 | 2 | | 21.67 |
| 7 | 1,423 | 2 | | 8.47 |
| 8 | 410 | 2 | | 2.44 |
| 9 | 1,886 | 2 | | 11.23 |
| 10 | 340 | 2 | | 2.02 |
| 11 | 724 | 2 | | 4.31 |
| 12 | 1,572 | 2 | | 9.36 |
| 13 | 1,881 | 2 | | 11.20 |
| 14 | 2,109 | 2 | | 12.55 |
| 15 | 698 | 2 | | 4.15 |
| 16 | 670 | 2 | | 3.99 |
| 17 | 1,111 | 2 | | 6.61 |
| 18 | 170 | 2 | | 1.01 |
| 19 | 393 | | | 2.34 |
| - | - | - | - | - |
| - | 23,846 | 36 | RUNTIME DAYS @ 7kts | 141.94 |
| - | - | - | - | - |
| + 10% service | = 156.13 Days | - | 7 KNOTS AVE INC PORT & % | 192.13 |
| -& maintenance | - | - | AT 6 KNOTS AVE | 224.16 |
| - | - | - | AT 5 KNOTS AVE | 268.99 |
TRANSIT EXAMPLES - The above table illustrates one of the most likely ocean awareness expedition routes showing the time elapsed in days for 7 knots average cruising speed, including times for 5 and 6 knot averages - allowing for 10% downtime and 36 days in ports. Hence, although the objective is to reduce the current solar circumnavigation record from 584 days, the event in not an outright non-stop yacht competition in the offshore racing sense. It remains to be seen how accurate such a prediction might be. This is a study based on the Elizabeth Swan, a design that is due to hit the water as a 1/20th scale tank test model in 2019.
PARIS AGREEMENT

In 2011, parties adopted the "Durban Platform for Enhanced Action". As part of the Durban Platform, parties have agreed to "develop a protocol, another legal instrument or an agreed outcome with legal force under the Convention applicable to all Parties". At Durban and Doha, parties noted "with grave concern" that current efforts to hold global warming to below 2 or 1.5 °C relative to the pre-industrial level appear inadequate.

In 2015, all (then) 196 parties to the convention came together for the UN Climate Change Conference in Paris 30 November - 12 December and adopted by consensus the Paris Agreement, aimed at limiting global warming to less than two degrees Celsius, and pursue efforts to limit the rise to 1.5 degrees Celsius. The Paris Agreement entered into force on November 4, 2016.


NATIONALLY DETERMINED CONTRIBUTIONS

At the 19th session of the Conference of the Parties in Warsaw in 2013, the UNFCCC created a mechanism for Intended Nationally Determined Contributions (INDCs) to be submitted in the run up to the 21st session of the Conference of the Parties in Paris (COP21) in 2015.[20] Countries were given freedom and flexibility to ensure these climate change mitigation and adaptation plans were nationally appropriate; this flexibility, especially regarding the types of actions to be undertook, allowed for developing countries to tailor their plans to their specific adaptation and mitigation needs, as well as towards other needs.

In the aftermath of COP21, these INDCs became Nationally Determined Contributions (NDCs) when a country ratified the Paris Agreement, unless a new NDC was submitted to the UNFCCC at the same time. The 22nd session of the Conference of the Parties (COP22) in Marrakesh focused on these Nationally Determined Contributions and their implementation, after the Paris Agreement entered into force on 4 November 2016.

The Climate and Development Knowledge Network (CDKN) created a guide for NDC implementation, for the use of decision makers in Less Developed Countries. In this guide, CDKN identified a series of common challenges countries face in NDC implementation, including how to:

* build awareness of the need for, and benefits of, action among stakeholders, including key government ministries

* mainstream and integrate climate change into national planning and development processes

* strengthen the links between sub-national and national government plans on climate change

* build capacity to analyze, develop and implement climate policy

* establish a mandate for coordinating actions around NDCs and driving their implementation

* address resource constraints for developing and implementing climate change policy.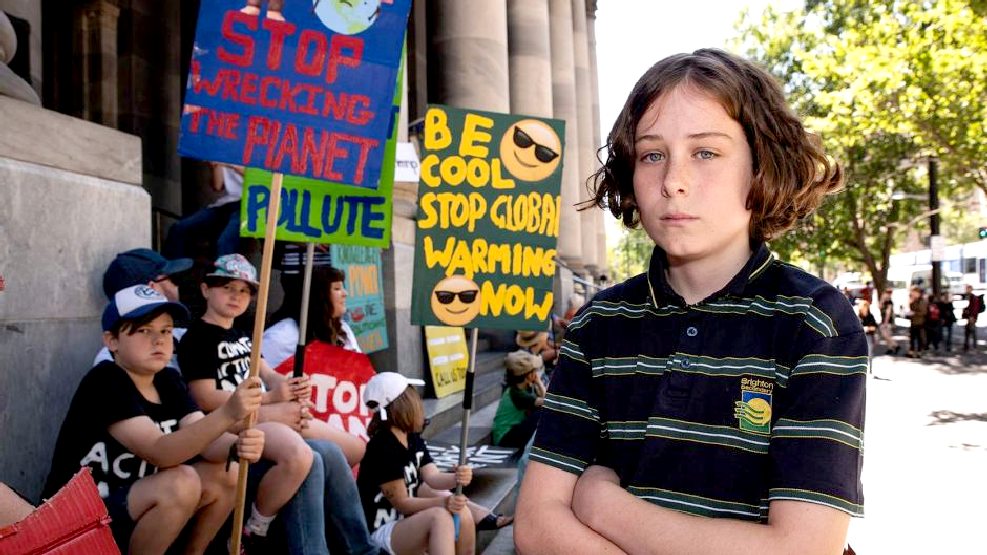 1995 COP 1, BERLIN, GERMANY
1996 COP 2, GENEVA, SWITZERLAND
1997 COP 3, KYOTO, JAPAN
1998 COP 4, BUENOS AIRES, ARGENTINA
1999 COP 5, BONN, GERMANY
2000:COP 6, THE HAGUE, NETHERLANDS
2001 COP 7, MARRAKECH, MOROCCO
2002 COP 8, NEW DELHI, INDIA
2003 COP 9, MILAN, ITALY
2004 COP 10, BUENOS AIRES, ARGENTINA
2005 COP 11/CMP 1, MONTREAL, CANADA
2006 COP 12/CMP 2, NAIROBI, KENYA
2007 COP 13/CMP 3, BALI, INDONESIA
2008 COP 14/CMP 4, POZNAN, POLAND
2009 COP 15/CMP 5, COPENHAGEN, DENMARK
2010 COP 16/CMP 6, CANCUN, MEXICO
2011 COP 17/CMP 7, DURBAN, SOUTH AFRICA
2012 COP 18/CMP 8, DOHA, QATAR
2013 COP 19/CMP 9, WARSAW, POLAND
2014 COP 20/CMP 10, LIMA, PERU
2015 COP 21/CMP 11, Paris, France
2016 COP 22/CMP 12/CMA 1, Marrakech, Morocco
2017 COP 23/CMP 13/CMA 2, Bonn, Germany
2018 COP 24/CMP 14/CMA 3, Katowice, Poland
2019 COP 25/CMP 15/CMA 4 Santiago, Chile
CONFERENCES OF THE PARTIES

The United Nations Climate Change Conference are yearly conferences held in the framework of the UNFCCC. They serve as the formal meeting of the UNFCCC Parties (Conferences of the Parties) (COP) to assess progress in dealing with climate change, and beginning in the mid-1990s, to negotiate the Kyoto Protocol to establish legally binding obligations for developed countries to reduce their greenhouse gas emissions. From 2005 the Conferences have also served as the Meetings of Parties of the Kyoto Protocol (CMP). Also parties to the Convention that are not parties to the Protocol can participate in Protocol-related meetings as observers.

The first conference (COP1) was held in 1995 in Berlin. The 3rd conference (COP3) was held in Kyoto and resulted in the Kyoto protocol, which was amended during the 2012 Doha Conference (COP18, CMP 8). The COP21 (CMP11)) conference was held in Paris and resulted in adoption of the Paris Agreement. Negotiations for the Paris Agreement took place during COP22 in Marrakech, Morocco. The twenty-third COP ("COP23") was led by Fiji and took place in Bonn, Germany.

The 24th conference was held at Katowice in Poland and the 25th, or COP25 is to be in Chile.

CLIMATE CRIMINALS
A Climate Criminal is any politician who says that they care about Climate Change, but fails to put into practice whatever bullshit speak they used to get themselves elected. At least Donald Trump did not lie in his efforts to get himself elected. He may well be one of the biggest climate criminals the world has yet seen and go down in history as such, but he did not pull his punches. In fact the American voting public loved him for that. They love their high carbon lifestyle. It seems that they could not give a fig about global warming so long as they do not have to change their ways. How else could a person get elected. They get elected pandering to the greed that is in us all to some extent. In the UK we are no different, hence Brexit. But once the electorate have been fooled, that is that. Or will we ever learn from our mistakes!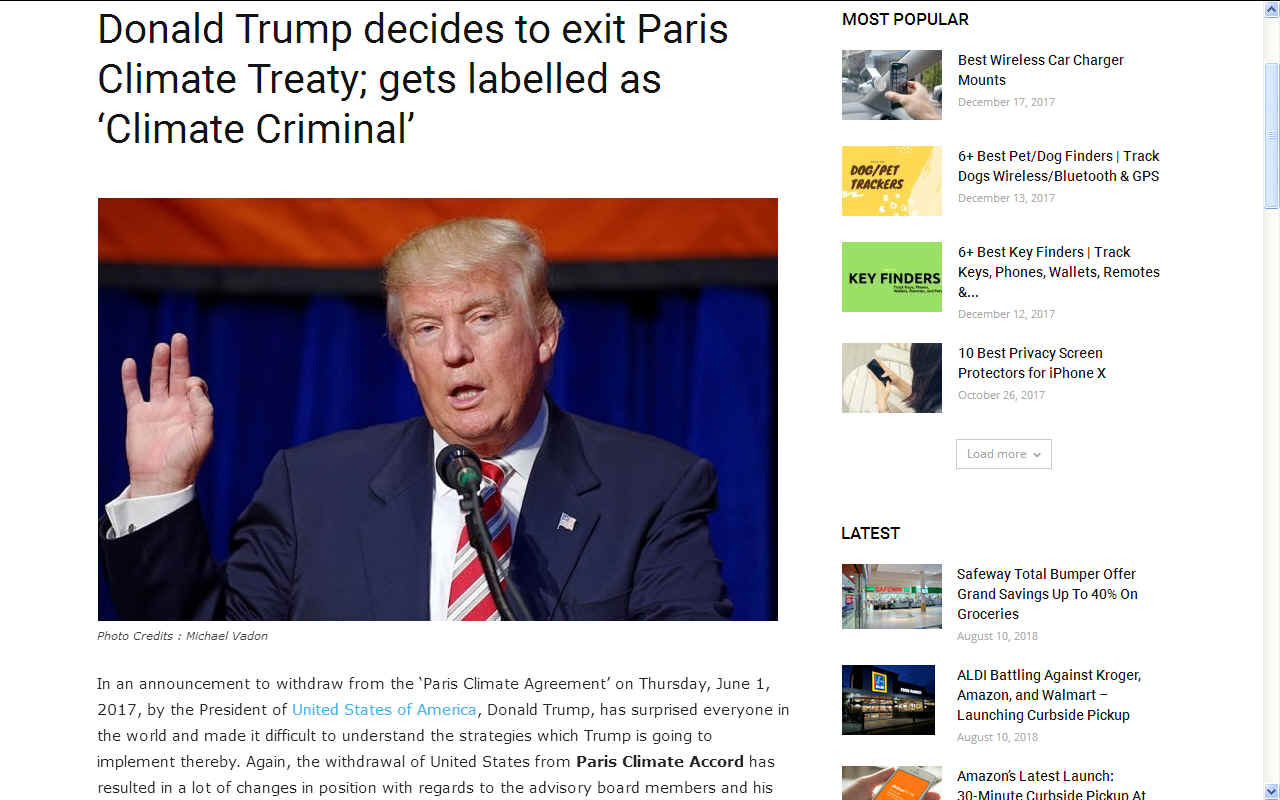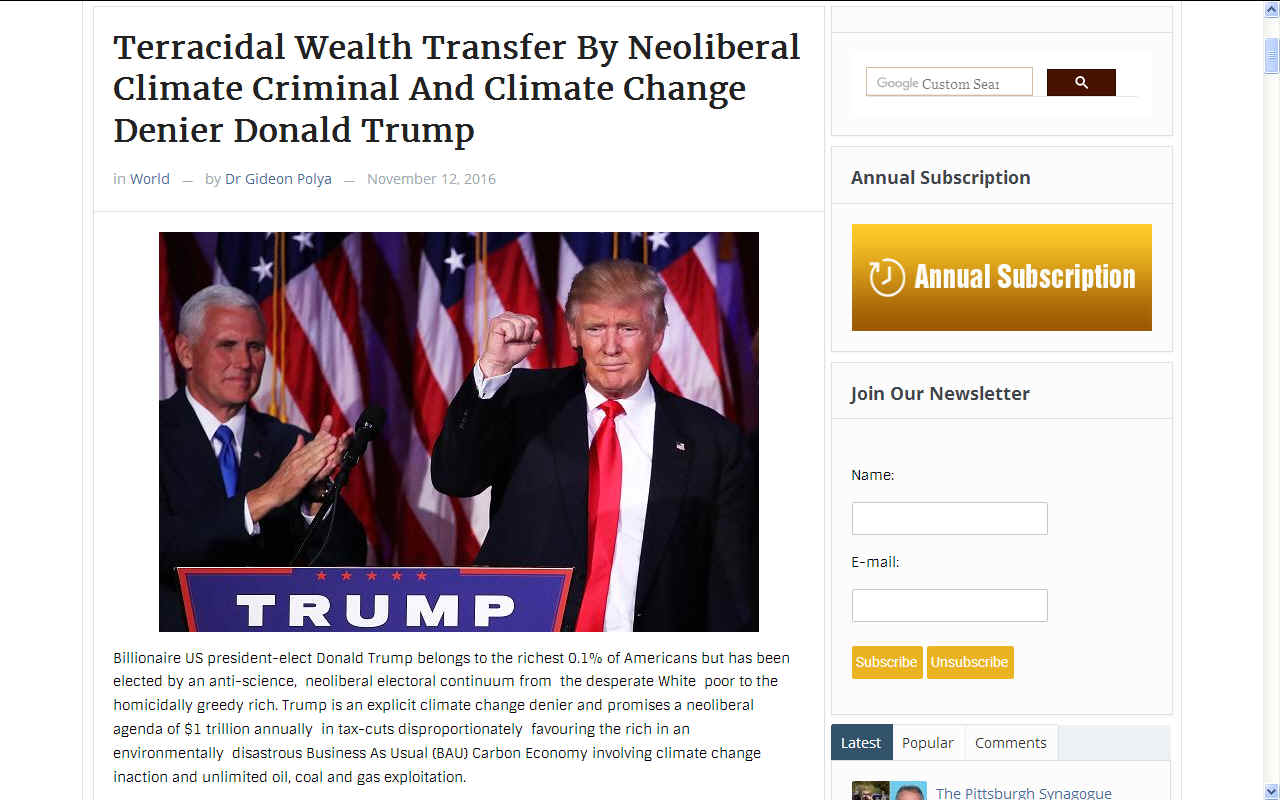 COUNTER CURRENTS NOVEMBER 2016 - Billionaire US president-elect Donald Trump belongs to the richest 0.1% of Americans but has been elected by an anti-science, neoliberal electoral continuum from the desperate White poor to the homicidally greedy rich. Trump is an explicit climate change denier and promises a neoliberal agenda of $1 trillion annually in tax-cuts disproportionately favouring the rich in an environmentally disastrous Business As Usual (BAU) Carbon Economy involving climate change inaction and unlimited oil, coal and gas exploitation.
DONALD TRUMP = BUSINESS AS USUAL (BAS)
The world is facing a worsening climate emergency. The Paris Agreement target of no more than a 1.5-2.0C temperature rise to avoid catastrophic global warming is now essentially unavoidable. The plus 1.5C target may be exceeded in as few as 4 years. The present plus 1.25C global average temperature rise is already catastrophic for Island Nations being presently ravaged by sea level rise and storm surges from high energy storms. Already an estimated 0.4 million people die from climate change annually but this may be a considerable under-estimate because climate change evidently impacts the 17 million people who die avoidably from deprivation each year in the tropical and sub-tropical Developing World. Further, the World Health Organization (WHO) estimates that 7 million people die annually from air pollution that is largely derived from carbon fuel burning .

Science-informed people are aware of the worsening climate emergency due to global warming and climatic disruption from greenhouse gas (GHG) pollution. The world is facing an existential threat from GHG pollution and it is estimated that 10 billion people (mostly non-Europeans) could die this century in a worsening climate genocide if GHG pollution is not requisitely addressed. Already 17 million people die avoidably each year from deprivation and deprivation-exacerbated disease but failure to address man-made climate change could mean an average of 100 million avoidable deaths each year this century.